Why State Assemblies Need More, Not Less, Media Coverage
Most legislatures make little or no information public.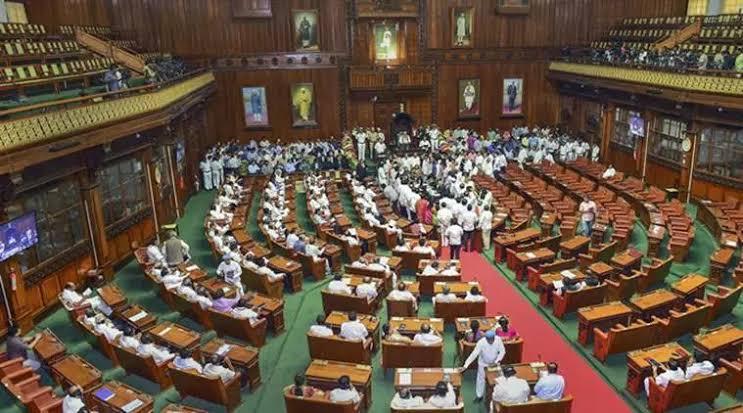 Image for representational use only.Image Courtesy : The Indian Express
The three-day session of the Karnataka Legislative Assembly ended last week. When an Assembly is meeting, it is usually its proceedings which are in focus. That was not the case this time. Overshadowing the proceedings was a decision by the Speaker of the Karnataka Vidhan Sabha, Vishweshwar Hegde Kageri. He restricted television cameras of private channels and camerapersons in general from video-graphing Assembly proceedings.
Kageri told the media, "Yes, we have banned the use of cameras inside the house. The Karnataka Assembly records all its proceedings and journalists can take visuals from the Assembly. Camera persons will not be allowed inside the Assembly and Vidhana Parishad from now on." He assured that the measure was temporary and that his order would not affect reportage by journalists without cameras.
The Speaker's decision evoked responses from all quarters. Journalists covering the Vidhan Sabha protested against it, as did former chief ministers HD Kumaraswamy and Siddaramaiah. Chief Minister BS Yediyurappa in a (now deleted) tweet, said, "My government is always committed to freedom of media. I will make a sincere effort and request Speaker Vishveshwara Hegde Kageri to reconsider his decision on barring media from telecasting the house proceedings."
Legislative bodies are representative institutions. In a well-functioning democracy, their work should be easily accessible to citizens. The decision of the Karnataka Speaker highlights the critical issue of bringing legislatures closer to people. Currently, there are three broad mechanisms for opening the functioning of law-making bodies.
The first is by facilitating media reportage of legislative deliberations. Live broadcast of the proceedings of legislatures is the second mechanism to keep the public informed about decision-making within these bodies. Making legislative information readily available on a website is the third mechanism that can bring legislatures closer to the people. Regrettably, all three mechanisms are broken in most state assemblies.
Let us start with the first. Most state legislatures in the country have a mechanism to accredit journalists from print publications and television channels. This allows them access to the legislature, from where they can report on its functioning. Usually, a committee of senior journalists set up by the Speaker evaluates applications and recommends the names of journalists who should be given a press pass to access the legislature.
Access to the press gallery and legislative Assembly precincts lets accredited journalists reach out to and build relationships with legislators, ministers and secretariat staff. It helps bring nuance and texture to their reports and thereby gives readers insights into the politics, deliberations and consensus-building that are central to the functioning of a legislature. Other than access to the physical space, accredited journalists are also provided copies of government budgets, Bills being introduced, lists of questions being asked on the floor of the House, reports, etc.
The press accreditation mechanism has opened up the work of legislatures to the public. However, gaps have also emerged over time. Take, for example, the change in news consumption led by the internet in the country. Increased internet penetration, a large youth population, cheaper internet access and mobile devices have contributed to an increase in the numbers of readers consuming news online. So much so that a study by the Reuters Institute points out, "online news generally (56%), and social media specifically (28%), have outpaced print (16%) as the main source of news among respondents under 35, whereas respondents over 35 still mix online and offline media to a greater extent." User demand and the advantages of internet publishing have led to multiple online-only news publications.
However, when it comes to reporting on state legislatures, journalists from online news publications are at a disadvantage from their print and TV counterparts. Many state Assemblies only provide accreditation to print and television journalists. Therefore, journalists from online publications or from serious non-TV video platforms do not enjoy similar levels of access to the legislative institution.
Parliament has made a start with respect to giving access to journalists from online news publications. Lok Sabha has put out guidelines for admission of journalists from news portals/websites into the press gallery. State legislatures need to look at the guidelines of Lok Sabha and also of parliaments around the world who have opened themselves up to online news organisation to bring their work closer to people.
The second mechanism for opening up state legislatures is through dedicated websites. They are an easy mechanism to inform people about the work of elected representatives and the legislature as an institution. However, a majority of Vidhan Sabha websites only provide basic information about the work they do. Most do not have details about the questions asked and answered, texts of debates that took place in legislative chambers or copies of Bills passed by them. In some cases, detailed information is available, but it is neither timely nor regularly updated. Still, there are a few exceptions. Websites of the legislative Assembly of Himachal Pradesh, Kerala, Uttar Pradesh, Madhya Pradesh, Rajasthan and Chhattisgarh are head and shoulders above their counterparts.
Currently, a national programme is underway to digitise and make available online the work accomplished by state legislatures. State Assemblies can also learn from Parliament, where the two Houses have done an excellent job with their websites. Their websites contain detailed information about their functioning and deliberations. The also maintain an exhaustive record of reports presented by different parliamentary committees over the years. The Lok Sabha and Rajya Sabha websites also provide details about Members of Parliament and how to get in touch with them.
Finally, state Assemblies do not fare any better when it comes to the telecast of their day-to-day proceedings. The low number of days they are in session and lack of resources are the oft-cited reasons for this gap. The Tamil Nadu government had made its position clear on the issue when in 2015 it opposed the live broadcasting of state assembly proceedings on account of the expenses involved.
Currently, only a few legislative Assemblies telecast their proceedings live. A few (Andhra Pradesh, Telangana) have set up cameras to provide a feed of their proceedings to TV broadcasters, some use the public broadcaster Doordarshan to telecast their proceedings regionally. Some also allow crews of private news channels to broadcast Assembly proceedings.
Some Assemblies, such as Karnataka, Delhi, Bihar, Goa and Kerala, webcast daily proceedings. But state Assemblies who broadcast their proceedings are an exception rather than rule. Again, the benchmark in this respect has been set by Parliament, whose proceedings are live telecast on the dedicated channels of both Houses.
More open, accessible and transparent legislatures deepen people's understanding of policy issues and their representative's positions on these issues. It allows continuous civic engagement throughout the term of the legislature and not only around elections. It ensures a healthy feedback cycle on decisions that impact people's lives.
In a vibrant democracy, opening up of legislatures requires continuous thought and engagement. It is time our state legislatures started investing resources and mindshare on it.
Chakshu Roy heads legislative and civic engagement initiatives at PRS Legislative Research. The views are personal.
Get the latest reports & analysis with people's perspective on Protests, movements & deep analytical videos, discussions of the current affairs in your Telegram app. Subscribe to NewsClick's Telegram channel & get Real-Time updates on stories, as they get published on our website.
Subscribe Newsclick On Telegram