The State is Standing Against Poor and Vulnerable, Say Victims of Hate Crimes
DYFI's National Convention calls for a special law to treat mob lynching as a crime that will attract severe punishment.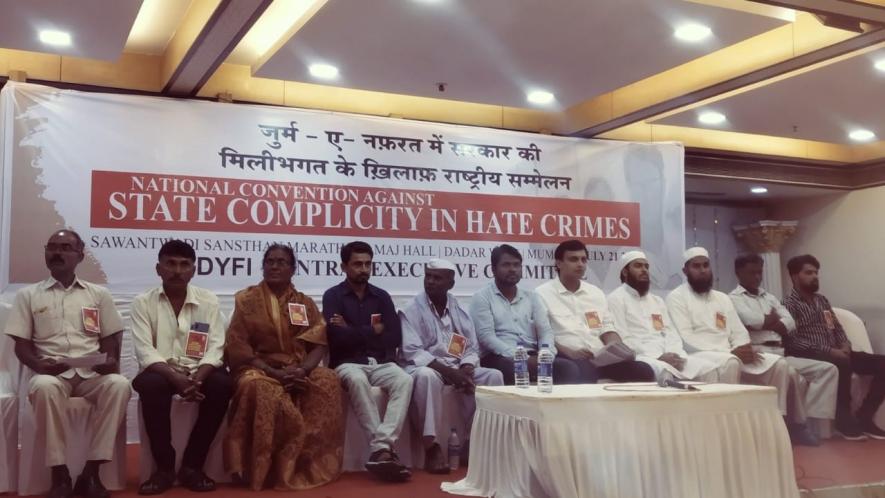 Mumbai: Questioning how and why "walls of hatred" have been erected between different sections of the society, victims of communal, caste and gender violence and kin of the victims came together and shared their stories at the National Convention Against State Complicity in Hate Crimes organised by Democratic Youth Federation of India (DYFI) in Mumbai.
Speaking at the convention, Mohammed Qasim, brother of Junaid Khan – the 15-year-old who was lynched by a mob near Ballabhgarh on a train following a dispute over a seat – questioned why Haryana chief minister has never consoled or promised any relief to the family after the brutal killing. "We are living in a constant state of fear. It feels like a sword or a bullet can take our life, any moment," he said.
Shweta Bhatt, wife of former IPS officer Sanjiv Bhatt, while speaking at this convention, appealed to the people to join her fight to free her husband. Bhatt, who had filed an affidavit in the Supreme Court regarding then Gujarat chief minister Narendra Modi's role in 2002 riots case, has now been allegedly framed in a 30-year-old custodial death case. Shweta said, "In 2011, at around 11 a.m, he deposed against the Nanavati-Mehta Commission. On the same day, at around 5 p.m, they started digging up old cases to frame him and initiate prosecution."
"I am travelling across the country, striving for help and support for my husband. Our tolerance, these days, has been too high. I appeal to you not to be so tolerant [to injustice]," she added.
Raju Aage, father of Nitin Aage, a dalit boy [then 17 years old] who was allegedly killed over his affair with an upper caste girl in Ahmednagar, said that the government ensures that the poor do not get justice. An Ahmednagar court has acquitted all the accused in this case – who come from dominant upper caste Maratha from Kharda village. Ascribing this acquittal to their caste, Aage said when dalits are accused in such cases, they're sentenced to death – referring to the Kopardi case verdict.
Echoing his sentiment, Satyabhama – a victim of gender and caste atrocity from Latur – said discrimination was rooted in possession of wealth and political power. "They have ensured that society boycotts me. They ask people, 'Does she employ you at her farm? Does she give you money? If no, why do you support her?'," she said.
An audio message from Rajni Singh, wife of police inspector Subodh Kumar Singh, who was killed during mob violence following rumours of cow slaughter in Bulandshahr, was played at the convention. While condemning the incidents of mob violence from across the country, she demanded legislation against the phenomenon of mob lynching. "In order to prevent such incidents, a provision of life imprisonment or death sentence should be made under a law," she said.
A draft resolution was also passed by the DYFI during the convention. It said, "As peace-loving citizens who are committed to the Republic, let us resolve today to join the fight against this degeneration. This will involve a decision to communicate with more and more of our fellow citizens continuously and directly to overcome the alliance of corporate media and communal forces to tell the truths to ordinary people and give them hope and confidence. […] This will mean tireless legal battles but also mass mobilisations to demand rule of law and adherence to the Constitution by the state machinery. To begin with, we should demand a special law to treat mob lynching as a crime that will attract severe punishment."
The convention was also attended by retired judge of the Supreme Court Venkate Gopala Gowda, actor Naseeruddin Shah, professor Ram Puniyani, former CPI(M) MP Subhashini Ali, activist Teesta Setalvad, journalist Pratima Joshi and general secretary of All India Democratic Women's Association (AIDWA) Mariam Dhawale among others.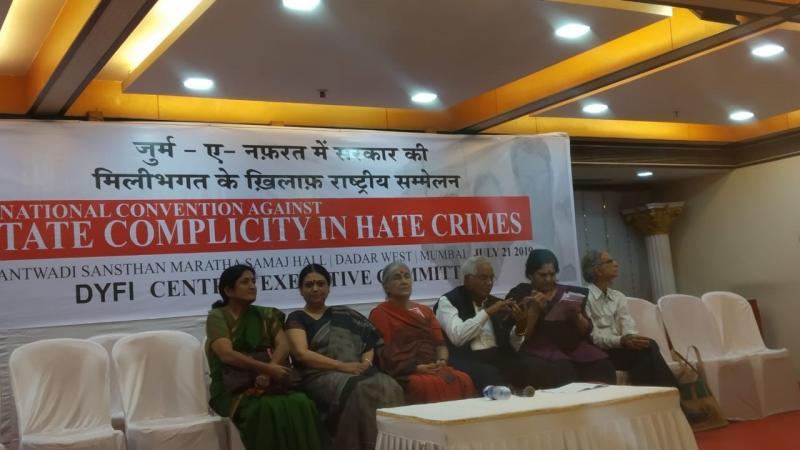 Commenting on rising hate crimes under the Modi regime, Ali said, "It's not like this has never happened before. We have seen enough of riots, oppression and atrocities. But for the first time since Independence, there are such people at the Centre who do not even believe in the Constitution."
"These people want to replace the Constitution with Manusmriti [ancient text on Hindu code of law]. Some people might think that this is only for the betterment of their religion. They do not realise that Manusmriti means institutionalised lynching! Different punishment for the same crime based on one's caste! And the tragedy is that those who have done nothing for this nation in its history, have become gatekeepers of nationalism," she added.
Emphasising that it is the duty of the majority to safeguard the minority, Justice Gowda said, "Secularism is the basic structure of the Constitution. Minorities have not travelled to this country from somewhere, they were born and brought up here, just like everyone else. They have been here for centuries."
Expressing the need to form a strong alliance to counter the government's divisive, Setalvad said, "The government has attacked each and every section of this country with their policies. That is why all the sections need to come together and stand united.
"They want the people to focus on their hatred for each other, so that they can focus on their work. And what is it that they're working for? Giving land to the Ambanis… Privatisation of railways… Hollowing out Air India… Dismantling of PSUs… We need to come together to stop this," added Setalvad.
Get the latest reports & analysis with people's perspective on Protests, movements & deep analytical videos, discussions of the current affairs in your Telegram app. Subscribe to NewsClick's Telegram channel & get Real-Time updates on stories, as they get published on our website.
Subscribe Newsclick On Telegram