To Stay or Not to Stay Home: Workers in Dilemma, Majority Ineligible for Paid Leave
As Covid-19 cases mount, experts believe the current labour arrangement in the country—where majority are still forced to work even if they fall sick—is "ill-equipped" to handle such social medical emergencies.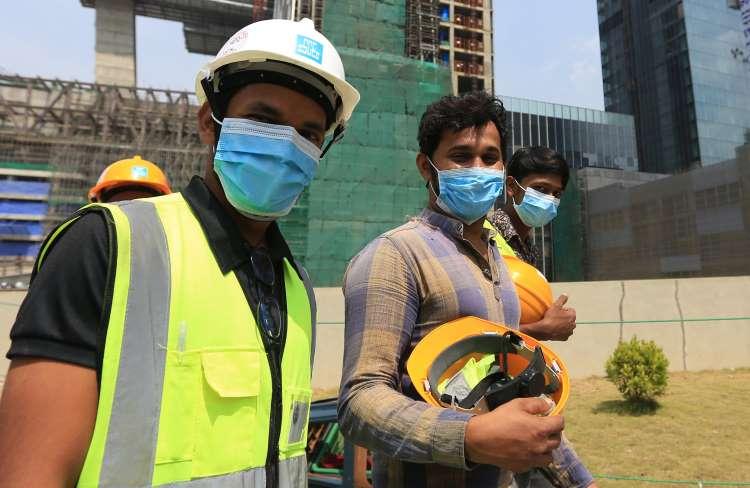 Image for representational use only.Image Courtesy : MSN
Schools, colleges have been closed; malls, theatres, among others are shut, in several states, till March 31. As governments in India—both at the Centre and in the states—opt for 'social distancing' measures to fight the coronavirus pandemic, many workers in the country are left with hard choices ahead of them: penury or working while exhibiting symptoms.
While the government is urging those who are sick to stay home, its own data shows that majority of the Indian labour force is not eligible for paid leave or even any social security benefits, meaning staying home when not feeling well could be financially devastating for them.
Among those who are salaried employees and receive wages on a regular basis, in the non-agriculture sector, only 45.8% are eligible for paid leave—44.8% among males and 49.6% among females—shows the last Periodic Labour Force Survey (PLFS), conducted by National Sample Survey Office (NSSO).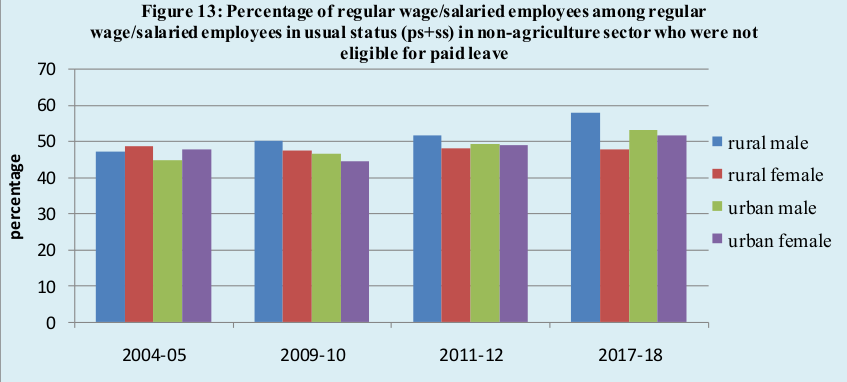 Courtesy - Periodic Labour Force Survey 2017-18
The survey recorded the behaviour of Indian labour market from July 2017 to June 2018 in which 'paid leave' included leaves during sickness, maternity, or such leaves that won't invite pay cuts.
The situation is worse when one looks at the proportion of workers who fall under the category of salaried employees. According to the government survey, only 22.8% of the workers, 23.4% males and 21% females, are regular workers. The rest are either self employed or casual labourers – potentially the groups for whom staying at home would mean leaving out on their daily earning.
Simply put, these are the army of contract labourers in the industries; cab and auto drivers; the owners of restaurants, shops and their helpers; the service agents; the lawyers among others who could potentially be the carrier of the virus, yet cannot choose to stay at home because the financial repurcussions could be difficult to bear.
Similarly, the survey also shows that 49.6% of the regular employees in the country are not eligible for any social security benefits. This means that even almost half of the salaried employees, other than the self employed and casual labour force, cannot avail any social security provisions, placing them in a vulnerable position at times when the focus is on the public safety of 'all'.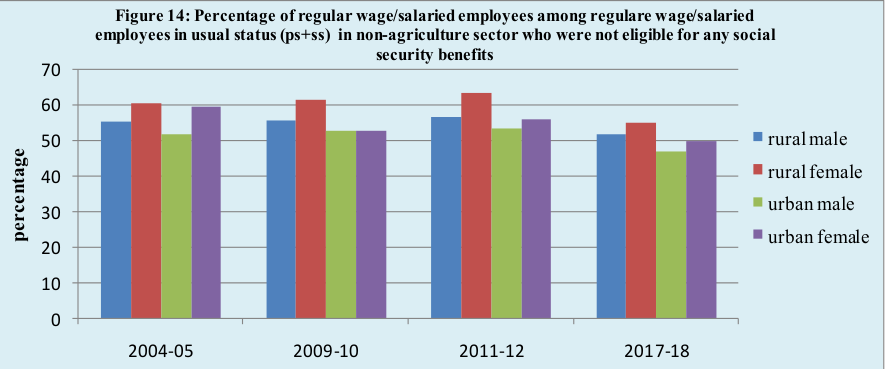 Courtesy - Periodic Labour Force Survey 2017-18
Experts believe that the current labour arrangement in the country—where majority are still forced to work even if they fall sick—is "ill-equipped" to handle such social medical emergencies as the COVID-19 which has now been declared as 'notified disaster'.
"The magnitude of the problem is much higher than the question of paid leaves or available social security benefits. The existing legislations cover only 8-9% of the total workforce, whether it is Factories Act [of 1948], Employees Compensation Act [of 1923], or Employees' State Insurance Act [of 1948]. These laws are not going to help in situations like these [created by coronavirus-like diseases]," K R Shyam Sundar, professor of human resource management at Jamshedpur's XLRI, told NewsClick.
According to him, the work-from-home model—adopted by many big firms including Paytm, Cognizant, Google among others in India and across the world—can be applicable only at places where it is technologically "permissible". "Remote working is not possible in every sector. There are workers whose mode of employment is to provide service and which will involve them to go in contact with mobile population," he said, while giving example of the gig-economy workers, which include Ola/Uber drivers or Swiggy, Zomato and others' food delivery agents, among others.
Bringing metropolitan cities to a standstill, in response to a pandemic, "is not enough of a solution", as it will make the majority of these workers even more economically vulnerable, he added.
To deal with suspected cases of COVID 19 in the country, other measures including setting up of screening and isolations wards have been readied by hospitals in major cities in India.
As on March 15, the tally of confirmed COVID-19 cases across India has crossed 110. However, as flagged by health experts, owing to the country's poor health infrastructure, this figure could only be the tip of the iceberg as low number of cases could be the result of low testing.
"We need more individuals to get tested," and to make that scenario possible, "we need wide social protections for those who perform labour so that they are not compelled to work under pressure to maintain their income levels," Sundar said.
Reiterating that this kind of social emergency cannot be handled by "conventional laws" relating to labour, he demanded the government to do more in response to the coronavirus outbreak, by providing a social protection "to all" that may allow workers to exercise their option to not go to work yet having the wherewithal to "survive for next 15 to 20 days".
"The civil society organisations, industrial bodies, NGOs, and the trade unions should come together and pressurise the government to provide basic livelihood options for the workers who can exercise options of not going to the work in the coming days," Sundar said.
Get the latest reports & analysis with people's perspective on Protests, movements & deep analytical videos, discussions of the current affairs in your Telegram app. Subscribe to NewsClick's Telegram channel & get Real-Time updates on stories, as they get published on our website.
Subscribe Newsclick On Telegram