Struggle of Dalits and Adivasis in Bengal
BJP and TMC are trying to use these oppressed sections for votes, says Dr Ramchandra Dom, general secretary of Dalit Shoshan Mukti Manch.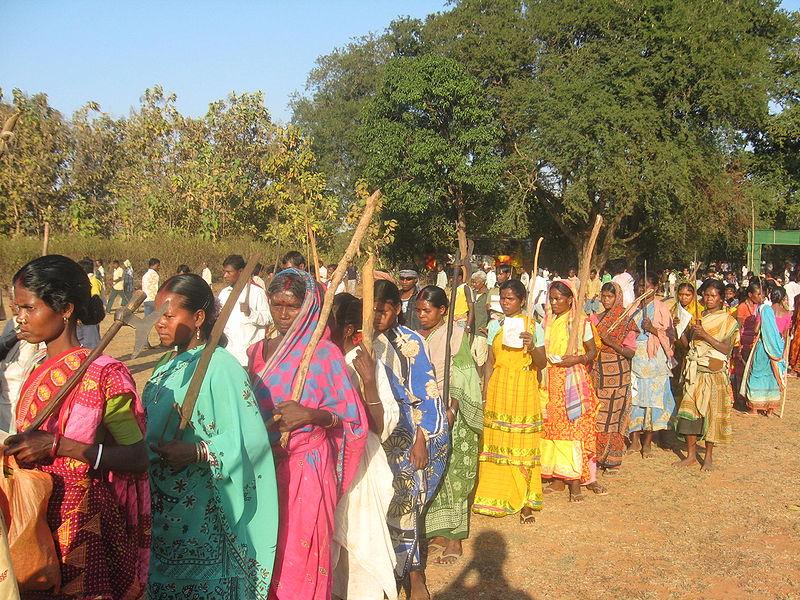 Representational image. | Image Courtesy: Wikimedia Commons
Kolkata: The Left in West Bengal had fought for the rights of Dalits and Adivasis over decades considering it an integral part of the working people's struggles for economic and social emancipation, Dr Ramchandra Dom, former member of Parliament and general secretary of the Dalit Shoshan Mukti Manch (DSMM), told NewsClick in an extensive discussion. He was commenting upon the recent electoral tactics being unleashed by the Bharatiya Janata Party (BJP) and the Trinamool Congress (TMC) to garner support from these sections for the forthcoming State Assembly polls. 
"Socially oppressed sections like Dalit and Adivasi communities are also economically most deprived and exploited. Most of the hard labour-oriented workforce of the country belongs to Dalit and Adivasi communities," Dr Dom said while discussing their plight in West Bengal and in India. 
Attempts to create a separate "identity" for various castes and tribal groups is actually an attempt to sever their organic link with the larger working class movement of which they were a part, and will lead to a similar fate as elsewhere, Dr Dom said. 
"It's a strategy of the ruling parties in order to weaken the oppressed communities and just use them for partisan electoral gain," he said. 
W Bengal has a considerable Scheduled Castes (SC) or Dalit, and Scheduled Tribes (ST) or Adivasi population. According to Census 2011, 23.5% (over 1.8 crore) residents of the state were from SC communities and 5.8% (about 53 lakh) from ST communities. 
In recent years, instances of naked caste-based harassment have grown, Dr Dom said ruefully. He pointed out two instances that got into limelight because these were in prestigious higher education institutions. In 2019, Sarswati Kerketta from an ST community was appointed as an assistant professor at Kolkata's Rabindra Bharati University – an achievement for her community. But in a shocking incident, her own students made her stand for one hour despite her having an orthopaedic problem. In another incident, in September 2020, Maroona Murmu,  an associate professor of History at Jadavpur University, faced obnoxious online abuse by students after she opined on social media that holding exams was not important at the time of the pandemic. She, too, belongs to an Adivasi community, which was what was targeted by the online trolls.
Façade of Rights
Ruling class parties often create a façade of identity and rights of different Dalit or Adivasi communities, who, on their part, are as often attracted by such attention, Dr Dom said. They feel that building of a separate identity will perhaps help their community to get liberated from both economic and upper caste oppression. 
"This façade of identity-based rights has both a democratic aspect and a reactionary aspect. In India, this has a long history, but it has also been used to prop up exploitative systems. In Bengal, this aspect was docile due to the existence of larger movements of the working people and initiating it at this juncture – specially by such Manuwadi forces as the BJP – is not a step in the right direction," he added.
The unified working class movement will provide a much better guarantee of ensuring economic and social rights to the working people, Dr Dom explained. It will ensure many more rights like right to drinking water, right to land, right to resources, right to education, various cultural rights and overall development, he added.
A Decade of Stasis
Interestingly, Dr Dom said, in Bankura, Purulia, Jhargram and West Medinipur, the movement of the  Dalits and Adivasis had gained huge strength only to fall silent when Maoists and the present ruling TMC started patronising anti-Adivasi and anti-Dalit forces in that region. "A Rainbow Alliance was built against the Left of which the BJP was also a partner," he said. 
"We can see that the present ruling party, even after 10 years in power, has not given patta (land titles) to Adivasis under the Forest Rights Act; nor do they discuss issues relating to right to water, forests and lands of the Adivasis living in the forest areas. Not a single bigha of land has been re-allotted to Adivasis under the present government, after the LF govt demitted office," Dr Dom emphasised.
Also read: Sedition, Dissent and The Rights of Accused
In fact, people from the upper echelons of society have been benefitted more than those of Dalit and Adivasi communities, and this increasing disparity is leading them to join movements, Dr Dom said.
Bengal now
According to Dr Dom, the condition of Dalits and Adivasis in the region has deteriorated with an intense food crisis setting in. 
"In 2018, 10 people from the Lodha and Shabar community died due to hunger. This food crisis is also affecting working class people of the state and even NSSO data are reflecting these statistics about West Bengal. In this context, people are again coming under the red flag  and organisations like Samajik Nyay Manch. There are many difficulties to be overcome yet, but a change is coming," he explained.
To gain votes, the Sangh Parivar and BJP are propagating the Manu Smriti as the way out in West Bengal too. Contradictions between religious communities and between castes and tribes is being fanned, according to Dr Dom, and this increasing social strife has left the socially oppressed sections feeling more desolate than ever. Even constitutional rights like reservations are being questioned openly by the upper castes, encouraged by the upholding of regressive Manu Smriti, he alleged.
"RSS-run BJP and the TMC closely collude with each other on these issues and these two are not very different from each other in such matters. To stop social ostracism of communities, there is a need of re-asserting the constitutionally guaranteed provisions and making them stronger while in reality, the exact opposite is happening. The Left forces have to play a proactive role in preventing this regression," Dr Dom said.
Much is being said about the Matua community, which is now being divided vertically through money and muscle power of the two ruling parties, Dr Dom said. Matuas, it can be recalled, is a displaced Dalit community from Bangladesh with a sizable vote.
Dr Dom also stressed that West Bengal has been seeing continuing cases of torture, rape of women and murder and arrest of Adivasi and Dalit youths on false pretexts. There have been cases of mob lynching of Dalit and Adivasi youths in the past few years. Malnutrition has become rampant in North Bengal and Jangalmahal especially after the Left government demitted office.
"I am sure the Left movement, with its proud record of standing by Dalits and Adivasis in the past, will see extensive support from these most oppressed communities in the coming days, and in the elections too," Dr Dom said.
Also read: Fuel Price Rise: 'Govt. Unbothered by Crisis Ridden Transport Sector'
Get the latest reports & analysis with people's perspective on Protests, movements & deep analytical videos, discussions of the current affairs in your Telegram app. Subscribe to NewsClick's Telegram channel & get Real-Time updates on stories, as they get published on our website.
Subscribe Newsclick On Telegram