DU Online Exams: Blanket Solution for Varying Concerns Leave Students, Teachers Rattled
The administration's decision has also drawn flak as the working group which decided on the issue did not include representation either from teachers or from students.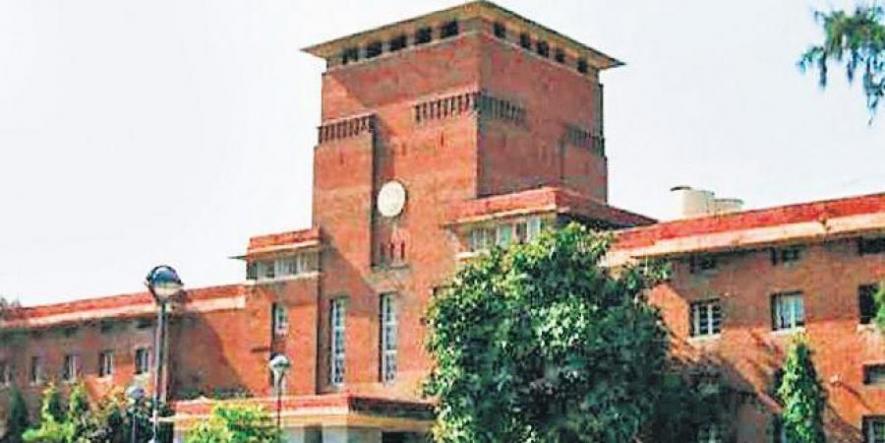 The decision of the Delhi University (DU) to conduct online open book examinations does not seem to be going down well with the teachers as well the student community, who have condemned the decision. They have raised concerns over the 'one solution' approach of the administration for problems of varying nature that are being faced amid the COVID-19 induced lockdown.
Apart from the technical difficulties that many fear are bound to affect the take-home exercise, online open book exams will also lead to a "compromise" with the mechanism to evaluate the understanding about a subject, students and teachers have alleged.
Both the stakeholders have instead come up with their own sets of suggestions for conducting examinations considering the difficult times owing to the virus outbreak.
In a statement issued on Friday, Students' Federation of India (SFI) expressed its worries over the university's May 14 circular which notifies online examination for all final semester/term/year students of all under graduate and post graduate courses, beginning from July 1.
"[The decision] exposes the lack of careful deliberation and empathy towards the concerns of students and an extremely bureaucratic approach on part of the administration," said the students' organisation.
The DU unit of All India Students' Association, while criticising the university administration, has alleged it of "blatantly pushing its anti-student agenda of online classes and exams, thereby completely turning a blind eye to the demands of the marginalised students".
Both students' bodies, through their statements, have tried to draw the administration's attention to the plight of its over four lakh students, who hail from diverse backgrounds, amid the unprecedented crisis which has caught them unprepared.
Also read: COVID-19 Lockdown: Online Exams Not Feasible for Marginalised Students, Says DUTA to UGC
"A substantial percentage of the students are women. Owing to shutting down of college hostels during lockdown the female students were forced to go home, many of whom are having to share household duties – which is not a suitable environment to concentrate on studies," said Unni Maya, general secretary of the students' union in Lady Shri Ram (LSR), a constituent women's college of DU.
In many instances, women still don't have custody over their belongings at home. In such circumstances, how do we expect them to have access to a phone or computer, let alone internet service, she added.
Lack of availability of internet service at home is surely not a problem restricted to a gender category, but poses a challenge especially to students belonging to the economically weaker sections.
Only 8% of all households in India with members aged between 5 and 24 have both a computer and an internet connection, Scroll reported earlier quoting the Centre's own data of 2017-18.
Due to similar reasons, it was found in a survey that 41.2% of DU students were not able to attend online classes during the lockdown. Of the 1500 students surveyed by AISA-DU, not surprisingly, 74% students were against the idea of conducting final year exams in an online mode.
Given the poor penetration of digital technologies in many parts of India, the push for remote learning and online examination by the Centre amid the lockdown have also drawn opposition from academics, and education experts for being "exclusionary".
Delhi University Teachers' Association (DUTA) in its May 14 letter to DU's Vice Chancellor registered its protest saying that "online methods of teaching cannot substitute face to face teaching and hence, a system of examination that does not take into account this aspect is unacceptable."
Laxman Yadav, an assistant professor in Delhi's Zakir Hussain college, explains this by sharing his experience of conducting online Hindi classes for his students in recent days. "When I decided to conduct classes through video conferencing and shared the details over WhatsApp to my students, it was painful to note that out of 50 total students, 10 were not even having a smartphone. Among others, 20 were not having any internet connection at home. Only a handful – 7 or 8 – were able to join me in the online session," he said.
Yadav, after conducting four to five online classes, eventually had to switch to recording his lectures into an audio file and send it to his students. However, even through this method, he fears of not being able to complete the syllabus and of excluding many from their education.
Also read: Low-speed Internet, No Access to Smartphones, Security Issues: Students and Teachers Struggle with E-learning Amid Lockdown in Kashmir
"The first to hit by the online exams will be the dalit and poor students – many of whom were the first generation to receive university-level education," Yadav told NewsClick. He also added that the move will have its impact over the quality of education imparted in public university. "It can be seen as a part of a larger plan to degrade the quality of education in public university and thus pushing for its privatisation," he said. 
Moreover, the decision of conducting online exams is also drawing flak for being taken by a 15-membered working group that included representation neither from teachers nor from students, to which DUTA protested earlier, by writing a letter demanding inclusion, but to no avail.
On Thursday, while students demanded for a more "flexible approach" in these testing times, the teachers' body suggested of giving provisional degrees to students based on average of their grades of last five semesters, instead of conducting online exams.
Get the latest reports & analysis with people's perspective on Protests, movements & deep analytical videos, discussions of the current affairs in your Telegram app. Subscribe to NewsClick's Telegram channel & get Real-Time updates on stories, as they get published on our website.
Subscribe Newsclick On Telegram