Study Finds Link Between Gall Bladder Cancer Risk and Arsenic Contaminated Water in Bihar, Assam
The poorest are most vulnerable to the risk as the only source of drinking water they have is tubewells, says the study.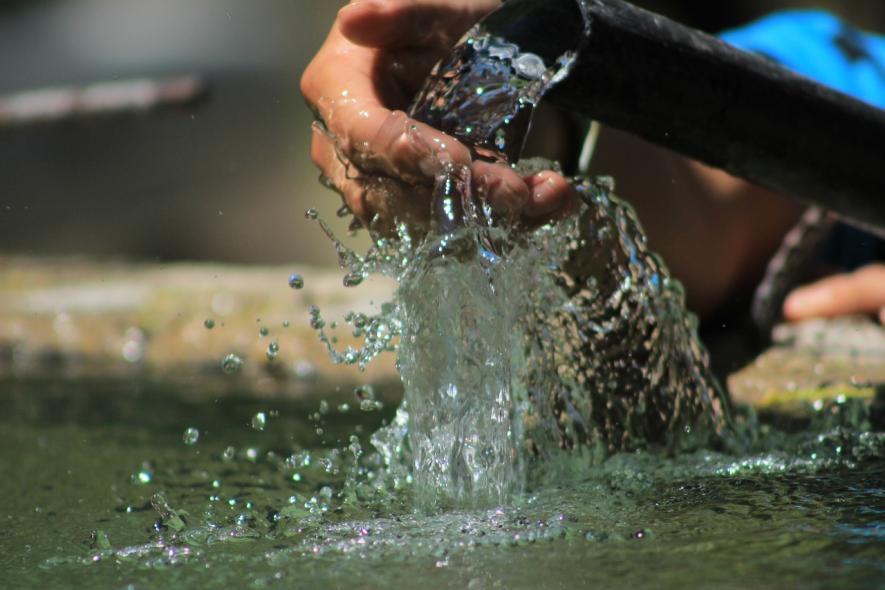 Representational use only.Image Courtesy: needypix
Patna: A large number of the poorest of poor people have been facing the risk of gall bladder cancer in known arsenic-contaminated regions of Bihar and Assam in India, says a new research study.
The study, based on field research, found rising incidence of arsenic contamination in groundwater, which is known as a big health threat across the country, However, what is news is link between arsenic in drinking water and gallbladder cancer, the study claims. The poorest of the poor are the worst affected as due to lack of safe and clean drinking water, they are forced to drink arsenic-contaminated water.
This study investigated the exposure to arsenic in drinking water with the risk of gallbladder cancer risk among participants in Bihar and Assam in large tertiary care hospitals. It was conducted by Indian scientists at the Centre for Environmental Health (CEH), Public Health Foundation of India (PHFI), Centre for Chronic Disease Control (CCDC), Bhubaneswar Borooah Cancer Institute (BBCI), Mahavir Cancer Sansthan and Research Centre (MCSRC), Indian Institute of Technology- Kharagpur, in collaboration with the London School of
Hygiene and Tropical Medicine (LSHTM).
Professor Ashok Kumar Ghosh, one of the lead scientists of the team that led the study on the ground, told NewsClick on Monday that people from the lower strata were most vulnerable as a group as far as the risk of gallbladder cancer due to arsenic contamination in groundwater in concerned.
"People from lower strata are mostly using arsenic contaminated groundwater in Bihar and Assam and they also lack nutritious foods including green vegetables, milk and meat. All this results in deficiency of protein, vitamins and minerals that are needed to increase immunity", he added.
Ghosh, head of the department, research centre, Mahavir Cancer Sansthan and Research Centre, Patna, and chairman of Bihar Pollution Control Board, said the government must act as soon as possible to provide safe drinking water to the poor .
"Based on recent surveys of household water levels, approximately 18-30 million people in rural and urban India are estimated to be consuming arsenic above 10 µg /L in 2020. This study calls for monitoring high-risk populations for early signs of arsenic poisoning," he said.
In the study areas, researchers observed that participants exposed to arsenic concentrations averaging 1.38-8.97 µg/L in groundwater had two times greater risk of gall bladder cancer, while those exposed to even higher arsenic levels (9.14- 448.39 ug/L) experienced a 2.4 times increased risk. The findings suggest that chronic arsenic exposure in drinking water at low-moderate levels may be a potential risk factor for gall bladder cancer.
Dr. Manigreeva Krishnatreya, Medical Officer of BBCI and a Co-Investigator of the study, said: "Long-term exposure to low levels of arsenic in drinking water can lead to discoloration of the skin, high blood pressure, heart disease, nerve conditions like numbness, etc. Now that arsenic as a possible risk factor for gall bladder cancer has been shown, it is imperative that public health intervention in the form of removing arsenic from drinking water is the need of the hour in endemic regions of Assam and Bihar. Tackling 'arsenic pollution' may help reduce the burden of several health outcomes".
The study assessed arsenic exposure of the participants based on their residential history since childhood and the average concentration of groundwater arsenic at district-level.
"Obtaining long-term residential history since childhood with information on potential sources of drinking water, is an important contribution of this study. Preliminary insights from this study can also be useful for similar country contexts that experience a high burden of gall bladder cancers and arsenic contamination in drinking water", said Dr. Krithiga Shridhar, CEH, PHFI, lead author of the study.
Dr. Poornima Prabhakaran, Head- Environmental Health, Additional Professor, Director, Centre for Environmental Health, Public Health Foundation of India, highlighted in the study how it was aligned with the Jal Jeevan Mission-2024 and Sustainable Development Goals of equitable clean and safe drinking water.
Over a third of study participants were exposed to levels more than the World Health Organisation guideline limit of 10 µg/L, and 6% were exposed to levels more than or equal to 50 µg/L. Most participants in regions with the highest levels of arsenic reported that they were consuming tubewell water with sediments and with unsatisfactory colour, odour, and taste than those in regions with the lowest levels of arsenic.
The Bihar government's own data has admitted time and again that arsenic contamination in drinking water was not new in the state. It is estimated that millions of people, mostly poor, drink water with arsenic above 10 μg / L and 33% of the tested hand tube wells samples normally used for drinking water had arsenic above the WHO provisional guide value.
The Bihar Economic Survey last year noted that ground water, the main source of drinking water in 31 of 38 districts, was contaminated by arsenic, fluoride and iron. The worst-affected districts are Buxar, Bhojpur and Bhagalpur.
Get the latest reports & analysis with people's perspective on Protests, movements & deep analytical videos, discussions of the current affairs in your Telegram app. Subscribe to NewsClick's Telegram channel & get Real-Time updates on stories, as they get published on our website.
Subscribe Newsclick On Telegram