Sugar Mill Workers in Basti's Waltergani Protest Pending 13-Month Salary
Workers and farmers left in lurch with crores pending, even as the mill owners claim they have sold it and the new owner will pay dues, says union president.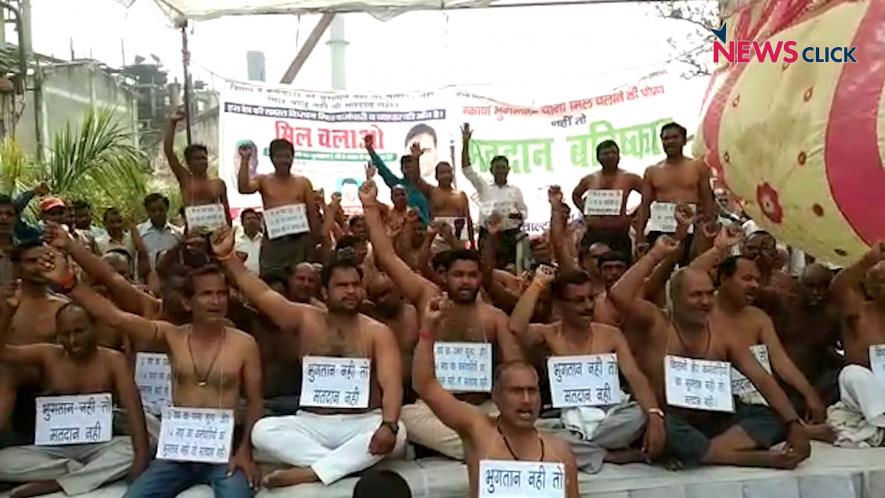 It's not just sugarcane farmers in Western Uttar Pradesh, workers in sugar mills in the Eastern region, are also upset with the Bharatiya Janata Party (BJP) government's "indifferent" attitude towards their problems.
Take Eastern UP's Basti district, where mill workers have been protesting since the past five days at Walterganj, Govindpur, some of them reportedly even going half-naked to express their anger against the BJP government's failure to release their pending wages. The workers have raised a simple demand – their salary for the past 13 months be released at the earliest. The workers have alleged that the Yogi Adityanath government had given them repeated assurances that they would be heard out, but to no avail.
Besides, the mill workers are also demanding the right price for sugarcane so that the sugar mills start work on time, as this was one reason being given by the mills for delayed salaries.
In 2018, on October 27, three employees had climbed atop the Walterganj sugar mill reportedly in an attempt to commit suicide, but the district administration intervened and asked the mill to resolve the matter within a month. It is 13 months now ,and workers say they don't have any other option left than to protest.
Speaking to Newsclick, Sipahi Yadav, a boiler operator posted at the Walterganj sugar mill said, "I am working in this sugar mill for the past 10 years but have never seen such grave situation. We used to get our salaries every month on time and, in fact, we also used to get overtime payment. But, since March 2018, we haven't received our salaries. This has affected my family. I was forced to shift my children from a convent school to a government primary school. In fact, I don't have enough money to pay for my parents' health needs."
He said people around 15 km of this area were fully dependent on the Walterganj sugar mill, which was established to develop this area and create jobs, "but the government and administration have failed us."
Yadav said last July, the workers had gone on hunger protest and had been assured that all due payments would be released soon, but now "we fed up with the fake promises."
"Tulsiram Maurya, a lab boy of our sugar mill had committed suicide coming in front of running train in January due to economic distress. However, we will boycott this election", he claimed.
Girish Chand Maurya, a fitter helper at the Walterganj sugar said:, "I was offered this job in the return of the land taken away from me but the conditions remains same. I am posted in this mill since 2007, but this situation has happened for the very first time. We are stuck. We have been misguided by the mill owners, who is not giving our salaries despite taking away our land. There are over 100 people like me who had given their land to get the job, but what did we get in return? Nothing."
When asked what mill owners have to say over pending salaries, Maurya stated, "The mill owner is saying that a new owner will buy this mill and he will release our pending salaries, while the new owner is claiming that the deal is not final yet," he said, adding that "more than 300 employees of our sugar mill are sitting on dharna since 24 hours. We have five MLAs and one MP, and all of them belong to the ruling BJP, yet our demands have not been met."
The sugar mill union president, Angad Verma, who works as an instrument technician, told Newsclick, "Around Rs 6 to 7 crore are due to the mill employees. We met Chief Minister Yogi Adityanath twice and Suresh Rana, minister of state for sugarcane development and sugar mills, several times, but it was futile. We have been protesting since October 3, 2018, along with sugarcane farmers of the district, but the government is not concerned."
Verma further said apart from salaries, overtime, bonus etc were also are pending since March 2018 till April 2019. "We met the district magistrate on Monday along with two sugar mill officials. He told them that if they do not release at least Rs 2 crore by April 15 in installments, legal action would be taken against mill owners -- the Bajaj group -- and their top officials would be booked."
The union president said that "top mill officials say that the mill has been sold to someone else and they would release the dues, but the reality is that deal has been not done yet. Why would we ask our salaries to someone who is not the owner if the mill?", he said, claiming that the "all officials are absconding."
The protesting workers are also demanding that the mill be opened on time from the next season.
Meanwhile, the sugar mill reportedly also owes Rs 44 crore to cane farmers of Basti district for two sugar seasons -- 2015-2016 and 2016-2017.
Bharatiya Kisan Union vice-president of Basti district, Ganiram Chaudhary, told Newsclick, "We met Prime Minister Narendra Modi and he had assured us that once BJP comes to power, he will instruct mills to release the dues. But, it has been two years since Yogi Adityanath has been in power and our demands have not been met. Rs 44 crore of farmers' dues are pending with the sugar mill of two years. There are three sugar mills in Basti, and all are closed now, without paying arrears to farmers."
Also Read: Elections 2019: BJP to Lose Rajput Community's Support in Western UP?
Get the latest reports & analysis with people's perspective on Protests, movements & deep analytical videos, discussions of the current affairs in your Telegram app. Subscribe to NewsClick's Telegram channel & get Real-Time updates on stories, as they get published on our website.
Subscribe Newsclick On Telegram