Sugarcane Farmers Across India Wait for Dues Worth Rs 24,000 Crore
Of the total 180-odd defaulting sugar factories in Maharashtra, 77 are owned by BJP leaders, 53 are under the possession of NCP leaders, 43 by Congress leaders and the rest fall under the ownership of people close to Shiv Sena.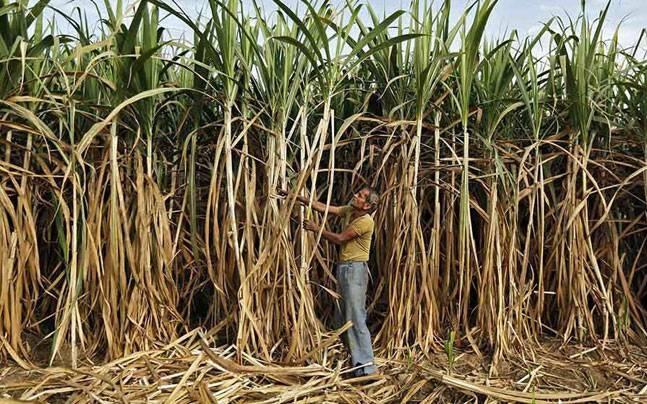 Representational image. | Image Courtesy: India Today
India's sugar industry that engages around 50 million farmers and 2 million mill workers has been facing an unprecedented distress for quite some time now. Be it in Uttar Pradesh or Maharashtra, sugarcane farmers across the country are yet to receive a huge amount from the mills. So far, the mill owners owe around Rs 24,000 crore to the sugarcane farmers.
As per the Indian Sugar Mills' Association, total production of sugar increased by 6.7% upto December 31, 2018. About 110.52 lakh tons of sugar had been produced by 501 mills which were operational during this period compared to 103.56 lakh tons of sugar by 505 mills as on December 31, 2017. Though cane production in Maharashtra was affected by rainfall and white grub infestation, early crushing of sugarcanes in the mills across Maharashtra and Karnataka contributed to the surplus production of sugar in this season.
Uttar Pradesh, Maharashtra and Karnataka together contribute almost 80% of the country's total production. UP contributes 36.1% of country's total production, followed by Maharashtra with 34.3% and Karnataka with 11.7%.
In Maharashtra, Rs, 4,700 crore is yet to be paid to the farmers. The cane farmers were supposed to receive around Rs 15,600 crore as per the fair and remunerative price (FRP). In Maharashtra alone, 184 mills together produced 43.98 lakh tons till December 31, 2018.
Read more: Hike in Support Prices of Sugarcane Only an Eyewash
Sugarcane dues in UP, where as many as 117 sugar mills have been operational and they crushed 286 lakh tonnes of sugarcane to produce 31 lakh tons of sugar till December 31, 2018, are above Rs 10,000 crore.
In the case of Karnataka, the country's third largest sugar production hub owes about Rs 3,990 crore as of 2018-2019. In the state, 20.45 lakh tons of sugar had been produced by 63 mills till December 31, 2018.
In Tamil Nadu too, sugarcane farmers have been waiting for their dues to be paid. Recently, the Tamil Nadu Sugarcane Farmers' Association urged the state government to make sure that Rs 1,854 crore worth of dues are settled with interest. Apart from the dues, "Sugar mills have also been cheating on the profit-sharing formula. Between 2004 and 2009, they should have shared Rs 240 crore with the farmers. The association went to court and won the case and the court said the profit share had to be disbursed by February 13, 2019. But despite giving representation to the state government to ensure the court direction is complied with, no action has been taken so far," said T Ravindran, general secretary of the association, in a statement.
As sugarcane farmers were up in arms in different parts of the country, the BJP-led centre had taken a number of decisions just before the Lok Sabha elections of 2019. In January this year, the central government had hiked the selling price of sugar to Rs 31 from Rs 29 per kilogram.
Read More: No Sweet Deal for Strongest Farming Community of Maharashtra
Unlike the sugarcane farmers, the mills have been enjoying benefits from the government on time. Though they have been getting "help" from the government, the farmers have not been paid the prices for their produce on time. In February this year, the Centre had sanctioned soft loans worth Rs 10,540 to sugar mills for helping them to clear the arrears of sugarcane farmers. Earlier, in June 2018, when there was an rise in unprecedented sugar production, government sanctioned Rs 8,500 crore for mills including a soft loan of Rs 4,440 crore to create ethanol. Apart from this, the mills were provided cash assistance of Rs 138.8 per tonne which amounted Rs 4,100 crore in total.
The nexus between the political parties and the mill owners are evident. Of the total 180-odd defaulting sugar factories in Maharashtra, 77 are owned by BJP leaders, 53 are under the possession of National Congress Party leaders, 43 by Congress leaders and the rest fall under the ownership of people close to Shiv Sena, says Swabhimani Shetkari Sanghtan (SSS).
The nexus becomes clear when one traces back to 2004-05, when India, the second largest producer of sugar in the world, had allowed the export and import of sugar with Brazil, which is the topmost country in sugar production. The decision to sell at a cheaper rate and buy at a costly rate was taken under then Agriculture Minister Sharad Pawar, who is considered as the king of sugar barons. It is interesting to note that there have been allegations that Sharad Pawar owns sugar mills in Brazil as well. "News reports say Sharad Pawar owns sugar mills in Brazil too," said an agriculture policy expert, who has been tracking the sugar industry, to the Down To Earth.
Read More: Sugarcane Farmers of Vellore Left in Lurch by Tamil Nadu Government
During 2008 and 2014, 39 cooperative mills in Maharashtra had been sold and most of the mills had ended up in the hands of political leaders from BJP, Congress and NCP.
"Who do farmers turn to for justice when the ruling party leaders are the biggest defaulters? State Cooperation Minister Subhash Deshmukh's sugar factory has pending FRP arrears of Rs 104 crore, while Rural Development Minister Pankaja Munde's factory has Rs 64 crore in FRP arrears," said Raju Shetty of SSS.
Get the latest reports & analysis with people's perspective on Protests, movements & deep analytical videos, discussions of the current affairs in your Telegram app. Subscribe to NewsClick's Telegram channel & get Real-Time updates on stories, as they get published on our website.
Subscribe Newsclick On Telegram