Swiggy Delivery Partners on strike in Bengaluru
They are demanding higher payouts, an end to arbitrary penalties' system and recognition as workers
Representational use only.
Bengaluru: Hundreds of Swiggy delivery partners across several zones of Bengaluru have gone on an indefinite strike from July 21, 2022. They have decided to 'log off' from their apps until their problems are addressed.
They are demanding higher payouts, an end to the system of arbitrary penalties and recognition as workers rather than 'partners'. Since they are not permanent employees of Swiggy, they don't receive salaries, Employees Provident Fund or insurance. They earn a payout for each delivery based on the distance travelled from the restaurant to the delivery location. Presently, they say that they earn Rs. 30 for 5 km, following which they earn Rs. 5/km. However, the partners allege an inconsistency in the payouts and that their earnings do not correspond with the distance travelled. More importantly, there is no system of redressal to correct these inconsistencies.
They have also alleged that lately, swiggy orders are being delivered through 'Rapido' drivers, which is causing the regular Swiggy partners to lose out on earnings. Rapido is a company that operates bike taxis.
The swiggy delivery partners say that several financial incentives from the company have either been stopped or cut down. The senior delivery partners earned an annual bonus of Rs. 10,000 which has now been stopped. They still receive weekly incentives of Rs.1000. However, this is contingent on them receiving five stars for every order. They say that even if one order is less than five stars, they do not receive any incentive for that week. The monthly incentives of Rs. 3000 have now been cut down to Rs. 1500. Even this is contingent on them working for 22 days in a month. For it to be counted as a working day, they need to be 'logged in' on their mobile app for at least 10 hours. However, they allege that some partners do not get the incentives even after working for the mandated duration and no grievance redressal system has been made available to them other than a customer care number. On top of this, they have a daily target, which has been pegged to their daily payout. If they reach a payout of Rs. 800 in a day, they receive Rs. 230 as incentives.
Speaking to Newsclick, Lokesh, 43, a Swiggy delivery partner for three and a half years, said, "I need to travel 220 km to achieve my target of Rs. 800. I will have to travel 15-16 hours on the road to achieve this. And, I end up incurring almost Rs. 400 in fuel expenses. You can imagine the physical and mental state of delivery partners after travelling so much every day. Many of us are working with depression. We are treated like daily wage labourers. Keeping in mind the rising cost of living, we want better pay for our work". 
Lokesh said that 20 days ago, they tried to communicate their issues to Swiggy's management, however, they could not reach any of their managers. There is a Swiggy hub where new delivery workers are onboarded. When they went there, they were given a link and asked to update their issues online.
Faceless management
One of the most disconcerting aspects of the gig is that the workers are dealing with 'faceless management'. Before the pandemic, they had monthly interactions with team leaders and field managers. They had to attend a physical meeting at least twice a month where strategies were discussed and feedback used to be shared both ways.
Now, all their communications are with an app. They also allege that managers do not answer their phone calls. Their payouts, penalties and incentives are all automated. There is nobody who can be physically reached in case of emergencies. Delivery partners have faced accidents and even robberies but have dealt with them on their own or have had to rely on fellow delivery partners for help. It's imperative to keep in mind that Swiggy is also based out of Bengaluru.
Poor Pay
The delivery partners said that they earn between Rs. 22,000- Rs. 26,000/month. However, after deducting fuel expenses, they are left with Rs. 15000- Rs. 16000/month. 
A delivery partner who has been with swiggy for three years spoke to NewsClick on the condition of anonymity. He said, "yesterday, I had to make a delivery 12 km away. I was paid Rs. 56 for that order. But I had to travel 7 km to reach the pick-up point. This was 19 km in total. I also had to travel the same distance back for no pay. The total distance covered was almost 40 km". 
The delivery partners choose a delivery zone at the time of joining the company. They receive orders based on their zones. However, at times they may have to cross over to another zone to make a delivery. The drivers allege that if they leave their zone, they get logged out from the app. They get the payout for the delivery but the time is not logged as time worked. Therefore, they have to work extra hours to meet the daily 10-hour requirement to receive incentives. If the delivery partner cancels an order or refuses to accept an order more than once, he is hit with a penalty of Rs. 40. 
The workers union
Earlier this year, in April, delivery partners at Zomato went on strike in Bengaluru against a new system of compulsory time slots. The United Food Delivery Partners Union (affiliated with AIUTUC) led the strike on that occasion. Talking to NewsClick, Vinay Sarathi, Union President said, "Zomato had claimed that the policy of time slots had been rolled out after taking consent from workers. However, when the delivery partners went on strike in Bengaluru, some of them were identified and had their work accounts disabled. We had to escalate the matter to the labour minister, Shivaram Hebbar and the labour commissioner, Akram Pasha. However, the IDs were not re-enabled. Those workers cannot work with Zomato again and have been arbitrarily dismissed". While the union has not initiated the Swiggy workers' strike, they have supported their strike.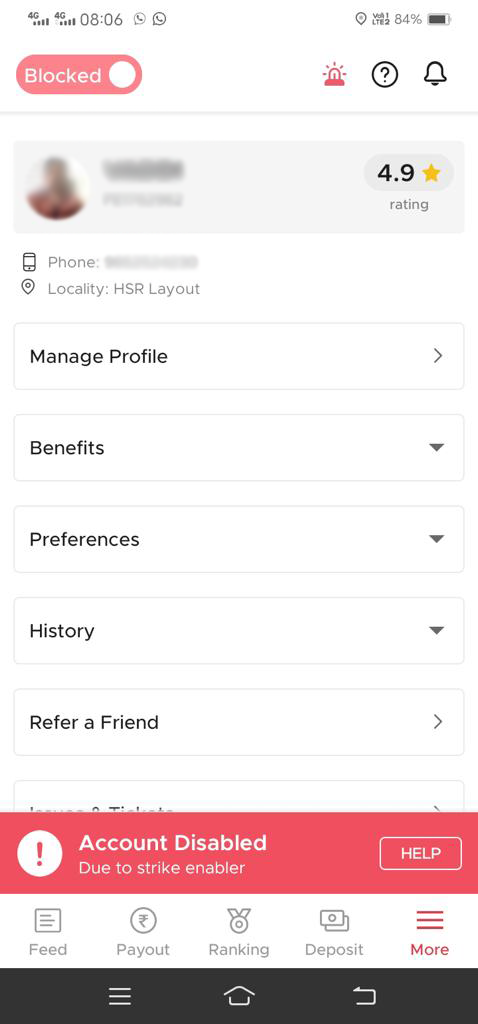 In April, some of the striking Zomato workers were dismissed by having their accounts disabled.
 
A representative from Swiggy's management met the striking workers at the New BEL road location on July 22. However, the workers did not find his responses satisfactory and continued the strike on July 23. According to Lokesh, there may be more than two lakh Swiggy delivery partners working in Bengaluru alone.
Get the latest reports & analysis with people's perspective on Protests, movements & deep analytical videos, discussions of the current affairs in your Telegram app. Subscribe to NewsClick's Telegram channel & get Real-Time updates on stories, as they get published on our website.
Subscribe Newsclick On Telegram