TN: AIDWA Study Reveals Dire Debt Crisis Faced by Women
Families earning merely Rs 5,000 per month has increased 22% since the onset of the pandemic.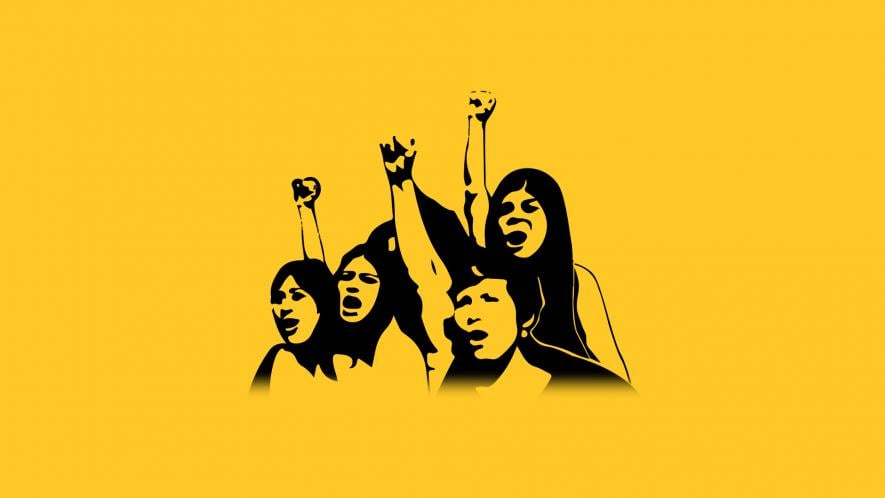 Image Used For Representation Purpose Only
The All India Democratic Women's Association (AIDWA) conducted a survey across India on the loans taken by women after the onset of COVID-19 and studied the implications it had on their financial conditions. The study has revealed the stark drop-in family income which has pushed women to take loans for everyday expenses and the harassment they face in the hands of the money-lenders.
In Tamil Nadu, the study shows that prior to the pandemic, families that earned below Rs 5,000 per month were 20% and it has now more than doubled to 42%.
As part of the study, 1,073 women in 30 districts were surveyed in the state, the majority of them were in the age group 30 to 60 years. Out of them, 594 of the women were from rural areas, and 479 were from semi-urban and urban areas.
More than 80% of the women were working in unorganised sectors, which also included manual scavenging. A good 12% of the women were dependent on the National Rural Employment Guarantees Act (MGNREGA), and 75 of them were not employed.
FORCED TO BORROW
The study carried out by AIDWA revealed that women had no other option but to take loans for regular expenses during the COVID-19 lockdown. They borrowed money for house rent, medical expenses, everyday food, children's tuition fee etc.
Loss in business, wedding expenses, to pay interest on loans borrowed and payment for chit funds were added burdens for which they had to borrow money. The interest on loans ranges from 5% to as high as 27%.
The study observed that the number of single women - such as widows, divorcees, abandoned by husbands and unmarried - and women-headed families are considerably high and they are economically worst affected. These women are most often the only earning member in the family, with children and entire families to support.
Women have given their Aadhar cards, ration cards, land pattas, jewels and even pension books as collateral for loans.
Without means to pay back loans, many families have sold their gold ornaments to clear the debt. Many marriages were withheld during this pandemic due to sudden lack of income and loss of jewels.
FACING ABUSE
The common source of loans are microfinance institutions, private lenders, government banks and pawnbrokers. The study shows that 474 of the women borrowed money from microfinance companies, 314 from friends and relatives, and 107 took bank loans.
Women have reported that when they are unable to pay interest and pay back the debt on a timely basis, microfinance collectors misbehave with them and speak in foul language. The study shows that unable to endure the shame women have even attempted suicide.
"Verbal and sexual abuse, insulting speeches, incitement to suicide, visiting at midnight to recover loan etc" are the ways in which the women have been harassed, notes the study. Women headed families particularly faced many problems and were mentally disturbed due to the harassment.
The women who lost their husbands were unable to pay back loans and had to forgo their jewels which were given a mortgage.
Even self-help groups (SHG) were not exempted or provided more time to pay back loans. Although some members were unable to contribute, the group had to collectively raise funds to pay loans.
DEMANDS
In view of the fact that women have been pushed into such a crisis, the All India Democratic Women's Association had petitioned the Madras High Court to stop the collection by microfinance institutions until some level of normalcy returns and not to charge interest on the loan during that period. The Court ordered micro-financing companies to not use force while collecting loans, and consequently, the Reserve Bank of India announced a six-month moratorium for the borrowers to repay loans.
"Women who have been self-employed in works like tailoring and women working in small companies are no longer in a position to continue their work. Domestic workers lost their jobs. The government has not provided any relief for such women" observed the study.
AIDWA demands financial assistance through banks from the state government to help women start businesses. They insisted that priority be given to single women, and to provide low-interest loans to start new businesses
As relief, AIDWA had demanded relief of Rs 7,500 per family for a period of six months during the COVID-19 lockdown period. Additionally, it has urged the central government to increase the MGNREGA days from 100 to 200.
Get the latest reports & analysis with people's perspective on Protests, movements & deep analytical videos, discussions of the current affairs in your Telegram app. Subscribe to NewsClick's Telegram channel & get Real-Time updates on stories, as they get published on our website.
Subscribe Newsclick On Telegram