TN: Disabled Person Gets Jal Jeevan Connection After Four Years of Struggle
He applied for the tap water connection under the Jal Jeevan Mission in 2019, but his influential neighbour Sam Robinson was working against his interests.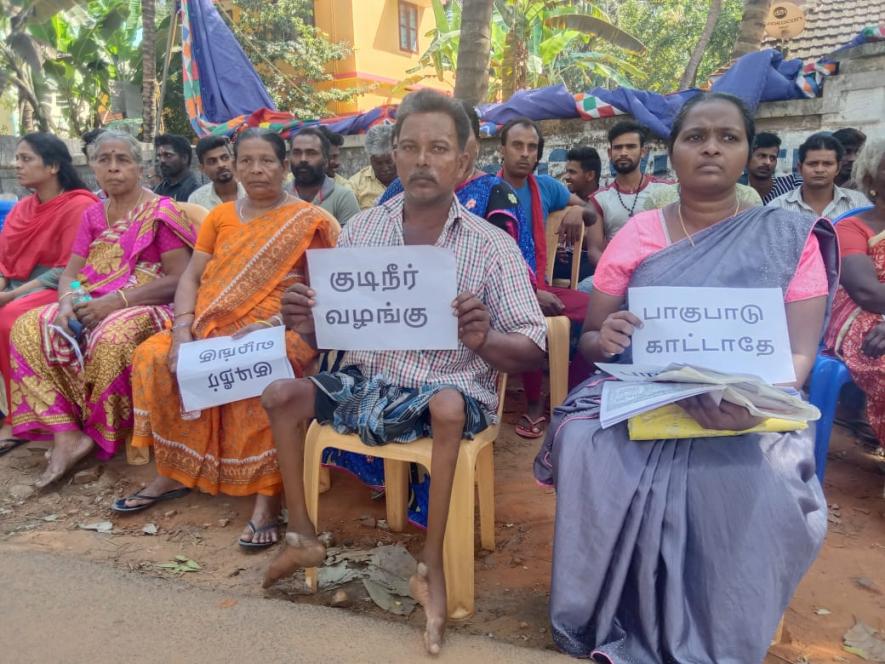 Jebasingh holding a placard, reads "give drinking water" Image courtesy: Murugesan
After a sustained struggle of four years, severely impaired Jebasingh (49) from Rajakkamangalam, Kanyakumari district, got a drinking water connection to his house on January 5.
He applied for the tap water connection under the Jal Jeevan Mission in 2019, but his influential neighbour Sam Robinson was working against his interests.
Jebasingh accuses his neighbour of eyeing his three-cent land. By curtailing the water connection and restricting the pathway to his house, Robinson was attempting to coerce Jebasingh to vacate the property.
Tamil Nadu Association for the Rights of All Types of Differently Abled and Caregivers (TARATDAC) blamed the panchayat president, who is responsible for ensuring water connection, for discrimination as per the Persons with Disability Act, 2016.
Jebasingh is affected by polio and is paralysed on both legs; he uses wheels for mobility. He depends on the Rs 1,000 monthly pension for disabled people provided by the state government for livelihood.
CURTAILING RIGHTS
Jebasingh accused Sam Robinson of using political clout and money power to encroach on public property and curtailing drinking water connections.
"My neighbour chased away those who came to provide drinking water connection saying the pathway is his own property, although it was laid by the panchayat," read Jebasingh's police complaint dated December 25.
"He has also raised walls around the street lamp post erected by the electricity board," added Jebasingh.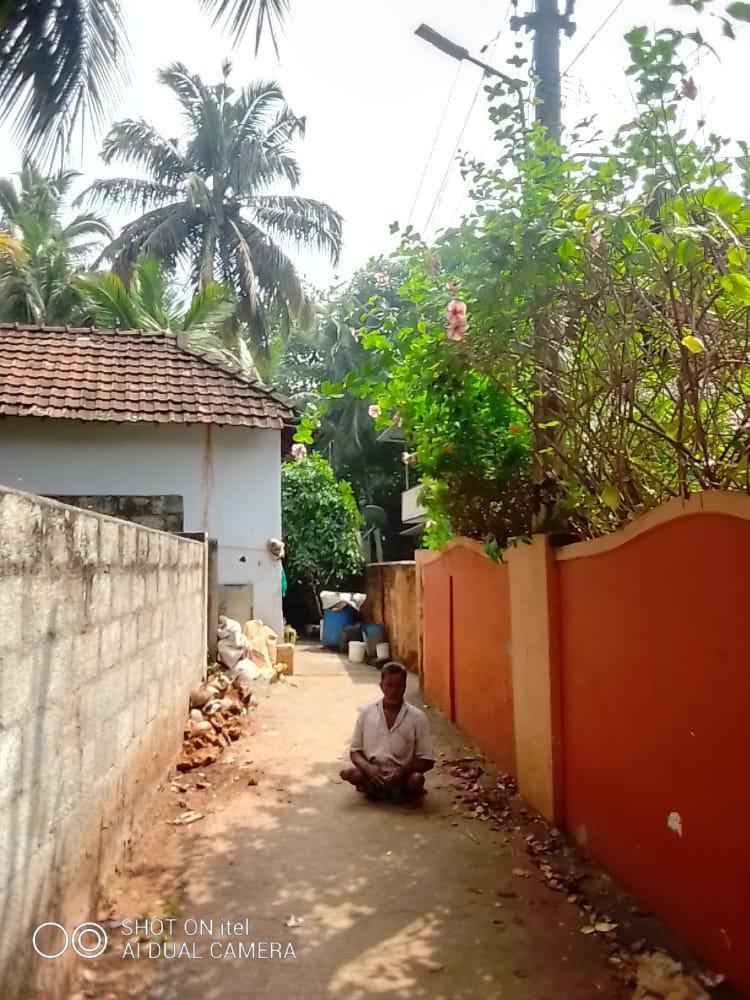 The pathway leading to Jebasingh's house. Image courtesy: Murugesan
In his effort to obtain a tap water connection, Jebasingh filed an RTI and got proof that the pathway was common property.
"But in July 2022, Jebasingh's neighbour forged a document by threatening government authorities and registered the common land under his wife's name," said Murugesan, secretary of TARATDAC, Kanyakumari, to NewsClick.
'AUTHORITIES FOUL PLAY'
TARATDAC blamed local authorities for foul play in obstructing the water connection to Jebasingh.
"Even if there is opposition, the panchayat leader should ensure drinking water connection; that is his responsibility," said Murugesan.
"The PWD could have easily cross-checked Sam's land document and proven that it was forged, but they did not do it," he added.
"Although I have all the necessary documents, the authorities believe only my neighbour. Over the past four years, I almost got a water connection many times, but he intervened and disrupted it," said Jebasingh speaking to NewsClick.
"I could not deal with the situation. I even considered suicide," he said.
Unable to individually deal with his powerful neighbour and biased authorities, Jebasingh approached TARATDAC.
"Jebasingh saw TARATDAC taking up issues of disabled people and got in touch with us. He had all his paperwork in place, yet he was not given a water connection; this is a punishable offence under the Rights Act 2016," said Murugesan.
USE OF FORCE & THREAT
Jebasingh further accused Robinson of using force and threats on him and his family.
"We are coerced to vacate the land we have been living on for many generations, and we are asked to move to a place provided by him. Given that I turned down his offer, he is using his influence and power to give me a difficult time," read Jebasingh's complaint.
"He bought all the land around my property and is making an effort to push me out of here," said Jebasingh.
"Everything is within reach for Jebasingh in his present dwelling. The road is close by. So is the church, and friends and family are within reach. He will feel alienated if he moves out," said Murugesan.
"On Christmas day, when Jebasingh was not at home, Robinson went to the former's house and threatened his wife and sons, demanding them to sign a paper accepting to vacate the land," he said.
Jebasingh filed a complaint with the local police on the same day, but no action was initiated.
With the help of TARATDAC, Jebasingh sat in protest outside the Rajakkamangalam BDO office on January 3.
TARATDAC PROTEST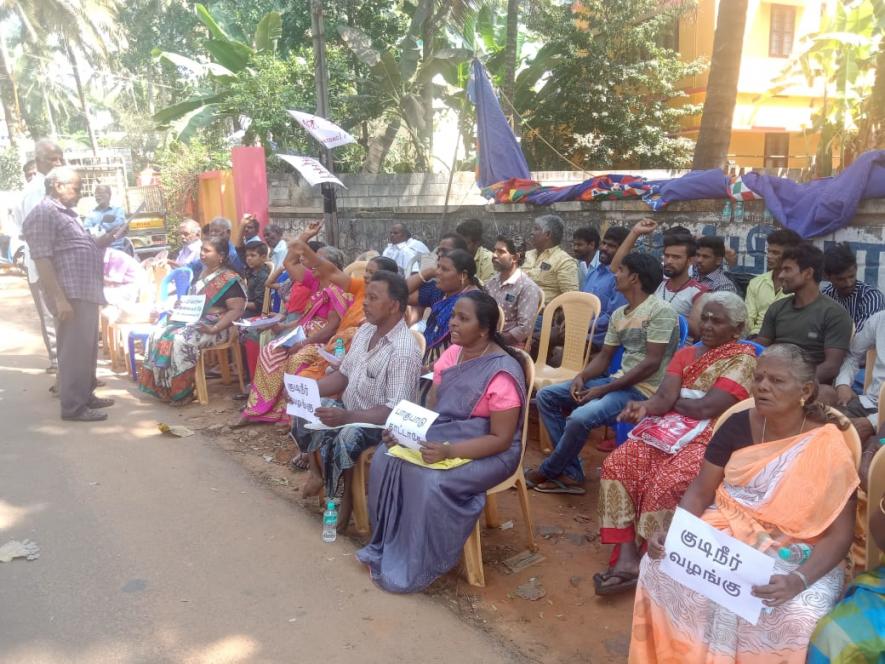 Jebasingh staged a protest with TARATDAC's help. Image courtesy: Murugesan
TARATDAC earlier notified Jebasingh's issue with the district collector. However, nothing fruitful came of it.
"We took up Jebasingh's issue during the Collector's meeting six months ago. He forwarded it to the PD (project director). The PD forwarded it to the BDO (block development officer), who didn't care about it. We were pushed to protest," said Murugesan.
Around 50 people participated in the protest, including Jebasingh's relatives and people from the locality.
The protest continued for two days, and on January 4 night, the local body intervened to provide the pipeline on the spot.
Yet, Robinson's efforts to curtail the water connection to Jebasingh's house did not stop.
"He lied down on the pathway creating trouble for workers who came to extend the pipeline," said Murugesan.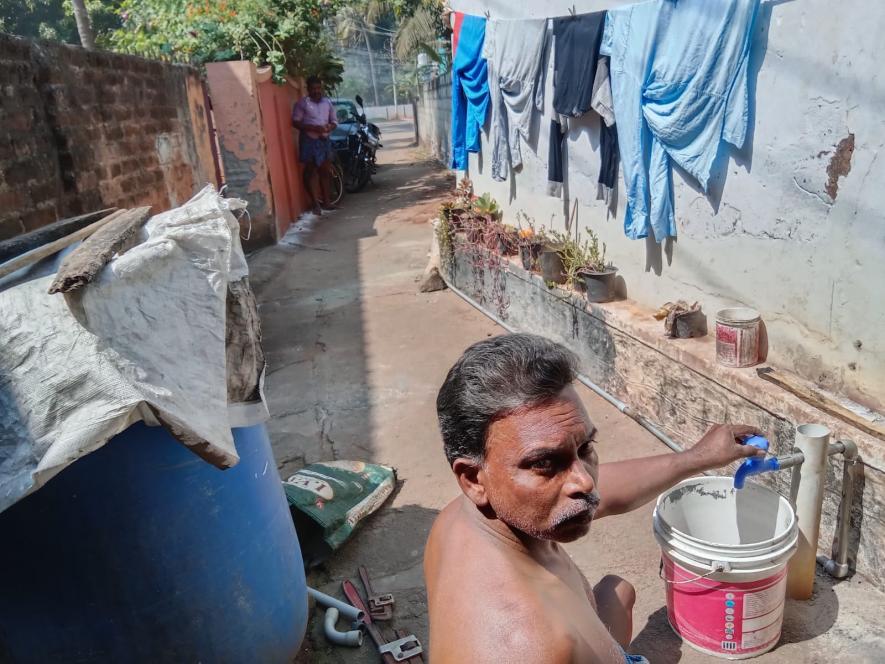 Jebasingh opened the newly extended tap water pipeline. Image courtesy: Nambu Rajan.
However, with the help of police, a tap water connection was extended till Jebasingh's house on January 5.
Given that his house is uphill, the water flow is minimal. He is promised the issue will be rectified in a week.
Get the latest reports & analysis with people's perspective on Protests, movements & deep analytical videos, discussions of the current affairs in your Telegram app. Subscribe to NewsClick's Telegram channel & get Real-Time updates on stories, as they get published on our website.
Subscribe Newsclick On Telegram