TN: Sand Mafia and Sorry Plight of Bullock-Cart Workers in Pudukkottai
Bullock cart owners say they are being arrested and fined by police, while illegal mining and sand transportation via heavy vehicles owned by big business is going on.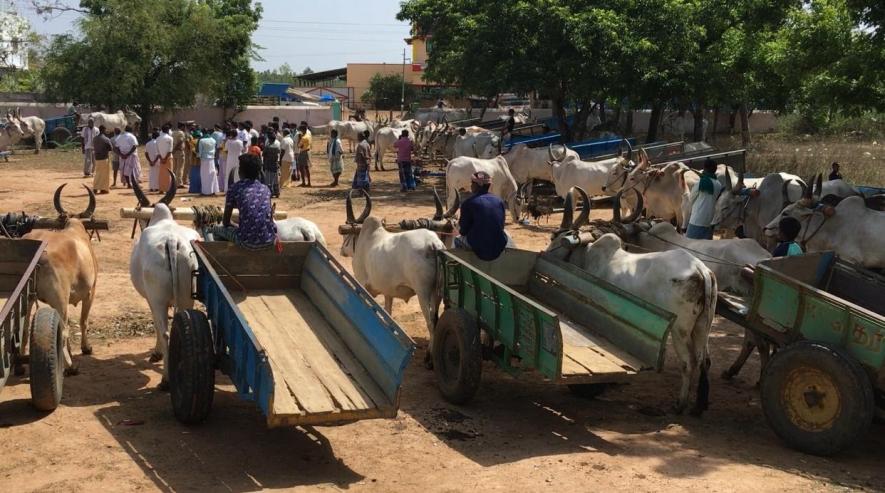 Image courtesy: Veeramuthu
The Tamil Nadu government had put a blanket ban on private players mining sand from quarries in 2013. This decision crushed bullock-cart workers who for generations extracted sand from nearby water bodies for small time construction work, even as illegal mining continued, using heavy vehicles instead.
At present, illicit mining and transportation of sand from around water bodies continues on a massive scale, with lorries and trucks transporting loads of sand. These vehicles are overlooked by the police and government officials.
While several big loaders bribe the police and carry on with their business, the ban has made ife miserable for bullock-cart owners, who are arrested, imprisoned and made to pay exorbitant fines for mining sand.
After continued struggles demanding separate quarries for bullock-cart workers to mine sand, a few districts in the state were successful in regulating small-scale sand mining. But around 5,000-odd bullock-cart owners in Pudukkottai are being punished for carrying out their ancestral jobs.
After many years of struggle, in 2019, the district administration promised to allocate nine quarries for bullock-cart workers to mine sand. Three years later, this promise is yet to be fulfilled. Under the leadership of the Bullock-Cart Workers' Union, affiliated to Centre of Indian Trade Union (CITU), these workers are now demanding the immediate opening of the promised sand quarries in the district.
ONE LAW, TWO STANDARDS
On paper, the government put a blanket ban on sand mining and bracketed off small-scale mining carried out by bullock-cart workers along with big miners who used trucks. But on the ground, two standards are being adopted to implement the ban, allege bullock-cart owners.
"Sand is transported in broad daylight in lorries, but the police turn a blind eye to them, as these are run by powerful big businessmen, who are close to either of the big Dravidian parties in the state. However, small bullock-cart workers are being targeted and picked up by the police," alleged Veeramuthu, secretary of the Bullock-Cart Workers Association in Pudukkottai.
Supporting his view, Gopalan, a bullock-cart owner, said: I have not heard of even one lorry being captured by the police for mining and transporting sand."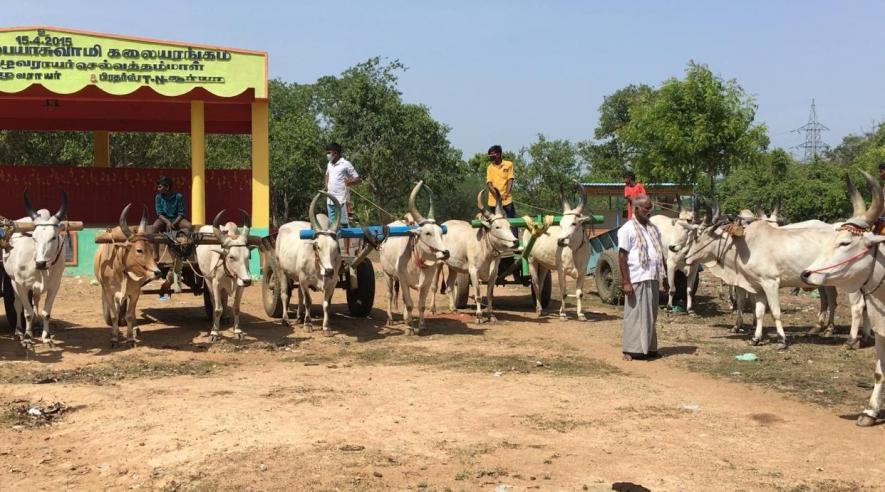 Image Courtesy: Veeramuthu
Senthil Kumar, another bullock-cart owner, said: "The sand mafia destroyed our water bodies, which has indirectly affected agriculture in the area. The government banned sand mining because of environmental degradation caused by the sand mafia, but lorry owners continue to make big profits, and we are being pushed further into poverty".
He said: "For one load, which amounts to carrying sand from a quarry to around 2-3 km, we get paid around Rs 1,000. Fifty per cent of that amount goes into feeding the bullocks. And, we work only around five days a month fearing being caught by the cops".
On the other side, "lorries make anywhere between Rs 20,000 to Rs 40,000 for one load, depending on the demand", said Veeramuthu.
'BRUTAL TREATMENT' BY POLICE
Although bullock-cart workers have managed to successfully get the government to accept their demand for separate quarries, this is yet to materialise. Soon after the demand was accepted, the COVID-19 pandemic set in, followed by the Assembly elections and another massive wave of infections.
During this period, bullock-cart workers mining sand are being arrested by the police and fined exorbitant sums of money, even though they have been permitted to mine though the paper-works is not finalised.
Veeramuthu said "if a bullock-cart driver is caught for mining sand, he is imprisoned for 15 days and made to pay Rs 7,500 for each day he spent in jail". The price is apparently the cost for caring for his bullocks.
"We are scared of the police. Just three days ago, three carts were seized and their owners imprisoned. We had to pay Rs 32,000 for each of the captured carts and Rs 25,000 for releasing the owner of the carts on remand. It costs up to Rs 60,000 to release the cart and owner if caught for mining" said Senthil. 
Gopalan said "at least earlier the cops warned us, now they are directly arresting us. They are treating us like terrorists".
NO ALTERNATIVE
Bullock-cart workers are carrying on with this profession even though it is only yielding them loss, and because they have no alternative and know no other profession. Additionally, they are attached to the work and to their oxen which they are reluctant to give up.
"We have been doing this job for generations. My grandfather did it, my father also did it and now I am carrying on the work. I was sent to school, but I couldn't study. This is the only work I know. And I have a debt of Rs 4 lakh now" said Gopalan.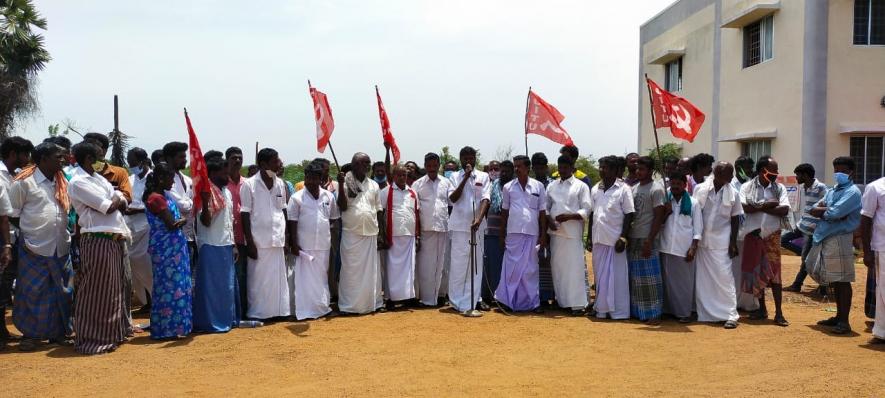 Image courtesy: Veeramuthu. Pudukkottai bullock-cart workers on protest earlier this month
Senthil is sailing in the same boat. "We know no other profession. Even if there was the possibility of agriculture, we could have thought of an alternative. But,that is also ruined", he said.
"When we protest, government officials assure us of implementing our demand, but it is soon forgotten. We are pushed to protests once again. This vicious circle has been going on for years" said Gopalan, adding "We have been struggling under the CITU banner for 10 long years, and are confident that we will see the light of day. Fellow bullock-cart workers in Trichy and Tanjore have been successful in getting their stipulated quarries, so will we" he added.
Veeramuthu said they were planning to hold another protest later this month. "We are going to submit our bullock-carts to the district administration. If they do not ensure livelihood to us, there is no point in keeping our carts and bulls".
Get the latest reports & analysis with people's perspective on Protests, movements & deep analytical videos, discussions of the current affairs in your Telegram app. Subscribe to NewsClick's Telegram channel & get Real-Time updates on stories, as they get published on our website.
Subscribe Newsclick On Telegram