TN this Week: Farmers, IT Employees, Sanitation Workers and the Differently-Abled Hit the Streets Demanding Basic Rights
After IT giant Cognizant increased its workday by an hour and made it a ten-hour workday for its employees a protest demonstration was held in Chennai this week.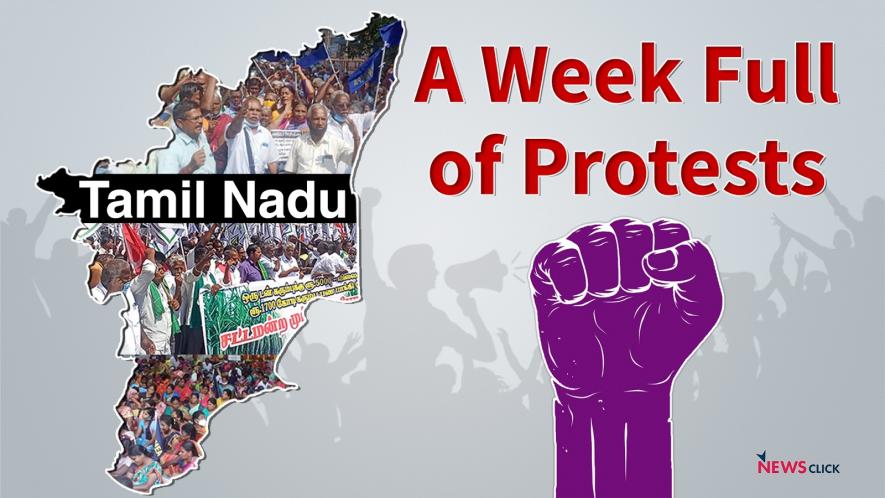 Varying sections of the state's population held protests against the All India Anna Dravida Munnetra Kazhagam (AIADMK) led state government and the Bharatiya Janata Party (BJP) led Central Government.
Farmers stormed the state capital opposing the "anti-farmer" and "pro-corporate" measures of the Centre and state.
Anganwadi and Mid-Day meal workers have been relentlessly voicing their right to proper pay and social security. They also marched to Chennai in the thousands this week.
Ten of thousands of differently-abled persons occupied government offices demanding proper implementation of the Rights of Persons with Disabilities Act, 2016.
IT employees staged a protest against increase in work hours at Cognizant, a result of the Centre's new Labour Laws. NewsClick brings you a round-up of the happenings in the state this week.
19 DEATHS FROM FIRECRACKER FACTORY EXPLOSION
An explosion ripped through Sree Mariyammal Fireworks in Virudhunagar district at about 1:30 pm on February 12. Eleven people died on the spot and the death toll has since climbed 19. It has been said that at least 11 out of the deceased were women and that one of them was pregnant. More than 30 persons were injured in the accident. Read more
Petroleum and Explosives Safety Organisation (PESO) attributed the high toll to the unit having been illegally sub-leased to many others. The police has booked three persons, including the license owner, and are on the lookout for them.
A fire had also broken out at a firecracker factory near Sivakasi on February 13.
FARMERS STORM CHENNAI, MEET MINISTER AND CLINCH DEMANDS
Farmers from different parts of Tamil Nadu reached the state secretariat in Chennai on February 11. Sugarcane farmers are demanding the disbursal of dues worth Rs 1,700 crore. Farmers affected by the installation of high-tension electric lines, which were laid out through farmlands in 12 districts of the western districts, demanded compensation. They also demanded the withdrawal of the Chennai-Salem Expressway project, which found mention in the latest Union Budget.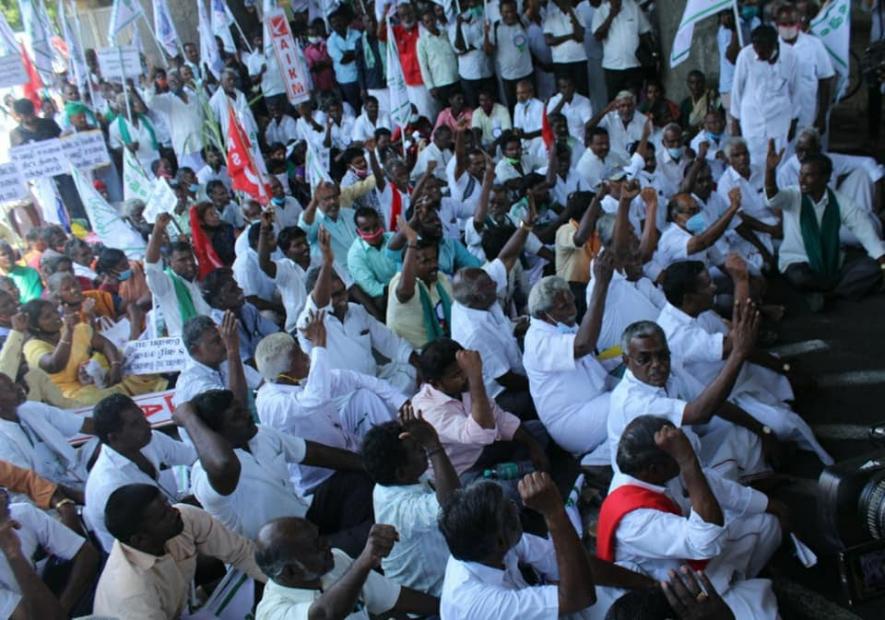 Farm Union leaders met the state electricity minister P. Thangamani and stressed on the need for immediate compensation to farmers affected by the installation of high-tension electric lines. They also stressed that compensation should henceforth be provided for installing wells, bore-wells and buildings. A demand for withdrawing cases on farmers who protested against the high-tension electric wires installation was also put forth.
The minister has accepted the demands and promised to implement them. Read More
DIFFERENTLY-ABLED PERSONS OCCUPY GOVT OFFICES, DEMAND JOBS
Around 32,000 differently-abled persons occupied 187 government offices across the state seeking jobs in government and private sector organisations, as entitled by law. The differently-abled persons stayed put in different government offices for two days from February 8.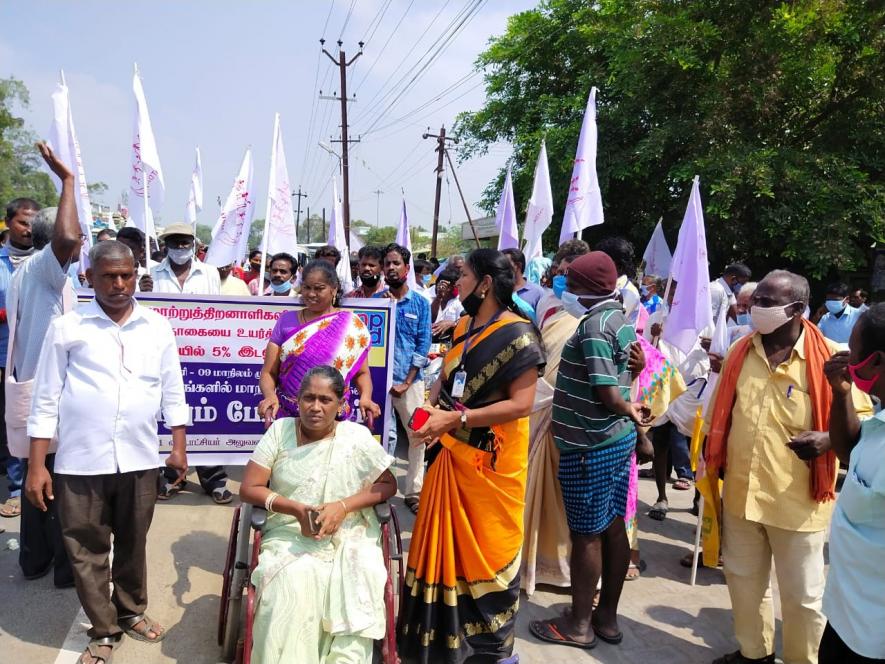 The protest was temporarily withdrawn after talks were held with the department of social welfare. The Tamil Nadu Association for the Rights of All Types of Differently Abled and Caregivers (TARATDAC) has decided to restart the protest from February 17 if the government fails to keep its promise. Read more
GOVERNMENT REJECTS ANGANWADI WORKERS' DEMANDS
Two massive demonstrations were held in Chennai on February 9 by Mid-Day meal and Anganwadi workers and pensioners targeting the AIADMK-led state government. However, the government refused to acknowledge their demands to fill 4.5 lakh vacancies, regularise 3.5 lakh employees with time-scale pay, and provide gratuity of Rs five lakh at the time of retirement and a monthly pension of Rs 7,850.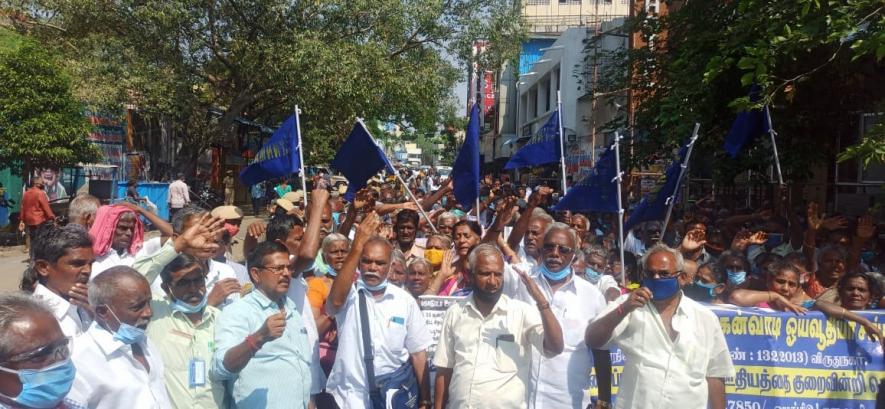 T. Daisy, an office bearer of the Tamil Nadu Nutritious Meal Workers Union told Newsclick that the organisation's Executive Committee will meet on February 16 and decide on the next course of action. "We will likely give a call for occupying government offices in district capitals in the coming days," she said. Read More
IT EMPLOYEES PROTEST HIKE IN WORK HOURS
A protest demonstration was held in the IT Corridor, Chennai, under the leadership of the Union of IT and ITES Employees (UNITE) which opposed the hike in work hours at Cognizant. The corporate company has recently increased its workday by an hour and made it a ten-hour workday for its employees.
Speaking to Newsclick, UNITE's general secretary, Alagunambi Welkin said: "With work-from-home in play employees are already facing an increase in work hours and with the increase of another hour in the workday, workers will have to sacrifice more of their personal time, the time they spend with their families and children."
"Cognizant wants to make a profit from this. By a crude calculation, by increasing work by an hour per day per employee, Cognizant would earn close to, or even more than, Rs. 10,000 crores per annum," he claimed.
SALEM DISTRICT SANITATION WORKERS GO ON STRIKE FOR PENDING PAY
The sanitation workers of Salem Corporation went on a one-day strike on February 8 demanding the immediate payment of three months worth of dues owed to them. They also pointed out that the employee contribution deducted from the workers' salary for the last five years has not been transferred to their respective Provident Fund (PF) accounts.
Issuing a warning to the authorities, the general secretary of the Salem District Municipality and Corporation Workers Union said they would "extend their protest indefinitely if the authorities do not take any steps to address their demands."
95 TERMINATED CHENNAI LUXURY CLUBS WORKERS AWAIT GOVT ACTION
Last year, the Madras Boat Club and Gymkhana Club terminated 39 and 56 workers respectively because the workers demanded full pay. Several protests were staged and respective authorities were met, but their managements refused to absorb the workers and pay full salaries. The union leaders resorted to a hunger strike following which the labour department on February 9 promised to pass a government order in favour of workers. Workers await the order. Read More
DALIT MANIFESTO FOR ASSEMBLY ELECTIONS RELEASED
On February 11, the Tamil Nadu Untouchability Eradication Front (TNUEF) released a 'Social Justice Manifesto', written from a decade of experience the organisation has spent working on the ground. The manifesto said it would uphold social, economic and political rights of the Dalits. The Front has stated that the intention of the manifesto was that parties which come to power in the state implement agendas listed in the manifesto, and that others would voice them too.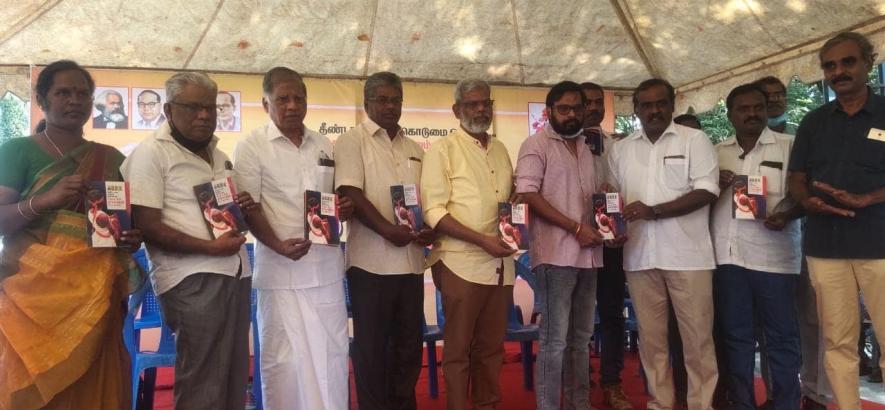 "A special manifesto is needed for Dalits," said Samuel Raaj, Secretary of the TNUEF, "because education, employment, housing, sanitation, nutrition… everything is a problem for the Indian people, but it is a problem several times over for the Dalit population".
BJP STATE LEADER ARRESTED UNDER GOONDAS ACT FOR HATE SPEECH
The Coimbatore district collector on February 11 issued an order to detain the BJP's state working committee member R.Kalyanaraman under the Goonda Act for a speech he made on January 26. Police have said that during a protest organised by the BJP, Kalyanaraman made a speech promoting enmity between people of two religions.
The order read that the BJP leader had been found indulging in activities prejudicial to the maintenance of public order and peace.
COVID-19: VACCINATION CONTINUES TO BE UNPOPULAR
According to data from the health department, 15,856 healthcare workers, front-line workers and the police were vaccinated on February 12 against a capacity of 62,700 people.
At least six more deaths were reported due to COVID-19 on Friday and the death toll stands at 12,408. There are a total of 4,285 active cases in the state currently.
Responding to a writ petition filed by a disability rights activist on February 12, the Madras High Court has asked the Tamil Nadu government to ascertain if it would consider disabled people as a priority group for vaccination.
Get the latest reports & analysis with people's perspective on Protests, movements & deep analytical videos, discussions of the current affairs in your Telegram app. Subscribe to NewsClick's Telegram channel & get Real-Time updates on stories, as they get published on our website.
Subscribe Newsclick On Telegram