Tales of Love: Choosing Humanity Over Religion in 2022
When hate sells, it is tales of everyday harmony that get lost in the clamour for blood. It is such stories of fraternity that not only bring a 'feel-good' factor in our daily news, but reaffirm the Indian people's basic commitment to co-existence, pluralism and tolerance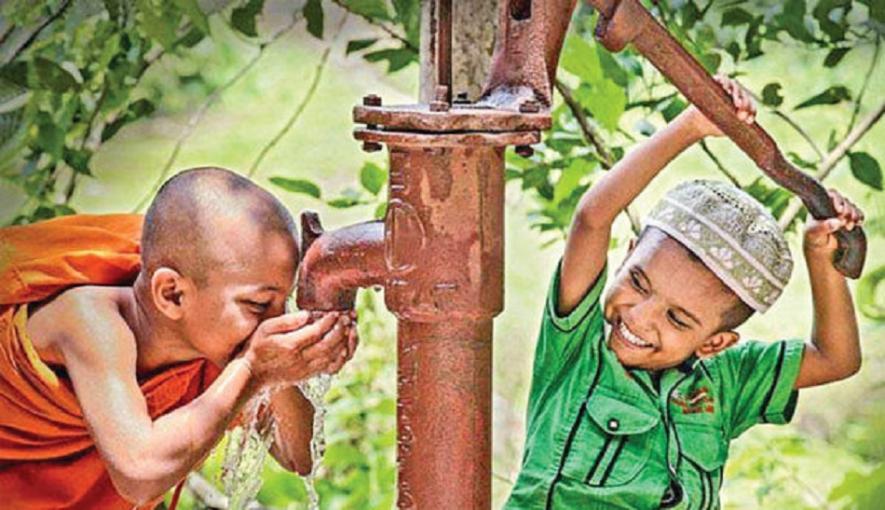 Make love not war, a slogan that quickly gained traction in the anti-Vietnam war protests, is germane to the world we live in today. When hate is sold politically, like the proverbial hot cakes,with the commercial news media and even popular culture like cinema joining this chorus, it is peace lovers who go look, and always find, everyday accounts of love, harmony, fraternity and peace.
We bring to you some of these from the year 2022, where people chose love over hate, a choice made by the committed few in this day and age
In April, two weeks after calls for economic boycott were made against the Muslim community, Chennakeshava temple in Belur in Hassan district, Karnataka continued its tradition of reciting Koranic verses at the beginning of its famous Rathotsav (chariot festival), while also making provisions for non-Hindus to set up stalls in the complex.
During Ramzan, a Muslim family in Alwal locality of Telangana's Hyderabad district offered their house for the wedding ceremony of their neighbour, a Hindu girl, who lost her father in the first wave of Covid-19."When we came to know about her [Pooja's] wedding, we tried to do whatever little we could, as family members. It's also the holy month of Ramzan and what can be better than organising the marriage of a daughter," said Nadira.Reports filed by multiple news outlets reported how the men of the Muslim family stood side by side greeting guests, while the women sang wedding songs with other women. The family also hosted a traditional meal and offered gifts to the guests.
By way of fulfilling their father's dying wish, two sisters became an example of inter-faith harmony. Saroj and Anita, donated four bighas of land worth around ₹ 1.5 crore to an Eidgah in Kashipur town of Uttarakhand, in May this year. The gesture touched Muslims in Udham Singh Nagar district so deeply that to reciprocate the goodwill, they offered prayers for the deceased on Eid. Further, committee President Hasin Khan promised to felicitate the women for their gracious decision. Moreover, what came to light due to this is that the Eidgah is built alongside a Gurudwara and Hanuman temple and the religious heads discuss and time their prayers in a manner that helps maintain co-existence and peace in the neighbourhood.
Hindu family guards Muslim wedding
In June, a Hindu family reached out to the local police in the Uluberia region of Howrah, West Bengal to ensure that their neighbourPakiza enjoyed a joyous and worry-free wedding, despite prohibitory orders issued due to an eruption of violence in the area.the family also helped arrange for a car to take Pakiza to her new home.Tapas Kodali, LakhikantaKayal and UttamDolui promised to take care of everything. From welcoming the groom and guests to ensuring Pakiza's safe journey to her in-laws' house, the family participated in the marriage function. IddenesaMullick, the mother of the bride said, "I will be grateful to myneighbours for the rest of my life." Meanwhile, Kayal said, "It is our duty as citizens to stand with Mullick." Even the groom Mokkabir said he was pleasantly surprised by the warm welcome and thanked the family for the smooth ceremony.
A flower bearing police force
To avoid any further violence (read Ram Navami violence), UP Police was on high alert in June, however Lucknow police made good use of this deployment by handing out roses to namazis. To mirror the goodwill, the devotees too gave flowers to the officers after namaz. The police administration was pleasantly surprised by this gesture too!
Assam floods and show of humanity
The north eastern state of Assam was ravaged with floods in June this year and while government struggled to provide for the people, Muslims in Assam's Silchar town used rowing boats amidst knee deep water and brought bottled water for the locals. This water was especially for those families who were trapped inside houses where the ground-level is completely submerged.Although this water was a paid service, people were grateful for this help.
Muslim employee carries out last rites of Hindu employer
In July, becoming an example of exemplary communal harmony, Muhammad RizwanAlam carried out the last rites of his ailing employer, a hindu who had no family to call his own, except his employees. The small group carried Shah's arthi and walked along the narrow locality pathways of Sabzibagh, Patna in Bihar chanting "Ram namsatyahai". Even Shah's arthi was made by the Muslim group with bamboo poles and help from a Hindu priest. Rizwan and his family engaged priests to ensure that the 13-day shraddh rituals for Shah were observed correctly."We participate in each other's important occasions from birth and festivals to death. We have a basic understanding of each other's rituals," said Rizwan.
Kashmiri Pandits welcome Hajis
In Kashmir Valley too, Hindus and Muslims are showcasing how they are placing humanity above religion everyday. In July, a video of Kashmiri Pandits welcoming Hajis at the Srinagar airport went viral on social media. The Pandits were singing traditional Na'at to welcome people returning from Hajj, the holy pilgrimage of Muslims.Na'at is poetry praising Prophet Mohammed.
What preceded this incident was local Muslims setting aside Eid festivities to help the Indian Army's disaster relief teams with rescue operations involving Amarnath yatra pilgrims who had been affected by the cloudburst and flash-floods in the region. The Muslim vendors including pony service providers and shopkeepers did not go back to their village to celebrate Eid with their families, and instead stayed back to help the Army with the rescue operations.
Muharram commemorated in a village with no Muslims
Muharram is the time when Muslim grieve the death of Prophet Imam Hussain. In a pleasantly surprising instance, Hindus of Hirebidanur villagein the Saudatti taluk of Belgavi district, Karnataka, observe traditions during the month. This despite there are no Muslims living in this village but there is  a mosque. The Mosque was built by two Muslim brothers long ago. Now, every Muharram, a Muslim cleric from the neighbouring village stays at the Mosque and performs traditional Islamic prayers, while a Hindu priest also visits the mosque to offer Hindu prayers. Residents bearing torches carry out a colourful procession and carry traditional tajias (tazias) to the tunes of folk music. This is followed by a village fair where children exhibit folk art.
Children of Khoj
During one of CJP's Khoj sessions in Varanasi, school children had some heart warming examples of religious harmony to display. CJP's secular educational program, Khoj, has been creating dialogues with young minds for years, through classroom exercises, so that they identify their individual rights and deepen the values enshrined in the Indian constitution. During one such session, in the 'Letter to God' classroom activity, one boy Mohammad Irfan was drawing the shivling, when asked why he was drawing that, he said he could draw it very well and that Allah is in shivling as well because Allah and God are the same.
Another group of girls with a mix of Hindu and Muslim backgrounds were sitting together and said that they are all good friends and do not think about which religion or caste each one belongs to.
Tunes of devotion, tunes of harmony
During Ganapati idol immersions, in Malad area of Mumbai, Maharashtra, a procession carrying the Ganpati idol, which was playing Hindu devotional songs, switched to an Islamic devotional song while passing by a mosque. The DJ started playing "Bhar de jholimeriya Muhammad" while passing by the mosque. IN a similar incident in Aurangabad district, during Ram Navami procession, the DJ stopped the music while passing by a mosque. Only if more such mass processions, displayed such levels of respect for the other religion, unlike the violence that broke out in other states like Delhi, Madhya Pradesh, Gujarat, Goa and Rajasthan during Ram Navami.
Maha Ashtami Prasad given to Muslim Family
Continuing with historical tradition displaying communal harmony,the centuries-old Devi Doul (Durga temple) in Assam's Sivasagardistrict was set to begin the MahaAshthami festivitieswith the distribution of prasad to an Ahom and a Muslim family. This practice is believed to have been first adopted during the reign of the Ahom kings in the medieval period. There are records with the temple management that read the "prasad of harmony" was received by the family of KonsengBorpatragohain, the first Borpatragohain- one of the three great Gohains (counsellors) in the Ahom kingdom created by SuhungmungDihingia Raja in the year 1527. The tradition was put to a halt due to COVID restrictions over two years and the same was revived this year.Well-known for Hindu-Muslim unity, Sivasagar remained undisturbed even in the trouble-torn times of Babri demolition in 1992.
Further, even a Durga Puja Pandal was erected sharing the boundary with a mosque. Earlier, the puja was held at a location somewhere else in the town, but with a space crunch there around 30 years ago, the organisers had to shift the Puja venue to the Thana Road area of the town where the pandal is next to the old local Beparipatty Masjid. The President of the Masjid Committee, Faridul Islam told IANS, "That time, my father used to be the president of the masjid committee. He, along with other people, approached the administration and urged them to conduct the Durga Puja here, with a specific assurance of not disturbing the harmony between the two communities."Since then, three decades have passed and the celebration of Durga Puja which began by sharing the same boundary wall with the Masjid has been running in a very friendly environment with the active cooperation of the Muslim community as well.Whennamaz is offered in the mosque, the loudspeakers in the Puja pandal are switched off.
Another temple built in Dubai
Indian expats in Dubai, UAE rejoiced as another temple opened up for their worship just in time for Dussehra festival. Situated in a neighbourhood of Dubai known as the 'worship village', the grand place of worship was inaugurated in a ceremony marked with a powerful message of tolerance, peace, and harmony. The 'worship village' in Jebel Ali now houses nine religious shrines, including seven churches and the Guru Nanak Darbar Sikh Gurudwara.
Ram Dal greeted by Muslims in UP
During Dussehra, Muslims in Kaushambi, UP greeted Ram Dal procession performers.Ram Dal is a traditional procession that travels through different neighbourhoods as performers dressed as Hindu deities participate in a travelling play. When a Ram Dal passed through the streets of Syed Wada (Dara Nagar), a Muslim neighbourhood, residents displayed Ganga JamuniTehzeeb, and welcomed them with fruit and snacks.Adya Prasad Pandey, president of Dara Nagar Milla Committee, told TOI, "It's an old-age tradition when people of Muslim community welcome the Ram Dal procession."
JariMedhaby Muslim
Displaying a complex and rich depiction of India's rich tradition of syncretic culture, the Cuttacks Banka Bazar-based Aslam Ali's family has been creating tableaux or jarimedha for Durga Puja for generations with vigour and devotion. Ali's family got contracts from various Puja Committees in Cuttack, Bhubaneswar, Rourkela and even Hyderabad as people love their finished work. "We feel happy doing such work which further strengthens our brotherhood. Because of this work, we get a chance to meet renowned persons of our society and they also felicitate us," said Ali.Not only for Durga Puja, they also create and design similar items for other Pujas like Laxmi Puja, Kali Puja, Ganesh Puja. The rest of the year, day after day, they prepare mukuts (headwear) for Hindu grooms and brides.
Durga Puja at the hands of a Muslim in Ayodhya
At Ayodhya'sMotiganj market Shri NavDurgaCommmittee hasMohammad Tawfiq alias Mama ji as its Secretary for organizing the Durga Puja.During Navratri, Mohammad Taufeeq performs all the rituals required in the service of Goddess Durga – from the ritual placing the Durga's statue to other religious rituals lasting nine days. His involvement from worship to aarti to decoration of the pandal to the distribution of 'prasad' is lauded by the local people who say it is difficult to tell him apart from a Hindu devotee.Taufeeqsays ," religion is made to inspire humans. Religion is for giving good life and happiness to the society. One should not do any such work, which troubles anyone. This is humanity and so is religion".
Muslims pitch in for Hindu temple in Gujarat
Muslim residents of Dethly village near Siddhpur taluka in Gujaratdonated money to renovate the temple of a Hindu deity. As per reports, the temple was renovated at a cost of Rs 1 crore, of which Rs 1,11,111 was contributed by the Muslim community.A three-day yagna ceremony began on October 12 at the village and Muslims set up counters to offer devotees free tea and coffee. The Sarpanch (village headman) VikramsinhDarbar told TOI, "Muslims are offering services such as handling the temple kitchen, serving food and tea to devotees and also in coordination." He said that Muslims have been an integral part of the festival ever since planning for it first began a month ago.
The human side of a tragedy
From Gujarat's Morbi bridge tragedy also came stories of humanity, of religion not blinding people in times of need. Reportedly, a local resident Mahbub Hussain Pathan, being an expert swimmer, saved lives of 50 people including pregnant women and children as he rushed to the spot. Another local resident, Taufikbhaijumped in the waters,and managed to save 35 lives.Naeem Sheikh, a migrant worker from Kolkata, working in the jewelry making sector, rushed with five of his friends to the site of the tragedy. He says between them, they managed to save 50-60 people. but lost a friend Habibul Sheikh. Many other stories displaying humanity also came up after the tragedy. Hussain, an ambulance driver who, alongwith Milan Prakashbhai, ferried the injured and dead to the hospital all night. This when his own cousin had perished in the tragedy. Haseena, a social worker helped in identifying bodies by cleaning them in the civil hospital. Ravi and his friend chipped in to provide food and water to the injured.
Muslims serving Ayyappa devotees
In November,some Muslimsbanding together under the Youth Welfare AP organization  served bhiksha (food) to AyyappaSwamys at Gajuwaka in Visakhapatnam. Youth Welfare and Minorities Rights Protection Council state president Sharukh Shibli, members Zaheer and Abu Nasar arranged food for the Ayyappa devotees who are observing AyyappaDeeksha.
Heartwarming stories of Diwali
During Diwali, a Facebook user posted two photographs of two women drawing rangoli on the porch. The post read, "Two Muslim helper women go out and spend their hard-earned money on flowers and rangoli and make Laksmi feet on the door of their atheist employer, of their own volition, to remind her what a celebration truly is. Surprised and touched."
Love from Pakistan
An Indian family who visited Pakistan for their daughter's tennis tournament were in for a pleasant surprise. A Pakistani gave a lift to the family hailing from Hyderabad and invited them to his office for a meal. He shot a video of the same which then went viral. The family can be seen enjoying biryani with Tahir Khan, the gracious Pakistani national.
Cleaning up roads for Chhat puja
A local news channel in Bihar, reported that in Mokama town in Patna, Muslim men were cleaning the road which people would use to go for Chhatparv. One of the men said they have been doing this since 15 years but it is becoming news now. He said that the condition of the roads in Parsi Mohalla is not good and they filled up all the potholes as well so that when the Hindu women go for Chhat Puja, they have a smooth road to walk on. He said that they surveyed the road from Syed gate to Ganga river which was in bad condition and were hencing cleaning it up and filling up potholes.
Cleaning Durga pandal because all religions are equals
A video was shared on Twitter by a user, where it can be seen that two men were cleaning the ground on which Durga pandal was situated. In the backdrop of a beautiful Durga goddess idol, these men were seen sweeping the ground. The men, mohammad Jamal and Shaikh Saidulla said that this was just like their home hence they were cleaning it. They were not safaikarmcharis, it was not their job to clean the ground but they still were doing it. Saidulla said, " the children from our area come here to play, small shrapnel should not hurt them, so we are cleaning.". Jamaal said, "All religions are equal. No one is one above the other. We clean this everyday. During pooja, we clean this ground at night itself."
Reading about such instances fills our hearts with a hope that in the larger scheme of things, humanity will one day triumph over hate, bigotry and communal hatred.
Get the latest reports & analysis with people's perspective on Protests, movements & deep analytical videos, discussions of the current affairs in your Telegram app. Subscribe to NewsClick's Telegram channel & get Real-Time updates on stories, as they get published on our website.
Subscribe Newsclick On Telegram