Tamil Nadu: Sharp Rise in Crimes Against Dalits, Women and Children
The state also reported maximum increase in traffic incidents, from 46,443 in 2020 to 57,090 in 2021.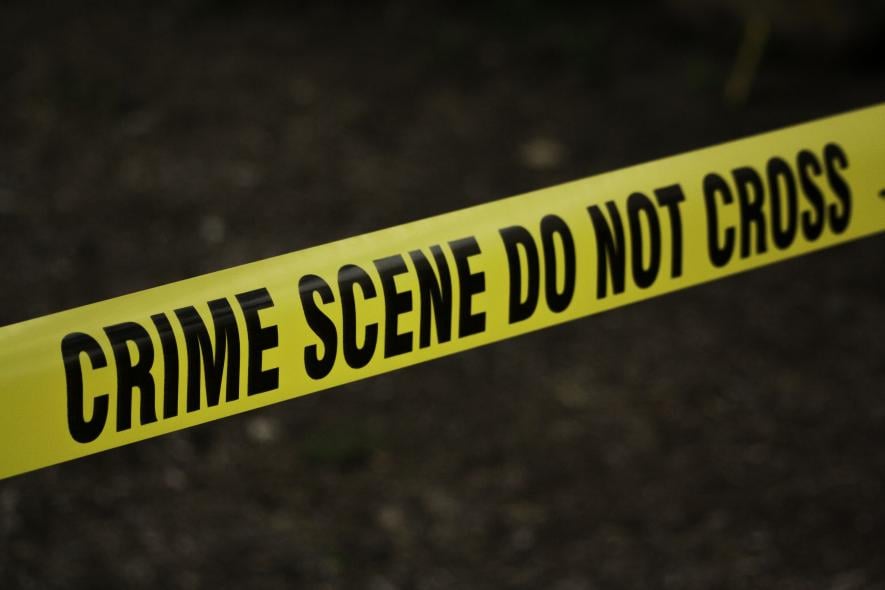 Chenna: The latest data published by the National Crime Records Bureau (NCRB) shows a decrease in overall reported crimes in Tamil Nadu between 2020 and 2021, from 13.77 lakh to 7.56 lakhs cases, respectively.
However, crimes against Scheduled Castes (SCs), women and children saw a spike in the same period.
Moreover, Tamil Nadu reported the highest percentage increase (53.8%) in the total accidental deaths in India in the year 2021 over 2020.
The state's share in total number of suicides in the country has increased by 1.8% since 2019.
CRIME AGAINST WOMEN
Crimes against women in Tamil Nadu shot up from 5,934 in 2019 to 6,630 in 2020, and 8,501 in 2021. This is a sharp increase of 43.25% cases within two years. At the all- India level, there was an increase of 5.35%.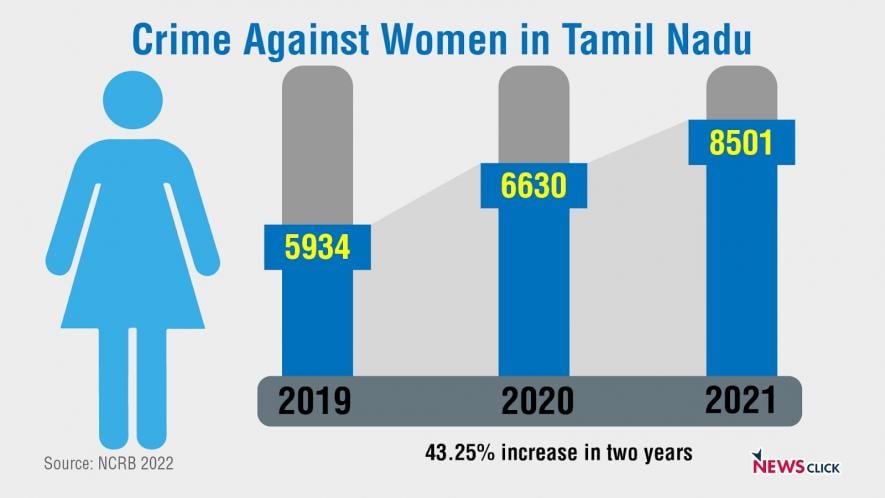 At the national level, 4.05 lakh, 3.71 lakh and 4.28 lakh cases of crime against women were reported in 2019, 2020 and 2021, respectively.
These include cases filed under the Dowry Protection Act and the Protection of Women from Domestic Violence; such as cruelty by husband or his relatives and assault on women with intent to outrage her modesty.
CRIME AGAINST CHILDREN
In Tamil Nadu 4,139 crimes against children were reported in 2019, 4,338 cases in 2021 and a sharp increase of 6,064 cases in 2021. They have increased by 31.74% between 2019 and 2021.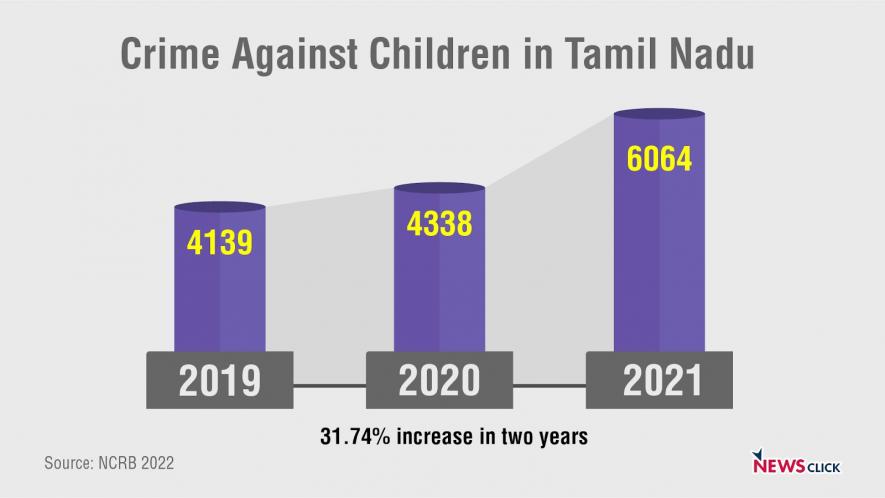 At the national level 1.48 lakh, 1.28 lakh and 1.49 lakh cases were filed in 2019, 2020 and 2021 respectively, an increase of 0.87%.
This includes murder, sexual harassment, and kidnapping and abduction of children.
CRIME AGAINST DALITS
Under Atrocities/Crime against Scheduled Castes, Tamil Nadu recorded an increase from 1,144 cases in 2019 to 1,274 cases in 2020 and 1,377 in 2021. It is an increase of 16.92% of cases in two years.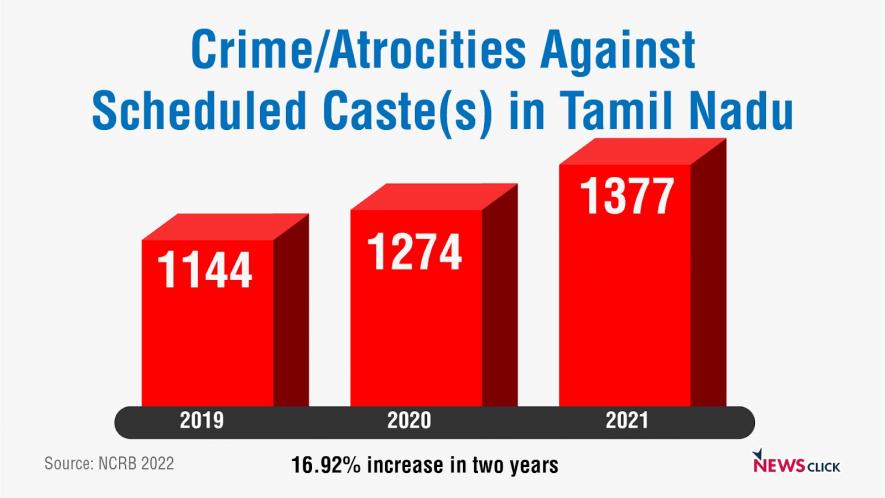 The all-India data shows an increase of 9.7% from 2019 (45,961 cases) to 2021 (50,900 cases).
Uttar Pradesh reported the highest number of cases of atrocities against SCs accounting for 25.82%, followed by Rajasthan (14.7%) and Madhya Pradesh (14.1%) in 2021.
ACCIDENTAL DEATHS
Tamil Nadu has also reported the highest percentage increase (53.8%) of accidental deaths in 2021 (18,390) over 2020 (28,286). This includes deaths by road accidents, by force of nature and others.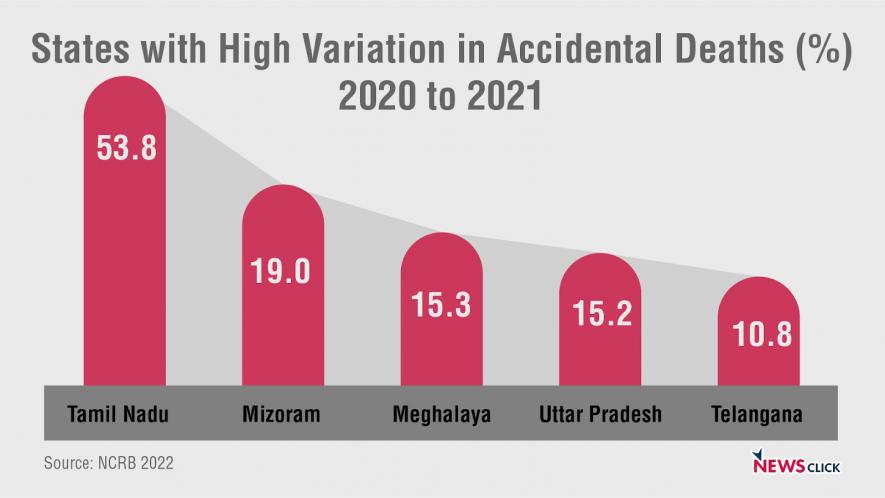 The number of traffic accidents in the country increased from 3.68 lakh in 2020 to 4.22 lakh in 2021. Maximum increase was reported in Tamil Nadu, from 46,443 to 57,090. It is followed by Madhya Pradesh (from 43,360 to 49,493), Uttar Pradesh (from 30,593 to 36,509) and Maharashtra (from 24,908 to 30,086).
Uttar Pradesh (24,711 deaths) followed by Tamil Nadu (16,685 deaths) and Maharashtra (16,446 deaths) reported maximum fatalities in traffic accidents. These accounted for 14.2%, 9.6% and 9.5% of total deaths in traffic, respectively. 
Majority of deaths due to two-wheeler accidents were reported in Tamil Nadu (8,259 deaths), accounting for 11.9% fatalities.
The maximum number of accidents on State Highways occurred in Tamil Nadu (18,560 cases). However, maximum fatalities in such accidents were reported in Uttar Pradesh.
RISE IN SHARE OF SUICIDES
The latest statistics from NCRB note that deaths by suicide increased in India by 7.2% from 2020, with a total of 1.64 lakh people dying by suicide in 2021. Majority of suicides were reported in Maharashtra (22,207) followed by Tamil Nadu (18,925 ).
In the states with a higher share of suicides in the country, Tamil Nadu saw maximum increase of 1.8% in the last two years.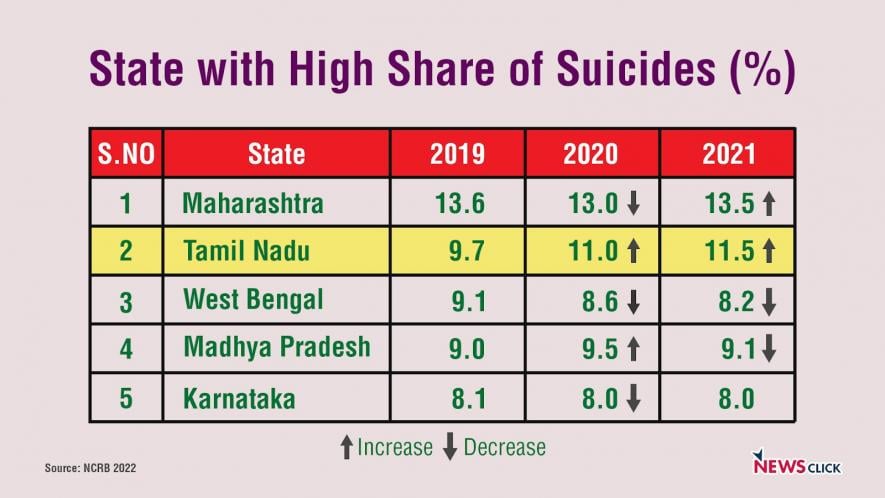 Notably, the four metropolitan cities — Delhi (2,760), Chennai (2,699), Bengaluru (2,292) and Mumbai (1,436) reported a higher number of suicides. Together they account for almost 35.5% of the total suicides reported from 53 megacities. While Delhi showed a decline during 2021 over 2020, Chennai saw an increase of 11.1% suicides.
Tamil Nadu reported majority of suicides by house-wives (3,221 out of 23,179) and government servants (284 out of 1,898 suicides).
Out of the suicides by unemployed persons, 12.6% were in Maharashtra, followed by Tamil Nadu with 12.1%.
Maximum cases of mass/family suicides were also reported in Tamil Nadu (33 cases).
Get the latest reports & analysis with people's perspective on Protests, movements & deep analytical videos, discussions of the current affairs in your Telegram app. Subscribe to NewsClick's Telegram channel & get Real-Time updates on stories, as they get published on our website.
Subscribe Newsclick On Telegram