The Curious Case of Victor Das: Assam Whistleblower Slapped With Criminal Charges
Serious charges were slapped on the coaching centre teacher after he alleged corruption in the recently held Assam Direct Recruitment Examination.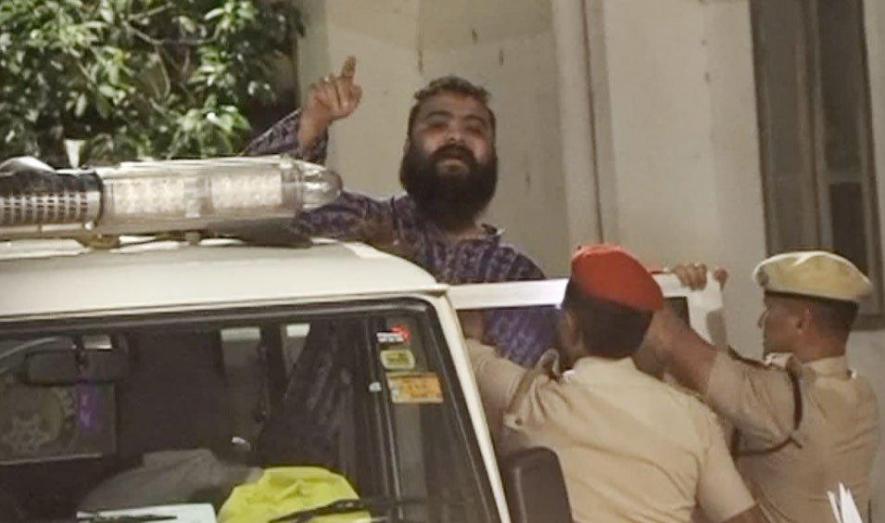 Arrest of Victor Das. Image Courtesy time8.in, used for representation only.
Victor Das, a teacher at a private coaching centre, was arrested on September 9 by Assam Police and slapped with several sections of the Indian Penal Code (IPC). This has spurred widespread reactions from across the spectrum of society. Das invited imposition of serious charges upon him in his attempt to raise some alleged corruption in the recently held ADRE (Assam Direct Recruitment Examination) for various grade III and grade IV posts under the government of Assam.
In his tweets, Das raised the issue by tagging the chief minister, Assam Police, DGP Assam and GP Singh (Special DGP in Assam). The tweet caused a stir as people on social media started expressing their discontent over the matter and urged the government and the police to take a serious note of the issue. The police ultimately arrested Das, and the court sent him to police custody for seven days. Das has been in police custody for the past four days.
The Background
The Assam government conducted the ADRE for around 26,000 jobs in grade III and grade IV categories. Around 12 lakhs youngsters applied for posts through the much-advertised recruitment process. Ministers and officials came out with directives to ensure that this time the examination and the entire recruitment process go without an iota of corruption and malfunction at any step.
Notably, in an unusual happening, the government suspended the internet on August 21 and 28 of August. There was also resentment from different sections of society towards such a drastic step by the government, especially from those who depend overwhelmingly on the internet for their daily business.
It is worth mentioning that Assam CM Himanta Biswa Sarma came out with a lofty claim of giving jobs to one lakh youths during his election campaign in 2021.
Victor Das appeared as a spoiler in the whole episode of chest-thumping about conducting an anomaly-free examination. As a private coaching centre teacher, Das also taught students who appeared for the ADRE. He even seemed jubilant in his earlier tweets when the examination papers included questions he had taught the students. However, things did not appear as smooth and clean as it was thought and advertised.
On September 7, Victor posted a tweet alleging the involvement of a massive lobby in the corruption, including ex-MLAs. He alleged that in what appears to be a scam, there are demands of money from Rs 3 lakhs to 8 lakhs for securing one of the jobs for which the ADRE was conducted.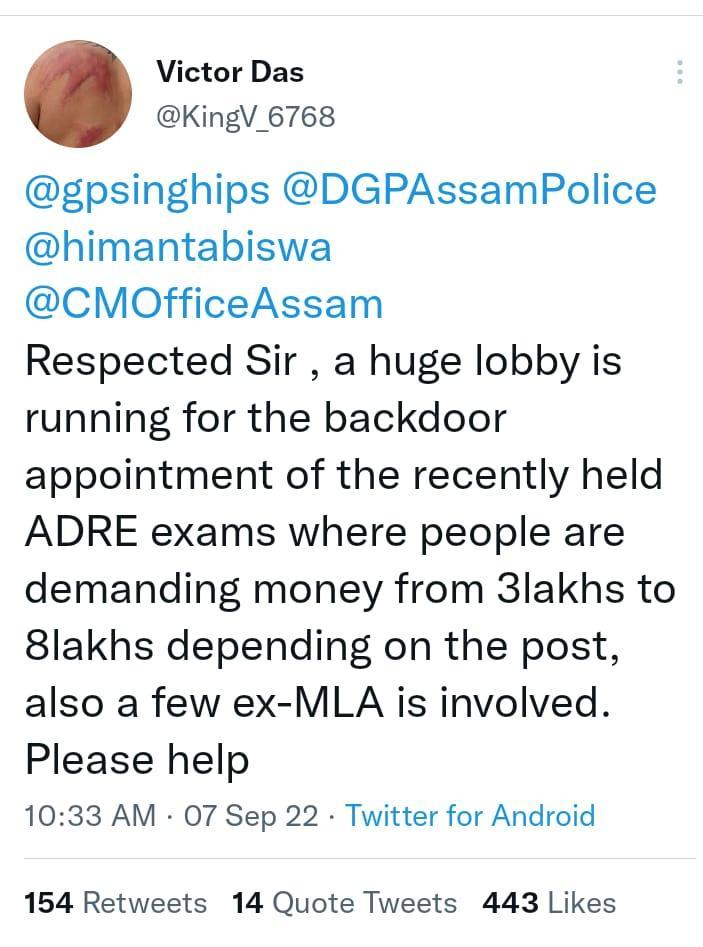 Among all those tagged, including the CM Himanta Biswa Sarma, only GP Singh, the special DGP of Assam Police, was seen to have replied to Victor's tweet, which still appears in the thread. GP Singh, in his reply, urged Das to provide specifics and details to be sent to his inbox. In his other tweets that alleged the leak of the ADRE question paper, responses from others could also be seen expressing the same apprehensions. A few of his students also replied, saying that the demand for bribe money for the job is genuine.
The issue took an ugly turn from here on. Das was summoned to a Guwahati police station as a part of an enquiry into the matter. After a daylong marathon questioning at the Panbazar police station, Das was arrested on September 9. On that day, the Twitter handle of Guwahati Police informed that Das has been arrested for spreading rumours and being involved in a conspiracy to create discord among various sections of the society.
Sections Imposed on Victor Das
Victor Das has been booked under sections 120B, 153, 153A, 384 and 505 of the IPC. Das is in police custody now as a court in Assam ordered him to be remanded for seven days. This is how a whistleblower ended up inviting charges of extortion, criminal conspiracy and intention to cause enmity between groups.
It is worth mentioning here that Das's father died two years back, which Das alleges to be cold-blooded murder. He was often seen tweeting about the issue of his father's alleged murder and he also said that he knew about the culprits.
Notably, in these earlier tweets, Das used to tag the same officials and the CM as he did in the recent case of alleged corruption in the ADRE.
His father, late Kumud Ch. Das, was an employee in the NF Railway and was in the process of uncovering a huge scam in his office, Das says in his tweets. The case is still not settled.
Right after Das was arrested, there has been widespread discontent among people, especially those who appeared in the ADRE with hope amidst acute unemployment in the state.
The opposition parties slammed the government, alleging that a complainant has been victimised. This is an obnoxious act of suppressing people's voices, the opposition claimed in unison.
Akhil Gogoi, MLA from the Sibsagar constituency, in his press statement said, "There is no more democracy in Assam now. How would anyone come out with complaints now? This is an act of fear-mongering and blatant suppression of people's voice."
Interestingly, ministers and MLAs in Assam have also seen commenting on the issue where they vehemently reject the allegations made by Das. CM Himanta Biswa Sarma said, "Is it a James Bond film? There are no anomalies."
On the other hand, the police versions, including those from high profile officials, said that Das was given ample time and scope to prove his allegations. "But he could not bring any substantial evidence in support of his allegations. The persons he named in his statement were also questioned, but from them nothing came out as well," said one senior police official in Guwahati.
DGP Bhaskar Jyoti Mahanta also hummed the same tone. In a media byte, he said, "Victor represented the matter very wrongly." Mahanta was also in focus regarding his earlier comment where he said that if anyone is found to be involved in tempering the exam by any means, they will be beaten badly.
Senior advocates of the Gauhati High court have also raised serious apprehensions of the police act, especially on the sections that have been imposed on a whistleblower. Krishna Gogoi, an advocate at Gauhati High Court, said in a statement, "Victor only raised an issue and came out with some allegations. How can a complainant be arrested in such a manner with those sections imposed? The question is who filed the FIR against him? Was there anyone who filed the FIR?" Gogoi also apprehended whether the CRPC norms are being properly followed.
Santanu Borthakur, an eminent lawyer of Assam, said, "Assam police is acting like jokers. The 153A is imposed when a person's statement can create division between two groups or communities. How can Victor's sayings have fomented enmity and conflicts between two communities? If this remains as a precedence, then it will be dangerous for democracy. How would people come out to give complaints to police hereafter?"
Police raided Das's house at Dadara yesterday and seized his laptop.
Das's arrest and his being in custody for seven days raised more questions and apprehensions in Assam. However, with this also, the issue of corruption and money being involved in the recruitment process through ADRE could not have been suppressed.
Even after Das's arrest, there are a few students who came out with the same allegations. Recently, Jaya Kalita of Rangia (Kamrup district) also shared her similar experiences earlier, where she pointed to the MLA of her constituency, Bhabesh Kalita. Kalita is the president of Assam BJP. Reports said that the state BJP president has even filed a case against Jaya Kalita, claiming her allegations to be false.
In what direction the allegations and counter allegations will move can only be seen in future. The fate of the aspirants participating in the ADRE is also a matter to be watched. However, the much-hyped clean recruitment process of the ADRE has been challenged by some youngsters, which has visibly irked the government.
Get the latest reports & analysis with people's perspective on Protests, movements & deep analytical videos, discussions of the current affairs in your Telegram app. Subscribe to NewsClick's Telegram channel & get Real-Time updates on stories, as they get published on our website.
Subscribe Newsclick On Telegram