The Globalisation of Ghar Mein Ghus ke Marenge
Modi, Netanyahu and Trump brew their toxic mix of audacity and violence to sway public opinion.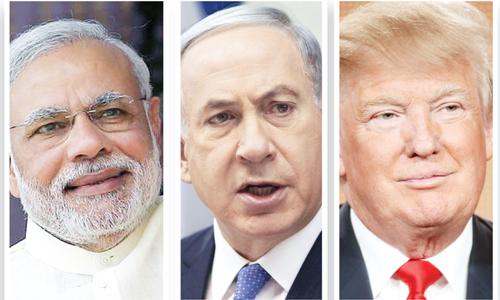 Leading up to his election of 2019 there was one theme that, above all, dominated Prime Minister Narendra Modi's campaign rhetoric. It was suraksha or security of the nation. The most oft-repeated in his speeches and tweeted phrase was "Ghar mein ghus ke marenge," which translated as "We will enter your home to kill you." Reliving the killings of Pulwama and the military bombings of Balakot in February of the year, Modi's campaign came to be dominated by the theme of going into Pakistan and killing terrorists, a motif repeated at almost every campaign speech and daily tweets. 
"What does the new India want?" asked Modi thunderously in his 24 April speech at Ranaghat, West Bengal, "India wants a strong leader who will protect it from terrorists." In his 30 April speech at Bahraich, Uttar Pradesh, he said, "Today every terrorist gets up and thinks in fear that Modi is in power." On 3 May, at Kalaburagi in Karnataka, he repeated a similar claim, "For doing good for the poor, getting rid of terrorism is important. In new India, ghar mein ghus ke marenge and no militant will survive Modi." The message was clear: a strong leader like Modi will protect India from terrorists and is willing and able to seek retribution with violence. As Modi tweeted on 1 May, "India will never be weak again."
Before the April elections of 2019, Benjamin Netanyahu, Israel's long-serving prime minister, fighting corruption charges and a surprising strong electoral showing from an opposition coalition led by Benny Gantz, launched air strikes against multiple neighbouring countries. Despite his hardline international reputation Netanyahu had been, until then, extremely cautious when it came to the use of force. Yet, in the span of 24 hours Israeli aircraft struck Iranian-affiliated targets in Syria, Lebanon, and Iraq. During the campaign Netanyahu boasted of launching hundreds of strikes inside Syria to forestall what he called Iran's "military entrenchment" in its neighbour: Islamic Revolutionary Guard personnel, Shiite militia fighters, and advanced weaponry like precision guided missiles. 
This was a sharp break from Israel's usual policy of what Israeli journalist Ronen Bergman calls in his book, Rise and Kill First: The Secret History of Israel's Targeted Assassinations, "purposeful ambiguity" wherein Israel declines to take responsibility when something mysteriously blows up across the border—thus sparing its enemies blushes so as to avoid pushing them towards a response. Israel's leaders, until Netanyahu, used to speak softly and carry a big stick which they deployed to great effect against regional adversaries. However Netanyahu, during this election campaign, began publicly trading insults with Iran's major general of Islamic Revolutionary Guard Qassem Soleimani by making overt threats of invasions and assassinations.
Fast forward to 3 January 2020, the world came to know of United States President Donald Trump authorising assassination in Iraq of the same Soleimani after calling him names such as "sinister", "evil," and accusing him of being an "imminent threat to United States interests". Soleimani's killing confused even Trump's most ardent supporters since he had come to power in 2016 emphasising withdrawal from endless wars in the Middle East. While pundits were aghast by this move, the timing of the assassination raised eyebrows. Soleimani, after all, had been active in the region for 20-plus years, openly organising Shiite fighters. He would travel between Iraq, Iran, and Syria with impunity and was not known to be elusive. But prior to 3 January, news cycles in the United States were dominated by Trump's impeachment trial which was slated to begin mid-January. While the presidential election is not until November 2020, leading democratic contenders were taking up a lot of television news time and raising significant donations for their campaigns. Amidst this scenario, to assassinate Soleimani appears to be an attempt at short-circuiting the 24x7 media coverage of the impeachment.  
While India, Israel, and the United States' foreign policy paths are uniquely different what do all these men have in common?
They all preside over large democracies, have been elected by popular vote, and demonstrated strongmanship in policy and politics. They also use invasions, bombings, and assassinations as campaign rhetoric. While the final electoral performance of each of these leaders might be different—Modi won by a landslide but Netanyahu and Trump might or might not get to retain power—they have used strength and security as a means to influence public opinion and voters.  
Political scientist Sarah Zukerman Daly, after studying election patterns in post-war El Salvador, concluded that "belligerent leaders are often able to claim credit for peace, which translated into a reputation for competence on the provision of security." This enabled the leaders to own the security valence issue in elections and tend to appeal particularly to swing voters. In explaining why people vote in seemingly counterintuitive ways, Daly pointed to what she called "security voting" in which voters tend to support politicians who act violently to display strength, even in a place such as El Salvador where members of the military were elected to power after organising death squads against Salvadorans. This is counterintuitive, she writes, because often these violent acts create divisions rather than deterrence.
Modi, Netanyahu, and Trump won elections professing strength—and violence. While the target of violence was sometime ephemeral and shape-shifting—for Modi Pakistan and minorities; for Netanyahu Palestinians and Hezbollah and for Trump immigrants and global Muslims—they each spoke to violence both casually and retributively. And each waited until their most domestically and politically vulnerable moment to engage in it. For Modi it was when economists started sounding alarm bells of a free-fall of the Indian economy with 45-year-high unemployment and stalled economic growth; for Netanyahu it was when he and his wife were being investigated for accepting bribes and fraud; and for Trump it was the drum beat of impeachment for abuse of power which was going to culminate in a public (and nationally televised) trial in the United States Senate.
The globalisation of ghar mein ghus ke marenge shows how democratic leaders are using a toxic brew of audacity and violence to sway public opinion and elections. And it might work. 
The author teaches at the Department of Communication Studies, State University of New York, Plattsburgh. The views are personal. 
Get the latest reports & analysis with people's perspective on Protests, movements & deep analytical videos, discussions of the current affairs in your Telegram app. Subscribe to NewsClick's Telegram channel & get Real-Time updates on stories, as they get published on our website.
Subscribe Newsclick On Telegram