The Govt's Package was Too Little, Too Late. We Had Already Left, Say Migrant Workers
Thousands of migrant workers have left for their ancestral villages on foot, with buses and trains not in service due to the 21-day coronavirus lockdown.
Lucknow/Delhi: Two days have passed and Rahul Gangwar has to cover more than 100 kilometers to reach his hometown of Baheri in Bareilly district. He says he can't walk anymore. Rahul has been working as a sweeper in Delhi for five years and this is not the first time that he is travelling home; but it's his first time on foot. 
"I have already covered 150 kilometers. I had kept a few biscuits with me and they are now ever. It is difficult to walk without food and water, and grocery stores are charging double the normal price," he said. 
Rahul is not alone though. He is one among a group of six daily-wage labourers who have undertaken an arduous journey of 300 kilometers on foot, walking the length of Western Uttar Pradesh border to reach to their ancestral village of Abhaypur Mahmoodpur in Bareilly. 
And again, its not just these six. Thousands of migrant labourers across India are marching to their villages.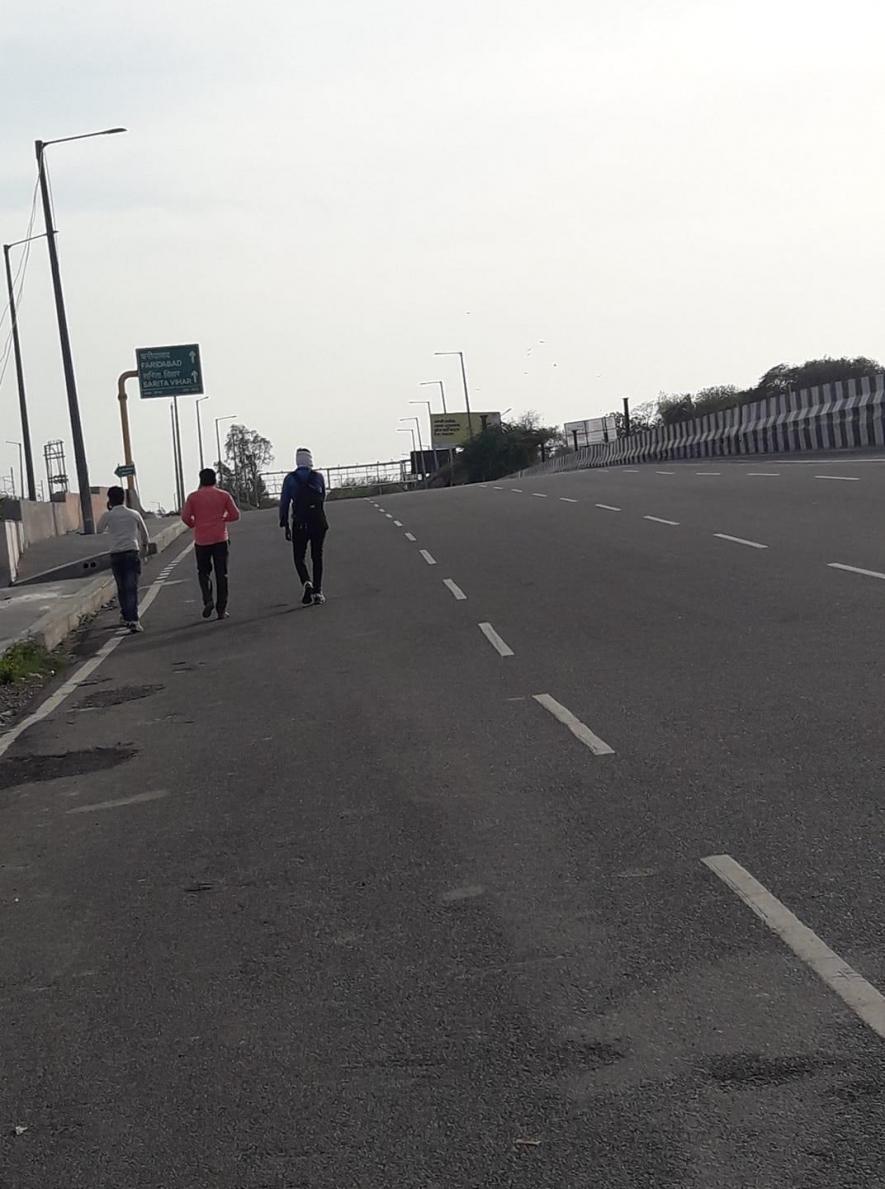 The 21-day lockdown imposed across India in the wake of novel coronavirus, has triggered mass migrations across the country, with labourers undertaking long journeys on foot to reach their homes. It is happening in the absence of public transport – buses or trains. 
STARVATION WILL KILL US BEFORE CORONAVIRUS
Despite Finance Minister Nirmala Sitharaman announcement of a relief package to aid those living on the margins, workers, with toddlers in their arms and kids by their side, had already started their journey home owing to panic and a lack of faith in the administration.
"As everything is shut, the owners have asked us to return when things return to normal. We have no other choice but to leave home," said another migrant labourer.
They looked sceptical about the relief package offered to them. "We heard that they (the government) are offering a package but we haven't received any information yet. We can't risk our lives on government packages which we aren't very sure about. Our children will die of starvation and we can't afford that," said a female migrant worker with a toddler in her arm. 
"We waited for some form of help from the government. But the package came much later and we had already left. We don't know when and how it will be implemented," said another labourer.
Mohd. Afroz Ali runs a brass factory with 20 to 25 workers who were mostly from Bihar and Eastern Uttar Pradesh. Every one of those workers has left on foot. 
"The day Prime Minister Narendra Modi announced that India will be under complete lockdown for 21 days, all the workers left Moradabad for their native villages on foot. I handed over whatever I could give to them, along with their pending allowance, but that was not enough. The workers were so poor that they don't have even mobile phones so that we could ask them for an update on their position," Ali said.
There was something common among all the workers NewsClick met – they were on an empty stomach and penniless. "We have not eaten a single grain for the last three days and we have to cover more than a hundred miles without food and water," Wahab told NewsClick, his voice quivering with trepidation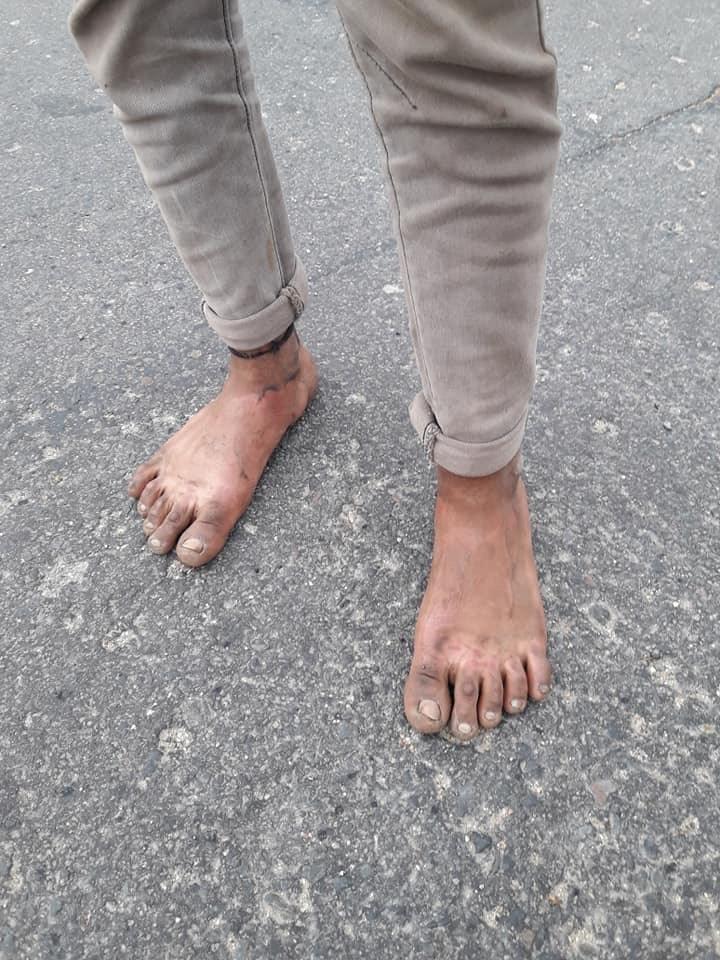 Forty-two-year-old Kushal Kumar, who worked at a weaving factory in Varanasi, is a native of Bihar's Araria district. He said there was no point staying back without income and was dismissive of the government's relief package which, according to him, came through late.
Kushal was part of a close to 30-member group that started its journey on foot on Tuesday night from the city's Madanpura area to reach the Bihar border, a distance of around 250 km.
Commenting on the plight of jobless migrant workers, Sanjay Singh, Project Coordinator of Vigaan Foundation, which works with daily wagers, said: "The key reason behind the plight of jobless migrant workers is that the government announced a relief package for them five days after lockdown. It was too late. They had returned to work after Holi barely a week ago, after having taken home their savings for the festival. Now, their companies either fired them or asked them to come back after the coronavirus pandemic ends. This prompted them to step out of the city and rush towards their villages on foot. The second reason behind their plight is that most of the workers' families are in the village and in this period of sorrow, they want to be with their loved ones."
Speaking on the FM Nirmala Sitharaman's Rs 1.7 lakh crore relief package for the poor, Singh said that there was a lack of trust among the workers. "Before the announcement, the government should have incorporated them into government buildings and distributed basic commodities. They may have stayed back in that case, but it was too late and they left," he said.       
In Lucknow, a majority of daily-wagers from the construction industry are from Bilaspur, Bemetra in Chattisgarh, Jharkhand and Bihar. "Since they are desperate to reach their homes but stuck here, we are providing them with food and water. We are also taking action against factory owners who have not done enough to keep these workers here," he added. 
Several individuals including Rajeev Yadav of Rihai Manch, have made a people's alliance for helping those stuck in the city, accusing the government for being callous. "Delhi is a social welfare state where the responsibility to take workers into confidence falls on both the state and Central government. But both have failed to assure them," said Yadav.
Police brutality has also been reported at a time when fearful citizens are grappling with a pandemic scare. "Speaking of the plight of migrant workers, the most striking example of brutality is the Uttar Pradesh police. Instead of giving them food, they beat them up. Despite them walking on foot, why is the government not turning bus and railway stations into shelter homes. Yogi's polices are only for middle-class people, not for the poor," he added. 
Ever since Prime Minister Narendra Modi announced a complete lockdown, a mass exodus of migrant workers began. On March 25, thousands of jobless migrant workers from Ahmedabad, Gujarat, Rajasthan, Delhi, Madhya Pradesh, Maharashtra were seen walking back to their homes as jobs ran dry in cities.
Get the latest reports & analysis with people's perspective on Protests, movements & deep analytical videos, discussions of the current affairs in your Telegram app. Subscribe to NewsClick's Telegram channel & get Real-Time updates on stories, as they get published on our website.
Subscribe Newsclick On Telegram