'The Immortal': Art Brings out Bhagat Singh's Spirit and Thoughts Beyond Stereotypes -- Replug
Bhagat Singh has been turned into a stereotype in many art pieces. But a new painting sheds a rare light on the famous revolutionary.
Original painting by artist Amar Singh in 1975 assigned by Punjab Govt
'The Immortal' is a multi-layered painting of Bhagat Singh by Kanwal Dhaliwal, an Indian-origin artist from London, United Kingdom. He is associated with Progressive Writers Association (PWA) London branch, which comprises members from Indian and Pakistani origins.
Dhaliwal has created something unprecedented with 'The Immortal'. Hundreds of artists have imagined Bhagat Singh in their own ways over the decades. But many a time, that imagination is a very crude representation of Bhagat Singh, one of the most famous heroes of the Indian freedom struggle. 
Bhagat Singh has been turned into a stereotype in many art pieces. The iconography of Bhagat Singh started very early when he was alive and in jail. At that time, only one actual photograph of the rising hero was in the public domain and imagination. That was his April 1929 photograph clicked by Ramnath, a photographer from Kashmiri Gate, Delhi. Both Singh and Batukeshwar Dutt had specially gone to the photographer's shop on April 3, 1929, to get this photograph to be used for publicity purposes after throwing bombs in the Central Assembly in Delhi. In fact, Bhagat Singh and Dutt had not seen the photograph till it got printed in Bande Matram, an Urdu daily published in Lahore, on April 12, and then in Hindustan Times, Delhi, on April 18, 1929.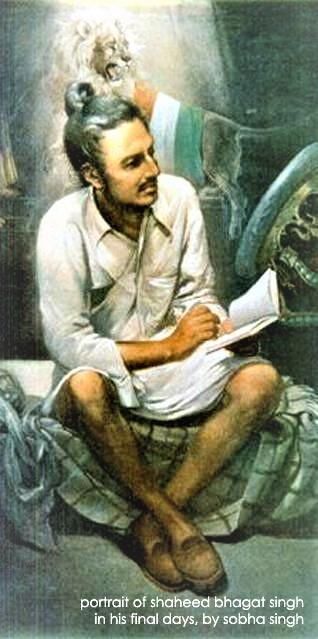 15. Bhagat Singh painting by Sobha Singh.jpg
The photograph and its negatives were collected from the photography studio by Singh's comrades and supplied to the media. During Singh and his comrades' hunger strikes, artists started creating images of the heroes. However, after their execution on March 23 1931, there was an explosion of artistic creations. 
These paintings had imagined Bhagat Singh offering his head to Bharat Mata, or three martyrs -- Bhagat Singh, Rajguru, and Sukhdev flying to the heavens and many more such imaginations. Most of these paintings were printed as posters from Kanpur and Lahore and proscribed immediately. Yet, many journals carried these, and many homes had these as calendrers or wall posters. Even matchboxes carried these painting-cum-photos. Most of these were in black and white. The trend of colour printings and posters/calendars started after the Independence. By that time, the crudity had taken over aesthetics! The twitching moustache, gun holding Bhagat Singh looking like a terrorist as the British called him, became the norm for even statue making in many places. This was also because most of these artists did not read Bhagat Singh's writings and ideas about life and society. 
Some more known photographs of these paintings are attached here to understand how Bhagat Singh has been imagined not just by Indian, but even by international artists. One is by Amar Singh, whose painting is being used by the Punjab Chief Minister in his office. This painting was commissioned by then Punjab Chief Minister Giani Zail Singh. Another painting is by Australian painter Daniel Connell, which has been identified by London-based Punjabi poet Amarjit Chandan and used by the Indian Express in its stories without mentioning the artist name. Two more contrasting paintings by unknown painters are put up here. In one painting, Bhagat Singh is shown with a gun, and in the other, with a book. So, creative art perceives the reality through artist's own prism; for a realist artist, as per Maxim Gorky's views about art, it is close to the reality a little enhancement through art. However, in an artist's imagining in the tradition of "art for just art's sake", it could take any shape, and especially in visual arts like painting, it could create altogether a different picture of a man who has been painted.
The situation changed a bit after Bhagat Singh's writings and ideas started trickling in some poems, plays, and fiction, and also in ideological/academic debates. Few artists took a clue from this ideology-based image of Bhagat Singh and reverted to making paintings based on his original face. 
The actual photographs of Bhagat Singh are only four in number -- one was taken around when he was aged 11, another at about the age of 17, next at the age of 20, and the final photograph at the age of about 22 years. The first two photographs are white turbaned photographs, third one is in police custody with open long hair and beard, without his turban. The last one is the most iconic hat-wearing photograph, which Ramnath had clicked. Bhagat Singh never wore a yellow or saffron colour turban as the hundreds of distorted paintings would like us to believe. Photographer Ramnath had appeared in the Delhi Assembly bomb case as a prosecution witness to confirm that he had clicked Bhagat Singh and Dutt's photographs.
In all his real photographs, the face of Bhagat Singh is very soft and impressive, perhaps conveying some firmness as well. But by no stretch of imagination can that face be presented as the face of a gun-toting terrorist. Some painters tried to reimagine him like a book holding, white turbaned young man who was an intellectual or an activist! 
However, Kanwal Dhaliwal has imagined him at multiple levels. His focus is more on what was in Sing's head, his thinking or ideas, and how his thoughts are still impacting society! He also dwells on the kind of analytical thinking and reasoning Singh's sharp and receptive mind had. All these aspects of Bhagat Singh and his relations to his people come forth brilliantly through his creatively imagined painting. Singh's face is that of the college-going 17-year-old young lad with a white turban on his head -- that is one layer. But watching minutely, the red coloured hat with the tools of farmer and worker's is superimposed over the turbaned head. It gives a glimpse of the revolutionary's ideological development. He began acquiring nationalist ideas from his days in the National College in Lahore as a young man. However, by the time he went for a click to Kashmiri Gate wearing a hat, albeit for safety purposes of not getting recognised by the revolutionaries hunting British police, he had changed. But the change inside his mind was also revolutionary, which is why the imagined hat is a red one with the hammer and the sickle on that hat, which means that he had turned into a committed socialist revolutionary by the time he got that photograph taken.
Only four real photograhs of Bhagat Singh at 11, 17, 20 and 21 years-The hat one being last
The session court statement of Singh and Dutt had been published by all the major newspapers of India and some even abroad, in full. That statement was a call for a revolution by workers and peasants. Now, what is around his photograph are student activists, farmers activists from Maharashtra, Tamilnadu to Punjab. His ideas' reach is international, as Pakistani women are also there holding his photograph, demanding Shadman Chowk to be named as Bhagat Singh Chowk. Contours of the red hat meet Karl Marx's book Das Capital, which Bhagat Singh used to give to his comrades to study, and on the other side, Krupskaya reminiscences of Lenin are displayed, perhaps it was the book Bhagat Singh was reading just before leaving for gallows! Thus, it is one of the rare paintings to reveal the spirit of the iconic hero!
(Chaman Lal is a Retired Professor from JNU and Honorary Advisor of the Bhagat Singh Archives and Resource Centre, Delhi.)
Get the latest reports & analysis with people's perspective on Protests, movements & deep analytical videos, discussions of the current affairs in your Telegram app. Subscribe to NewsClick's Telegram channel & get Real-Time updates on stories, as they get published on our website.
Subscribe Newsclick On Telegram