There is no Fringe in Hindutva, Yesterday's Outliers are Mainstream Today
Lone mavericks did not raise murderous chants at Jantar Mantar in Delhi this week. It was the work of agents of a well-oiled machine designed to fuel social polarisation.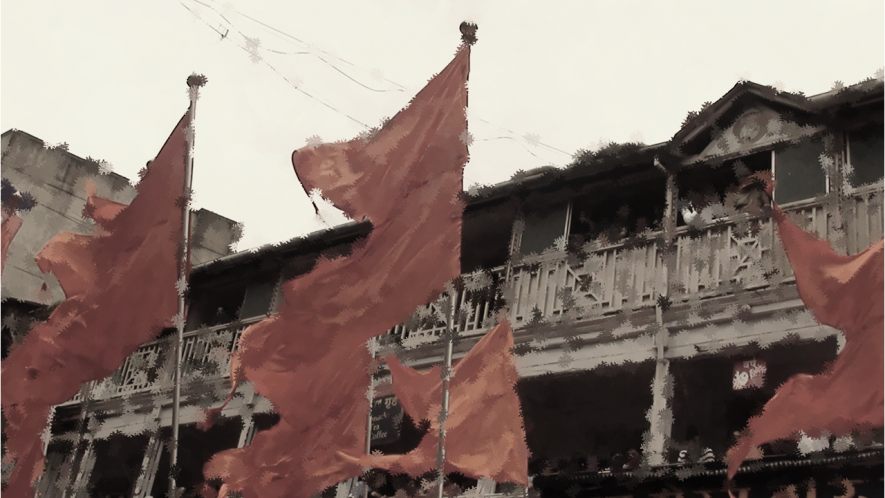 Representational image. | Image Courtesy: Wikimedia Commons
There are more edifying ways to spend a Sunday evening, but a Twitter Spaces conversation piqued curiosity. It was conducted by an Indian-origin man sitting in Sydney. It prominently featured a retired IPS officer who had made his saffron side clear while in service and other "civilisational Hindus" as they called themselves. The drumbeat of that conversation was a familiar one—how the Constitution of India "subjugates" Hinduism and why Hindus must fight for "equal rights". The sheer irony escaped them.
A few hours earlier, a group gathered at Jantar Mantar near Parliament, lustily raising slogans that Muslims would scream "Ram Ram" when slaughtered, and anyone living in India would have to chant "Jai Shri Ram". Men, women and children had joined under the aegis of Bharat Jodo Andolan, the "J" perhaps a euphemism for a "T".
One of the organisers, BJP's former spokesperson for Delhi and Supreme Court advocate Ashwini Upadhyay and colleagues were arrested nearly 48 hours later despite police presence at the venue and videos of the slogans widely available. It took considerable public outrage about the genocidal chants for Delhi Police to even register a case against "unknown persons". It is debatable if the police will bring them to justice. Theoretically, they can get booked, yet what of those who regularly outrage on other platforms? Besides Twitter Spaces, Clubhouse is a gurgling chamber with a dangerous mix of Hindu victimhood and civilisational superiority and anti-minority diatribes.
It is easy to see fringe groups or fringe outfits. They are anything but; they are indeed the mainstream. They abound across India in social and economic spheres. They may not overtly draw their lineage to the Rashtriya Swayamsevak Sangh, the fountainhead of Hindutva nationalism, but speak its language and carry out its agenda at every opportunity. The RSS has been described by many academicians and authors as a "hydra-headed organisation" with a long roll-call of outfits that it establishes or encourages but shrugs off when they become inconvenient. For want of an accurate descriptor, media and popular narratives have long termed these as "fringe" or "rogue".
Tiny or not, run by individuals or trusts, such Hindutva groups and outfits always were—and especially after 2014—are the mainstream. In the values they reflect, the conversations they influence, their policy and media agendas and the impunity of their violations of the Constitution, they are far from being on the fringes of India's socio-political landscape. The ideas and opinions they hold and espouse are the new normal in the 'Modified' India. Their schema is now the default for India, their version the only credible version of the truth. If this is not the mainstream, what is?
Examples abound
The youth militia group Hindu Yuva Vahini in Uttar Pradesh, founded in the immediate aftermath of the Gujarat riots of 2002, was dismissed as fringe for years, especially by the English media in Delhi and Mumbai. Its founder Yogi Adityanath, a mahant of the Gorakhpur Math, is the openly Hindutva chief minister since 2017. His political ascension increased general interest in the outfit, and it now claims a membership of a few lakhs. When Adityanath was a Lok Sabha Member of Parliament, his "love jihad" agenda got termed fringe. It is now the law in the state he rules over.
Bajrang Dal was considered a fringe outfit too. In the mid-to-late 1980s, its Hindutva overreach got dismissed as the acts of a deviant few. Much later, its role in mobilising Hindu men and sentiment for the Ram Janmabhoomi, as footsoldiers of BJP leaders such as AB Vajpayee, LK Advani and Murli Manohar Joshi, got acknowledged.
The Vishwa Hindu Parishad, the Overseas Friends of BJP, Vanvasi Kalyan Ashram network, and others have run this course from fringe to mainstream.
Abhinav Bharat, the outfit with Savarkar-Godse legacy resurrected in 2006 by a retired major of the Indian Army and drew upon defence links, had its footprint on bomb blasts in Malegaon. The trail went to Lt Col Prasad Purohit and BJP's Pragya Singh Thakur. The latter, a terror-accused, was elected from Bhopal to India's Lok Sabha in the 2019 election. Abhinav Bharat may not trace its origin to the RSS but expands its ideology. In Maharashtra and Madhya Pradesh, and Delhi, it was viewed as a fringe outfit. As was—and is—the Sanatan Sanstha or Sri Ram Sene.
The same perception error gets made with Suraj Pal Amu, whose Rajput Karni Sena shocked the elite world when he put a Rs. 10 crore bounty on actress Deepika Padukone's head over a role in a film. Amu, rewarded as BJP spokesperson in Haryana, raised genocidal slogans against Muslims at a "mahapanchayat" in Pataudi last month to huge cheers from his audience. Videos exist, cops were present at the venue, but Amu is a free man unabashedly representing the BJP. His mahapanchayat is like the Twitter Spaces or Clubhouse rooms without the social media trappings.
A similar figure is Swami Narsighanand whose hate-filled anti-Muslim videos have gone viral on various platforms. He seems to command a cult following. He's free, of course, and faces no police action.
Trench units feed off each other
Too much water has flowed under the saffron bridge since Hindutva outfits were termed fringe or groups dismissed as rogues. In the Hindutva network, there is no fringe or rogue. There hasn't ever been. What appears so are trench-level units that flex muscle now and then with outrageous statements or acts but remain part of the sizeable Hindutva network that the RSS presides over and from which the BJP draws political strength. Units fostered and fed by the network, divisions that speak the same language in different tongues, each independent yet part of the movement to "Hinduise" India. Journalist-author Dhirendra Jha called them "shadow armies" of the RSS.
Some fit into a generous drawing-room. Others claim lakhs of members. Some have direct access to the BJP top brass, while others are content with the Prime Minister following them on social media. Their size, territory and impact might make some appear as the classic fringe, but make no mistake: they draw strength from the now-mainstream Hindutva ideology, contribute to its steady normalisation and legitimisation. The "love jihad" agenda of the Hindu Yuva Vahini is now law not only in Adityanath's Uttar Pradesh but in several states where the BJP is in power.
Groups on Clubhouse or Twitter Spaces are the unregistered, primarily English-speaking urban elite that drives up the decibel on Hindu-victimhood. Their on-ground counterparts are the Karni Senas or Bharat Jodo Andolans. Words may differ, but their essence is the same: Hindus do not have the same rights as minorities in religion and culture. Hindus are second-class citizens in their land, and the secular Constitution is not a sacred document.
Notably, the two kinds of groups or outfits feed off one another. Their messages often get amplified by a pliant media that has long lost its spine. All feed into the social polarisation now evident across the country. Even when they seem to create chaos, it helps to further the Hindutva agenda. Independently and collectively, they raise the socio-political temperature in which reasoned debate becomes difficult. Their twin tropes of Hindu-victimhood and Muslim (or Christian) othering increasingly appear legitimate to their audiences. It obviously helps mobilise votes for the BJP and thrills the RSS, whose grand design is to Hinduise India.
How, then, can Prime Minister Narendra Modi bring himself to condemn Amu or Upadhyay, and how can the police take serious action against them? They, in turn, draw inspiration from someone like BJP leader Anurag Thakur whose raucous call to shoot down "anti-nationals" certainly did not get in the way of his bagging a cabinet berth in the Modi government.
In the grand design, there are no fringe outfits or groups gone rogue. They each play a part. After all, the fountainhead and its followers draw inspiration from MS 'Guruji' Golwalkar, who in "We or Our Nationhood Defined" (1938) approves of the Nazi genocide against Jews: "…Germany shocked the world by her purging the country of the Semitic races, the Jews. National pride at its highest has been manifested here. Germany has also shown how well-nigh impossible it is for races and cultures having differences going to the root, to be assimilated into a united whole, a good lesson for us in Hindustan to learn and profit by."
The author, a senior Mumbai-based journalist and columnist, writes on politics, cities, media and gender. The views are personal.
Get the latest reports & analysis with people's perspective on Protests, movements & deep analytical videos, discussions of the current affairs in your Telegram app. Subscribe to NewsClick's Telegram channel & get Real-Time updates on stories, as they get published on our website.
Subscribe Newsclick On Telegram