Tribal Protest Against Gujarat River Linking Project Gains Steam
The tribals fear that transferring surplus water from the Western Ghats to Saurashtra and Kutch will displace them.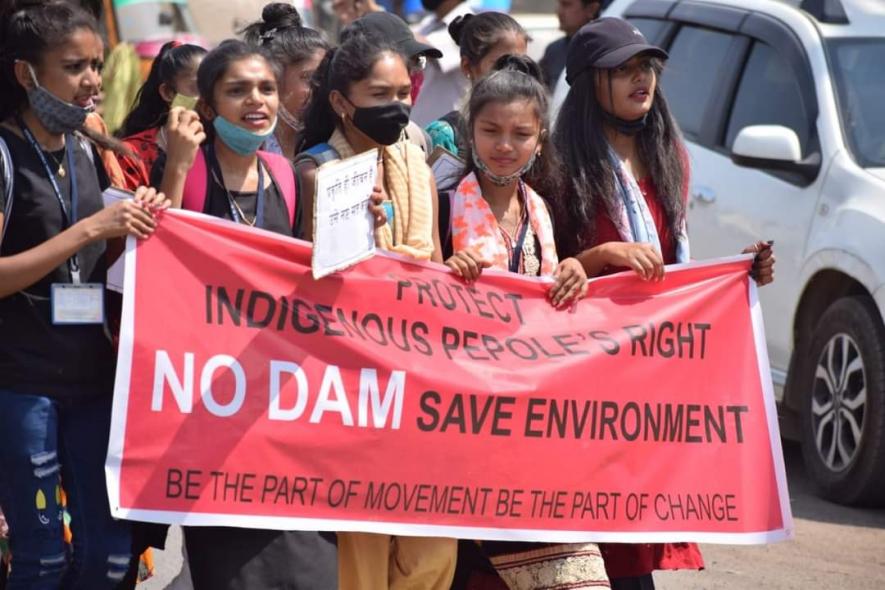 More than 5,000 villagers comprising mostly tribals gathered at Kaprada Tehsil, in Gujarat's Valsad district, on March 21 to protest the Centre's Par-Tapi-Narmada river link project.
Fearing displacement, the tribals of south Gujarat protested the project, which proposes to transfer surplus water from the Western Ghats to the arid regions of Saurashtra and Kutch via the Sardar Sarovar project, for the fourth time.
The ongoing protest gained momentum after Union finance minister Nirmala Sitharaman announced the project in her Budget speech. Subsequently, the tribals protested at Dharampur of Valsad district on February 28, Vyara of Tapi district on March 5 and Dang district on March 11.
On March 18, the tribals took out a huge protest rally in Vaghai Taluka of Dang district that culminated in a public meeting at Birsa Munda ground, Vaghai, organised by tribal organisations such as Adivasi Samanvay Manch, Adivasi Ekta Parishad and Samast Adivasi Samaj, among others.
On March 25, several Congress leaders were detained following a massive protest held in Gandhinagar at the appeal of Anant Patel, the party's MLA from Vansda.
The project will link three rivers: Par, which originates from Nashik, Maharashtra and flows through Valsad in Gujarat; Tapi, which flows from Saputara through Surat; and Narmada, originating in Madhya Pradesh. 
Out of the seven dams proposed to be constructed, Jheri will be in Nashik while Mohankavchali, Paikhed, Chasmandva, Chikkar, Dabdar and Kelwan will be in Valsad and Dang districts.
Apart from the dams, the project includes the construction of three weirs for diversion: Paikhed, Chasmandva and Chikkar, two tunnels of 5.0 km and 0.5 km, a 395 km canal of which 205 km will fall in Par-Tapi and the remaining 190 km in Tapi-Narmada portion, and six powerhouses.
As per the detailed project report (DPR), prepared by the National Water Development Agency, in 2015, about 6,065 hectares will be submerged due to the proposed reservoirs. A total of 61 villages will be affected, of which one will be fully submerged. The project will affect 2,509 families, of which 98 would be affected due to the creation of the Jheri reservoir, spread over six villages.
In Gujarat, 793 families in 17 villages will be affected by the Kelwan reservoir, 563 families in 11 villages by Dabdar, 379 in seven villages by Chasmandva, 345 families in nine villages by Chikkar and 331 families in 11 villages by the Paikhed dam. The affected villages are located in Surgana and Peint Talukas in Nashik and Dharampur Taluka in Valsad, Vansda Taluka of Navsari and Ahwa Taluka of Dang district.
However, tribal activists claim that about 50,000 villagers will be affected and, at least, 35 villages completely submerged in just Dang district, where a dam has been proposed in Waghai Taluka. 
"The total cost of the project is Rs 10,221 crore. If the Gujarat government wants to irrigate Saurashtra and Kutch, it can build dams there with the same budget. It is pointless to build dams here and carry water all the way across the state," Abinav Delkar, son of late Dadra and Nagar Haveli MP Mohan Delkar, said at a protest rally. 
Romel Sutariya, a Gujarat-based tribal rights activist, told Newsclick that tribals, farmers and landowners of south Gujarat will be "affected by two Central projects—the Par-Tapi-Narmada link and Daman Ganga Pinjal". "About 10,000 hectares, including forest, tribal and government land will be either acquired or submerged because of the Par-Tapi-Narmada link project. Dang will be one of the worst-hit areas with three dams proposed in the district. Besides, large chunks of land in another 10-12 villages will be submerged," he added.
According to Sutariya, the locals, primarily tribals, are "scared". The tribals are "dependent on the land for their livelihood. Once a piece of land is taken from a family, it affects the next three generations economically. Besides, we have seen the plight of tribals affected by such projects earlier. Those displaced by the Ukai Dam are still to be rehabilitated". 
Noticeably, the memorandum of understanding (MoU) was signed between the Gujarat, Maharashtra and the Central governments on May 3, 2010. The MoU envisioned that Gujarat would get the benefit of the Par-Tapi-Narmada project en route irrigation from the link canal and in the drought-prone Saurashtra-Kutch region by way of substitution.
However, the project was modified on the intervention of the Gujarat government in 2016. The then-chief minister Vijay Rupani suggested including the command area of five proposed projects—Ugta, Sidhumber, Khata Amba, Zankhari and Khuntali to irrigate tribal areas en route the right side of link canal in Dang and Valsad directly from the reservoirs. He also wrote to the Centre to explore the possibility of irrigation in the tribal areas of Chhota Udepur and Panchmahal districts from Narmada Main Canal and provide drinking water in Dang and Navsari districts and Kaprada and Dharampur Talukas of Valsad. A letter dated January 18, 2017, written by the secretary of the Gujarat government to NWDA suggested revision of the DPR on these lines.
Get the latest reports & analysis with people's perspective on Protests, movements & deep analytical videos, discussions of the current affairs in your Telegram app. Subscribe to NewsClick's Telegram channel & get Real-Time updates on stories, as they get published on our website.
Subscribe Newsclick On Telegram