Tripura Elections: People Are Determined to Defeat BJP in the State, Says Sitaram Yechury
Only people can defeat BJP's muscle and money power. They must be vigilant, says the CPI(M) general secretary in an interview.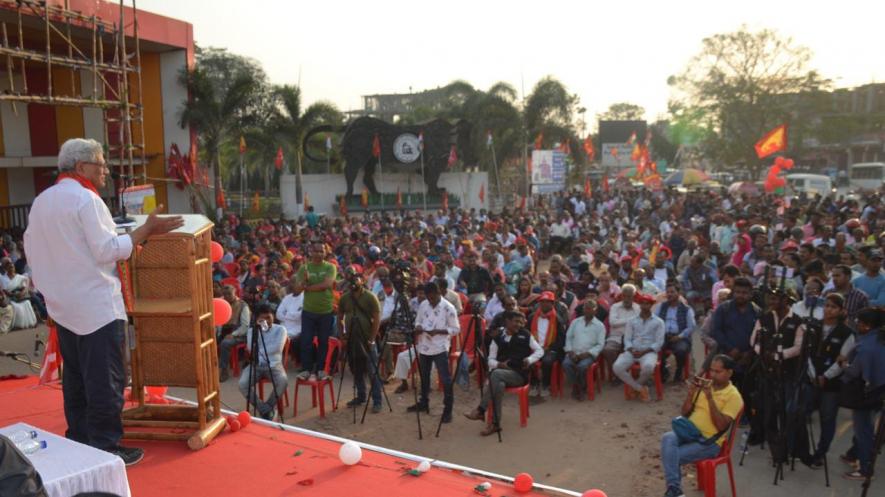 Agartala: Communist Party of India (Marxist) (CPI(M)) General Secretary Sitaram Yechury has been touring Tripura ahead of the Assembly election in the state on February 16. NewsClick interviewed him in Agartala on different aspects of this year's Assembly election, where the ruling BJP is being challenged tooth and nail by the Left-Congress alliance.
Sandip Chakraborty: What is the situation in Tripura at the present moment?
Sitaram Yechury: At present, there is a big desire for change among people. They want to restore democracy and the rule of law, which has been a severe casualty during the past five years of the Bharatiya Janata Party's (BJP) rule. People are virtually looking for a sense of liberation. That is the current condition. The government is currently cornered. I am witnessing an enthusiastic and spontaneous response to the rallies of the Left and Congress. People feel that the period of repression is behind them. This cannot be taken for granted or guaranteed because BJP is bound to hit back out of sheer desperation. Let us wait and see how that would happen. We must resist it.
The polling is five days away. Tomorrow, Prime Minister Narendra Modi is coming here. He is again coming on February 13 and 14, the last two days of the campaign. Home Minister Amit Shah will be here on February 12. They are bound to make provocative speeches which may trigger violence. Simultaneously, they will also use their massive money power. They would want to retrieve the lost ground through a combination of muscle and money power.
SC: What is your take on seat adjustment with Congress? How effective would it be to fight BJP?
SY: Given the situation in the state in the last five years, the hardships posed before the people, and the complete attack on democracy and the rule of law, CPI(M) appealed to all secular democratic forces who are interested in saving democracy and the Constitution of India in Tripura to come together to defeat BJP and remove them from controlling the state government. Our appeal was directed to the people of Tripura more than the other parties. The people responded to this call enthusiastically, saying that the division of votes against the BJP is helping it. If that is prevented, it could be possible to remove BJP from office. Under people's pressure and popular support, Congress had to agree to seat adjustment with the Left Front.
Congress is contesting 13 seats, while the Left Front is contesting 57. From my experience during this campaign trail, people have responded positively to this alliance. That can also be seen in the joint rallies of the alliance. We are also taking out joint processions. This reflects people's determination to defeat BJP. The situation is reaching a stage where it is no longer a decision of the party to ensure the transfer of votes; people are ensuring this would happen.
SC: What do you think about Tipra Motha? Will it cut into the Left's votes?
SY: We have appealed to all forces, including Tipra Motha, to come to a certain understanding. They chose not to for reasons they only know. However, Tipra Motha has publicly stated their intention to defeat BJP. They have fielded candidates in 42 sets, implying that in 18 seats, they don't have a candidate. If their public statement of defeating the BJP is of any value, they should naturally choose the Congress-Left combination. Second, Tipra Motha's influence is mainly in the tribal belt. In the previous Assembly election, BJP and IPFT got 18/20 seats in the belt, helping BJP form the government.
Many BJP and IPFT workers have left the party and joined Tipra Motha. Moreover, IPFT has been given only five seats this time. It looks unlikely that BJP will win the same number of seats, which is a huge setback. At the local level, it may be a three-cornered contest. However, the general mood is in favour of defeating BJP. Based on that, people would take a call on the candidate most suitable to win from either Tipra Motha or our alliance. There could be a realisation on our or their part to take the necessary steps. An informal set up may happen. These seats in the tribal belt that BJP will not win this time would help defeat the party in the entire state.
SC: What message can people of the country take from the Tripura elections
SY: The message is that if people unite against BJP, the destruction of the Constitution can be prevented. In all meetings, I have appealed for vigilance. Only people can defeat BJP's muscle and money power. They must be vigilant, rise to the occasion and meet the challenge. Secondly, our central delegation met the Central election commission in New Delhi and the EC's representatives in Tripura to raise various complaints and petitions. EC must ensure a free and fair election. Any complaint about any behaviour of a police officer or the administration must be strictly monitored. Furthermore, EC must take strict action. They have a record of confiscating the distribution of money and liquor. That should be done.
Get the latest reports & analysis with people's perspective on Protests, movements & deep analytical videos, discussions of the current affairs in your Telegram app. Subscribe to NewsClick's Telegram channel & get Real-Time updates on stories, as they get published on our website.
Subscribe Newsclick On Telegram