Tripura Elections: Revival of Hope for '10323' as Left Fields 2 Affected Teachers in Polls
A Tripura HC order upheld by the Apex Court in 2017, rendered '10323' teachers jobless; CPI(M) fields two teachers, rekindling their hope for reinstatement.
Agartala: On January 2, 2021, at Rajnanagar in south Tripura, Namita lay face down on her husband's funeral pyre. It was as if pages from the heinous practice of 'Sati' chapter in India's history were about to be opened. Her deceased husband, Uttam Tripura, one among thousands of government teachers sacked from services in the state, known as the '10323' batch, allegedly died by suicide because he was unable to buy rice for his two toddlers, wife, parents, as he had nothing left to mortgage and a massive unpaid loan.
Namita's inconsolable wail that day still sends shivers down the spine of those who witnessed that episode and watched the visuals on social media or news. Though, seemingly, the government wasn't much moved, as nothing effective has been done for the family. Namita was taken away from the pyre, of course, but that, the incident is a stark reflected of the wretched state of '10323' teachers and their families since April 2020, the month that rendered over 10,000 teachers jobless in the North Eastern state of Tripura. Assembly elections are to take place here on February 16.
The sacked teachers were recruited in two batches in 2010 and 2013, and were 10,323 in number, thus the nomenclature. However, a Tripura High Court order termed their recruitment 'unconstitutional', citing a flawed policy and the Supreme Court confirmed this two lines in 2017, a few months before the state went into the then Assembly elections.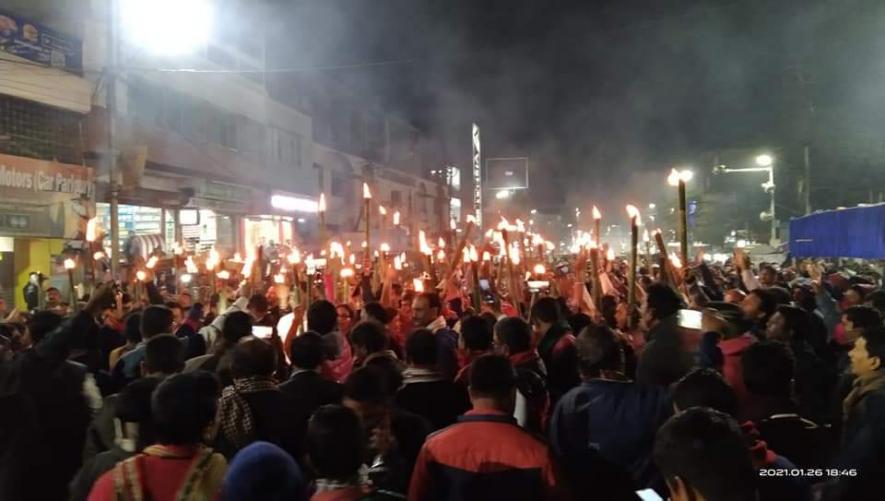 Hundreds of demonstrations, rallies, and even a few meetings with chief ministers and their cabinets were held by the '10323' teachers to apprise them of their unbearable conditions. They urged the ruling Bharatiya Janata Party's (BJP) to fulfil its poll promise that it "will not sack them, rather if required, by amending the Constitution their jobs will be saved". But, instead of getting reinstated, the teachers faced brutal police action, stringent cases were slapped on them, they faced arrest, detention among others.
Left Fields Two '10323' Teachers as Candidates
"Those who have reduced us to this position, we need to politically fight them out. No demands, no requests would work. You saw it all in the past five years. Unless we oust them (BJP) from power, we cannot get our rights established," said '10323' teacher Satyajit Reang, who is contesting from Shantirbazar constituency, next to Rajnagar, as a Communist Party of India (CPI) candidate.
The Left Front has fielded two teachers from the '10323' community. Sudip Sarkar is the other candidate, contesting from the Barjala constituency in the West district from the CPI(M).
"We are not the isolated people, each of us is in trouble, be it livelihood, be it freedom of expression, religion, democratic franchise or peace-tranquillity, the BJP regime has shattered the total fabric. It is a fascist regime," Sarkar told this reporter.
The teachers did not lose their job instantly, as the government wanted time to fill in the huge shortage that would be created when they left. Therefore, a window period was allowed, but the teachers were not 'permanent' any longer and became 'contractual' overnight, after 10 years of service, with the apex court confirming their termination. This was the same recruitment policy where 'poor' and 'senior' candidates had got preference to some extent while being recruited in government posts. This was many years before these teachers were recruited. Today, all those recruited after and before are still in service if not retired, etc.
Later, a few of these teachers switched to other jobs. But, even after this, the number of affected teachers is not less than 9,000. Many of them have been doing menial jobs for a living.
After 10 years of teaching, the respect they earned has now become a hurdle. Hardly anyone is ready to engage a 'teacher' as a 'hotel boy', or  'cleaner.' Many of them have gone back to their native places to find work. A few are selling vegetables, and fish, helping masons, making clay idols, and serving as private security guards or drivers.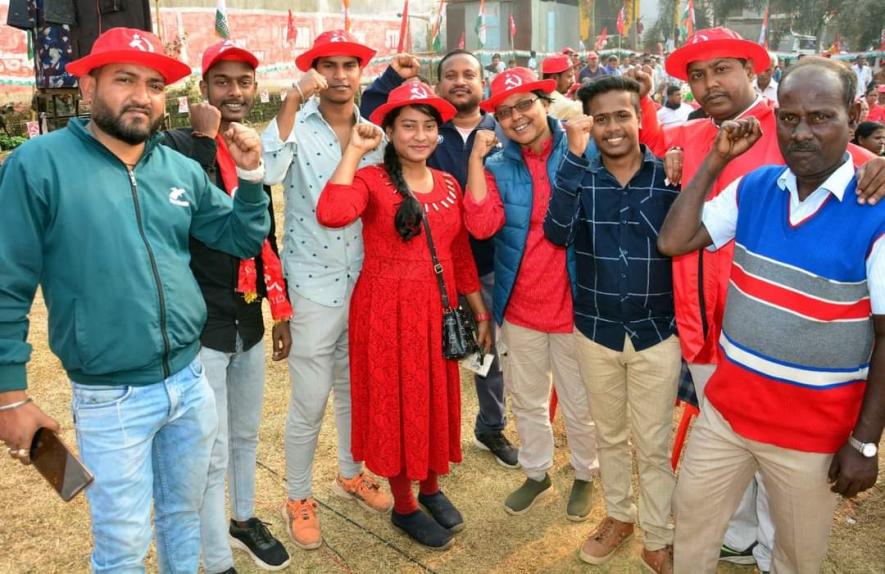 CPI(M) candidate Sarkar sells milk, rears goats and does cultivation while CPI's Reang is in a somewhat better position, as he gets some income from his family rubber plantation.
Former chief minister and CPI(M) polit bureau member Manik Sarkar, told reporters: "The court order was most unfortunate. We wanted to provide relief to the financially weaker sections. They could not take education from renowned institutions, and in the face of hardships they might not have excelled. If we did not provide little relief to them, they would have continued to face hardships forever. The Supreme Court bench that looked at the matter was seemingly a Sanghi (Sangh Parivar) bench. We were bound to abide by the court orders, thus we tried to place them otherwise, which was again struck down by the same court when we were still in power. If we are voted back to power, we will make provisions for them without fail."
In the time before the 2018 state elections, these teachers, along with their family members, appeared as a lucrative vote bank. At that time, the Bharatiya Janata Party (BJP), looking to topple the 25-year Left regime, promised retain them in the same job. "They should not be sacked. We will amend the law or the Constitution if it requires.… Keep my words recorded, play it again and again in case we do otherwise," said BJP-led North East Democratic Alliance chairman and now Assam Chief Minister Himanta Biswa Sarma, in 2018. 
BJP announced the same promised in its election manifesto 'Vision Document', a booklet with 299 points, which have not been fulfilled after BJP swept the 2018 Tripura elections.
Like all other assurances, the '10323' issue lost its 'importance' as soon as elections got over. Eventually, after another extension, all of them lost their jobs. The BJP government and the party initially gave lip service to them and then closed the chapter. Even the education minister Ratanlal Nath termed the teachers as 'ojogyo' (not qualified). 
Though a section of the terminated teachers openly backed the  ruling party, the '10323' teachers were largely labelled as ' red cadres', and adding insult to injury, a section allegedly affiliated to the saffron band began opposing the demand for job restoration. students or ex-students, who expressed solidarity with their teachers by joining protests etc., were only not trolled, but a few of them were also compelled to withdraw their statements. A number of teachers faced physical attacks for participating in demonstrations or criticising the state's apathy, claim the teachers, adding that the "police did nothing."
Life After Job Termination
At least 150 of the '10323' teachers have died after the terminations, and at least eight of these were cases of alleged suicide. Rumi Debbarma allegedly took her life on January 9, 2021, when the teachers had been on an indefinite 24-hour roadside demonstration in Agartala. After a month, in the wee hours, when protesters were sleeping, the police evicted them forcefully. Debbarma was a Gold Medalist in her Master's degree pass out. It is said that she could not take the humiliation of being terminated.
For those who died of natural causes, each of their families and their friends, held joblessness as the main reason, for most of them could not afford proper medical treatment because of financial hardship. A teacher's husband, who participated in a demonstration with his '10323' wife, suddenly fell ill there and died later. In a bid to negate the momentum gathered after the major demonstrations, the BJP started blaming the Left. They openly said the demonstrations were not of the teachers, but of 'red cadres', implying that CPI(M) had sent in its cadres to "make crowds" and distract them from the BJP's government's 'efforts' being made.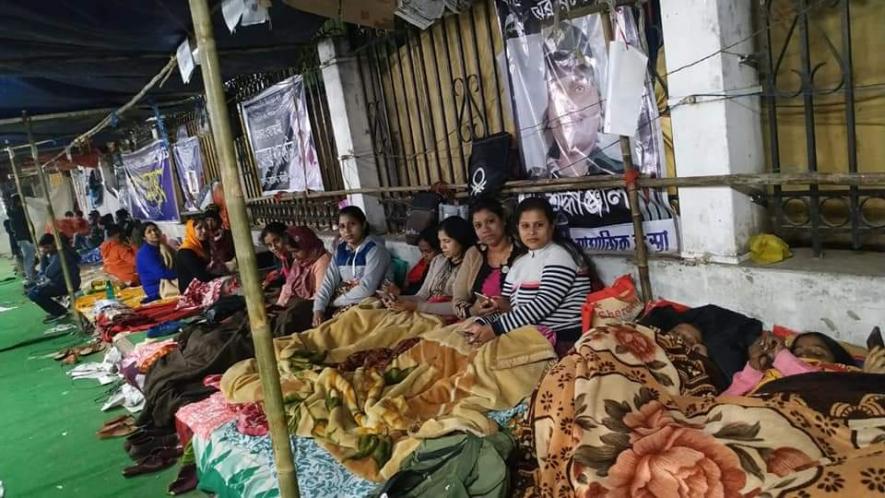 After these teachers had become contractual (with termination inevitable), the then Left government had tried to provide them with alternative government jobs when the SC imposed a ban on the process. However, after a few months, the ban was lifted but by then Left was not in power and the BJP government did not continue the process despite repeated demands, reminders, and appeals.
'A Rude Joke
A few days before the date for the Tripura polls were announced January 18, the BJP government constituted a committee to suggest ways for the reinstatement of the teachers, while the final date of report submission slated for that is March 31, 2023. By this time a new cabinet would have been formed. 
Meanwhile, several '10323' teachers have criticised the move. "A rude practical joke indeed! When the Model Code of conduct was about to be enforced, everyone knew it, and they constituted a committee. It's a complete mockery of governance. We did not beg for anything, but our right to live. We got a job fulfilling all the prescribed criteria. They could have done it easily, they just could despatch the appointment letters the Left government readied for alternate government engagements," said Tridip Paul, a '10323' teacher at Chanmari on Tuesday. Paul was part of the door-to-door campaign for his former colleague, Sudip Sarkar. 
"Not only '10323', anyone having a little brain and heart would not vote for this regime of terror, deprivation," said Reang, the the other teacher candidate from the Left. "We, are symbolically representing the community, though an MLA is not meant for a particular group of people. We, teachers, will have to set examples of transparent politics for the next generation," he added.
The CPI(M) and Congress have promised in their manifestos that if they form the government, these teachers will be taken back into the government's fold and the families of dead teachers will be assisted. In addition, the CPI(M) has promised in its manifesto, 50,000 jobs for unemployed youths, including government jobs every year, thus a total of 2.5 lakh jobs in five years.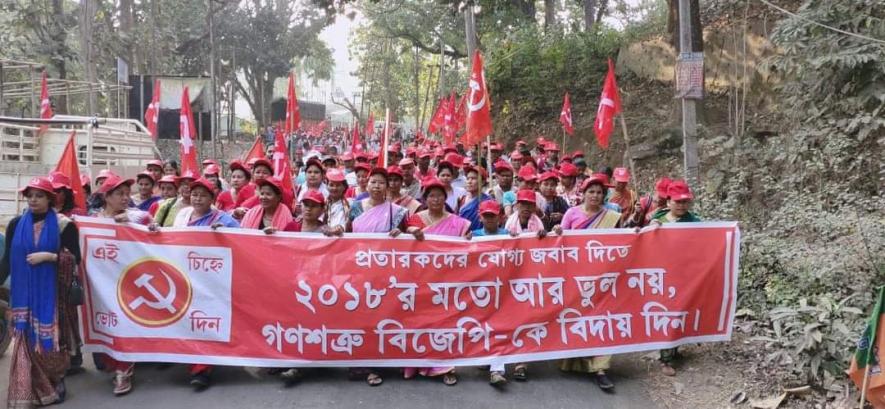 Congress leader Sudip Roy Barman, who contested the last election on a BJP ticket and won, but returned to Congress a year ago told reporters: "Enough is enough, teachers will be given back back their pride and respect." CPI(M) state secretary Jitendra Chowdhury said: "This would be one of the first priorities. We cannot tolerate their misery anymore, not for a moment." Both the parties are in an alliance in the upcoming Assembly elections for 60 seats.
Another CPI(M) candidate, Sanjay Das, also a teacher, told thi reporter: "BJP assured us jobs but did not keep the promise. But people will trust us because, from their experience they know that what the Left assured, was  fulfilled during their tenure. Even BJP supporters having little brains agree to that. Th BJP government set up a commission to find fault of previous Left ministers in the context of '10323', but the report is yet to see light. There was no corrupt practice in it, no malice or partiality."
A confident Sudip Sarkar said: "It is correct that '10323' teachers are dying for an income. If our government comes to power, their woes will end. This time a change in guard is obvious. I have seen the suffering of the people and also misrule, I want to do something to change the system, so I am directly in the electoral fray."
The writer is a Tripura-based freelance journalist.
Get the latest reports & analysis with people's perspective on Protests, movements & deep analytical videos, discussions of the current affairs in your Telegram app. Subscribe to NewsClick's Telegram channel & get Real-Time updates on stories, as they get published on our website.
Subscribe Newsclick On Telegram