Twitter Steps on Musk Ultimatum Tripwire: Resignations Explode, Offices Closed
Twitter CEO's Thursday deadline for the staff to decide whether to be extremely hardcore and work for long hours or quit triggers a wave of resignations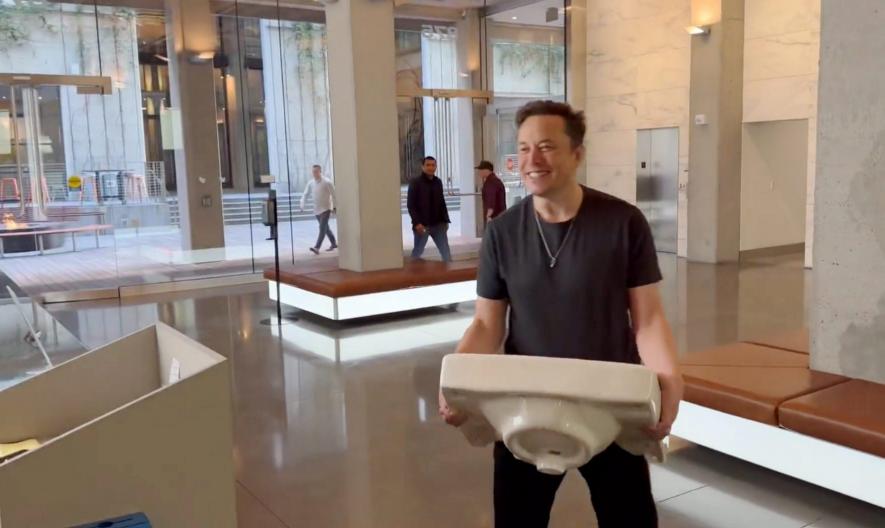 Elon Musk.Image Courtesy: PTI
Twitter stepped on a tripwire on Thursday as 'crisis executive officer' (CEO) Elon Musk's ship-up-or-shape-out ultimatum on Wednesday triggered hundreds of resignations with employees departing with three months of severance pay.
Hours before Musk's Thursday deadline for the staff to decide whether to be extremely "hardcore" and work for "long hours at high intensity" or quit, there was a flood of resignations, and Twitter closed its offices and disabled access to employee badges on Friday till Monday, The New York Times (NYT) reported.
Platformer News managing editor Zoe Schiffer tweeted" NEW: Twitter just alerted employees that effective immediately, all office buildings are temporarily closed and badge access is suspended. No details given as to why."
In the midnight email ultimatum sent to staff, Musk wrote that Twitter's new engineer-driven operation "will need to be extremely hardcore" going forward, The Washington Post reported. "This will mean working long hours at high intensity. Only exceptional performance will constitute a passing grade."
According to the email, obtained first by the Post, employees were asked to click an icon and respond by Thursday if they wanted to stay.
After the ultimatum, employees were provided with an FAQ document about exit packages later on Wednesday. The FAQ, viewed by NYT, opened by saying that Musk's warning was an "official company communication" and "not a phishing attempt".
"As you have seen, Twitter is at the beginning of an exciting journey," the document read adding that employees would have to "maximise working from an office" and "work the hours necessary to do your job at the highest level", including early mornings, late nights and weekends.
An unfazed Musk said on Friday that he is not "super worried" about the resignations as "the best people are staying".
In another tweet after the wave of resignations, Musk said that "we just hit another all-time high in Twitter usage lol".
Musk also posted memes mocking Twitter's expected demise.
By mid-Wednesday, Twitter's Trust and Safety team, which blocks hate speech and misinformation, was discussing a mass resignation, three current employees requesting anonymity told the Post. Engineers who fixed bugs and prevented service outages have possibly resigned.
On Thursday afternoon, Twitter employees started posting the salute emoji, which signals that a staff member is quitting. Twitter's internal Slack was flooded with employees posting the salute emoji after the deadline.
In a private chat on Signal comprising around 50 Twitter employees, about 40 said that they have decided to leave, a former employee told The Guardian. In a private Slack group for current and former employees, about 360 members joined a new channel titled 'voluntary-layoff'.
A separate poll on Blind asked employees to estimate what percentage of people would quit Twitter. More than 50% of the respondents estimated, at least, half would leave.
Musk and his advisers met some employees critical to its operations to stop them from quitting , four people with knowledge of the conversations told NYT. In one of the meetings at the San Francisco office, some of employees linked via videoconferencing hung up as the deadline approached, two people familiar with the meeting said.
One Twitter employee tweeted that deciding to join the company was "one of the easiest decisions ever made. Deciding to leave today was 100% the opposite", according to CNN.
A former Twitter executive who recently quit described the resignations as a "mass exodus." Two Twitter employees told CNN on Thursday that they planned to reject the ultimatum citing a toxic work environment "introduced" by Musk.
Another Twitter employee told CNN on Wednesday Musk's ultimatum "felt like a punch in the gut because no matter how you felt about wanting to stay or wanting to go, you were forced to make a decision and feel like you're up against the time clock to make the best decision for you and your family. Those decisions are more than just 24 hours".
Another employee who planned to reject the ultimatum requesting anonymity said, "I don't want to stick around to build a product that's being poisoned from the inside and out. Everyone has a price to a certain degree and this severance gives me some comfort into looking for a better environment in the time frame despite the economy."
A recently sacked employee who remains in touch with former colleagues told CNN that everyone they had spoken to plans to reject Musk's ultimatum and quit. "People can't overlook the public mockery and firing of other employees. In the same vein, they can't overlook or feel comfortable working for someone who has handled the last few weeks in the way Elon has. People don't want to sacrifice their mental health and family lives to make the richest man in the world richer," the former employee said.
On Thursday, realising that several employees had decided to leave, Musk softened his stance on a return-to-office mandate issued a week ago and told them that they could work from home if their managers thinks they are making "an excellent contribution", The Guardian reported.
"Regarding remote work, all that is required for approval is that your manager takes responsibility for ensuring that you are making an excellent contribution," Musk wrote in an email obtained by CNN through a Twitter employee.
However, 20 minutes later in another email, Musk warned managers of employees who decide to work from home. "At risk of stating the obvious, any manager who falsely claims that someone reporting to them is doing excellent work or that a given role is essential, whether remote or not, will be exited from the company."
As Twitter offices temporarily shut down, users started saying goodbyes and linking to accounts on other platforms with  #RIPTwitter, #TwitterDown, Mastodon and Myspace trending on the platform. Some users posted memes of gravestones with the epitaph that Musk had killed the platform service while others joked that only he was left.
The exodus triggered an outpouring of grief on the platform with New York representative Alexandria Ocasio-Cortez (AOC) thanking Twitter employees for building a "vital place for connection". "Millions of people appreciate the space you built and the hard work that went into it. Thank you," she tweeted.
As users speculated that the Twitter site could go down in a matter of hours, the version of the app used by its employees began slowing down, a source familiar with the matter told The Guardian adding that the public version of Twitter was at risk of breaking during the night. "If it does break, there is no one left to fix things in many areas," the person added.
Many users provided links to their accounts on Instagram or Mastodon as an alternative. "Hoping this doesn't happen but just in case: it's been wonderful tweeting with y'all!" AOC tweeted. "As a backup, follow me on Instagram, same handle: @AOC - it's really me there, as it is here," she added.
Since his $44 billion takeover of Twitter last month, the Tesla CEO has fired 7,500 employees, dissenters and told the remaining staff to be "extremely hard core" to make the company a success.
Get the latest reports & analysis with people's perspective on Protests, movements & deep analytical videos, discussions of the current affairs in your Telegram app. Subscribe to NewsClick's Telegram channel & get Real-Time updates on stories, as they get published on our website.
Subscribe Newsclick On Telegram