UN Climate Panel Calls for Extreme Steps to Avert Climate Change Disaster
Global emission is going to peak by 2025, the latest IPCC report has stated.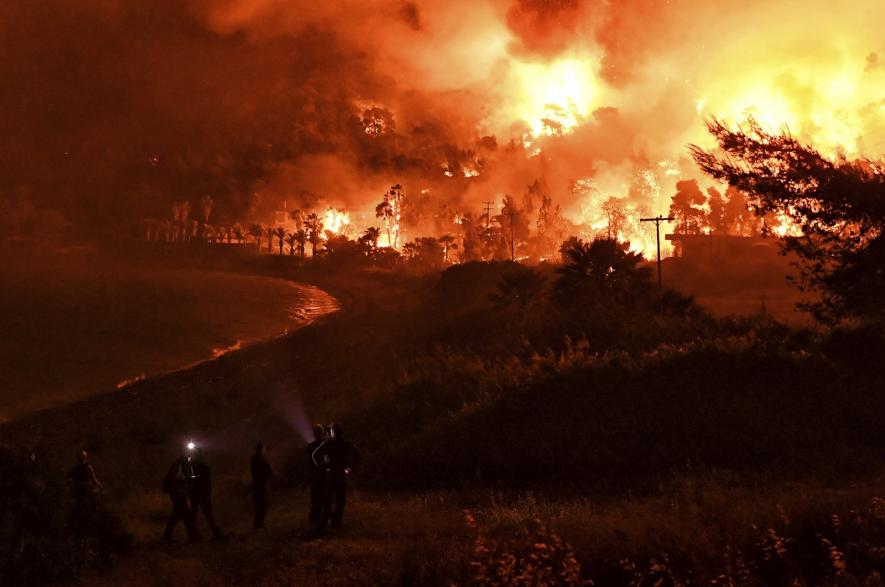 The Intergovernmental Panel on Climate Change (IPCC), the UN body that prepares assessments of the global climatic condition and also guidelines on measures to be taken to avert climate change, has published its latest report. This is the last part of the sixth climate assessment report, whose two parts containing the underlying science and an assessment of the impacts of climate on humans and ecosystems, were earlier published. 
The third part of the report, published recently, states that the opportunity to prevent the worst impact of climate change is narrowing fast. With the engagement and approval of 195 governments engaged in a two-day marathon negotiating session, the report of around 2,900 pages primarily focusses on curbing carbon emissions and mitigating the impact of global warming. The document was prepared by hundreds of scientists from 65 countries.
Since its inception in 1988, the IPCC has been preparing such reports periodically and the sixth report has delivered the harshest warnings ever about the impending consequences of inaction. Scientists said that it's time to see whether national governments will take action instead of unfulfilled pledges.
"Despite more mitigation efforts by more governments at all scales, emissions continue to increase. We need to do a lot more, and we need to do it quickly"," Karen Seto, a geographer at Yale University, USA, and a coordinating lead author on the report, said.
Key messages of IPCC report
1. Time has almost slipped away from humanity. Climate models suggest that global emission is going to peak by 2025, at least, but after that, it needs to drastically decline at a global scale in order to have a 50% chance for the world to limit warming to 1.5 degrees Celsius.
The Paris Agreement, signed in 2015, suggested that to avoid climate devastation, the global rise in temperature has to be levelled to 1.5 degrees Celsius in comparison to the pre-industrial level. Carbon emissions would need to be halved by 2030 and gain to zero by the early 2050s if only the goals are to be met. There have been estimates which say that the continuation of the current trend will lead to a rise of around 3 degrees Celsius than the pre-industrial levels.
2. The report also mentions the good impact of some mitigation efforts and renewables have gathered the spotlight in this regard. Renewable energy technologies, like wind turbines, solar panels, etc., are in use increasingly almost all over the world and it has had a cleaning effect globally. The report said that global energy intensity (which is the measure of the energy required to drive an economy) decreased by 2% annually from 2010 till 2019, which has shown a reversing trend from the prior decades.
3. The use of fossil fuels must be curbed. Models suggest that emissions from existing and fossil fuel projects planned for the future have already exceeded the allowable carbon budget.
4. Only curbing of emissions will not be enough to meet the goals. Carbon dioxide should be extracted from the atmosphere. Nations can increase carbon uptake by an expansion of forests along with improving agricultural practices. The report also vouches for nascent technologies that can help capturing carbon from the environment and from industrial sources as well.
5. Richer nations will need to provide financial aid to low-income countries so that transition from a fossil fuel-based economy to a greener economy can be smoother and better so that everyone benefits from it. Importantly, nations with the lowest amounts of greenhouse gases are the ones that are worst affected by climate change. Among the least developed countries and small island developing states within the UN climate framework, 88 are collectively responsible for even less than 1% of carbon emissions.
"I think we are getting closer politically to a situation where we seriously have to ask how we are going to deal with that overshoot. Although it still might be technically possible to limit warming to 1.5 degrees Celsius, the action required would be unprecedented," Oliver Geden, who is a lead author of the report and a social scientist at the German Institute for International and Security Affairs, Berlin, said.
Get the latest reports & analysis with people's perspective on Protests, movements & deep analytical videos, discussions of the current affairs in your Telegram app. Subscribe to NewsClick's Telegram channel & get Real-Time updates on stories, as they get published on our website.
Subscribe Newsclick On Telegram