UP: Akhilesh's Call to Draw in Ambedkar, Lohia Followers Won't Work on Ground, Say Critics
The former UP Chief Minister and SP leader aspires to get 'national' status for his party by forging a broader alliance ahead of Lok Sabha and Assembly polls.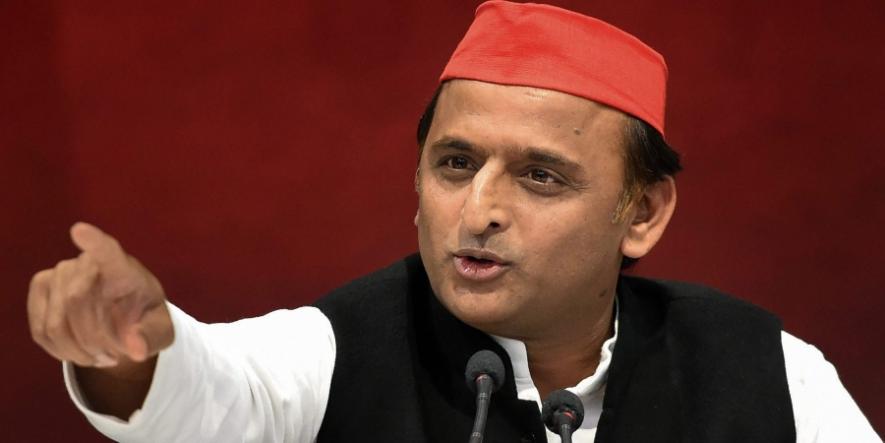 Lucknow: Former Uttar Pradesh chief minister Akhilesh Yadav, who was unanimously re-elected national president of the Samajwadi Party (SP) for a third term during the party's national convention on Thursday in Lucknow, gave a call to strengthen the party by working with followers of dalit leader Bhimrao Ambedkar and socialist Ram Manohar Loha.
Yadav (49), who in his fresh term will lead the party in the 2024 Lok Sabha polls and the 2027 Uttar Pradesh elections, also said that his father and SP patriarch Mulayam Singh Yadav always wanted SP to become a national party.
For this, he called for building a boarder social alliance of other backward class (OBC) and dalits to dislodge Bharatiya Janata Party (BJP). Without naming Bahujan Samaj Party or BSP, he said there was scope to attract 'disgruntled' dalit, Ambedkarite influencers and youth who, he said, don't see a future in BSP.
That Yadav did not attack BSP in his speech, triggered speculation that SP and BSP may join hands again in the 2024 Lok Sabha elections. He said his party had made sacrifices to form the alliance with BSP in the 2019 Lok Sabha election.
"Those who want to fulfil the dream of B. R. Ambedkar are together. The marginalised, oppressed, backward and dalits have come together and are looking at the Samajwadis," he added.
Talking about his father's dream of making SP a national party, Yadav said: "We struggled for it and tried a lot. On this day, when you are giving me another term of five years, we should all take a pledge that the next time we meet, the SP becomes a national party," he said.
The SP leader's remarks at the convention has spurred a debate in political and journalistic circles of UP.
Former Times of India senior editor Atul Chandra, who has covered UP politics for decades, told NewsClick: "Akhilesh Yadav's outreach to dalits is intended to broaden his party's support base beyond yadavs and Muslims. The problem will be convincing dalits to shun their distrust of yadavs who are looked upon as their biggest oppressors. Akhilesh Yadav would be aware that BJP has consolidated its hold on OBCs other than yadavs, besides dalits. Only if the SP gets the support of all OBCs and dalits outside of UP, will Akhilesh be able to get national status for his party."
According to the Election Commission criteria, SP is currently a state party.
Ram Dutt Tripathi, a former BBC radio presenter, who has observed UP politics for nearly 30 years, told NewsClick: "Akhilesh Yadav has been trying to bring dalits and Ambedkarite influencers together for the past several years but could not succeed so far. Over the past few years, he drew a few key dalit leaders from BSP into his party, including Inderjeet Saroj, Tribhuvan Dutt, Mithailal Bharti as well as OBC leaders propagating an Ambedkarite ideology, such as R.S. Kushwaha, Lalji Verma and Ram Achal Rajbhar. But he has not been able to organise any such event at the village and tehsil level to attract dalits."
Recalling the politics of socialist leader Lohia and his focus on OBCs, Tripathi said: "Lohia has done tremendous ground work on the ground to bring OBC together apart from giving them space in political leadership, which Akhilesh lacks. Lohia had focused on OBCs as dalits were with the Congress then. Mayawati emerged as a dalit leader very late."
Tripathi said Akhilesh Yadav would have to follow suit instead of merely talking. "There has to be a reconciliation between dalit and backward castes at the grassroot level as one is a landowner while the other is landless. Besides, something innovative will have to be done at the policy level to bridge the gap between dalits and backwards to bridge the gap between them," he said.
The veteran journalists pointed out that there was always a clash between the two communities at the grassroot level, therefore their alliance (BSP-SP) would not work.
"The SP will have to give space in the power structure to dalits and create a common platform. Unless something innovative is done on ground (village and tehsil), both communities will not come together, even if you give them a position.
To win the trust of the dalits, Yadav has been regularly evoking Ambedkar and the threat to reservation and constitutional provisions from the privatisation spree under the BJP government.
Meanwhile, BSP chief Mayawati attacked Yadav saying his efforts to project himself as an Ambedkarite was an "eyewash" (chhalawa) driven by a "greed for votes.
In a series of tweets, Mayawati said the attempt by the SP to show its moves, character and face as "Ambedkarite" were nothing but pretense, drama and deceit, as other parties also often resort to for votes.
The entire history of SP has been anti-Ambedkar and anti-Bahujan, she added.
During the SP regime, Ambedkar followers were grossly neglected, Mayawati alleged, adding that atrocities were committed on them. The names of new districts, universities, grand parks established by the BSP government in the memory of great men were also changed due to casteist hatred, she alleged in her tweets.
In the 2019 Lok Sabha election, the SP-BSP alliance had won 15 seats. After the Lok Sabha election, Mayawati withdrew from the alliance. In the 2022 Uttar Pradesh Assembly election, the SP bagged 111 seats, securing 37% votes while the BSP managed to win one seat, polling 12% votes.
Get the latest reports & analysis with people's perspective on Protests, movements & deep analytical videos, discussions of the current affairs in your Telegram app. Subscribe to NewsClick's Telegram channel & get Real-Time updates on stories, as they get published on our website.
Subscribe Newsclick On Telegram