UP: It's not Back to Square One After Farm Law Scrapping
There are too many reasons why people, especially farmers, are angry with the Yogi-Modi 'double engine' government.
Prime Minister Narendra Modi's announcement that his government will repeal the three farm laws came with just a few months left for crucial Assembly elections in Uttar Pradesh and Punjab, which were crucibles of the year-long farmers' struggle against these notorious laws. It is but natural that the connection between the announcement and the elections will be drawn.
Clearly, the Prime Minister is trying to rescue his party's sinking prospects in these elections. In Punjab, the Bharatiya Janata Party's (BJP) prospects are in any case dim, even if it allies with ex-chief minister Amarinder Singh's new outfit.
The real battleground is UP, headed by Modi's hand-picked appointee Yogi Adityanath. Under Yogi, India's largest state has been transformed into another showcase of how aggressive Hindutva governs, and the Prime Minister has been at pains to extend his support to the state government repeatedly. Of course, UP also sends the largest number of members to the Lok Sabha and a tight grip over the state is crucial for winning the 2024 General Elections.
The billion dollar question is: will this U-turn by Modi win back the angry and discontented farmers of UP? Can BJP repeat its record-breaking performance of winning 326 out of 403 seats last time round in 2017?
Before going into this, it bears repetition that several issues related to farmers struggle and the laws are still unresolved. The Modi government has to actually repeal the laws through a parliamentary process, which is promised to be completed in the Winter Session that starts at the end of this month.
That apart, there are the pending issues such as the Electricity Act Amendment Bill and, most importantly, the demand for a statutory guarantee for Minimum Support Price (MSP) to various agricultural produce. This last demand is perhaps the most crucial one, and also the most difficult one for Modi to concede. In fact, there are opinions that the government has seen this as a trade-off between the three laws against the MSP demand. All these issues will keep the pot boiling so to speak, and farmers are going to be inspired by the current victory to go on fighting for the other demands.
But in UP, there are many other factors that are upsetting the BJP's apple cart.
Other Agrarian Issues
One of the biggest issues roiling farmers in UP is stray cattle. There are an estimated 10 lakh stray cattle at large in the state. With the Yogi government heavily cracking down on any attempts to control these numbers, and with cow vigilantes roaming around ready to beat up or even lynch anybody suspected of "smuggling" or "slaughtering" cattle, farmers are at their wit's end.
The roaming cattle enter fields, destroy standing crops and nobody can lift a finger. A paltry sum of Rs.30 per cattle-head was announced by CM Yogi to be given to farmers for taking care of them. But of the one lakh target, only about 43,000 were reportedly adopted, according to a 2020 report. Farmers directly blame the Yogi government for this ruinous state of affairs.
In Western UP, the sugar bowl of India, cane farmers have suffered due to non-payment of arrears, despite Yogi's assurances that all dues will be cleared. By the end of May 2021, arrears worth Rs.18,820 crore for 2020-21 were pending, along with Rs.2,501 crore from previous years. A hefty increase in exports has led to reduction in dues this year, and currently pending arrears stand at Rs.8,909 crore for current year, and Rs.142 crore for previous years. However, this year's reduction has not wiped out the immense distress caused by the pendency over the past years, and the refusal of the Yogi government to increase the State Advised Price for sugarcane which has been languishing for years.
The state, like many other parts of the country, saw a fertiliser shortage in the past weeks as farmers prepared for Rabi sowing. Many farmers had to wait in queues for three to four days, some even died in the process. DAP (diammonium phosphate) was being sold in the black market for as much as Rs.1,350 per bag whereas the state government had declared the price at Rs.1,200. The delay in DAP availability forced farmers to buy in black market because the window for wheat sowing was short, the monsoon having withdrawn late.
Also, the Yogi government has been severely lagging in procurement of foodgrains over the years. While 2018-19 saw record procurement of 52.92 lakh tonnes (LT) it plunged to 37 LT in 2019-20, and further down to 35.77 LT in 2020-21. In the current year, as of end October, it has reached a peak of 56.4 LT.
But, here is why farmers are not happy: the total production of wheat this year is estimated at 360 LT and so, procurement is mere 15% of the total production. This means only about 15% wheat growers will get MSP while others have to settle for lower prices.
Rural Jobs Decreasing
One of the most damning indictments of the Yogi-Modi "double engine" governance record arises from the jobs situation. In UP, there has been an absolute fall in the number of employed persons since Yogi came to power in 2017.
As the chart below shows, the estimated total number of employed persons decreased in rural areas from 4.4 crore in October 2017 to 4.19 crore in October 2021. In urban areas, too, there was a decline, although small, from 1.4 crore to 1.35 crore. Data is from Centre for Monitoring Indian Economy's sample surveys.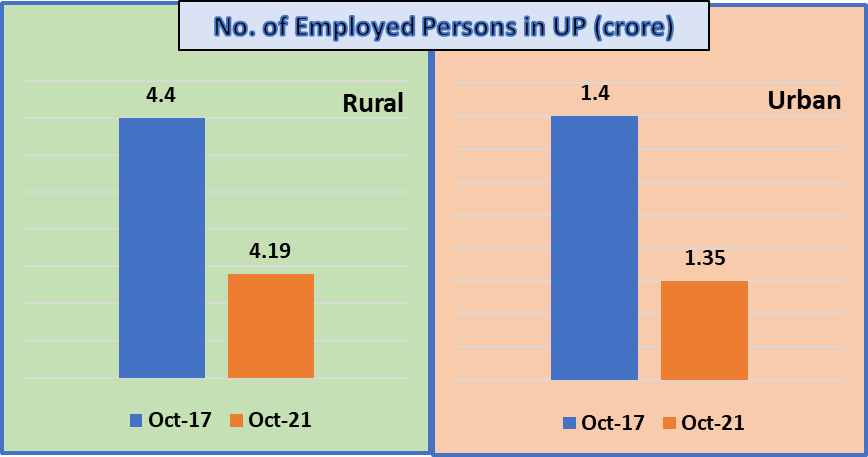 In the four years that this chart covers, the number of persons joining the labour force would run into tens of lakhs, yet absolute employment is declining. This is because a large number of people are no longer getting counted in the labour force, which includes employed as well as unemployed. They have simply opted out of the labour force. This is reflected in the worrying decline in the labour force participation rate over this period: it has declined from 38.94% in October 2017 to 34.07% in October 2021.
The fall in rural employment – not reflected adequately in unemployment rates – shows the severe crisis in agriculture. Although chief minister Yogi is boasting that UP has become the second largest economy among all states, this dire situation reveals the underbelly of this "economic growth".
Put together, all these and other factors like mismanagement of the COVID pandemic, police high-handedness, targeting of minority communities, neglect of the huge dalit population, etc., it is certainly not a rosy picture for Yogi-led BJP in UP. The withdrawal of three farm laws by PM Modi is an admission of this sorry state of affairs, and the possibility of defeat in the forthcoming elections.
Get the latest reports & analysis with people's perspective on Protests, movements & deep analytical videos, discussions of the current affairs in your Telegram app. Subscribe to NewsClick's Telegram channel & get Real-Time updates on stories, as they get published on our website.
Subscribe Newsclick On Telegram