UP: Kashmiri Dry Fruit Seller 'Attacked' In Lucknow, Dry Fruits Thrown into River
Bags filled with dry fruits worth Rs 35,000 -40,000 were allegedly dumped in the river by LDA officials.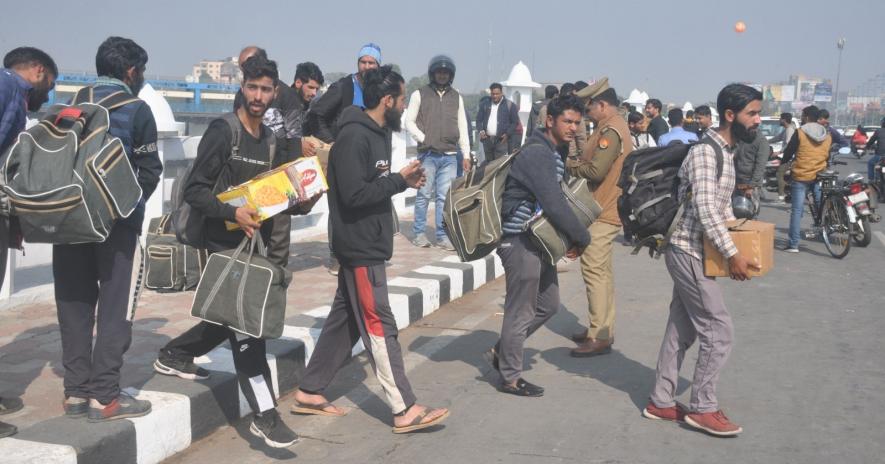 Photo Credit- Special Arrangement
Lucknow: Ishtiyaq (26), a native of Srinagar is a student pursuing his bachelor's degree and has been selling fruits in Lucknow for the past few months in order to pay his tuition fee back in Kashmir.
"Lucknow is a second home for us. We have been selling dry fruits here for many years. It is a source of business and livelihood for many Kashmiri traders. We will continue this practice as the people here are still coming forward to buy them. But for the last few years, we have been targeted, abused and even beaten by the Right wing. Are we not Indian? When we belong to India then where should we go for business?" Ishtiyaq, a Kashmiri dry fruit seller, told NewsClick. He claimed his dry fruit stocks were destroyed by the authorities.
There are many others like Ishtiyaq who come to Lucknow and other parts of the state to sell dry fruits, shawls and winter clothes to complete their studies.
"Last year, too, bags containing dry fruits worth lakhs of rupees were thrown out into the river by some people. This is the second such incident where four bags of dry fruits were dumped into the river. A box of Kesar (Saffron) and almonds worth Rs. 35,000 was inside the bag," Momin, another resident of Srinagar's Kulgam who came to the state capital to sell dry fruits told NewsClick. 
THE INCIDENT
Like any other day, Kashmiri dry fruits sellers were busy with the customer while selling their merchandise at the 1090 crossing, one of the most prominent intersections of Lucknow, barely 4-5 km from Uttar Pradesh Chief Minister Yogi Adityanath's residence. Suddenly, a group of Lucknow Development Authority (LDA) officials landed and asked them to vacate the spot following the ongoing developmental works in the area. However, as they were in the process of packing up their stuff, a few people allegedly started throwing their dry fruits into the Gomti river. Bags filled with dry fruits worth Rs Rs 35,000 to Rs 40,000 were dumped in the river by the officials.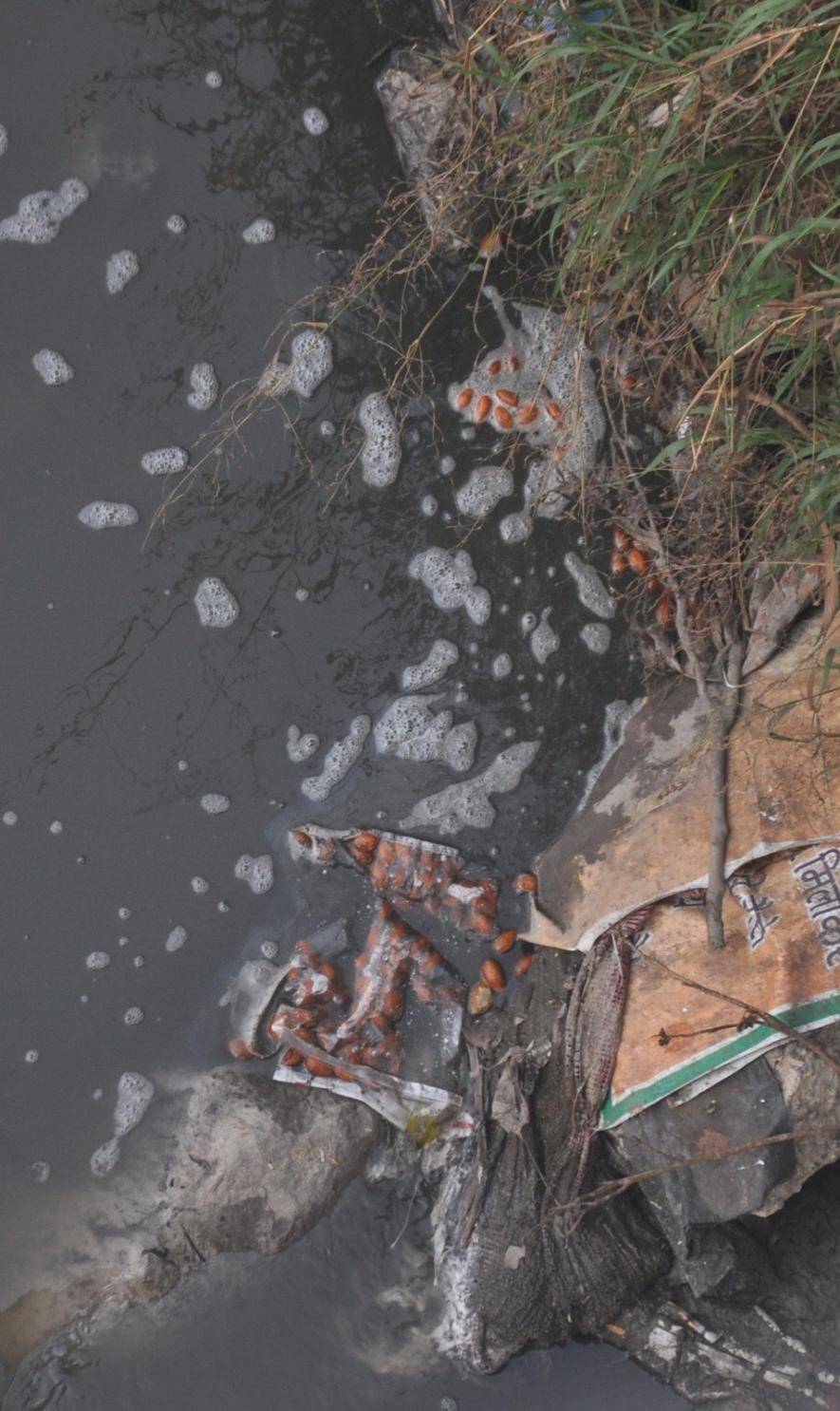 Photo Credit- Special Arrangement
A customer who is a lawyer by profession was an eyewitness and recorded his statement before the police about the incident. He was buying dry fruits when the LDA officials allegedly misbehaved with the Kashmiri sellers and when the lawyer intervened, they allegedly misbehaved with him as well.
Meanwhile, when Kashmiri sellers opposed, they ran away, leaving a vehicle which was towed by the police authority later.
"We were just setting up shop. A customer who introduced himself as a lawyer brought some dry fruits. We were talking about the price, and a vehicle in which four-five people were sitting came and without any conversation or reason, they threw our bags in the river. They were in no mood to listen to us. The dry fruits that were in the hands of the lawyer were also snatched and thrown into the river," alleged Momin.
However, police denied the allegation of misbehaving and that anyone had thrown dry fruits into the river
"The development works are going on at Gomti Barrage following the preparations of the Global Investors Summit. Following this, the staff of LDA asked the Kashmiri youths selling dry fruits there to leave, but the youths remained there, so the LDA workers again went there to vacate the spot," DCP Central, Aparna Rajat Kaushik told the media.
Riyaz Wani, a dry fruit seller who has been coming to Lucknow for the last ten years, said, "We do not encroach on any place but we sell dry fruits at pedestrian footpaths. We always cooperate with the police, Whenever, they ask to leave, we vacate without a second thought. This time too we were vacating the spot but we were not given time to pack our stuff and the officials suddenly threw our bags,"  Wani told NewsClick.
He went on to add, "It has become routine. This happens every year with us. By our appearance, they recognise in the first go that we are Kashmiris. Still, they ask us who we are, where we are from, whether the police station has verified our identities and all. It happens especially to those who have grown a beard."
NOT THE FIRST TIME
However, this is not the first time that Kashmiris have been attacked. The victims reportedly said that it was for the fifth time that they had been targeted in Lucknow. 
In 2019, a group of men, reportedly from a Hindutva outfit, attacked two Kashmiri roadside vendors in Lucknow. Later, a case was registered at the Hasanganj police station in Lucknow under sections 147, 323 and 504 of the Indian Penal Code (IPC) against unidentified men and the accused were arrested at midnight.
A local journalist who was present on the spot and captured the image of dry fruits thrown into the river told NewsClick on the condition of anonymity, "The incident happened around 1.30 pm on Thursday. Packets of almonds were scattered in the river. The Kashmiri dry fruit seller was not given time to pack their stuff," he said, adding that preparations are in full swing for investor meet and probably they asked them to vacate the spot for the same reason but this is not the first time they attacked. It has happened in the past as well.
Get the latest reports & analysis with people's perspective on Protests, movements & deep analytical videos, discussions of the current affairs in your Telegram app. Subscribe to NewsClick's Telegram channel & get Real-Time updates on stories, as they get published on our website.
Subscribe Newsclick On Telegram