UP: Over 5,000 Jal Nigam Employees Fear Losing Jobs and Retirement Benefits
These employees, declared "surplus", were recruited during the previous SP government's tenure and have not been paid salaries for the past six months.
Lucknow: Months after the Yogi Adityanath-led government in Uttar Pradesh cancelled the appointment of 1,300 UP Jal Nigam employees who were recruited during the Samajwadi Party government's tenure, citing "irregularities" in the selection process, around 5,000 field employees now fear that they, too, may lose their jobs.
These employees, most of them aged above 50 years, work as pump operators, hand pump mechanics, fitters, helpers, chowkidars, drillers, compressor drivers, and in the technical and non-technical divisions the Jal Nigam Department, and fear of losing pension and perks ahead of retirement.
On February 9, during a review meeting with Chief Minister Yogi Adityanath and Uttar Pradesh Jal Nigam Managing Director Anil Kumar, these 5,000 field employees had been identified as "surplus" and declared "useless" in the department. To overcome the financial crunch in paying salaries and pensions, the department had decided that all field employees posted in Jal Nigam would be accommodated in panchayati raj and municipal bodies. An order in this regard was issued by Anil Kumar.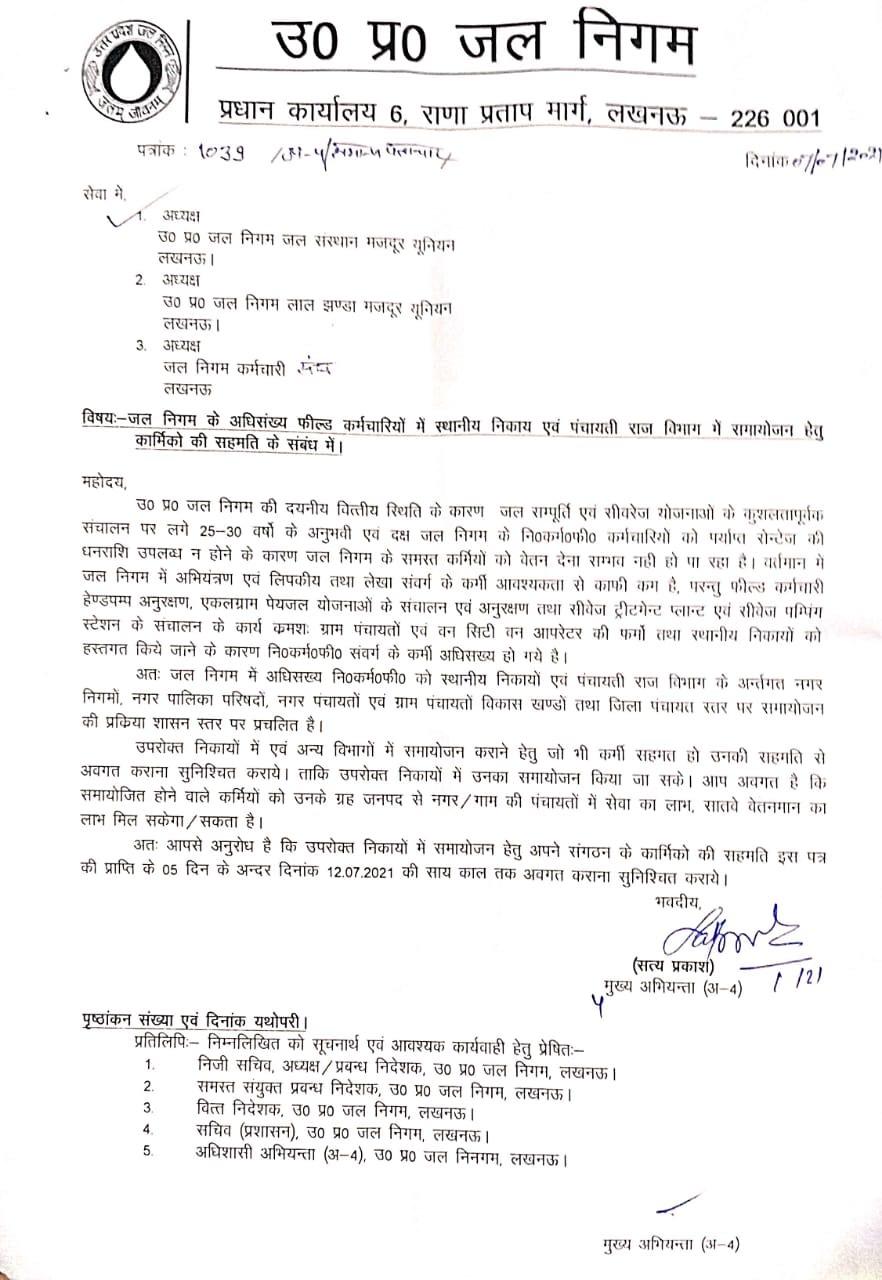 According to Kumar, Jal Nigam has been constantly facing a financial crisis which had made it difficult to pay salaries and pension to its employees. In such a situation, these employees "surplus" are being "shifted" to other departments.
However, five months have passed, and these Jal Nigam employees are still awaiting official notification to join the panchayati raj and municipal bodies. They allege the decision to shift to other departments, just four-five years before their retirement was taken without giving any prior notice and with the clear intention of "harassment of employees". 
"At this stage, when all these 5,000 employees are above 50 years of age and there are five years left for all of them to retire, the government's decision to declare them useless and shift them in panchayati raj and local bodies is completely inhuman. The government's intention is to prevent them from getting retirement perks and salaries," Ram Sanehi Yadav, president of Uttar Pradesh Jal Nigam Sansthan Mazdoor Union, told NewsClick. 
The union objected to the government's move, questioning that "when the Jal Nigam department is not being shut down nor its traditional pattern of work-- sewer line, river pollution, water supply and handpump installation  -- is stopped, how has it  claimed that some employees are surplus and no longer required?"
The union said with this order, the future of Jal Nigam is at stake. They threatened that they would soon stop all the work of the Jal Nigam by starting the 'Ghera Daalo-Dera Dalo' movement.
Yadav said that all these "surplus" employees are above 50 years old, and have no idea what will be their service conditions if they are sent to other departments? Will they get pension?
"If any department needs additional employees for work, they can officially request and the department releases guidelines and benefits for those being shifted, but here nothing was done and even after the order was passed, these working employees have not received salaries for the past six months. Those who retired in-between, are facing similar issues. They have been waiting for payment of arrears of their salaries and pension, gratuity and leave encashment," said Yadav.
He said per rules and regulations, a few years before retirement of an employee, usually his/her parent department calls them and their own department pays retirement dues. It is to avoid this that the Jal Nigam has shifted its field employees to panchayati raj and local bodies.
Commenting over the issue, Pratap Sahni, a retired Jal Nigam employee, said: "The Yogi government's plan is to close Jal Nigam and hand it to a private agency."
He said there is no other corporation in Uttar Pradesh that provides pure drinking water to people other than Jal Nigam.
"The government has decided to shift over 5,000 Jal Nigam employees to other departments, which leaves only 2,000 employees, who are mostly clerks and engineers. If you split these 2,000 employees into 75 districts of the state, how will government handle work like overhead tank water filters, sewer treatment, water treatment, pipeline and etc. The purpose of the government is to give away the water corporation to private hands," Sahni said, adding that the main aim of the Central government's push for labour reforms is to make a law so that only capitalists get benefit.  
"There are three large corporations in Uttar Pradesh -- Jal Nigam, UP Roadways and Forest Corporation -- and since the past two decades, no recruitment has taken place in all three. Instead, the government is reducing employees citing financial crisis, but the reality is that it is preparing to give it to private agencies," he added.
In March 2021, the Uttar Pradesh government sacked 1,300 Jal Nigam employees appointed during the previous SP regime, alleging faulty selection process. All the sacked employees were appointed by then minister and now MP Mohd Azam Khan. 
An order issued by Additional Chief Engineer of UP Jal Nigam, IK Srivastav, had dismissed 122 assistant engineers, 853 junior engineers and 325 clerks from the date of their appointment following an inquiry by a special investigation team (SIT) and the department.
Meanwhile, DP Mishra, chief spokesperson of Jal Nigam Employees Coordination Committee, said it was very unfortunate that when corporation was facing a "financial crisis", they have handed over Rs 1.50 crore to the chief minister's distress relief fund, without taking employees in confidence or giving prior notice. 
"When Jal Nigam is facing financial crisis and is not able to pay salaries for the past six months, retired employees are not getting pension and other post-retirement benefits, how come the administration could contribute such a huge amount? This amount could have been utilised for employees, but who care if we die working for government," Mishra told NewsClick.
Get the latest reports & analysis with people's perspective on Protests, movements & deep analytical videos, discussions of the current affairs in your Telegram app. Subscribe to NewsClick's Telegram channel & get Real-Time updates on stories, as they get published on our website.
Subscribe Newsclick On Telegram