UP: Acute Fertiliser Shortage in Bundelkhand Takes Lives of Five Farmers in a Week
Godowns of co-operatives have run out of DAP, urea, and other fertilisers essential for Rabi sowing. Many farmers in or around Lalitpur have either died by suicide or from exhaustion in their desperate bid to procure few bags of the soil nutrient.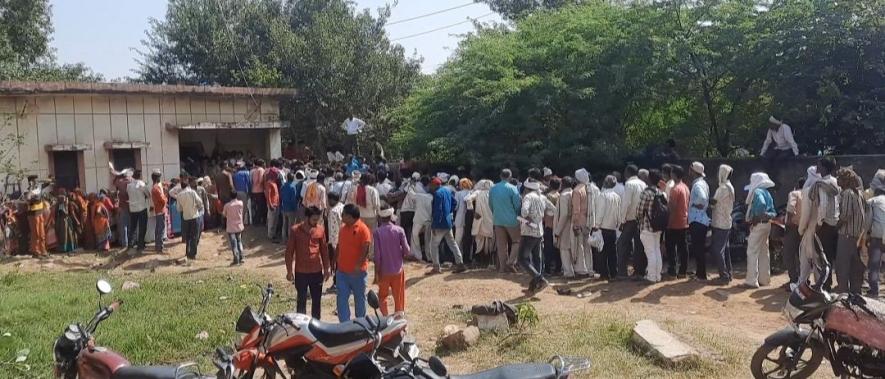 Farmers in queue for fertilisers.
Lucknow: In the last one week or so, farmers in the Bundelkhand region of Uttar Pradesh have reported a huge crunch of fertilisers at a time when the sowing of crops is at its peak.
Several districts have been reeling under a severe shortage of fertiliser, particularly Hamirpur, Lalitpur, Hathras, Etawah, Farrukhabad, Firozabad, Etah, Banda, Mainpuri, Kannauj. The farmers are making a beeline in huge numbers in front of co-operative societies for purchasing stocks, at times from morning to evening, claim locals.
The shortage turned deadly in the Lalitpur region, where at least five farmers died in a week while desperately trying to get their hands on bags of fertilisers.
On Saturday, the deepening shortage of fertilisers and financial crunch allegedly drove a middle-aged farmer to suicide in Masaura Khurd village of Jakhaura block in Lalitpur district. For the past 5-7 days he was visiting fertiliser distribution centres in vain, the deceased's elder brother told Newsclick. According to his family, he took the extreme step as he was worried over the shortage, and debts he needed to repay to the bank, he added.
The body of Raghuvir Patel was found hanging near his field. Sadar Kotwali police station SHO VK Mishra said that police recovered a note from Patel's pocket, in which he mentioned the unavailability of fertilisers as the reason for suicide. However, it could not be established prima facie if the note was genuine, as there was no signature on it.
"The man, identified as Raghuvir Patel, was found hanging from a tree on Saturday, hours after he left home to go to his field. The body was spotted by a few fellow farmers who informed the family. We have sent the body for post-mortem examination and based on the report, further action will follow. His family members claim that he took his own life as he was under tremendous pressure due to unavailability of fertilisers," SHO Mishra said.
Meanwhile, on the instructions of District Magistrate Alok Singh, SDM Sadar investigated the incident. It was told that the deceased owned 3.899 hectares of land in which 60% sowing had been done. The farmer had reportedly taken the loan of about  Rs 10 lakh on his kisan credit card. After the death of his wife and mother, he got into financial trouble, due to which he used to live in mental stress. Sadar said the allegation of fertiliser shortage as the cause of suicide was wrong.
However, Pahlawan Singh, elder brother of Raghuvir, alleged that his brother was upset after he didn't get fertiliser despite visiting nearly a dozen centres in the past week. "When my brother Raghuvir and I failed to get fertiliser in our region; I went to Jhansi and brought four sacks of fertilisers at the rate of Rs 1,500 per sack, of which, two sacks I gave to my brother. He had sown peas and was worried about inadequate fertiliser," said the deceased's elder brother.
Raghuvir leaves behind two sons and a daughter. His wife died 13 years ago due to cancer and since then he was looking after them by farming.
The state secretary of All India Kisan Sabha, Mukut Singh, said UP was facing an acute shortage of fertilisers and the farmers had been standing in queues for several days. Alleging black marketing, Singh described how a Rs 1,200 bag of Diammonium Phosphate (DAP) was currently being sold Rs 1,400 to Rs 2,000 per sack.
"Yogi government's schemes for farmers are only on paper. Rabi season has commenced and there is a huge shortage of DAP and farmers are being forced to stand in long queues. It's a double whammy for farmers amidst the prevailing power shortage," added Singh, accusing an 'unaware' CM Yogi Adityanath of being busy in poll campaigning instead of helping farmers.
The first death was reported on October 23, when a farmer had died in a queue at a fertiliser shop in the district's Jugpura area, where he had been allegedly waiting for his turn for the past two days.
The deceased Bhogi Pal, a native of Nayagaon village in Birdha block of Lalitpur district, had gone to the district headquarter on Thursday to buy fertiliser. He went to a shop in the Jugpura area, where his health started deteriorating, and he collapsed while standing in the queue, eyewitnesses told Newsclick. The district administration has recommended a compensation of Rs 10 lakh for the family of the deceased from Uttar Pradesh's chief minister's relief fund.
As per the deceased farmer's son, his father had two acres of land for which he was trying to get manure for the past three days. He had to repeatedly stand in queues at several shops due to the short supply.
In a similar case, Mahesh Bunkar, a native of Banyana village in Lalitpur district also stood in line for three consecutive days, hoping to buy fertilisers for his land. Like Bhogi Pal, Mahesh too collapsed outside the shop. He was rushed to the district hospital where he was declared dead.
Gyanchandra, the cousin of the deceased, told NewsClick that he along with Mahesh had gone three days continuously to the Elite circle at Lalitpur for fertilisers. On Monday, October 25, at 12 noon, when his cousin was standing in the queue, his health deteriorated. He collapsed there.
Soni Ahirwar, a 40-year-old farmer of Mailwara Khurd village in Lalitpur district, allegedly died by suicide, out of despair after failing to procure DAP for his land. According to his family members, he visited several centres in the past three days but couldn't succeed.
Ahirwar died by suicide on October 2 and was found dead by locals in his field. The district authorities, however, deny Ahirwar died by suicide on account of the unavailability of fertilisers.
Ballu Pal of Bundelkhand was standing in queue to get fertilisers. As he too failed to get fertilisers for some days, he allegedly died by suicide.
Meanwhile, on Friday, Congress general secretary Priyanka Gandhi Vadra demanded a probe into the alleged complicity of government officials in black marketing of fertilisers in Uttar Pradesh's Bundelkhand region as its shortage was so far linked to the deaths of at least four farmers there.
FEAR OF STARVATION DUE TO SHORTAGE OF FERTILISER
The sowing of the next crop season including wheat in villages of the Bundelkhand region is being delayed reportedly due to the shortage of DAP. Farmers in the state are facing the brunt of the apathy of BJP government at every level, alleged farmers' leaders.
Ramesh, a farmer from Etawah told Newsclick, "Wheat is usually sown between October 15 and November 15. Farmers are having to move from pillar to post for DAP. Yet, we are not getting enough fertiliser even after waiting in long queues for several days under police protection. Sowing of the next crop season is getting delayed due to this."
He added that "Due to the non-availability of fertiliser, the sowing of crops is getting delayed. At the same time, the already matured crops are also getting damaged. Farmers are now worried that if this situation remains the same, there will be no good yield of the crop. If there is a loss of crops due to lack of fertiliser, then in the coming days they may have to go through starvation."
A resident of Banjarra village in Lalitpur, Naval Kishor, 58, said, "This is the peak season of sowing and I am standing in queue daily for the past 10 days and I received only two bags for my three acres of land. At one time, the (co-operative) society manager is providing only two bags to a farmer. In the (open) market, the same bag is being sold at Rs 1,500. The government is promoting black marketing," he said, adding that long delays in sowing would worsen crop quality.
When asked the reasons for the fertiliser crisis in the state, Prem Kumar, agriculture expert in Banda told NewsClick, "The government is reducing the subsidy given on DAP and urea every year. The more subsidy the government releases, the more fertiliser quantities get sold. This year, it seems that the government has released fewer subsidies. Another reason is that the fertility of the land is depleted and due to the decrease in the productive capacity of the land, the demand for fertilisers has increased manifold in recent years."
He went on to add that in 2019-20, "The government had given subsidies of chemical fertilisers and insecticides and pesticides up to 1,20,000 crores. This year, however, subsidies decreased this year, leading to the crisis."
Meanwhile, on Wednesday, the Union Cabinet raised subsidies for DAP and some other non-urea fertilisers by Rs 14,775 crore to keep the price of crop nutrients for farmers low despite rising costs.
Last month, the Centre decided to increase subsidy on DAP fertiliser by 140%. The decision was taken at a high-level meeting chaired by prime minister Narendra Modi.
The government has allocated nearly Rs 28,656 crore to fertiliser companies as compensation for selling products at lower than market prices to farmers, a government statement said.
"The more subsidy the government increases, farmers will get the fertiliser cheaper than the market price. If the government removes subsidies, the price of fertiliser will increase three times. As of now, the price of fertiliser is Rs 1,400 per bag in which the government is giving Rs 2,000 subsidy," said Kumar.
When asked what led to a sudden increase in fertiliser demands, he said that "Though the demand for fertilisers prevails throughout the year, it spikes in August-October when the region witnesses rainfall," adding that due to rainfall, the moisture content of the land increased and farmers want to take advantage of this moisture to sow wheat and mustard. "Since diesel has become very expensive and electricity rate is also very high in Uttar Pradesh compared to other state, farmers want to take advantage of the rain. Therefore, the demand for fertilisers has increased simultaneously with the monsoon.
Pointing out why DAP is so important during sowing, Amit Prakash, professor at the department of agriculture, Gorakhpur said that DAP was the basic nutrient for Rabi crops. "DAP is used along with seeds at the time of sowing of crops like wheat and mustard. At least one DAP bag of 45 kilograms is required for one acre of wheat. Any delay in the supply of DAP will adversely affect the sowing of crops.
According to Prakash, "China is the largest producer of DAP and also a major supplier to India. Once upon a time, DAP was made in our country too, but now there is no solution except import as six fertiliser plants were closed decades ago in India."
Meanwhile, Uttar Pradesh agriculture minister Surya Pratap Shahi has claimed that there is no shortage of fertilisers in the state.
"There is around 5 lakh tonnes of DAP in the stock in the state. There is no shortage," Shahi told media in Lucknow after holding a meeting with concerned authorities.
Meanwhile, Bharatiya Kisan Union (BKU) leader Rakesh Tikait along with state president Rajveer Singh Jadaun will visit Lalitpur on Monday to meet five families who died due to a shortage of fertilisers, BKU district president Ranjeet Singh Yadav told NewsClick.
Get the latest reports & analysis with people's perspective on Protests, movements & deep analytical videos, discussions of the current affairs in your Telegram app. Subscribe to NewsClick's Telegram channel & get Real-Time updates on stories, as they get published on our website.
Subscribe Newsclick On Telegram