UP Elections: Dead Sugar Mills of Kushinagar Set to Haunt BJP
The district, which had 10 mills, is now left with only five operational units. Both PM Modi and CM Yogi had promised to reopen sugar mills, but have 'betrayed' growers in this once thriving cane district in Eastern UP.
Kushinagar (Uttar Pradesh): Once known as the sugar bowl of Uttar Pradesh because of high cane production, Kushinagar in the eastern belt of the state, had a planting area of over 20,000 hectares. It has now turned into a graveyard of sugar mills. The district, which had 10 mills, is now left with only five operational units. 
Kushinagar has fertile soil with loose clay, silt and sand deposited by the river Gandak and its tributaries, which is highly suitable for sugarcane cultivation. 
In 2014, Narendra Modi, then a prime ministerial candidate of the Bharatiya Janata Party (BJP), while campaigning for the Lok Sabha elections, had promised people during a rally at Padrauna that the closed mills would be re-opened within 100 days if he was voted to power. BJP won the elections and Modi became Prime Minister. But seven years down the lane, the promise he made has not been fulfilled. 
In the 2017 UP Assembly elections, the issue was raised again, but in vain. Instead of establishing sugar mills in Kushinagar, which dominates cane production in all surrounding districts of the region, two mills were opened at Pipraich and Munderwa villages in Gorakhpur and Basti districts. 
Left with no option, cane farmers now have to carry their cane yields to these mills, far away from their villages. They pay higher transportation charges that have further increased inputs costs and brought down their profit margin. 
Incidentally, Modi has so far not visited Padrauna during election campaign. Both the PM and Chief Minister Yogi Adityanath have always evaded questions on the promises they made to re-open sugar mills in the region. 
"Modi ji Padrauna nahi aa sakena, ayehan taa janata badhiya se swagat kari (Modi ji cannot visit Padrauna. If he comes here, his welcome would be something different)," a sarcastic Satendra Madheshia, a local farmer, told NewsClick. 
Ahead of the 2019 Lok Sabha elections, Modi went to Kaptanganj for campaigning but did not visit Padrauna. 
Despite having fertile land which is highly suitable for agriculture, especially for cultivation of sugarcane, the problems of crop destruction due to floods, shutting down of mills and late payments of the yields are not only reducing cane production but also weakening the integration between cane production and sugar mills. 
Crop Damage Woes

 
Sumer Yadav owns 17 kattha of land, shared with his two brothers, at Purab Tola in Ramkola nagar panchayat (Notified Area Council) in Kushinagar district. In the past three years, he had been cultivating cane on nine kattha of his total landholding. After his entire crop got ruined in the last three consecutive seasons, without a single penny of compensation, he had to bear a loss of around Rs 1 lakh. This season he is sowing cane in seven kattha. 
"We are poor people with extremely small landholdings. Surveys were conducted to assess the crop damages, but I did not get any compensation. I am unable to bear any further loss. So, I have reduced the cultivation area from nine to seven kattha. I grow vegetables on the remaining area of land so that even if I lose the crop, some losses can be recovered," said the farmer, in his late 50s. 
At Laxmiganj, Om Prakash Rajbhar, an influential leader of the east whose Suheldev Bharatiya Samaj Party is contesting the UP Assembly polls in alliance with the Samajwadi Party, was addressing a public meeting close to Ballan's house. 
Referring to the clearly audible election speeches, Yadav's wife Phoolpati Devi jumped into the conversation and said: "Heka neta log chilla ta. Chunawwa baa ta sab nimman baat bola ta, khatam ho jaayi ta kehu jhaanke naahi aayi (See, political leaders are shouting. Since it's the election season, everyone is making lofty claims and promises. Once it is over, no one will come here)." 
In Kushinagar, 'upper' caste thakurs have huge landholdings, while those belonging to Other Backward Classes (such as yadavs, mauryas, patels, nishads, kurmis, etc.) and dalit communities (jatavs, khatik, pasis, dhobi) are small farmers with maximum land holding of around one acre.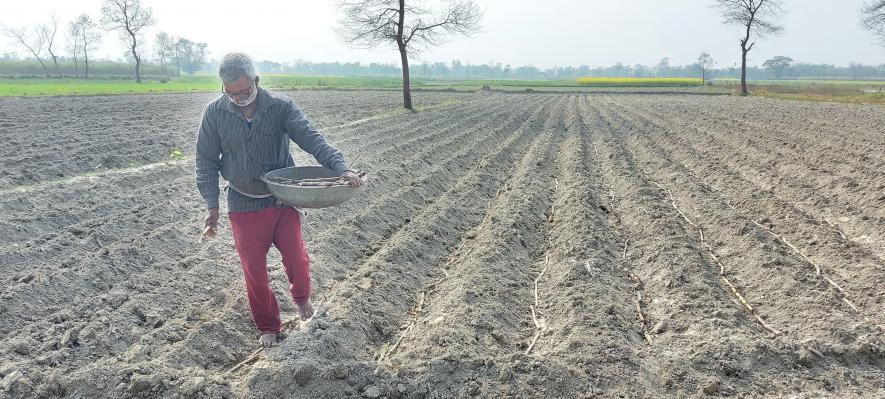 Shiv Kumar had grown sugarcane on three acres of his land at Kusumhi Kothi in Laxmiganj in Kushinagar district of eastern Uttar Pradesh, but red rot and excessive rains destroyed 500 quintals of his yield — making him suffer a loss of around Rs 2.5 lakh. 
His fellow villager, Sunil Kumar had offloaded 250 quintals of his sugarcane yield to Kaptanganj sugar mill, over 50 kilometres from his place, because his local processing unit in Laxminagar has been shut for over a decade. The 40-something sole bread winner of his family of six is still awaiting payment of the last crushing season (2020-21). 
Kumar reduced the production by half of the previous output and took the yield to the same mill, hoping he would receive the previous payment in the ongoing crushing season (2021-22) and wait for another one year to receive this payment. 
Ballan Maurya from Nauka Tola of Kushinagar's Laxmiganj grew sugarcane on one acre of his total landholding of 1.41 acres. Red rot and floods caused by excessive rains completely damaged half of his crop, leaving it of no use except to be used as fuel for earthen stoves. The poor farmer, who also serves as daily wager, suffered a loss of Rs 1 lakh.
Unable to come to terms with losing his entire savings on the production, and hoping to recover it in this crushing season with a good amount of profit, Maurya slipped into depression and recently suffered a heart attack. Fortunately, he survived.
Although a survey was conducted by the government to assess the damage, farmers say they haven't got a single penny as compensation so far.
Red rot is a fungal disease which damages cane. It is caused by prolonged storage or exposure to high relative humidity, environmental pollution and high temperature. The affected cane exhibit a leaf colour change from green to orange and then to yellow, after which the leaves and stems start drying from bottom to top.
Mill Closure Blues 
Away from the Khetan Sugar Mill, which was closed during Bahujan Samaj Party (BSP) rule in the state in the mid-1990s, Rajendra Singh was resting near his field in a makeshift hut made of straw and reeds. He said of 20 acres of his total land, he has grown cane on 14 acres. 
Talking about the downfall of the sugar industry in the region, Singh said: "Though the nearby Khetan Sugar Mill, popularly also known Ramkola sugar factory, had a crushing capacity of only 8,000-10,000 quintals per day, it was the backbone of cane production here. The mill used to cater to almost the entire production of the area. After the government took it over and soon sold it to a private player, its downfall began. The mill was closed over a decade ago, leaving cane growers at the mercy of other operational sugar mills, which are far away from here."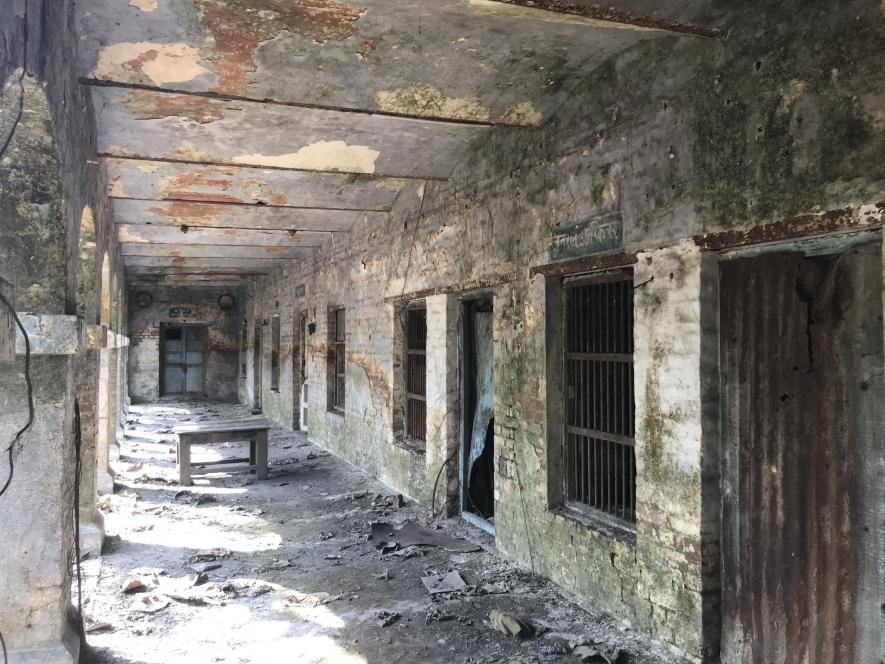 In 2008, the Uttar Pradesh State Sugar Corporation, a semi-government body, took over 27 sugar mills in eastern UP, but later sold these to private players — leading to their closure. Out of all the sugar mills that were sold, only two — Khadda (Kushinagar) and Sisva (Maharajganj) — are operational. The rest have been closed. In Gorakhpur, the Farmer Cooperative Sugar Mills Limited of Dhuriapara has been closed since 2007. 
All these mills have turned into haunted houses and are beyond restoration said the farmers. 
Ramchandra Singh, who heads the Bharatiya Kisan Union (BKU), Ambawata, staged an indefinite strike for 109 days in the premises of the Laxmiganj sugar mill, demanding re-opening of all the processing units in the region, as promised by BJP. He concluded his sit-in as the Election Commission's Model Code of Conduct came into force, barring all protests and demonstrations. 
"People in eastern Uttar Pradesh are small farmers. They have to work as daily wagers to sustain their families. There is no strong union that can fight for their causes. As a result, they are an exploited lot," he told NewsClick. 
Since Kushinagar, the highest cane producer of the region, with Laxminagar alone producing 60-70 lakh quintals of cane per year, the district is a textbook case of "systematic" deindustrialisation, he said. 
"When we had lower production, there were 10 mills in the district. But when production grew with the advent of new technologies and cane emerging as a cash crop, the number of mills were brought down to five [Kaptanganj, Ramkola (private), Hata, Khadda and Sevrahi sugar mills]. The mills in Laxmiganj, Ramkola, Padrauna, Katkuiyan and Chitauni were shut down. Interestingly, this was done in a systematic manner — the government took them over, showed them running in losses and then sold them at throwaway prices. The mills closed operations in 2008 and finally brought down their shutters in 2011," Singh said. 
Because of alleged fraud in the distribution of sugarcane procurement slips, based on which farmers sell their yields to sugar mills, a section of farmers sell their crops to local crushers who produce jaggery. Though they offer lower prices, farmers get cash payment in hand.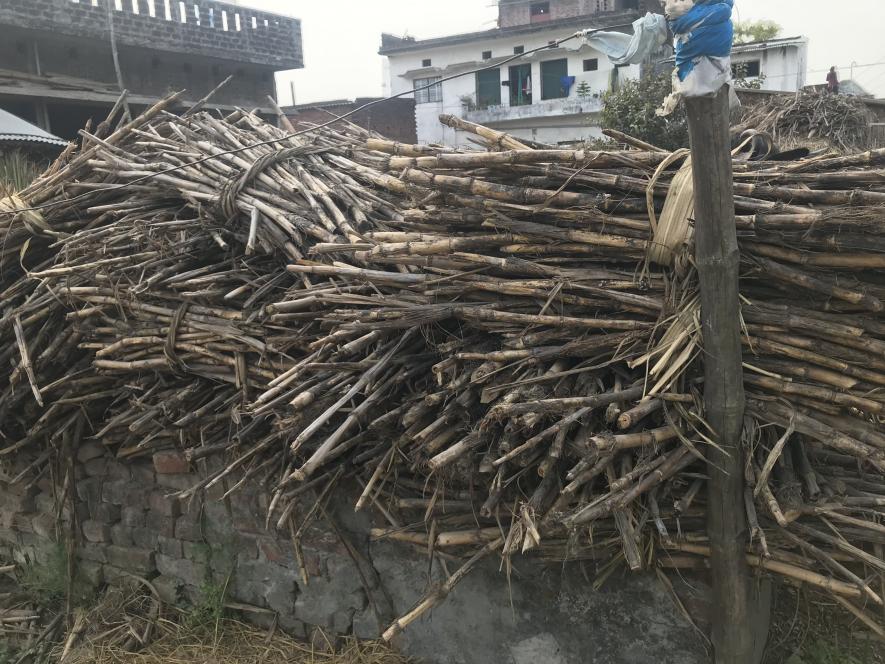 Singh said contrary to the government's claim that cane farmers were getting their payment within 14 days of offloading their crop in the mills, the Kaptanganj sugar mill owes Rs 20 crore to farmers for the last crushing season. "It's uncertain when they will get payment for the ongoing crushing season," he added. 
The BKU leader said: "(CM) Yogi got a mill set up in 2019 in Pipraich in his constituency of Gorakhpur, where there is no production of cane. In September 2021, he had visited Kaptanganj and promised that one mill would be made operational. Now, farmers have to bear additional burden of transportation of Rs 40-50 per quintal to send their yield to these distant mills," adding that he will resume his protest once the election Model Code of Conduct ends. 
"Kushi Nagar ganna bahulya chetra hai, hum iske astitva ko mitne nahin denge (Kushinagar is a sugarcane rich area, we will not allow its existence to be lost)," he resolved. 
Singh is contesting the Assembly polls as an independent candidate from Kushinagar district's Laxmiganj Assembly segment. "If I get elected, I will continue my agitation. I will go to Lucknow only once for the swearing in. I will return and resume the sit-in at the same venue," he claimed. 
All seven constituencies of the district are going to polls on March 3 in the sixth phase of the seven-phased UP elections. Of the seven seats, if local political observers are to be believed, the Opposition alliance appears to have an edge in three seats — with the rest witnessing a close battle. Sensing troubles and huge anti-incumbency in the region, the BJP has replaced all MLAs with new candidates.
Get the latest reports & analysis with people's perspective on Protests, movements & deep analytical videos, discussions of the current affairs in your Telegram app. Subscribe to NewsClick's Telegram channel & get Real-Time updates on stories, as they get published on our website.
Subscribe Newsclick On Telegram