UP Elections: Industry That Helps Adorn Lord Krishna in Mathura, Vrindavan Dying Slow Death
High decibel Hindutva politics has failed to save livelihoods of artisans, traders and manufacturers belonging to Hindu and Muslim communities.
Mathura: A sharp decline in work orders, shutting down of many workshops and meagre pay are giving a tough time to Muslim artisans who make dresses, tiny crowns and rosaries used to decorate the idols of Lord Krishna and his consort Radha in the temples of Mathura. 
Prolonged closure of temples and heavy restrictions during strict COVID-19 lockdowns led to many workshops downing shutters, majority of which never resumed operations — rendering thousands of artisans jobless. 
A large section of Muslims in the twin cities of Mathura and Vrindavan have been making an array of colourful costumes studded with precious stones, exquisite embroidery and glittering strips of expensive 'gota' (embroidery using appliqué technique). They also make dazzling crowns, hindolas, rosaries and other decorative items.
The outfits are exported to the US, the UK and many other countries, especially where ISKCON (International Society for Krishna Consciousness) temples are located. 
Earlier, June to August used to be a busy period for artisans skilled in sewing embroidered clothes for the deities. But this was not so in the past two years because of pandemic restrictions. Since there were no orders either from the domestic market or abroad, many workshops have to shut down, leaving artisans with no option but to look for other options to earn a living. 
Workshops in Vrindavan, where clothes of Lord Krishna are stitched, continued production, but these too had almost no orders from abroad, even ahead of the two Janmashtmis (the birthday of Lord Krishna) that passed. Low-key celebrations at home helped the workshops gets very small work orders to enable these artisans to somehow survive, but their overall income has been severely impacted. 
In Vrindavan, where Lord Krishna is said to have spent his childhood, some manufacturers said they used to get orders for clothes and accessories for the deity worth more than Rs 7-8 crore every year to be exported to the United States, the United Kingdom, Russia, Australia, Mauritius and wherever Hindus are settled, but there was no big consignment in the past two years because of low demand and curbs on transport. 
"We used to have bulk orders ahead of Janmashtmi, which meant an increase of thousands in our earning for at least two-three months. But after the workshop where I was employed shut down, I have no employment. Instead of stitching dresses for Lord Krishna, I am making masks to sustain my family of seven members," a visibly upset Shakir Shah, 41, told NewsClick. 
Sajid, 38, who is employed at another workshop in Vrindavan, narrated the same story when asked how curbs and lockdowns had impacted his income.
"We earlier had no time for two-three months before Janmashtmi, we had to work overtime — 18 hours — to meet the demand and deadlines. We used to earn between Rs 20,000-25,000 per month. But now there is a maximum of three-hour work, and we get only a few thousand, which is insufficient to feed my family," he said. 
Ameer Khan, an artisan at a workshop in Mathura, said the two lockdowns had brought the business to its knees. "As the work order declined drastically, manufacturers have downsized. As a result, many of us are jobless. Those who are working, are not getting good wages," he added. 
The manufacturers in Vrindavan said production had declined by 60% with dip in work orders as a result of two successive lockdowns.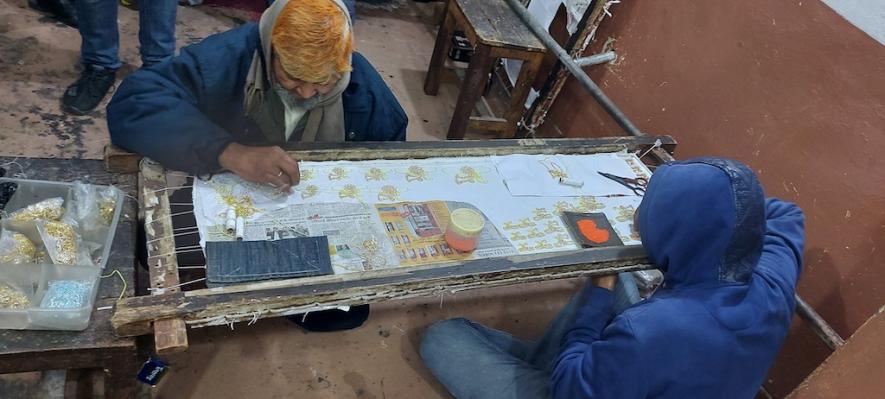 Since temples were closed, and foreign tourists were barred from visiting the country, and there were restrictions on transport activities, there were low-key Janmashtmi celebrations in homes that kept the industry running. Otherwise, all these workshops would have got closed, too, they added.               
Naresh Sharma, a wholesale trader in Mathura, said pilgrims from all over India and across the globe visit Braj Bhoomi; when they return, they buy colourful dresses for their deities. 
He said skilled workers from both Hindu and Muslim communities produce dresses and decorative items at their homes or in units set up by big showrooms. 
These dresses are couriered daily to dozens of foreign countries for temples and individuals. "Mathura and Vrindavan are the hub of manufacturing of poshaks (dresses), crowns and knick-knacks, though dresses are also sold in Nathdwara in Rajasthan," he added. 
Explaining how this industry works, Junaid, a manufacturer in Mathura, said they approach traders with new designs. Once the new designs are approved, they get orders in bulk. The manufacturers get the work done from artisans they employ. 
Middlemen also play an important role in this chain, and the gap between manufacturers and traders often brings the profit margin down and makes the final product costlier. "Many manufacturers do not go to traders directly, the order come to them via middlemen who rule the roost. They eat into the profit margin of manufacturers," he said. 
Junaid said the government's "faulty" policies too have dealt a huge blow to the industry. "First notebandi (demonetisation) hit our business hard, then GST (Goods and Services Tax) came. Earlier, we used to pay 2.5 VAT (Value Added Tax) on the entire purchase of raw materials. But now, GST ranging 5% to 18% is being charged on individual items. This has increased our input costs, but the rate we get from traders for different items is more or less the same," he said. 
As a result, many manufacturers have started selling the products in units instead of weight. "But this is also not helping us," said the young man, who said this was his ancestral business. 
ISKCON officials in Vrindavan also admitted that the outbreak of Covid-19 had marred Janmashtmi celebrations since the past two years. They said they had to reduce orders by 30% for their 250 temples across the world.
"We used to purchase around 1,000 exquisitely made dresses — costing somewhere between Rs 2.5 lakh and Rs 7.5 lakh — for Lord Krishna temples across the globe. But we had to reduce this order to 600 because of the crisis," an ISKCON official told NewsClick. 
The World Bank's 'Pro Poor' Tourism project had long back committed to promote the artisans in a big way, but the government did not help producers run an exclusive market so that the profits are passed on to actual production units, it is alleged.
Those who always use the "tried and tested" strategy of polarisation to win elections and claim they are the only torch- bearers of Hindu religion must come to the rescue of this industry, as it belongs to Lord Krishna. 
"Only dividing people on religious lines with hate speeches won't work in these elections," said traders and manufacturers in the twin cities. 
WE ARE GRADUALLY BEING ISOLATED'
"Wash your hands first and then touch any item as they are sacred," 70-year-old Sharfuddin Khan tells this correspondent while showing dazzling mukuts (crowns or headgear) and the intricate needlework of zari zardozi (gold string), in a reflection of his respect for the religion and the deity.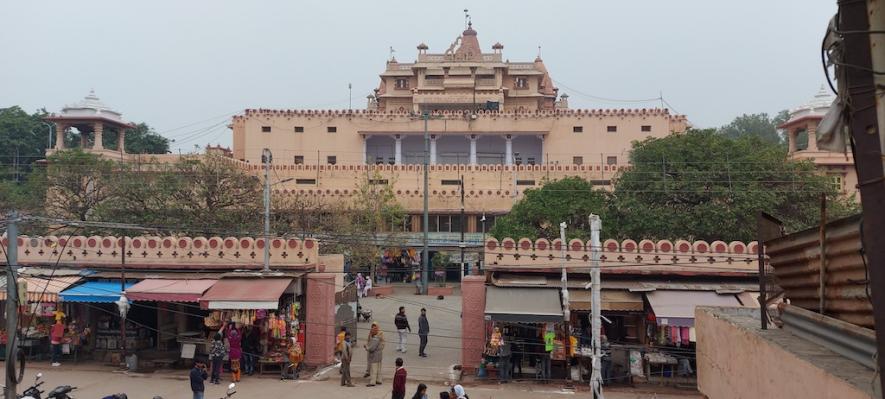 Working at a workshop at Mathura's Matia Gate — which is within two kilometre periphery of the Shri Krishna Janmasthan (Shri Krishna birthplace), Khan has inherited this skill from his forefathers. 
Despite being indispensible (as Muslim artisans are skilled in eye-catching zari zardozi embroidery work), he feels, Muslim artisans are being "gradually isolated" because of the atmosphere of hate and bigotry in UP. 
Hindus do the sewing and stitching of the dresses, weaving attractive patterns and curls that catch the eye. 
"So far, our industry is inclusive. The manufacturers are mostly Muslims, the consumers are Hindus and the traders comprise members from both communities. Of the total workforce in this business, Muslims artisans have at least 40% share. But efforts are on to ruin this camaraderie," said the craftsman, who has been engaged in this work for the past 40 years. 
He said there were communal riots earlier, but it was momentous. But such an atmosphere of hatred has never been there," he added. 
Ameer claimed Muslim artisans respect Hindu deities as much as they revere their own God. They feel delighted when they are complimented for their art form, he said, adding that making clothes for Lord Krishna "is not just for livelihood but an emotional offering to the deity by Muslim artisans."
"We are Hindustanis, and our work is the symbol of our composite culture and mutual respect for different religions," he concluded. 
Get the latest reports & analysis with people's perspective on Protests, movements & deep analytical videos, discussions of the current affairs in your Telegram app. Subscribe to NewsClick's Telegram channel & get Real-Time updates on stories, as they get published on our website.
Subscribe Newsclick On Telegram