UP Elections: Uncovering the Tale of COVID-19 Losses and Withering Rights in Sonbhadra and Chandauli Districts
These stories are from Sonbhadra and Chandauli districts in Uttar Pradesh and were narrated at a public hearing organised by the All-India Union of Forest Working People (AIUFWP)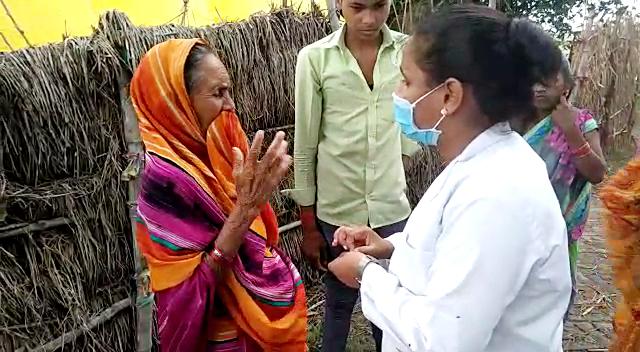 Uttar Pradesh, June 17 (ANI): A healthcare worker interacts with an elderly woman regarding vaccination in Chandauli 
"The empires of mafia and gangsters were bulldozed, and action was taken against everyone who attempted to breach the peace in the state. It doesn't matter who they are; people encroaching upon the land of innocent citizens will have to face the music," said Chief Minister of Uttar Pradesh, Yogi Adityanath. He further called UP's COVID management 'best in the world'.
Residents of Chandauli and Sonbhadra, where the UP elections will be held on March 7, unpack for the readers what exactly the government means by the best COVID management in the world and the comment about certain people facing the music.
While losses related to COVID–19 have primarily been associated with health and death, public hearings organised by the All-India Union of Forest Working People (AIUFWP) from December 21-28, 2021, shed light on the deaths, debt and distress faced by people during the pandemic:
Stories of departmental tortures, filing of false cases, bribery, extortion of money and negligence, especially those faced by Adivasis and other backward communities, also emerge from these regions. Most stories narrated during the public hearing highlight the injustice and atrocities committed by the forest and police departments against Adivasis.
In Sonbhadra, 40 case depositions were made covering stories of 233 families, and in Chandauli, 15 case depositions were made covering stories of 693 families. These depositions from Sonbhadra and Chandauli show that 95% and 53% of the cases, respectively, were problems people faced during a pandemic and those which got accentuated during the pandemic, such as atrocities by the forest department or police officials.
"The forest department repeatedly threatens us to vacate our native forest land. When we refuse, they threaten us with fake legal cases. The government has forcibly taken thumb impressions of our community members on legal documents on many occasions," recounts Parvathy Gond of Birsa Nagar village, Majhouli, Dudhi block.
"The forest department demands a bribe of Rs 500 to plough our field. The department continues their threat and verbal abuses even after paying the bribe," remembers Bhugni Gond from the same village as Parvathy Gond.
"The forest and police Departments are destroying our agricultural fields and stopping us from conducting farming activities. They destroyed our hut and are not allowing us to build a new one on our ancestral land," explains Mankunwar Gond of Sayal village, Dudhi block.
Rita from Sukkhdevpur village, Chandauli district, recalls, "There are about 100 Dalit families in the village. In 2010, 40 families from this village had submitted individual forest rights claims as per the Forest Rights Act 2006. On December 7, 2021, when there was no male member in the village, the forest department came with JCB machines to dig up fields with standing crops without prior notice."
These are glimpses of incidents people in Sonbhadra and Chandauli had to face, where their very existence and livelihoods were threatened and exploited by those who should have protected them.
CHILDREN MISSING OUT ON EDUCATION
"Education of children is severely affected due to closure of schools. When schools eventually reopened, teachers were forced to send students back as there were not enough textbooks to teach them. This resulted in some students choosing not to return to school at all," explains Rajkumari of Naya Basti village, Ghoom Nagar, Dudhi block.
Almost all cases narrated during the public hearing in Sonbhadra district highlighted the implications of the lockdown on kids and their education. Additionally, with livelihood losses, most could not afford online education for their children.
As per the data shared by the Union Education Ministry with the Parliamentary standing committee on Education, Women & Children, Youth & Sports, in June 2021, over 5.5 lakh children were out of school owing to the pandemic. Imagine the situation in UP when it is one of the states with low internet access, which further accentuates the digital divide and thereby access to education. Moreover, in Chanduali, 7% of cases reported were about the cancellation or blocking of students' scholarships. The anti-people mechanism and the poor governance support in providing adequate digital infrastructure are resulting in losing a generation from being informed and educated.
FORCED EVICTIONS
In Sonbhadra, an alarming number of 78% cases pertained to atrocities by the government and another 35% cases pertained to caste & land grabbing atrocities. Demanding eviction from their ancestral land, Sukhdev and his family were continuously harassed by the forest and police departments. The forest department has not allowed them to build houses and walls, and fake cases are often slapped against them. When the police are approached to register a complaint, they are threatened to not do so.
With no work and wages, there seems to be no relief in sight as government officials continue to harass. Forceful evictions, burning of standing crops etc., were reported from different blocks.
There are more such stories from the district, glaringly pointing out the laxity and active collaboration of the state in the oppression of the poor. Such stories, unfortunately, are not just limited to one district.
Chandauli district reported 100% cases of harassment by private agencies, upper caste people and government agencies. Around 80% of cases were related to atrocities by the government, such as the Forest Department, police officials, and ration shops. Nearly 20% of cases are related to atrocities committed by land mafia and upper caste on land grabbing of SC/ST households.
COUNTLESS STORIES OF INJUSTICE
Denial of livelihood and ration
Many places in Uttar Pradesh witnessed the oppressed and marginalised communities being denied ration if they weren't vaccinated or couldn't provide proof of vaccination. Forcible vaccination drives were conducted in Sonbhadra district to avail ration, with 20% of cases stating so.
Around 18% cases were of unavailability of drinking water in the village, 35% related to unpaid wages and 13% related to debt incurred by people during the pandemic due to ill-thought government policies.
"There is a shortage of drinking water in our village," says Ramdas of Majhouli village, Dudhi block in Sonbhadra.
He continues, "We collectively claimed our Community Forest Rights on March 23, 2018. Our situation became difficult during the pandemic. Due to water scarcity, we could not cultivate our crops and work in our fields. The people of our village decided to dig a well but were denied. Forest officials came and refilled the land above the well, and all our efforts to get water came to a halt. We had to buy water from supply water tanks during our financial crisis. Earlier in December 2020, a forest official came to our forest and destroyed one of our houses. Such attacks by forest officials have become a common occurrence for us during the pandemic," he concludes.
Leelavati used to cook food for a school in Bidar for Rs 50/day. Her husband, who is disabled and a disabled sister-in-law are dependent on her. But when COVID and lockdown hit out of nowhere, schools were shut, leaving Leelavati with no job and wages. She could not avail ration as her thumb impression was not available on the computer. When the food shortage was severe, her relatives eventually helped. The government offered no help.
Ram Dulare's son was a migrant labourer in Surat, Gujarat, working under a pipeline contractor. He was promised Rs 10,000 every month. But when the lockdown was unexpectedly announced in March, the contractor refused to pay his salary. He was stuck in Surat for days along with several other labourers. Unhygienic living conditions, lack of money and shortage of food prompted him, along with others, to travel to his native village in Sonbhadra. He travelled on foot for days on end and was physically abused by the police on his way home. With no income and means to survive, they were forced to take a personal loan at a high-interest rate. This resulted in them being crippled financially.
In Chandauli, 13% of cases are related to non-payment of MNREGA payments by the contractor or village panchayat.
Muniya from Parshwa village is still looking for justice for her husband's (Nandu) death and demanding the rightful payment of the wage that he was supposed to get.
Muniya says, "Just after Holi during the COVID period, in March 2021, Nandu went to work in Dehri-on-Sone, Bihar, with 14 people from Parashwa and eight people from other villages. Niyaju Sah, who is a resident of Parashwa, was the contractor who took the villagers to work on a contract in which it was decided to pay wages to the labourers at the rate of Rs 400/person/day and along with it was decided to pay cash wages every 15 days. But even after working for one month, none of the workers was paid their wages by the contractor. All that they received was money to buy food. After which, the labourers somehow arranged some money to arrange for their return and left for their villages after informing the contractor. After coming back, Nandu's health suddenly deteriorated, and after a few days, he died. When I started demanding wages from the contractor, he agreed to give the money, but Nadu's wages have not been paid even after several months. The contractor has not paid the wages of any of the villagers he had taken on a contract to work. The family members of all the labourers are being repeatedly made to run around by the contractor for wages. In this entire area, labourers are taken out for work by local contractors on contract, but wages are not paid on time."
DENIAL OF HEALTH SUPPORT
In Chandauli and Sonbahadra, 15% of cases were related to denial of health services and 20% were related to health-specific issues.
"Bimlesh Yadav's condition worsened as his oxygen level dropped drastically. We contacted the CMO several times for oxygen. No oxygen could be made available from anywhere, and Bimlesh died due to lack of oxygen and negligence of the hospital," mentions his brother Ramdev. He also added, "He was the only earning person in his family. After his death, his family neither got the benefit of any government-provided family benefit scheme nor any Corona death compensation announced by the government. His wife is also not getting the benefit of widow pension."
Ramgopal from Sonbhadra met a similar fate as Bimlesh due to the hospital's denial of treatment and medicine.
Soni Gond's brother used to work in Anpara. He developed a fever and passed away a day after being admitted. His body was carried in an ambulance, and government officials did his last rites. The family wasn't allowed to see the body or conduct the deceased's last rites.
One of the unique narratives that we heard in Chandauli was about cases (13%) about the non-functioning Ayushman health cards.
Shyamdei, a resident of Laxmanpur village, gave information about the loan taken due to the non-functioning of government-issued health card. Shyamdei's wife Sunita's been in bad health since May 2021. She was being treated at a private hospital in Robertsgunj. When her health started deteriorating further, she was taken to Sir Sunderlal Chikitsalaya, popularly known as BHU Hospital. When ultrasound was done during the treatment, a tumour was detected in her stomach. Surgery was required, but Shyam Dei and his family did not have money. He contacted many private hospitals to use the insurance card issued under the Pradhan Mantri Jan Arogya Bima Yojana for treatment, but he was told by the hospitals that his insurance card was inactive, and he could not be paid for the treatment with that health card. In such a situation, Shyamdei had to take a loan of up to Rs 1.5 lakh from different sources.
PRIVATE COMPANIES LOOT
Private micro-finance companies have deepened their usurial practices among the poorest and used the opportunity of the pandemic to further exploit them, very often in collaboration with the local state officials. The pandemic became the perfect opportunity for private companies to be on a looting campaign, furthering their existing plight. Around 7% of cases were reported in Chandauli regarding the extortion of money by microfinance companies.
Kailashi from Laxmanpur village mentions, "Many microfinance companies are active in our area. One of them is the Cashpar group which provides financial help in the form of loans to the needy poor community women by forming groups. Instalments for the loans can be paid in a week to 15 days or a month with a condition applied that if any individual from the group fails to pay the instalment on the said date, then the burden of the instalment will fall on the members of the group."
Kailashi narrates that 15-20 women have taken loans from microfinance companies in almost every village of the area. In debt recovery, all these microfinance companies openly defy the guidelines of RBI and collect dues ruthlessly. The reimbursement of instalments is also done forcibly, putting pressure on the group. During the COVID period, there was a ban on any loan recovery by RBI for 3-4 months. After that, when the loan recovery process started, the microfinance companies collected the previous instalments, Cashpar group also being one of them, along with interest. In the event of not depositing the instalment, the company's agent in the village called the constable from the local police station and threatened the women to deposit the loan instalment.
While we watch these districts march towards their election dates, one is still wondering who has faced the music and what best management represents. It is loud and clear from hundreds of stories, voiced with anger and grief that the state's promises are nothing but a dictionary of meaningless vocabulary and anti-people in its game.
Public Inquiry Committees' and 'Truth, Accountability & Justice Commission (People's Commission' on COVID-19 Pandemic in India)' is a collective formed across India is in the process of forming public inquiry committees, empowering people to investigate/question and initiate a public process of asking for state and private sector accountability. The authors are part of this process.
Evita Das is an urban researcher based in Delhi who works on issues of caste and housing. She is associated with Pakistan India Peoples' Forum for Peace and Democracy. V R Sreya is an independent researcher and communications curator based out of Bengaluru.
Get the latest reports & analysis with people's perspective on Protests, movements & deep analytical videos, discussions of the current affairs in your Telegram app. Subscribe to NewsClick's Telegram channel & get Real-Time updates on stories, as they get published on our website.
Subscribe Newsclick On Telegram