UP Elections: Unlike 'Kairana Exodus', Migration from Bundelkhand Not Made Poll Pitch
Primarily inhabited by the scheduled caste community, Bundelkhand is home to the most backward villages — where Yogi government's developmental schemes have not reached. NewsClick visits these villages to understand the electorate's situation here.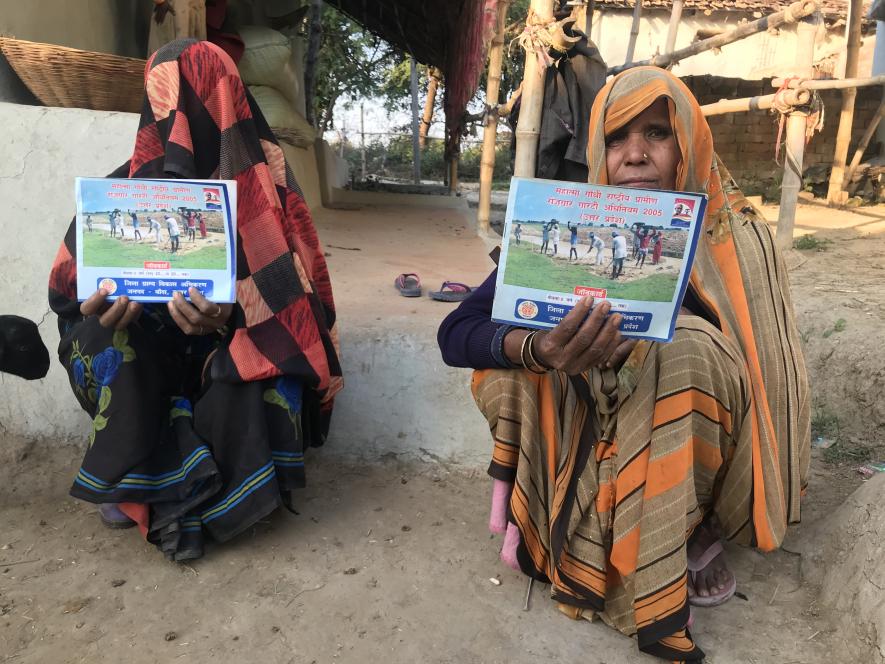 Banda (Uttar Pradesh): Village after villages wear a deserted look, with locks hanging on the doors of predominantly kutcha houses with bamboo, mud, thatch, straw and unburnt bricks walls and roofs made of straw or reeds, in the Bundelkhand region — which is spread across districts in Uttar Pradesh and Madhya Pradesh.
Unlike the alleged 'Kairana exodus', this large-scale displacement, purely for economic reasons, unfortunately, fails to grab headlines; perhaps, because it will cause a dent in the support base of the ruling party rather than helping it polarise voters on religious lines to fetch votes.
Primarily inhabited by the scheduled caste community, these are the most backward villages — where the government's developmental schemes and programmes have not reached. The areas lack basic infrastructures such as roads, clean and safe drinking water, well-equipped healthcare centres and good schools, forget about much-hyped smart villages.
Severe lack of employment opportunities and low wages in the water-starved region forces people to go to other states to work in brick kilns with their entire family as "bonded labourers". The kiln owners hire them through their contractors in the villages. The poor people in such hamlets are given an amount ranging between Rs 10,000-Rs 50,000 as an advance, loaded in trucks like grain sacks and taken to different states to work for a year.
Since the labourers have already been paid a reasonable sum as advance, they, along with all their families, are made to work in inhuman conditions without wages. They are paid just a little sum to take care of their needs. They are not allowed to return till the advance paid to them is settled with a certain quantity of works as agreed upon. These people return to their villages in June-July, stay for two to three months, and then go back to their employers (in October-November) when the amount they bring with them gets exhausted.
Though most villagers have the necessary job cards to get employment for 100 days in a year under the Mahatma Gandhi National Rural Employment Guarantee Act, 2005 (MGNREGA), they allegedly did not contract any work for months.
WHY DO PEOPLE MIGRATE FROM BUNDELKHAND?
Jhandupurva is a hamlet at Atarra Rural revenue village in the Naraini block of the district. This is the most backward village. Notably, this migration is not for a well-off life but to earn a livelihood. As a result of large-scale displacement, only elderly people and children are seen. The young ones have left the place.
"If the government had provided us jobs here, people wouldn't have left the village. They left the village for states such as Haryana, Punjab and Allahabad to work in brick kilns when they could not find any work here," said Suresh Kumar, who got only 21 days of work under the MGNREGA in the past five years.
He works as a labourer at construction sites and agricultural fields for Rs 250-300 a day. He said he gets the work a maximum of 10 days a month. He somehow manages to earn a living as he also has a small patch of land, three bighas of land, where he grows food grains to eat for a year.
Scores of people in the village said their neighbours had to leave their homes because there was no source of employment.
"If you had come earlier, you would have seen the village very lively as almost all of the residents were here because of Covid lockdowns. As the restrictions were listed and the kilns started operating, they left for different states to earn a living," he said, adding that people have to sell them fur sustenance literally.
This migration, he said, is purely based on fulfilling basic needs because successive governments have failed to create any employment opportunities in the entire Bundelkhand region.
"The election has been scheduled, tickets have been distributed, but no nominee or any other leader of any political party has far visited us to at least understand what the problems we are faced with are. They are least bothered about the betterment of their electorates. Their sole aim is to register victory by hook or by crook," he added.
Bai, 59, has two sons working with a brick kiln in Allahabad with their entire family.
"I live here all alone to take care of the house. Ration given by the government (under the public distribution system or PDS for free) is my only source of survival. Still, I have not even been getting it for the past year as my fingerprints have faded, and the scanner fails to identify it. I have been asked for thumb impression of any other enrolled member of my family, but no one is here except me," said the frail woman who does not even know that elections are to be held in the state she is living in.
Rani, 52, has two sons — Atul and Manoj. Both of them are married and have four and three children, respectively. Her dilapidated thatched house was locked.
Her neighbour Vinod said the entire family left the village to work with brick kilns in Haryana. "They will come in June-July and will leave again in October. The family lives in abject poverty," he said.
Jai Ram Ambedkar said his neighbour Rajendra migrated with his wife and three daughters to Punjab to work as a brickmaker to sustain his family.
"They are landless and destitute. They have no source of earning, working as a daily wager. Rajendra is mentally retarded; therefore, his wife and their children work the kiln to earn a living. This village is inhabited by people belonging to an extremely weak section of the society. They stay here only for two three from July and then leave," he said.
The 40-year-old man, who was a little aware of the government's welfare schemes, complained people don't get work under MGNREGA, which was launched with the sole purpose to guarantee employment in villages and stopping migration.
"MGNREGA failed to stand up to its name. People are not getting employment for even 30 days in a year; forget about 100 days as guaranteed by the scheme. The scheme was successful till 2008. Later, it became of victim of large-scale corruption," said Ambedkar.
He has three bigha of land where he grows food grains such as paddy, wheat, and mustard to be used at home. For cash income, he works as an agricultural labourer.
"I am under a debt burden of Rs 2.5 lakh, which I had borrowed for medical treatment of mine and my wife in the name of agricultural farming from the Bank of Baroda. I am unable to pay it back as I have no income. There is no work in the market. The wheat crop I have sown got destroyed partially in the incessant rain at the end of last year. I would be thankful to god if I yield enough for family consumption for a year. I also have electricity bill dues of Rs 23,000," he narrated his plight, saying, "life has become a living hell, and no one is there to extend a helping hand". He has three young children who are too small to address the family's economic needs.
"We don't get benefits of any government schemes, except ration given by the government under PDS. Since we belong to the scheduled caste, we are an extremely neglected lot. As you can see, most of the houses in this village are made of mud, thatch and straw. The chief minister's housing schemes have no beneficiaries here," he added.
There are no roads, the electricity supply is not good, no good school and health care services, he said, alleging that no government official ever visit the village. "If someone falls ill, we have to take him to Atarra, which is around 15 kilometres away from the village. Transportation charges are sometimes become difficult to bear. The PHC here does not have any facility. The primary school in the village is meant for mid-day meals only. There is no one to teach children," he complained.
Sukanya, 58, has two sons — the eldest one has four daughters who are pretty young, and the younger one has two daughters and one son. They are extremely poor. Their joint house is made of mud and is collapsing. They are landless.
Sitting outside her house on green grass to keep her warm in the sun, she said, "They are in Punjab, working as a brickmaker in a kiln. They come for two to three months and return when the money they earn gets exhausted. I live here all alone. I survive on what I get from the local PDS shop every month. Since I am weak, no one employs me for any work. I feel very lonely and miss my children all the time."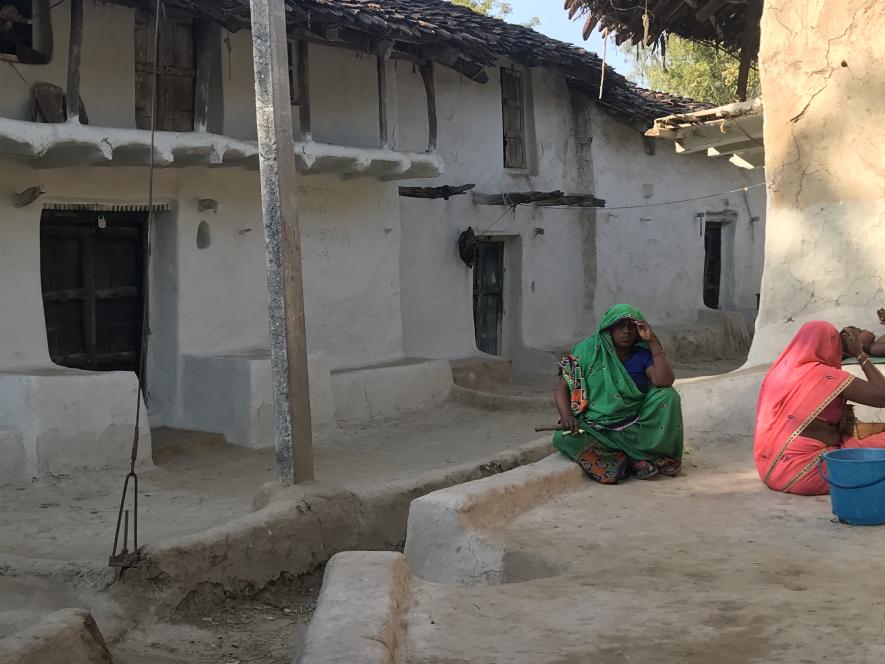 Dadu Ram and his wife have six daughters. The family lives in abject poverty. His brother Babu Ram has died, leaving behind his widow and five little daughters. Both families have migrated on account of not getting any job here.
In nearby Kathailapurva village, Ram Dhani has migrated to Rai Bareli to earn a livelihood. They will come in June and return in October-November. The family has four persons. They are landless people. All of them have MGNREGA job cards but don't get work.
Naresh, 32, got an MGNREGA job card two years back but worked for only 15 days in the entire two-year period. He got a payment of Rs 6,500 after six months of work. He now works as a daily wager in Atarra but fails to work every day.
"I stand at a chowraha (square) along with other labourers who people hire for their different work. Someday, I get hired, but I have to return most of the time without any work," he added.
He was sold by a local labourer supplier in Agaratalla and managed to walk free on court's intervention.
In Uttar Pradesh, according to the official website of MGNREGA, 28.62 crore employment days were generated, and 75.07 lakh families got 100 days of employment in the year 2021-22. If one looks at the 100 days of work and the number of employment days' figures and compare it with the past four years, it has witnessed almost a three-fold growth. But analysing job card numbers for the entire country, the number of people getting 100 days of employment is problematic.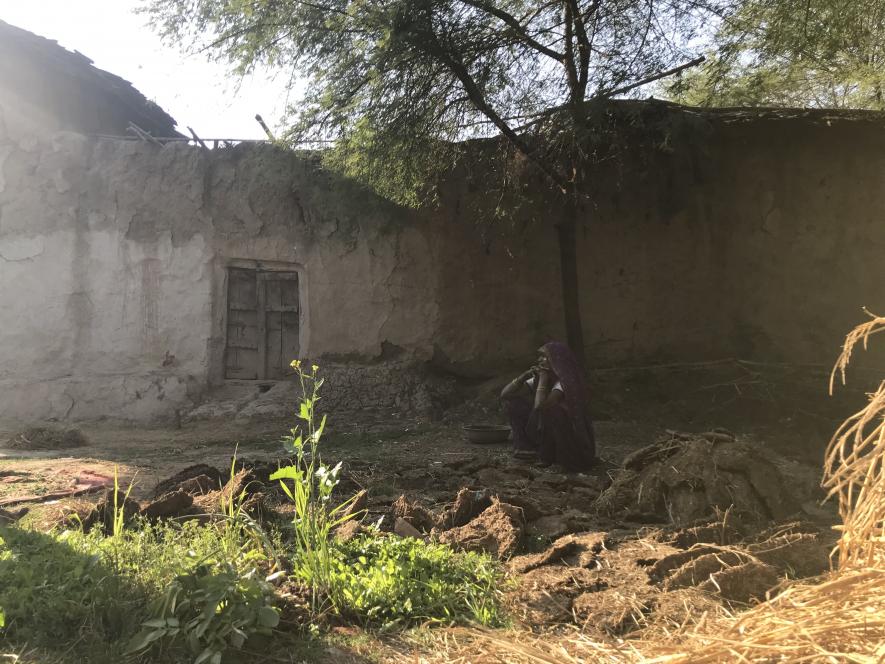 There are 58,906 gram-panchayats under 826 blocks in 75 districts of Uttar Pradesh. Nearly 189.65 lakh households in these panchayats are MGNREGA job card holders, out of which 91.66 lakh are active (working families), the remaining 97.99 lakh — more than half of the cardholders in Uttar Pradesh — are inactive. This could be due to many reasons – MGNREGA is not profitable for the job cardholders, wages are low as compared to the cities, there is no work, the labourers are not able to demand work in a manner prescribed by MGNREGA or the illiterate labourers' oral demand for work is not duly acknowledged and registered by the panchayats officials. The panchayat did not provide employment, or the cardholder could have migrated.
Looking at the twin villages visited by NewsClick, it can be concluded that all government schemes dry up before reaching actual beneficiaries in the same way as most of the wells, ponds and hand pumps run dry in rural India.
Based on interaction with people who equivocally complained the newly-elected Gram Pradhans (village heads) are not giving them MGNREGA works, it emerged that local politics is also playing a dubious role in depriving them of employment opportunities.
Those who favoured the pradhan and ensured his victory get work, and those who were opposing his or her candidature are not offered any work.
This conclusion is cemented by analysing people's job cards or MGNREGA's master roll. A general trend has emerged in the analysis that many people have stopped getting work under MGNREGA post gram panchayat elections in the state. Several new names, too, have been added after it. From interaction with locals to understand the trend, a good number of people have migrated to cities in the past five years due to lack of employment opportunities, lower wages and unavailability of MGNREGA works.
HOW TO MAKE MGNREGA EFFECTIVE
If the government wants to make MGNREGA meaningful, Naresh suggested linking the scheme to the agriculture and cottage industries. Crops of small and marginal farmers should also be linked to MGNREGA.
"First, this would be beneficial for both farmers and labourers. This will also not reduce the action plan. Second, create a project for skilled labourers who have come back from the city. The material components of the project should be provided through MGNREGA, and the workers should do the labour work."
Following the losses suffered by farmers during lockdowns, farmer organisations, too, are demanding that MGNREGA be linked with cultivation.
Get the latest reports & analysis with people's perspective on Protests, movements & deep analytical videos, discussions of the current affairs in your Telegram app. Subscribe to NewsClick's Telegram channel & get Real-Time updates on stories, as they get published on our website.
Subscribe Newsclick On Telegram