UP Polls: Increased Atrocities, Economic Crisis Recast Usual Dalit Equations
Both BJP and BSP may see dwindling dalit support with SP-RLD-SBSP alliance gaining.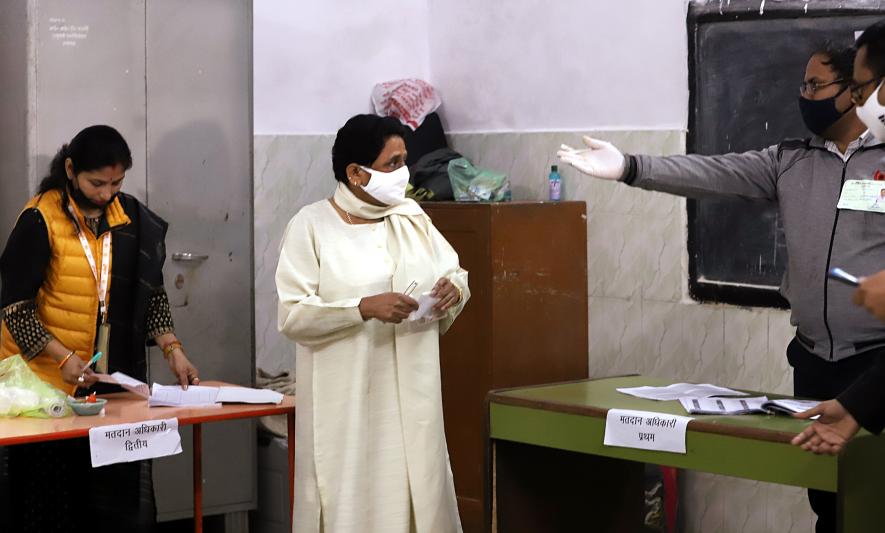 Bahujan Samaj Party (BSP) chief Mayawati casts her vote
The political churning going on in Uttar Pradesh is arguably the most intense among the dalit communities which make up a sizeable 21% of the population of the state. In the last election, the ruling Bharatiya Janata Party (BJP) had managed to get significant support from various dalit communities winning 74 of 84 seats reserved for Scheduled Castes. The Bahujan Samaj Party (BSP) led by Mayawati managed to retain 22% of the vote share primarily on the basis of retaining a chunk of dalit – mainly jatav – votes, although it won only two of the reserved seats.
This time round, a combination of factors appears to have upended this equation. Dalits are disillusioned with BJP for not only its neglect of key issues like employment and farmers' distress but also the uptick in violent crimes against dalits during Yogi Adityanath's regime. The BSP has also lost some of its base because of its inability to defend the dalit cause and its virtual absence from the ground for most of this period.
Increased Crimes Against Dalits
Atrocities on dalits have increased during Yogi's rule in the first four years for which data is available from the National Crime Records Bureau (NCRB). [See chart below]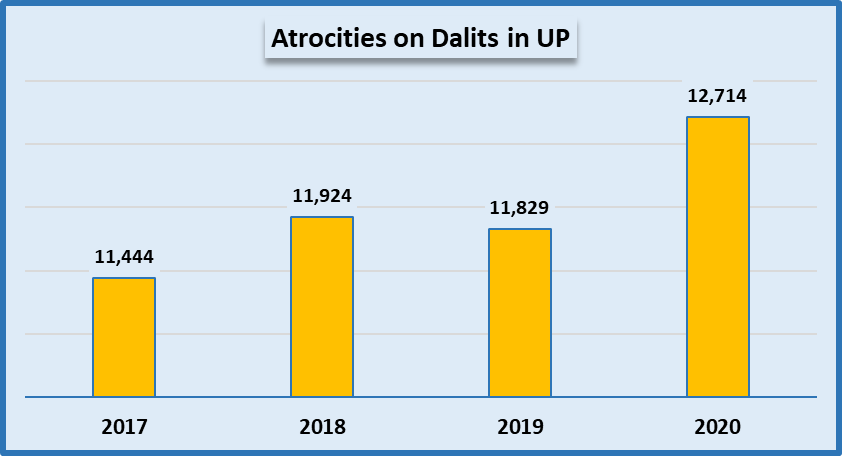 From 11,444 incidents recorded in 2017, when Yogi-led BJP took over the helm of UP, the number has risen to 12,714 in 2020. Remember that 2020 was the first year of the pandemic and across the country recorded crime dropped partly because normal life came to a halt during the extended lockdowns and partly because reporting of cases also may have suffered. In any case, atrocities are often unreported due to social pressures and the hostile attitude of police, as often alleged by victims. Despite these factors, the rise in number of atrocities in 2020 shows the grave extent of oppression that has surfaced during BJP rule.
NCRB data gives a break-up of crimes committed as recorded under the Indian Penal Code (IPC) and also the special laws for registering crimes against Scheduled Castes and Scheduled Tribes. As can be seen in the chart below, many of the violent crimes committed against dalits in the state have seen a steady rise in the first four years of BJP rule in UP.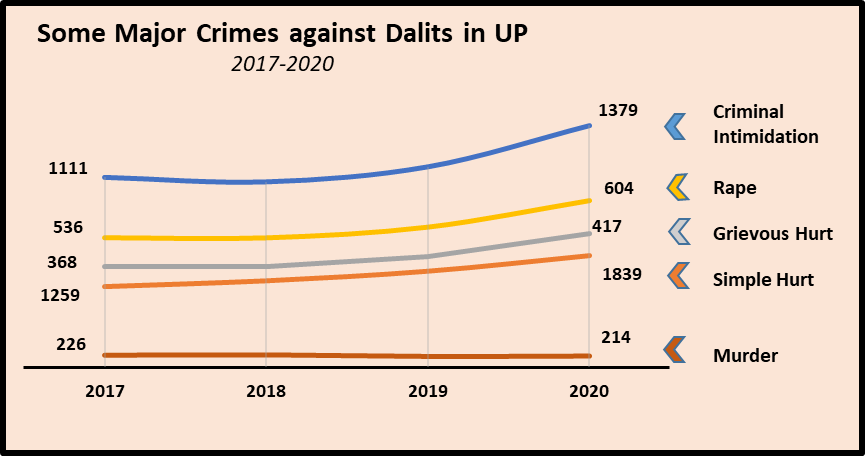 Thus, incidents of rape increased from 536 in 2017 to 604 in 2020, instances of grievous hurt increased from 368 to 417, criminal intimidation jumped up from 1,111 incidents to 1,379 and simple hurt from 1,259 to 1,839. Murder cases showed a marginal decline from 226 to 214.
Emblematic of this shocking state of affairs was the Hathras gang rape and murder incident that shocked the country in 2020. The 19-year old woman was brutally raped and murdered allegedly by upper caste men in the fields. The police delayed filing an FIR and later, after an outcry, she was shifted to AIIMS in Delhi where she succumbed to her injuries. The police took her body back to the village and hurriedly cremated her in the dead of night.
Earlier, dalit and adivasi communities across India had been angered by the dilution of laws meant to protect them from such atrocities. In March 2018, the Supreme Court had interpreted the laws in such a way as to make it difficult to pin down the culprits. The BJP government at the Centre had failed to act in a timely manner and was seen as tardy in its opposition to such changes in the Court. This led to unrest and anger in dalit/adivasi communities and widespread protests across India.
The Narendra Modi government finally brought in a change in law to plug the loopholes and correct the interpretation made by the apex court. But the impunity this created led to an increase in atrocities and a refusal of police to register such cases for several months. Cases against dalit activists who protested against the changes have dragged on, despite assurances that these will be withdrawn.
Farmers' Protests and Joblessness
Two other important factors that are contributing to dalit anger against BJP are the year-long protests against the three farm laws brought in by the Modi government and supported by Yogi Adityanath in UP. Although dalit community members are normally either landless or have small/marginal landholdings, but the prospect of takeover of land by corporates and scrapping of MSP (minimum support prices) caused widespread anger among them too. This was because they could foresee increased economic hardship, including stagnation or decline in wages for agricultural workers. This effect was most markedly visible in Western UP.
The other factor causing increasing disaffection among dalits is the push being given by BJP to wholesale privatisation, outsourcing and casualisation. This is perceived as a direct blow to their employment prospects because privatisation means the end of reservation of jobs. With a dire jobs situation, that usually affects the poorer and socially more oppressed sections the most, the threat of losing out on the inadequate but important relief offered by reservations is roiling dalit minds, particularly among youth.
New Equations
All this has led to a sizeable section of dalits seeking to reject BJP in the ongoing election. This would mean that dalit communities that had voted for BJP in the past (like the valmikis, sections of jatavs, etc) would turn away from it and seek to vote for others. In all likelihood, the alternative would be the Samajwadi Party-Rashtriya Lok Dal-Suheldev Bharatiya Samaj Party alliance, which also has support from many small groupings and parties of socially oppressed classes.
The jatav community, the largest dalit community in UP, estimated to make up about 54% of all dalits, has been traditionally the support base of the Mayawati-led BSP. But large sections of jatavs are disillusioned by the rather muted activity of Mayawati in the past few years. In many of the key developments in the past few years outlined above, Mayawati was confined to issuing statements. On several occasions she supported BJP. This has led to disaffection among her staunchest supporters. While this does not mean that they will totally desert BSP, but some sections are seen to be breaking away from her.
While BJP is also making a determined bid to attract these sections, the prevailing anti-BJP atmosphere will push them towards the SP alliance in all likelihood. This would be a new coming together of dalits with several dominant OBC (Other Backward Classes) sections.
These new alignments of dalits may appear to be driven by caste considerations alone but the real impelling force is the distressing economic condition – for which BJP is being held squarely responsible. Price rise, unemployment, low returns to farmers, low wages in agriculture as well as industry, economic slowdown, etc. have all caused various sections of society to reconsider their political alignments. How this reshuffling plays out will become known on counting day, March 10.
Get the latest reports & analysis with people's perspective on Protests, movements & deep analytical videos, discussions of the current affairs in your Telegram app. Subscribe to NewsClick's Telegram channel & get Real-Time updates on stories, as they get published on our website.
Subscribe Newsclick On Telegram