UP Protests: Activists Allege UP Police is Framing Anti-CAA Protesters as 'Key Conspirators' For Friday Violence
Besides leaders of the All India Majlis-e-Ittehadul Muslimeen, Samajwadi Party, student activists and Left party workers were also included in the list. All these people were involved in the anti-CAA protests.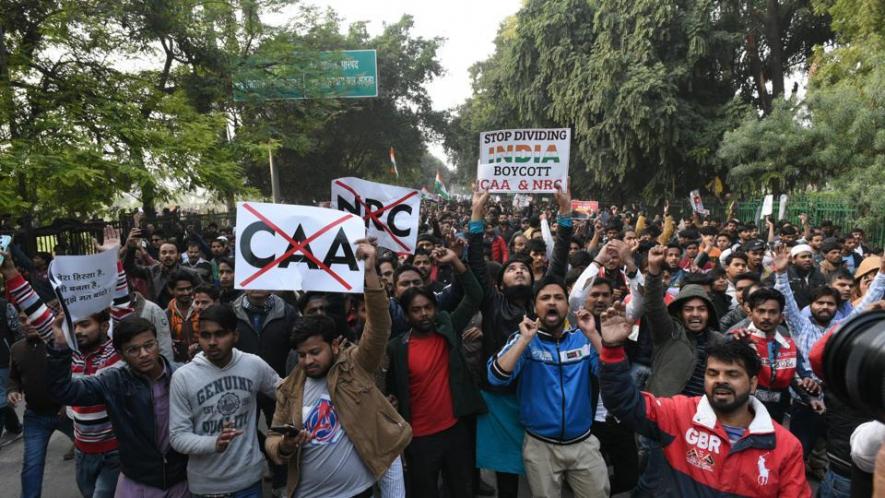 Image Courtesy:  tennews.in
Lucknow: Most shops in the Atala area remained closed a day after Sangam city witnessed large-scale violence over the remarks made by now-suspended Bharatiya Janata Party (BJP) Nupur Sharma on Prophet Mohammad. However, the situation remained peaceful on Saturday.
In Prayagraj, formerly known as Allahabad, three FIRs have been registered, and 68 individuals have been arrested. About 5,000 persons have been included in the three FIRs, some named while the rest were unnamed. Two of these FIRs were registered at the Kereli police station, while one was at the Khuldabad police station.
Police teams have reportedly raided dozens of locations to nab 10 of the "key conspirators."
The list of accused persons issued by the police includes names of people who had been prominent in the anti-Citizenship Amendment Act protests of 2019. Besides leaders of the All India Majlis-e-Ittehadul Muslimeen, Samajwadi Party, student activists and Left party workers were also included in the list.
Imam Ali Ahmed of the Atala Badi Masjid, AIMIM district president Shah Alam and leader Zeeshan Rahmani, an activist who was active in the anti-CAA protests, Sara Ahmed, and Left leaders Dr Ashish Mittal and Ali Ahmad are a few among have been named as "planners" behind the violence.
Sara Ahmad, a local activist who was framed as the mastermind of a protest gathering that led to violence, said that she was unaware of the charges until her friends and relatives informed her.
"My friends informed me over calls that I had been named a key conspirator for the violence. I got the news when I was on the way to my home from work. Several media outlets ran stories with my name as a key conspirator," said Ahmad, adding that she was being targeted for being at the forefront during the anti-CAA and NRC protest.
She further said, "I have no connections with the protest. My name is being dragged out unnecessarily. When I was at work when the violence took place, how would I mobilise violence or be a conspirator?" distraught Ahmad asked.
A leader associated with the Left party who was also framed as a "key conspirator" told NewsClick that he was not in the city when the violence broke out, but his name popped up in the FIR list.
"I participated as an individual during the CAA/NRC protests in Allahabad, and since then, I have been on the radar of the district administration. If anything happens in the city, will I be responsible for it?" he asked.
Welfare Party leader Javed Mohammad, his wife Parveen and daughter Sumaiya were also taken into custody from their residence. Afreen Fatima, Mohammad's elder daughter, a JNU student, has written a letter to the National Commission for Women seeking urgent intervention and claiming that her family members were detained without a warrant.
NewsClick also spoke with multiple activists in Western Uttar Pradesh who, too, were named in the FIRs despite not being in the city.
"I, along with my friends, was framed as a key conspirator for the violence in Deoband even though I was, in fact, in the city. The administration is hounding me because I was vocal during the CCA/NRC protest in the city," he said on the condition of anonymity.
Rajeev Yadav, general secretary of Rihai Manch – an outfit that helps victims and accused of riots which had recently visited Kanpur to meet the families of people who were arrested post violence, told NewsClick, "The government is criminalising the right to protest in the state. Where there should have been only one arrest of Nupur Sharma, hundreds of Muslims were arrested, and dozens of people were injured. Chief Minister Yogi Adityanath ordered the state police to take strict action against protesters. In the name of arrest, the administration is only targeting those who were active during the CAA protest. Even during the CAA protest, the government used to say that their funding is being done from abroad (Muslim countries) and PFI is behind the dharna, and the same thing is being said at this time too. The government and state machinery are seeing it as terrorist activity," said Yadav, adding, "Why would a citizen of this country wait for foreign funding to protest against injustice?"
Yadav further said that despite repeated appeals by the Muslim organisations not to organise any protest after Friday prayer, the community hit the road.
"The community, especially youth, understand that all political parties and Muslim organisations or any welfare organisation have abandoned them. They know that now they have to fight on their own.
Meanwhile, days after the Kanpur violence, the apex child rights body NCPCR has asked the Uttar Pradesh Police to probe if children were involved by anti-social elements in the recent communal violence in Kanpur. However, the social activists said that the NCPCR was so concerned about whether children were being used as "stone pelters", but they were not concerned about how minors were mentally affected by hatred towards their Prophet Mohammad.
In a statement to the press, Prayagraj ADG Prem Prakash mentioned the names of the "key conspirators" and said they had been identified behind this "well-planned" violence. The ADG also said that "action will be taken" against those responsible under the Gunda Act and National Security Act.
"Along with this, bulldozers will also be run in the Atala area after marking illegal constructions," he said.
Meanwhile, SSP Prayagraj Ajay Kumar said, "Around 68 individuals involved in the violence have been arrested so far since Saturday evening, and efforts are underway to identify others with the help of video recordings and CCTV footage of the incident so that more arrests can follow,"
District administration had issued prohibitory orders under section 144 that prevented any large gatherings in the area in the run-up to the Friday prayers and which even now stands in force and was enforced to prevent any gatherings that could lead to problems.
On Saturday, teams of Lekhpal were spotted in the troubled areas. The officials carried maps with them, identifying the houses' measurements from where stones were pelted on Friday. Police have said that the accused will be booked under the Gangster Act, and all illegal property will be razed.
A total of 227 people were arrested from various districts of Uttar Pradesh in connection with Friday violence, a senior police official has said.
In a statement on Saturday, Additional Director General of Police (Law and Order) Prashant Kumar said, "227 persons have been arrested in the state for Friday violence. This includes 68 in Prayagraj, 50 in Hathras, 48 in Saharanpur, 28 in Ambedkar Nagar, 25 in Moradabad, and eight in Firozabad."
At least four other cities, including Saharanpur, Bijnor, Moradabad and Rampur, witnessed similar scenes during the marches that were carried out to decry the offensive remarks on Prophet Mohammad made by Sharma. In Lucknow, the situation remained peaceful, but the protestors allegedly shouted religious slogans after offering prayers at the Tile Wali Masjid.
Get the latest reports & analysis with people's perspective on Protests, movements & deep analytical videos, discussions of the current affairs in your Telegram app. Subscribe to NewsClick's Telegram channel & get Real-Time updates on stories, as they get published on our website.
Subscribe Newsclick On Telegram