UP: With Dues Piling up, Sugarcane Farmers Await Prices for This Season
One of the primary reasons that sugarcane farmers are irked is that the mills have not been paying them their dues. The Farm Laws have only added fuel to a burning fire.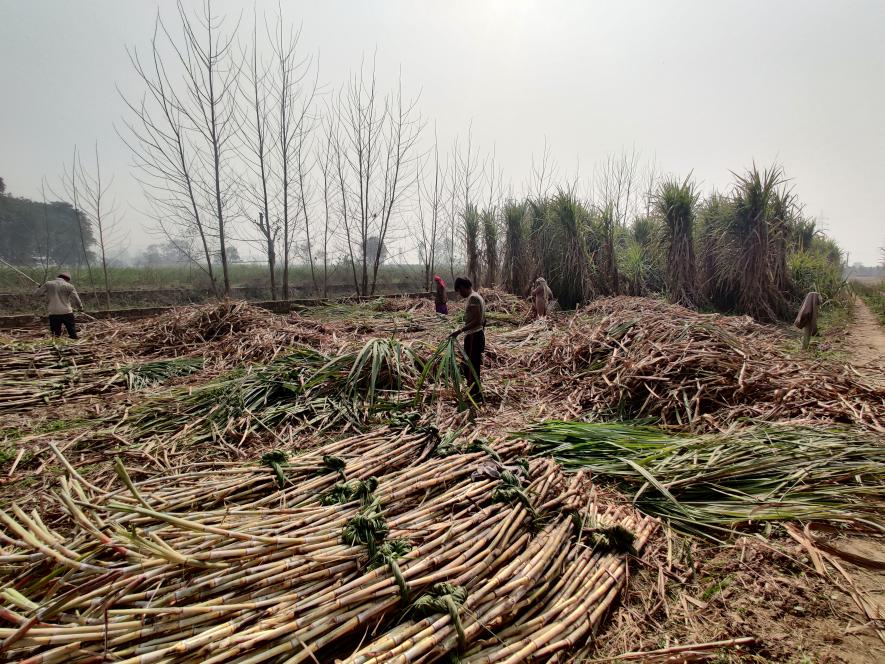 Shamli: On a sunny Sunday morning, Kavita Deshwal, a farmer from Uttar Pradesh's Shamli district, was busy working in her sugarcane fields. Directing labourers and managing the cane peeling and its loading onto a tractor trolley, Kavita says: "The taste of both – sugarcane farming and the sweat it needs – is sour."
Kavita is a middle-aged housewife and mother to two teenage children. Her basic source of income is agriculture while her husband keeps himself busy by participating in local politics.
Kavita says that she had planned to get a new tractor on loan this year but could not manage the money for down payment as her dues have not been cleared by the sugar mills as yet.
"I would have found my work easier and we would not be going around trying to rent a tractor or a trolley but unfortunately we could not manage it. We had sold six trucks of cane during the last harvest and the harvest was very good this year as well. We have six parchis (receipts) but we do not know when the money will be credited into our accounts. COVID-19 had already made our lives terrible; the money would be very welcome," she says with a smirk.
One of the primary reasons that sugarcane farmers are irked is that the mills have not been paying them their dues. The Farm Laws have only added fuel to a burning fire.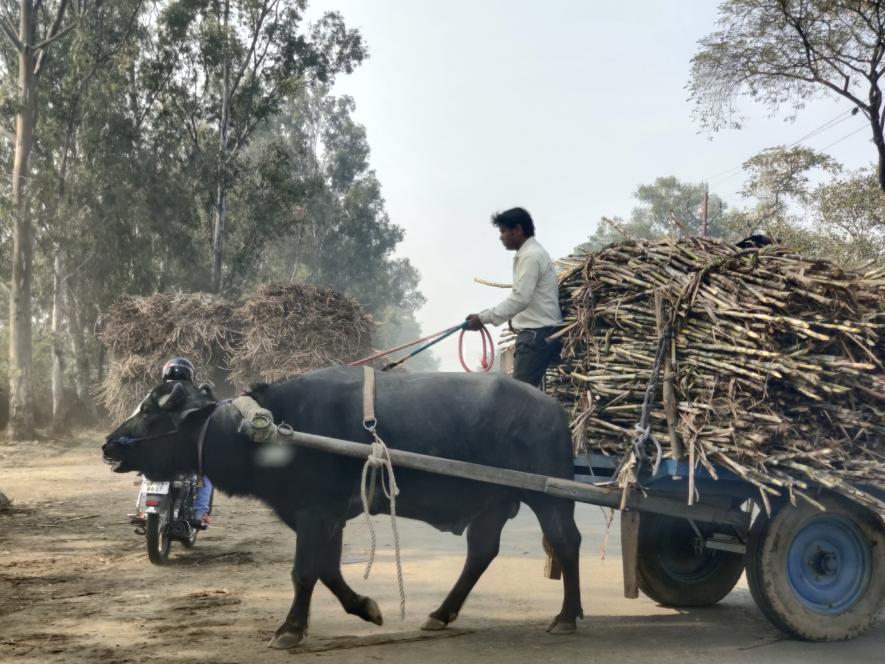 There is already a long queue of trucks, bullock carts and tractors laden with sugarcane outside the Titavi Sugar Complex on the Shamli-Muzaffarnagar road. They are waiting to dump their harvest and get a parchi with the rate written on it. This year, however, the rate for has yet not been decided by the government and farmers do not know what price the government would procure sugarcane at.
When asked about the math of sugarcane in the cane belt, Vinod Kumar, a farmer and a fertiliser shop-owner in Shamli, says: "This year the government has not announced the rate at which it will procure the sugarcane even as dues owed to the sugarcane farmers have been increasing with each passing day."
"Our dues have not been paid, we do not have money in our pockets and we are on the brink of starvation. However, people do not believe us since they think that we are Chaudharys with a lot of money. The fact is that if someone in the family is critically ill then we will not be able to provide good treatment due to the lack of money as our dues are not paid on time," Kumar said.
Kumar was once a right-hand man of the former Bharatiya Janata Party (BJP) lawmaker Hukum Singh. He has represented the party as its district in-charge but resigned from his post and also from the party in the wake of farmers protests against the three farm laws introduced by the government.
"The sugarcane minister (Suresh Rana) is from our area but our dues have still not been cleared. It was promised in the election manifesto that our dues would be cleared within a fortnight of procurement but it has been more than a year now," he says.
"We tried to explain our plight to the minister and even MP Sanjiv Baliyan, but our pleas went unheard. We voted for the BJP PM Modi ka chhehra dekh ke but now we feel we have been conned and these three kaale kanoon have added fuel to the fire," he adds.
Notably, 120 sugar mills in Uttar Pradesh have produced 42.99 lakh tons of sugar till January 15, 2021. However, the department did not provide any information about dues to be paid to the sugarcane farmers.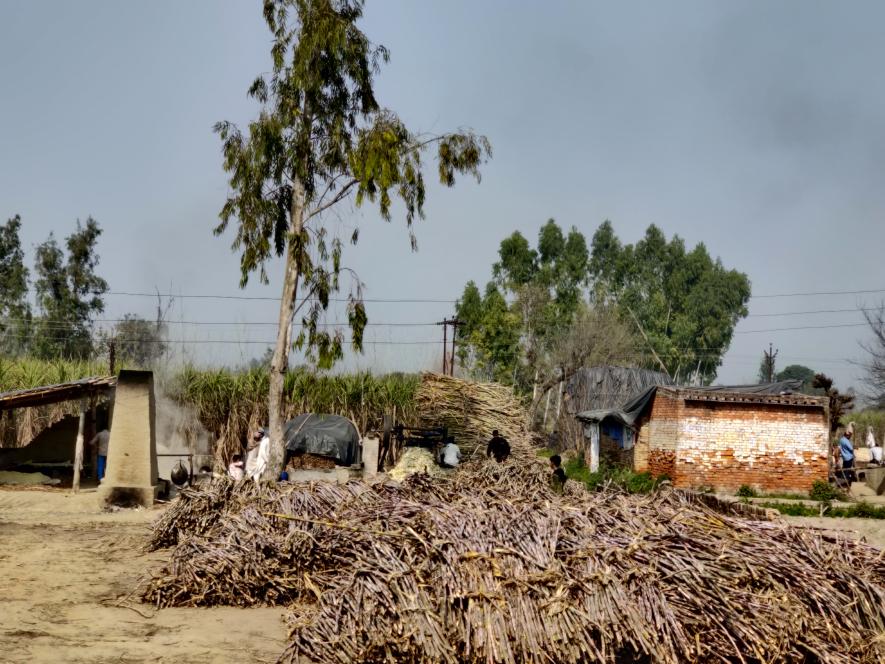 On February 12, the Supreme Court sought responses from the Centre and 16 sugarcane-producing states like Uttar Pradesh and Maharashtra on a plea seeking a direction for immediate release of Rs 15,683 crore dues in a time-bound manner to the farmers, the delay of which was allegedly leading many to die by suicide. The same report mentioned that UP owed Rs 10,174 crore to the farmers.
In August last year the Centre had increased the fair and remunerative price of sugarcane for the 2020-21 marketing year and set it at Rs 285 per quintal. The FRP earlier was Rs 275 per quintal.
Chaudhar Samvit Malik, a farmer leader who heads the Kisan Union in Shamli says, "Two of the sugar mills in this area have not paid their dues from the last year also. Surprisingly, one of the mills is from the area from where our sugar minister is from. Over Rs 44 crore is due to sugarcane farmers only in Shamli district. It is a bad situation and we do not know the prices yet. So far the sugar mills said 0 (Zero) on our receipts but after the issue was raised they started writing 'as per SAP (state advised price) on the receipts."
The state advised price for sugarcane in Uttar Pradesh has remained at Rs 325 per quintal for good quality cane for three seasons in a row. Meanwhile, dues are already piling up. A senior official from the Sugar Industry and Cane Development Department, who wished to remain anonymous, said that the SAP has not been increased in the state and an announcement of an increase by Rs 10 to Rs 15 per quintal is likely to be made.
Earlier, on February 9, the government told the Lok Sabha that sugar mills across India owe about Rs 16,883 crore out of which the 7,555.9 crore is UP's share, that too for the current crushing season 2020-21.
Calls made to Sanjay R Bhoosreddy, additional chief secretary Sugar Industry and Cane Development Department, went unanswered. Uttar Pradesh is India's largest producer of sugarcane, accounting for 51% of the total cultivated area, 50% of the crop and 38% of sugar production. About one-fifth of India's sugarcane mills—119 out of 520—are in the state.
Get the latest reports & analysis with people's perspective on Protests, movements & deep analytical videos, discussions of the current affairs in your Telegram app. Subscribe to NewsClick's Telegram channel & get Real-Time updates on stories, as they get published on our website.
Subscribe Newsclick On Telegram