US Congressional Hearings on Digital Platform Monopolies
United States House Antitrust Subcommittee's investigations of Apple, Amazon, Google and Facebook reveal that the digital economy is highly concentrated, suggests strengthening of anti-trust laws and enforcement.
On July 29, 2020, the CEOs of Apple, Google, Facebook and Amazon appeared before the House Judiciary Committee for a Congressional hearing examining the dominance of the four companies in the online platform economy. These hearings were organised at a time when these companies had profited enormously from the global COVID-19 pandemic and the resultant increase in dependence on virtual platforms.
On October 6, the House Antitrust Subcommittee released a comprehensive report on their investigation. The report summarised its conclusions from its 16-month long investigation into the business models, market power and anti-competitive conduct of these giants. Further, it recommended taking steps to restore competition in the Digital Economy, strengthening the Antitrust Laws and reviving Antitrust Enforcement.
Antitrust legislations are enacted to prevent and control monopolisation by corporations to enable fair competition in the market. The first antitrust law, the Sherman Act, 1890, was passed by the US Congress as a "comprehensive charter of economic liberty aimed at preserving free and unfettered competition as the rule of trade." In 1914, the US Congress passed two more antitrust laws – the Federal Trade Commission Act and the Clayton Act.
This two-part report seeks to examine the approach of the House Antitrust Subcommittee in its investigations. The first part discusses the anti-competitive practices of the big four companies that have come up as a part of the investigations. The second part briefly talks about the conclusions and recommendations proposed by the Subcommittee and the structural factors that have led to monopolisation by few in the digital economy.
Digital Monopolies and the Market
Opening the hearing in July, Rep. David Cicilline remarked, "As hard as to believe it's possible that our economy will emerge from this crisis even more concentrated and consolidated than before." To a keen observer of digital platform economy, however, this may neither be surprising nor hard to believe.
A day after the hearings, the combined market value of the four companies expanded by $250 billion. According to a report by New York Times, as of July 30, the stock prices of the four companies had risen by an average of 35% since March. Amazon recorded a 40% increase in its sales as compared to last year and its profit doubled to $5.2 billion. Facebook's revenue for the second quarter rose by 11% as compared to last year as it recorded a 98% jump in profits to $5.2 billion.
Despite the slowdown, Apple made billions of dollars selling Apple devices, apps and services. It recorded an 11% rise in sales to $59.7 billion and a 12% increase in profit to $11.25 billion. Google's parent company, Alphabet reported its first ever decline in quarterly revenue due to a decline in spending by advertisers. Despite this decline, Alphabet recorded a revenue of $38.3 billion and a profit of $6.96 billion.
Also read: Global Capital, Digital Monopolies and New Forms of Enclosure
The companies not included in this list are Microsoft, which has earlier faced anti-monopoly scrutiny, and Netflix, one of the fastest growing digital monopolies, particularly under COVID-19 lockdown. At the declaration of COVID-19 pandemic in March 2020, the big five tech companies – Amazon, Apple, Facebook, Alphabet (Google) and Microsoft lost a combined $416.63 billion in value. However, the initial jitters did not keep investors away from big tech for very long and the market turned bullish soon enough.
On August 19, New York Times reported that the top five tech companies – Apple, Amazon, Alphabet, Facebook, Microsoft – constituted 20% of the stock market's total worth. It was pointed out that this kind of concentration in the hands of a single industry has not been seen in the last, at least 70 years. Apple's stock market value had reached $2 trillion, double of what it was 21 weeks ago! The following table shows the financial data of the big five from 2019.
Financial data of Apple, Amazon, Alphabet, Microsoft and Facebook (2019)
Source: https://fortune.com/global500/2019/search/?name=microsoft
The Congressional hearings examined the dominance of Amazon, Apple, Facebook and Google on online platforms and whether the current antitrust framework was equipped to address issues within the digital economy. In the last one year, the committee has prepared millions of pages of evidence—submissions from small firms and individuals, documents, and hundreds of hours of interviews of market participants.
The primary concern raised and addressed at the hearings were – 1) the effects of online market power exercised by Amazon, Apple, Facebook and Google on innovation and entrepreneurship; 2) data privacy and; 3) a free and diverse press and independent businesses in the online market space. The testimonies against the four companies largely involved allegations of anti-competitive practices of the four giants against the companies they saw as their competitors - issuing threats, arm-twisting, rent seeking, predatory pricing, etc.
Amazon
Running the largest online marketplace in America, Amazon has captured 70% of all online marketplace sales. Investigations suggest that Amazon has used its dominant market position to throttle competition by practices such as predatory pricing, using third party-seller's proprietary data to develop its own products, and by charging exorbitant fees from third party sellers.
In a matter of five years, Amazon has hiked its third-party fee by 11% from 19% to 30%. Third party fee constitutes 21% of Amazon's total revenue. While predatory pricing and monopoly-rent seeking are textbook tactics of exploitation by monopolies, compromise on data privacy and an infrastructure developed to surveil other companies and their business activities set alarm bells ringing for the Committee.
In a number of cases, evidence points towards Amazon using third party seller data collected by it to unfairly disadvantage its competitors by manipulating prices of its own products and/or launching competing products. A case that came up during the hearings was that of a small business enterprise called the Fortem Store, manufacturer and distributor of high-quality products in automotive, home, and consumer electronics space. An Amazon employee accessed detailed sales reports of Fortem, fetching data on the expenditure of the company on advertising and other costs. In October 2019, Amazon launched its own competing products, thereby grossly affecting the business of Fortem.
Also read: Rich Big Tech, Dead Democracy
In a classic case of predatory pricing (pricing of goods or services at such a low level that competing firms find it hard to keep up and are forced to leave the market), Amazon outcompeted a small distributor of baby care products, Diapers.com in 2010. A strategy was crafted to temporarily slash Amazon prices of diapers to an extent that Amazon was ready to bear a loss of $200 million in its sale of diapers over a month. Amazon then launched a program called 'Amazon Mom' that offered free Prime service and an additional 30% discount on diapers in exchange for users signing for Amazon's monthly 'subscribe and save' program. Eventually, Amazon succeeded in bleeding Diapers.com dry and acquired the company in November 2010.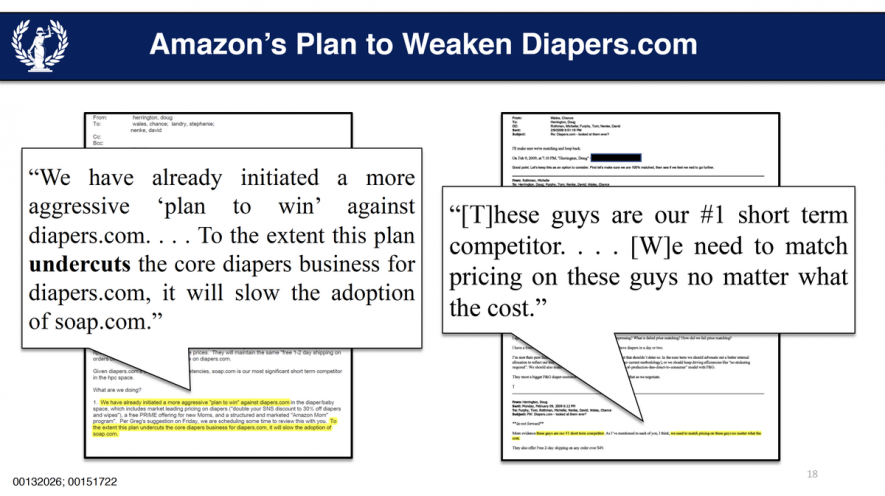 Snapshot produced by the Committee looking into email exchanges between Amazon officials developing a strategy to outcompete Diapers.com.
Source: https://twitter.com/HouseJudiciary?ref_src=twsrc%5Egoogle%7Ctwcamp%5Ese…
Amazon has gone so far in its efforts to outcompete its competitors, that it has allegedly begun to sell counterfeit products on its marketplace. According to David Barnett, CEO of a small firm PopSockets, they had found at least 1,000 counterfeit products for sale on Amazon's marketplace. On being confronted, Amazon refused to remedy their grievance until PopSockets agreed to a $2 million deal with Amazon. During the hearings, when asked whether Amazon made money off of counterfeit goods being sold on the platform, Bezos did not categorically deny the allegations and replied, "If it does, in my view, sir, it would only be in the short-term. I would much rather lose a sale than lose a customer. We make money because customers come back."
In another case, a company called Vocalife LLC was contacted by Amazon to discuss the possibility of investing in speech detection technology. The founder of the company alleged that the relationship of Vocalife and Amazon came to an abrupt end after the former displayed its microphone technology and provided its proprietary information to Amazon employees. Amazon ended its communication with Vocalife and the technology was eventually utilised in Amazon's Echo device.
Facebook
A reading of internal email exchanges of Mark Zuckerberg suggested that Facebook's answer to any emerging competition has been intimidation and eventual acquisition of its competitors. Facebook's acquisition of Instagram and WhatsApp are leading examples of this strategy, regularly employed by the company.
In order to force Kevin Systrom, the founder of Instagram, to sell the fast growing start up to Facebook, Zuckerberg threatened them with the prospect of launching a competing product – Facebook Camera. Zuckerberg said that Facebook was "developing our own photo strategy, so how we engage now will also determine how much we're partners versus competitors down the line."
This strategy of 'cloning a popular product' to threaten the competitor has been systematically employed by Facebook. Internal emails revealed that Facebook's current Chief Financial Officer, David Wehner described this acquisition strategy as 'a land grab' and planned to spend 5-10% of its market cap every couple of years to shore up the company's position. As a result of its acquisition strategy, Facebook constituted 95% of all social media in the US as early as in 2012.
The following image has been released by the House Judiciary Committee from its internal documents to highlight David Wehner discussing this strategy over an email exchange.
Source: https://twitter.com/HouseJudiciary?ref_src=twsrc%5Egoogle%7Ctwcamp%5Ese…
Interestingly, during the hearings, conservative members of the Congress repeatedly alleged that Facebook has been intent on censoring conservative voices and viewpoints. In response, Zuckerberg clarified, "I think that we've distinguished ourselves as one of the companies that defends free expression the most. We do have community standards around things that you can and cannot say…They ban categories of harm, such as promoting terrorist propaganda, child exploitation, incitement of violence, some more legalistic things like intellectual property violations. And they also ban things like hate speech that could lead to dehumanising people and encouraging violence."
Zuckerberg's claims stand challenged by a number of investigations in the last few years indicating that Facebook's policies are heavily influenced by their ties to political parties and governments across the world. Few weeks ago, Facebook got embroiled in a controversy in India for refusing to take down a post by a member of the ruling Bharatiya Janata Party (BJP) for the fear of ruining its relationship with the party.
Apple
A dominant provider of smartphones, Apple has more than a hundred million iPhone users in the US alone, constituting 45% of smartphone users over there. Apple developed App store as a digital distribution platform for the users to browse and download apps and it alone decides which apps are marketed on the platform. During the hearings, it was raised that when Apple introduced an app called Screen Time, it removed competing apps – OurPact and KidsLox – from the App Store. These apps were used by parents to regulate and limit the time their kids spent on iPhones. This move by Apple aggrieved both the competing businesses as well as the users of the apps that had been removed. In a similar manner, Apple has used its control and discretion to curb its competitors and promote its own apps on the App Store.
While Apple's policies strictly restraint app developers from creating copycat apps (apps essentially replicating already existing apps), as a developer of apps, Apple does not abide by the same guidelines. The app developer agreement, which Apple requires every developer to agree to, in fact, gives Apple the right to copy other apps.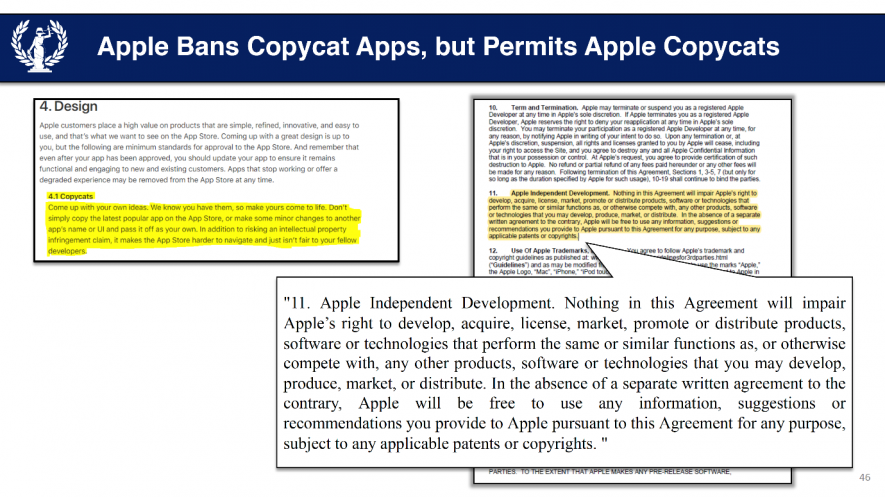 A snapshot of the app developer agreement produced by the Committee at the time of the hearings. Source: https://twitter.com/HouseJudiciary?ref_src=twsrc%5Egoogle%7Ctwcamp%5Ese…
Apple charges a commission of 30% for subscription of an app from the Apple store. This rent-seeking by Apple, referred to as 'highway robbery' by Rep. Cicilline, has crushed small developers. While this kind of commission is charged for an ordinary market player, records show that giving preferential treatment to Amazon, Apple charged a subscription fee of 15% instead of 30% for launching Amazon Prime on Apple store.
A recent study by an economic consultancy firm Analysis Group estimated that the App Store was responsible for $519 billion in total billings and sales of both physical products and services and digital goods in 2019. Out of this, $61 billion was contributed by sale of digital items for which Apple may receive its commission of 30% or 15%.
Google
Over 85% of all online searches go through Google. A number of companies stated that Google used its position as a dominant search engine to divert traffic from other websites and pages towards its own websites. It was found that 63% of web searches that start on Google also end on Google's own websites and products such as Google Maps, Google Hotels, Google Flights etc.
An investigation by The Markup showed that in the last year, Google Flights and Google Hotels garnered twice as many US site visits as their biggest competitors, Expedia.com and Booking.com. In November 2019, Wall Street Journal reported that Google made algorithmic changes to its search results to favour big businesses over small ones by boosting websites such as eBay Inc., Amazon.com Inc. and Facebook Inc.
A number of small businesses accused Google of stealing content from other webpages. Founder of the website 'Celebrity Net Worth', Brian Warner told the Committee that his website was thriving until Google stole his content and his website dropped by 80%. As a result of this loss, he had to downsize his business and lay off his staff. Yelp, an online review website for restaurants, submitted that Google copied reviews from its website and on being confronted threatened to de-list Yelp.
The Committee also discussed Google's dominance in online advertising. Google sources over 80% of its revenue by selling ad placements. Reports suggest that Google has a 37% share of the $130 billion US digital ad market. This has been made possible by a model where Google acts as a middleman between advertisers and websites, providing intermediary tools for buying and selling online ads.
Also see: 'Titans of Tech' Face Grilling in US Congress
It runs an Ad Exchange - DoubleClick, which is a "Real time marketplace to buy and sell display advertising space." This exchange is used by over 2 million websites. Rep. Pramila Jayapal argued that Google effectively controls both the buy side and supply side and compared this ad exchange controlled by Google to an unregulated stock exchange. In addition, figures suggest that in the last 15 years, Google's ad revenue has been increasingly coming from ads on Google-owned sites (Google properties) and less from other websites (non-Google properties).
On October 20, the US Justice Department filed an antitrust lawsuit alleging that Google uses anti-competitive tactics to preserve its monopoly on internet searches and advertisement market. This is arguably the most aggressive US legal challenge to the dominance of a company in the tech sector in more than two decades.
What the Antitrust Committee missed out on
The investigations of the Antitrust Committee focused on the adverse impact of predatory practices of tech giants on entrepreneurship, job opportunities and small businesses in the US. The grievances addressed remained restricted to those of small businesses and middle-class families. In the five hours of the hearings, no member of the Congress inquired on the impact of predatory practices of tech giants on the working-classes in the US, the workers toiling in these monopolies and fast declining small enterprises.
The report prepared by the Committee stresses only on strengthening antitrust laws and enforcement. The larger concerns of the Committee include – 1) monopolisation of control over the digital infrastructure by the tech giants; 2) control over data of sellers as well as consumers; 3) adequacy of existing anti-trust laws in regulation of the online platform economy. The committee made no attempts at investigating the economic structure and political trajectory that had allowed and, in fact, nurtured the proliferation of tech monopolies.
The next part of this series will examine the political and economic factors behind the rise of these tech giants and whether the antitrust approach adopted by the House Judiciary Committee is adequate to stop the rot.
The writer is an author and a researcher with Tricontinental: Institute of Social Research. The views are personal. She can be reached on Twitter @ShinzaniJain.
Get the latest reports & analysis with people's perspective on Protests, movements & deep analytical videos, discussions of the current affairs in your Telegram app. Subscribe to NewsClick's Telegram channel & get Real-Time updates on stories, as they get published on our website.
Subscribe Newsclick On Telegram