USA's Game Plan in Venezuela: Strangulation through Sanctions
'Perhaps the irony of all ironies is that the sanctions were meant to 'save or liberate' Venezuela from some supposed tyranny. The method for US-styled liberation is peculiar. When a country is in pain, increase the pain...'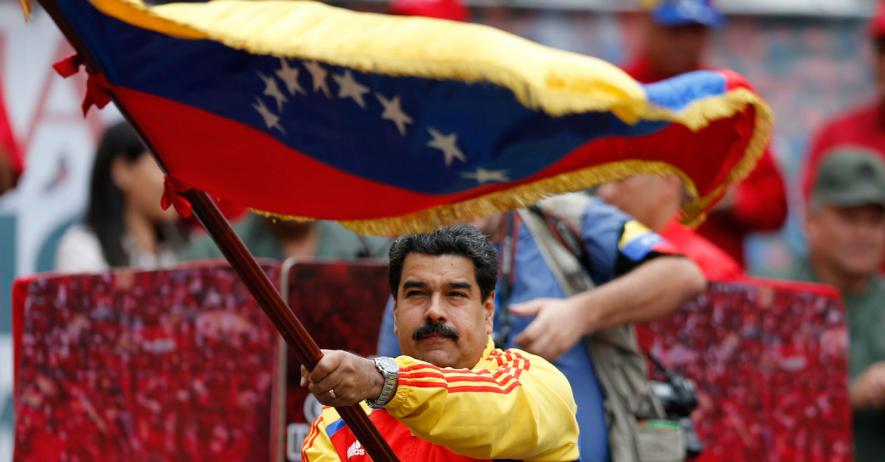 Representational Image. | Image Courtesy: communist party of Canada
On 19 January, 2021, the US Department of the Treasury's Office of Foreign Assets Control (OFAC) designated three individuals, fourteen entities, and six vessels for helping Nicolas Maduro's legitimately elected government to overcome US sanctions on its oil sector.
As a result of the sanctions, all the property of the designated entities and individuals will be blocked and must be reported to the OFAC. Any business that is owned, directly or indirectly, with a stake of 50% or more, by the designated individuals and entities, is blocked. Trade within the US by sanctioned entities is also prohibited.
Humanitarian Imperialism
Secretary of State (now former) Mike Pompeo was quite careful in explaining the inhumane objective of these sanctions: "This action aims to increase pressure on international shipping entities to disengage from the Venezuelan oil sector and further limit the illegitimate Maduro regime's options for selling oil…We will continue to use the full weight of U.S. economic and diplomatic power to promote the peaceful transition to a once-again free, prosperous, and stable Venezuela." To put it in other words, the US wants to strangulate and topple Maduro's government.
Perhaps the irony of all ironies is that the sanctions were meant to 'save or liberate' Venezuela from some supposed tyranny. The method for US-styled liberation is peculiar. When a country is in pain, increase the pain. A country lacks food; prevent it from freely importing food. To sum it up: To save a country, destroy it. To Pompeo's contorted aim of achieving the dream of a "free Venezuela", we can add an absurd claim made by Secretary of the Treasury Steven T. Mnuchin: "The United States remains committed to targeting those enabling the Maduro regime's abuse of Venezuela's natural resources."
Steven's heroically high-principled aim of fighting against bad actors runs contrary to the stated ambition of American administrators. In a 2017 Oval Office meeting, former US President Donald Trump had said that Venezuela is "the country we should be going to war with". They have all that oil and they're right on our back door."
John Bolton, at the time the National Security Advisor, told Fox News in January 2019: "It will make a big difference to the United States economically if we could have American oil companies really invest in and produce the oil capabilities in Venezuela." Can we then conclude that the US will 'save' Venezuela's natural resources by pillaging them?
Guaidó: A US Lackey
On the same day that the sanctions were imposed, Pompeo spoke to US-backed puppet politician Juan Guaidó, who was rejected by 83% of Venezuelans. Spokesperson Morgan Ortagus said that Pompeo and Guaidó "discussed their mutual goal of a peaceful democratic transition in Venezuela and the United States' unwavering support for his leadership and for the liberty and dignity of all Venezuelans. The Secretary expressed his personal respect and appreciation for interim President Guaido's "commitment to the cause of freedom and his inspiring leadership to millions of Venezuelans yearning for a brighter future."
Democratic transition? Freedom? Dignity? Guaidó does not represent any of these things. He is known for his brazen criminal conduct: calling for foreign military intervention; expropriating Venezuela's foreign resources; sabotaging public services; attempting to carry out a murderous coup; orchestrating food shortages; illegally assuming positions which do not belong to him; collaborating with paramilitary drug lords; preventing the import of medicines, particularly during the pandemic and enriching himself at the expense of the people's resources. The Comptroller General of Venezuela, Elvis Amoroso, has found that Guaidó holds two billion euros in bank accounts in Europe and owns a 77-foot yacht in the United States.
A Fight against Inhumanity
The rot at the heart of Guaidó's catastrophic coup-mongering was brought to light by his actions regarding vaccination. His team has turned down requests from the Venezuelan Central Bank (BCV) to free up US $120 million worth of frozen assets in the UK. The funds would have been used for purchasing vaccines through the Gavi financing program, which looks to boost poorer countries' vaccination programmes via the World Health Organization's (WHO) COVAX initiative.
In contrast to the inhumane attitude of Guaidó and his team, Maduro's government has assisted Brazil in managing a COVID-19 outbreak in the city of Manaus – capital of Brazil's Amazonas state – under the banner of "Latin American solidarity before anything else!" Manaus registered a record of oxygen consumption for patients with respiratory deficiencies, which went from about 5,000 cubic meters per day to 76,000.
Trucks transporting oxygen, donated by Venezuela, arrived in Manaus on January 18, 2021. The convoy of six tanker trucks had a capacity of 136,000 liters, equivalent to 14,000 individual cylinders. The governor of the Venezuelan state of Bolívar, Justo Noguera Pietri, delivered the oxygen in the border territory to the senator of the Brazilian state of Roraima, Telmario Motta. Pietri affirmed the Venezuelan government's willingness to continue providing aid to Brazil, as long as it needs it.
As is evident from the two cases mentioned above, Venezuela is witnessing a fight between Bolivarian humanity and imperialist inhumanity. While the former represents the exploited masses, national sovereignty, development, creative-communal work, liberation, peace and capitalism, the latter represents oligarchical interests, Yankee interventionism, under-development, sabotage, counter-revolutionary terror, hunger, elitist privilege, mercenaries, aggression and capitalism. It is the duty of every revolutionary to lend active support to the socialist project and fight against the inhumanity of imperialist capitalism.
Get the latest reports & analysis with people's perspective on Protests, movements & deep analytical videos, discussions of the current affairs in your Telegram app. Subscribe to NewsClick's Telegram channel & get Real-Time updates on stories, as they get published on our website.
Subscribe Newsclick On Telegram