Under Modi Rule, Ambani, Adani Have Doubled Their Wealth
Meanwhile, several corporate bigwigs are heading to RSS HQ in Nagpur to earn some good marks.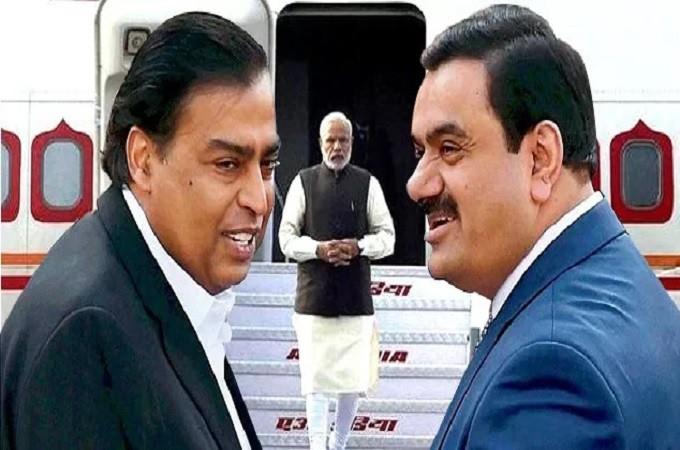 The release of richest people's lists is usually a signal for much back-slapping and triumphalism in the corporate world and its hangers on in the media. It is seen as some kind of symptom that India is doing well, people are getting wealthier, achhe din (good days) are here, although such lists are only for a 100 people (as in the case of the Forbes India list) or perhaps more (as in IIFL Hurun list), in a country of 1.3 billion people.
But these lists also reveal another side of the super wealthy corporates of the country. A comparison between the Forbes India richest people's lists of 2014 and 2019 reveals which of the corporate honchos have flourished under Narendra Modi's rule and which have not done so well. 
Before going into the individuals, it should be noted that the total wealth of the top 100 richest Indian corporate heads increased from about Rs.25 lakh crore to over Rs.32 lakh crore between 2014 and 2019. That's a 31% increase. The wealth of just these 100 people in 2019 is about 6% of the country's GDP (gross domestic product). This is a measure of the high degree of inequality in the country that just 100 people own so much wealth while the vast bulk of India's people have only a very small fraction of it.
Who has Flourished Under Modi?
Coming now to the rather curious case of individual growth among corporates, it turns out that the richest person in India, Mukesh Ambani, has more than doubled his wealth. It has increased by 118%, to be precise, from Rs.1.68 lakh crore to Rs.3.65 lakh crore between 2014 and 2019. [See chart below for top 10 sourced from the Forbes India lists]
In Gautam Adani's case, the rise has been better. His wealth zoomed up by 121% from Rs.50.4 thousand crore in 2014 to a breath-taking Rs.1.1 lakh crore in 2019. He climbed up from the 11th place in the 2014 rankings to becoming the second richest man in India in 2019.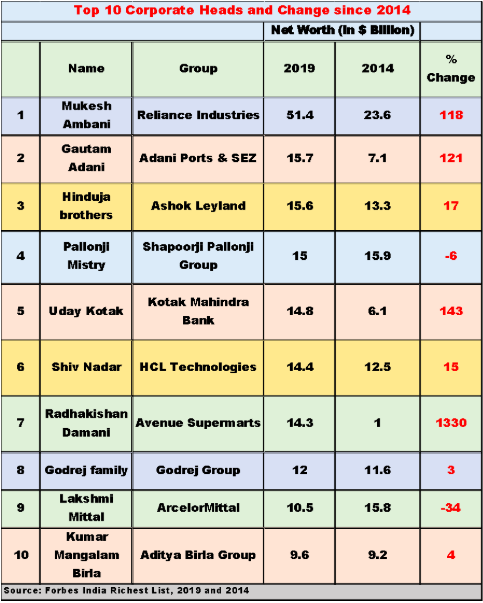 Both these illustrious men are known to be quite friendly with Prime Minister Modi and the ruling dispensation. Modi had even appeared in a full-page advertisement for the launch of Jio, the Reliance telecom service, which has, in three years, the largest subscriber base in India. 
Adani's association with Modi dates back to the days when Modi was the chief minister of Gujarat. But, it was Modi's elevation to New Delhi that marked a phenomenal upswing in Adani's fortunes. 
A look at the chart above, shows that only two other people exhibit a marked growth in their wealth – Uday Kotak, owner of Kotak Mahindra Bank and other financial services, and Radhakishan Damani, who owns the DMart chain of hypermarkets in India, promoted by Damani-owned Avenue Supermarts Ltd., a company that had revenues of $2.7 billion in 2018-19. Damani's rise is also dramatic, but remember that he owned just Rs.7,100 crore back in 2014. So, the percentage increase is from a very small beginning. He ranked 100th in 2014, and now he is at number 7.
Uday Kotak is another blue-eyed boy of the current government, and was appointed last year to head the government-controlled board of the collapsed infrastructure financing group, IL&FS. 
All the other corporate bigwigs among the top 10 are doing well but only just. Pallonji Mistry, owner of construction behemoth, Shapoorji Pallonji, saw a 6% decline in wealth, as did UK-based Lakshmi Mittal, owner of steel giant Arcelor Mittal (by 34%). Kumarmangalam Birla, an old-timer in the rich list, grew his wealth by just 4%, the Godrej family increased its wealth by 3% and Shiv Nadar of HCL Technologies by 15% in five years.
Many notable rich families do not figure here because this is a list of rich men or brothers (mostly). Groups like Tata Sons have distributed wealth though each of their individual components are giants in their own right. But they do not make it to the top 10. Others like Wipro Chairman Azim Premji have 'donated' substantial chunks of their wealth to run charities or educational trusts and have thus fallen off the list, though they continue to be super rich.
Corporate-RSS Bonhomie
A noteworthy trend that has emerged in recent years – which may have some relevance to wealth creation – is the growing bonhomie between the Rashtriya Swayamsevak Sangh (which is the mentor of the ruling Bharatiya Janata Party) and corporate bigwigs. Only a few days ago, Shiv Nadar of HCL was the chief guest at the Foundation Day of RSS at Nagpur. A few days before that, Azim Premji visited the RSS headquarters and met Sangh supremo Mohan Bhagwat. In April, Ratan Tata had visited the RSS headquarters to meet Bhagwat. In fact, last year, Tata Trusts donated Rs 100 crore to Nagpur's National Cancer Institute run by an RSS-affiliated trust named after Dr Aabaji Thatte, the personal assistant of second RSS chief M S Golwalkar. In 2017, ONGC, a premier public sector undertaking too donated Rs.100 crore to the hospital. Last month, Rahul Bajaj visited Smruti Mandir to pay tributes at the memorial of RSS founder K B Hedgewar at Nagpur.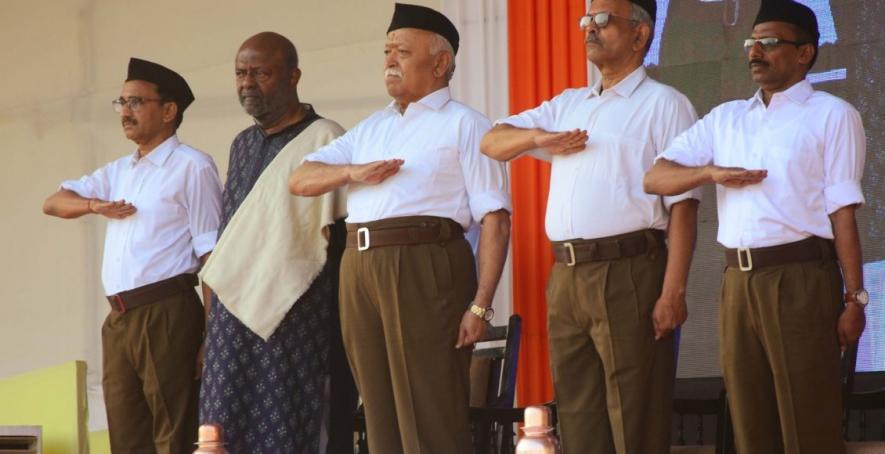 Corporate India doesn't kowtow to anybody unless they envisage some benefit. This increasing closeness of corporate honchos to the RSS, so much so that they have been making a beeline to Nagpur to pay respects to the founder and to confabulate with the current chief, is their way of extending support to the Modi government and generally be in its good books. 
The nexus that has emerged – some call it the corporate-Hindutva alliance – also explains why the RSS supremo was all praise for the Modi government's openly pro-corporate policies. In his Vijay Dashami speech, Bhagwat praised disinvestment of public sector units, justified foreign direct investment and talked down the "useless discussion" on economic slowdown. Remember: the Modi government had recently given corporate houses a big gift by slashing corporate tax rates from 30% to 25%, a move that would cost the government over Rs.1.45 lakh crore. Small wonder then that corporates are a happy lot  – and the rich list is growing by leaps and bounds.
Get the latest reports & analysis with people's perspective on Protests, movements & deep analytical videos, discussions of the current affairs in your Telegram app. Subscribe to NewsClick's Telegram channel & get Real-Time updates on stories, as they get published on our website.
Subscribe Newsclick On Telegram