Unknown Gunmen Continue to Strike in Kashmir
Since the 1990s, unknown gunmen have been responsible for the killings of many, including politicians, police informers, journalists, civilians and pro-freedom leaders, but the police and agencies are yet to solve this mystery.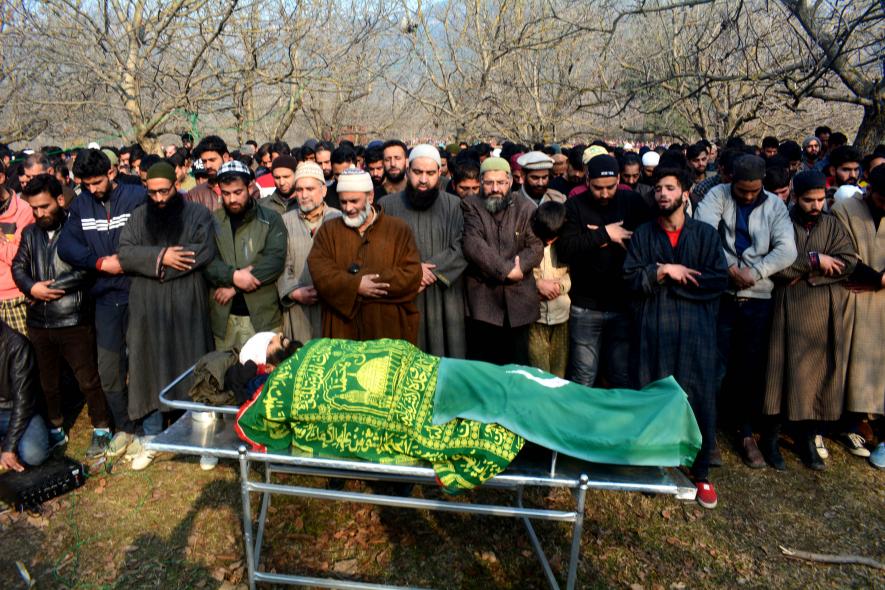 Funeral Prayers of Hafizullah Mir. Photo Courtesy Kamran Yousuf
On April 3, 2019, a political worker of People's Democratic Party (PDP) who had been active in his area as Panch (village council member) was killed in South Kashmir's Kulgam district. The killers: 'unknown gunmen'.
Since the 1990s, unknown gunmen have been responsible for the killings of many, including politicians, police informers, journalists, civilians and pro-freedom leaders, but the police and agencies are yet to solve this mystery.
At the crack of dawn on April 3, 60-year-old Abdul Majeed Dar, who worked as a timber merchant, went to his crop fields and returned with vegetables for lunch.
After finishing his work at the field, Majeed reached his work place, where the labourers were already at work. Around 6:30 PM, he noticed two people sitting next to a poplar tree. Without paying any heed to them, he kept working. Within no time, those two men moved towards Majeed and scared the other workers with their loaded pistols. As soon as the others had left, the two men fired at him and piercing the right side of his stomach with bullets.
A neighbour and a friend of Majeed, who doesn't want to be named, was working nearby. He rushed towards the direction where he had heard the bullet shots being fired. Reaching there, he found Majeed's blood drenched body on the ground, holding his hand to the wounds. "I talked to him and he told me about the episode," he told this NewsClick. The last sentence Majeed murmured to him was "Aaz detukh taas (Today I got shot). (Taas is a colloquial Kashmiri word for 'getting fired upon').
Also Read: Killings by Unknown Gunmen Continue in Kashmir, 2 dead
Soon people gathered around Majeed and took him in a cab to the Sub District Hospital of Kulgam, where the doctors referred him to the Sheri Maharaja Hari Singh Hospital (SMHS) at Srinagar, located around 70 kms away. A profusely bleeding Majeed was then taken to SMHS in an ambulance, accompanied by his 30-year-old son Tauseef. Even though he was immediately taken to the Operation Theatre in SMHS, he had already lost of blood on the way to the hospital, said Tauseef. At around 11:30 PM, doctors came out of the OT and told Majeed's family that they were unable to save him.
The shattered Dar family took his dead body to his native village Shalipora Bugam Kulgam for the final rites. Majeed was famous in his village as a hardcore supporter and worker of PDP.
He was an associate of former J&k chief minister and former president of PDP late Mufti Mohammad Syed before the creation of PDP. "He would visit Late Mufti Muhammed Sayeed quite frequently, and would plan their speeches and visits to Kulgam," Tauseef said.
In 2011, Majeed contested in Panchayat election on PDP's mandate and won. "Keeping in view his work in the area, people cast their votes in his favour. Another reason for choosing him was his association with PDP," said Tauseef. PDP was famous in Kashmir for their "healing touch".
After that, for almost seven years, the J&K government failed to conduct the Panchayat and Municipal elections. In 2018, with the state under the Governor's rule, Panchayat and Municipal elections were held.
Also Read: J&K Police Constable Kidnapped and Killed by Unknown Gunmen
But this time, the polls were quite challenging as the regional mainstream political parties including National Conference (NC) and PDP boycotted the elections, citing the troubled situation and the controversial issue of Kashmir such as attempts to abrogate Article 370.
However, PDP fielded its proxies and Majeed was one among them who contested the polls as an independent candidate, despite the fact that his family and friends had advised him not to file nomination forms due to the volatile situation in Kashmir.
"He didn't listen to any of us, he would always say that, 'I'm contesting as an independent candidate but people who support me know I'm with PDP, they will not vote for me they will vote for PDP'," said Tauseef.
Majeed won the elections unopposed. Even though, the Panchs and Sarpanches from all the districts were given hotel accommodation at Srinagar, he was not provided any security. Sniper and groups of Sashastra Seema Bal were also posted in those hotels.
However, soon Majeed's friends and relatives started asking him to announce his resignation from the post of Panch. "People of Kashmir are upset with the government. Being with the government means standing against people, so, it was better for him to announce his resignation," said Tauseef.
"He would usually say that he is not scared of anything or anyone. 'I'm not a police informer'. But his confidence didn't spare him from the bullets. His killing took place eight days before the Lok Sabha elections," he added.
All the Sarpanchs and Panchs are still living in hotels. Whenever anyone of them wants to visit their native place they are accompanied by forces.
The Killing of Hafizullah Mir
Majeed was not the first one who fell to the bullets of unknown gunmen as the number of such killings continue to mount. On November 20, 2018, as Panchayat and Municipal elections were underway in J&K, 28 kilometres away from Kulgam at Achabal in Anantnag district, a Hurriyat (G) leader, Hafizullah Mir (45) was shot dead outside his residence by unknown gunmen.
On the morning of that fateful day, Mir, along with his two daughters and three sons, was painting the windows of his house, while his wife Wazira Bano (35) was preparing tea.
Also Watch: "Unknown Gunmen" Kill Hurriyat Activist and ISJK Militant
"At around 11:30 AM, Mir received a call. He started walking towards the main road while still talking on the phone. He crossed a small timber bridge over a small canal which separates his house from the highway," his daughter, Aummisuha said.
"He walked a few metres away from home, when our mother asked to call him back to have tea, I reached the bridge and called him. I saw two people walking towards him but it didn't look suspicious," she said.
"When he turned back and started walking towards our home, the two men walking behind him took out a pistol and fired on him. One bullet pierced his neck and another his head. They fired towards me as well, but I fell in the canal before the bullets could reach me. I stood up quickly to reach to my father," Aummisuha recalled.
Soon a black Maruti Alto 800 without a number plate reached the spot, picked up bullet shells and other bullets. Both the men boarded the car and drove away.
Mir had many First Information Reports (FIR) blaming him for participating in pro-freedom protests. During the 2016 protests, Mir had participated in several demonstrations due to which he was kept under surveillance. On several instances, he was even detained by the police at Achabal.
"He would get threatening calls asking him to leave south Kashmir. They would tell him they will kill all of us," his daughter said.
Mir filed FIR against every number from which he would get threat calls. But there was no response from the police which claims to have one of the top cyber surveillances in India, not even the identity of the persons were traced. Many times, his family noticed people roaming around their house and keeping a watch on them.
Many doubts were raised after Mir's killing. "During Panchayat elections, not even a single cop had to our house. However, soon after the killers boarded the car, a police vehicle reached the spot," said Aummisuha.
His family still does not know anything about the killers, while the police have closed the case file which says 'killed by unknown gunmen' on its cover.
Watch More: Unknown Gunmen Mutilate Teenager, Burn His Beard
Get the latest reports & analysis with people's perspective on Protests, movements & deep analytical videos, discussions of the current affairs in your Telegram app. Subscribe to NewsClick's Telegram channel & get Real-Time updates on stories, as they get published on our website.
Subscribe Newsclick On Telegram