Unpaid Salaries: MCD Doctors Ultimate Losers in Tug of War Between AAP and BJP
The doctors of Hindu Rao Hospital, Rajan Babu Institute of Pulmonary Medicine and Tuberculosis, Kasturba Gandhi Hospital are on strike since October 12 as their salaries have been delayed by over four months.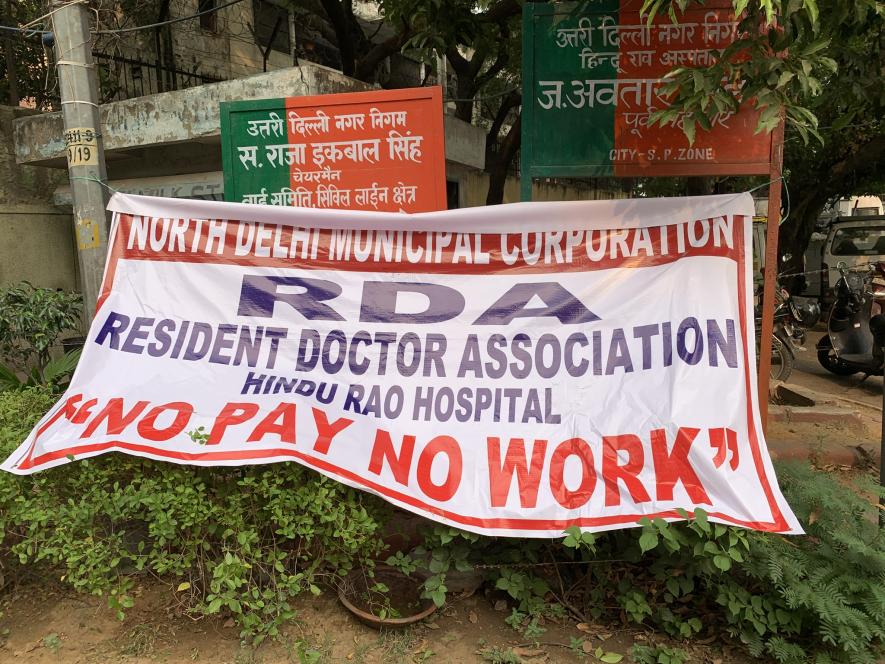 The strike by doctors of hospitals run by the North Municipal Corporation of Delhi continued on Tuesday, October 27, despite the repeated assurances of release of salaries by the civic body functionaries.
The doctors of Hindu Rao Hospital, Rajan Babu Institute of Pulmonary Medicine and Tuberculosis, Kasturba Gandhi Hospital are on strike as their salaries have been delayed by over four months. Support for the striking doctors poured from other resident doctors' associations in Ram Manohar Lohia Hospital, Safdarjung Hospital and All India Institute of Medical Science, who also observed black ribbon protest.
The doctors told NewsClick that the delayed salaries have wreaked havoc on their households and severely compromised the capacity of the hospitals to treat patients. Sagardeep Bawa, Vice- President, Hindu Rao Resident Doctors' Association, narrated his ordeal saying, "I have heard about my colleagues defaulting on EMIs and rents. Thankfully I have not had to default yet, but I had to borrow from my family to sustain my expenses. It is quite embarrassing that one needs to borrow from family in this age. But we had no other options left."
He added, "The crisis has seriously dented our morale as a public servant. How do you expect that a doctor who is treated in this manner would report to duty in a sane mind and execute his functions efficiently. I know a few couples who are doctors employed in MCD run hospitals. Just imagine the situation of such a household which has stopped receiving any payments for four consecutive months!"
Talking about the response of the administrative officials, he said, "We had a word with the mayor Jai Prakash who assured us that we will receive salaries by Wednesday. But no body is giving us written assurances that the salaries will be regular in upcoming months. We cannot go on strike every now and then for a basic thing like salary. The facility is already working with a compromised strength now. It is this particular attitude which compelled doctors to abandon the hospital."
Hindu Rao Hospital had 25 senior residents not a long time ago but only five senior residents are remaining now. They left the hospital to join other hospitals, according to Bawa. Highlighting the government's neglect of the public healthcare sector, he said, "We are already spending a very little proportion of our GDP on health. Even in this circumstance, please give us salaries regularly. Why would any doctor join a private hospital when you treat doctors with dignity and respect?"
Brij Patel from Rajan Babu Institute of Pulmonary Medicine and Tuberculosis, Asia's biggest facility for treatment of tuberculosis and related ailments, said that the strike was the last resort of doctors to press their demands.
Also read: Pending Salaries: Strike by Medicos in Delhi's Hindu Rao Hospital Enters Third Day
He told NewsClick, "We began our strike on October 12. After much negotiations and deliberations, the corporation released a month's salary on October 20 and expected us to return to work. Our salaries were delayed for four months. We compromised earlier because we accepted their assurances. But how long can it last? The situation is really worse for single earning members of the family. Doctors have defaulted on loans and rents.
Not only that, he added that many academic residents, both senior and junior, hail from southern states like Kerala. "How would they survive in a city like New Delhi when you do not give them regular salaries. The doctors have no political affiliations. They did their work and they must be paid. Unfortunately, neither the mayor nor the Director (Health Administration) is willing to give us written assurance that we will receive our regular salaries," he said.
Meanwhile, the tug of war continues between the Delhi Government and Bharatiya Janata Party over the release of funds to tge three municipal corporations. As per recommendations of the Fifth Delhi Finance Commission, Delhi Government will share 12.5% of its taxes to three MCDs, Delhi Cantonment Board and New Delhi Municipal Corporation. However, the mayors of three MCDs run by Bharatiya Janata Party (BJP) argue that corporations still need Rs 13,000 crore from the Delhi Government as mandated by Fourth Delhi Finance Commission. 
Nirmal Jain, Mayor, East Delhi Municipal Corporation told NewsClick, "The Fourth Delhi Finance Commission recommended that Delhi Government should release Rs 6,500 crore, Rs 4,000 crore and Rs 2,985 respectively to North, South and East MCD. If they are unable to pay the amount, they should pay us our due for first two quarters of this year which is around Rs 956 crore. We will be able to release our salaries."
On being questioned about the continued salary crisis in MCDs and corruption charges by Delhi CM Arvind Kejriwal, Jain said, "Our revenue is less than our expenditure. Much of the civic duties in Delhi are entrusted with MCD and we serve a large population. We spend Rs 184 crore monthly to disburse salaries. As far as, corruption charges are concerned, they can get our accounts audited."
Durgesh Pathak, in-charge of Aam Aadmi Party MCD wing, said that the MCDs were given funds by the Delhi Government as per the constitutional provisions.
"The mayors are now saying that the salaries will be disbursed by Wednesday. They were saying that they do not have any funds till now. They must clarify how did they get the money now. It is interesting that the central government and MCDs are run by BJP. The Centre has been giving funds to other municipalities in the country but not the civic bodies in Delhi and mayors are mum about it. It pays Rs 488 per person to other local bodies in the country. The truth is even if we want to give money, we cannot do it because the Constitution does not allow us," he said.
Further highlighting the Centre's biased response, he said, "If the BJP is really keen in running MCD in an efficient manner, it must stop over expenditure and corruption. The most recent example is the Rani Jhansi Flyover which was initially proposed to build with Rs 175 crore but it actually costed around Rs 800 crore. If this is the state of affairs, how would the crisis resolve?"
Also read: Unpaid Salaries: Senior Doctors of North Corp Hospitals in Delhi go on Mass Casual Leave
Get the latest reports & analysis with people's perspective on Protests, movements & deep analytical videos, discussions of the current affairs in your Telegram app. Subscribe to NewsClick's Telegram channel & get Real-Time updates on stories, as they get published on our website.
Subscribe Newsclick On Telegram