Covid in UP Villages: Casteism, Hunger, Government Missing
The government is essential to solving a crisis which has economic and caste dimensions.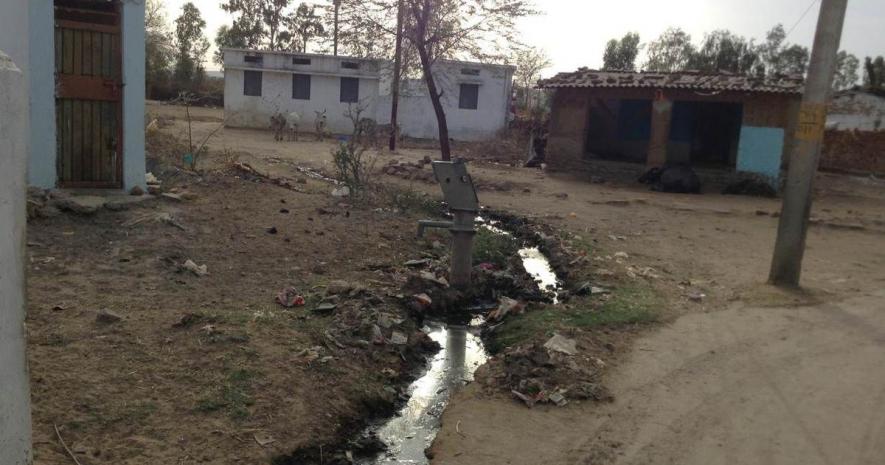 Representational image. | Image Courtesy: Scroll.in
People in the Kherwa Masri hamlet in the Mahuwa block of Banda district of Uttar Pradesh were getting increasingly desperate a few weeks into the nationwide lockdown. The reason was that their food stocks were exhausted and some of them had not eaten for two full days. Many mothers had started saving a few morsels for their children while forgoing meals themselves.
The people in this village belong to the Kuchbandiya community, classified as a Scheduled Caste. While the entire community is extremely poor and always suffers from hunger, malnutrition and under-nutrition to varying degrees, the worse-off among them are those who do not have ration cards. There are many such people in this village, while many do not have job cards and therefore cannot access MGNREGA work even if it is available.
This community earns a precarious livelihood by taking up petty works in nearby villages, jobs that are mostly ordained by the caste tradition, such as repairing implements and selling certain kinds of rope that are used in everyday life in a village. Their economic activities were also their source of interactions with people neighbouring villages, even though they were discriminated against for they are Dalit.
After the Covid-19 scare, this community has found that its members were facing even more discrimination that usual, and even encountered hostility, in the villages they frequent to earn their livelihood. Then the lockdown was announced and they had to stop working altogether. Neither were they able to gather the supplies they need, nor go out to sell them, nor find any buyers.
Soon their hunger aggravated to intolerable levels. After all, how long can a ration of 5 kilos, or even 10 kilos, last per person? Those who do not have ration cards could not even access this much. In fact, even some people who do have ration cards have names of some family members missing on them. A family of five is entitled to 25 kilos of grain, but if two family members are missing on the card, the entitlement reduces to 15 kilos, while the number of members remains the same.
So the residents of Kherwa Masri decided so sit on a protest fast. From 20 to 23 May, nearly 150 of them demanded food, ration cards and job cards from the government. Their hunger strike did bring government officials to their village, and the local MLA visited them too. They were requested to end their collective fast and some families were provided 10 to 15 kilos of grain each and all Kuchbandiya households in the hamlet were promised ration cards and job cards.
At another hamlet, which falls in the Khamora panchayat in the same block, Banda, people observed a one-day fast in solidarity with their community members in Kherwa Masri. The hunger situation is very serious in Khamora too, but it was partly offset by the distribution of foodgrains and pulses among some of the most vulnerable households by a voluntary organisation, Vidyadham Samiti.
But the question on the minds of people in this region is how long they can count on such temporary steps to alleviate their hunger? People have other needs but foodgrain too, and they want to start working to earn their living again. At the same time, the growing caste-based discrimination is a cause for worry. Their discrimination, they fear, can severely dent their already meagre income.
Raja Bhaiya, who runs Vidyadham Samiti, raises another concern: among the residents of this region are several patients of tuberculosis and other illnesses. They need uninterrupted treatment which they could not access due to the lockdown. Needless to say, many of these patients are extremely poor and now their households are also short of food. "Special steps have to be taken to provide relief and treatment to these persons on urgent basis," he says.
Naugaon village in Naraini block of Banda district also has many Dalit and Muslim households, all with a meagre income and virtually no land or other sources of livelihood. In recent years, they have been turning to migration to meet their basic needs by working in other parts of the country and sending a part of their income home. Recently, a large number of these workers returned to the village. Only, this time instead of bringing back cash they returned penniless and exhausted. They could not immediately meet their families either, for they were quarantined in a local school. In the small rooms of the school they found it very difficult to observe physical distancing, which is essential during a quarantine, as the number of returning workers kept increasing.
On top of it all, the government could not arrange food for these workers and so their families had to take care of them—including those families which are already desperately short of food. Finally, it was decided to send these migrants to self-quarantine in their own homes.
In Bharosapurwa village near Atarra town, also in Banda, a large number of people migrate for work. While some have returned, others, such as the brick-kiln workers in Punjab, have not. Their families are increasingly worried about them. And yet, those who have returned are equally anxious about food and livelihood. Their prospects of finding local farm employment had decreased in recent years. A key reason is that the local farmers have turned to mechanising their farm-work and there is less and less to be earned as a manual agricultural worker.
Some of these returning migrant workers also face hostility, which has, on the whole, created a crisis for the socially and economically weaker sections. Governments have to make arrangements for these sections of society on a much wider scale or else hunger and distress will overpower the region. Voluntary organisations and civil society are providing relief and working to improve social harmony, but it is the government which has the might and resources to make a difference on such a wide scale.
The writer is a freelance journalist who has been involved with several social movements. The views are personal.
Get the latest reports & analysis with people's perspective on Protests, movements & deep analytical videos, discussions of the current affairs in your Telegram app. Subscribe to NewsClick's Telegram channel & get Real-Time updates on stories, as they get published on our website.
Subscribe Newsclick On Telegram