Uttarakhand Farmers Seek Compensation as Rain, Hail Damage Crop, Fruits in Hilly Areas
Busy with tackling COVID-19 cases, state authorities are yet to comprehensively assess damage to crops, say sources.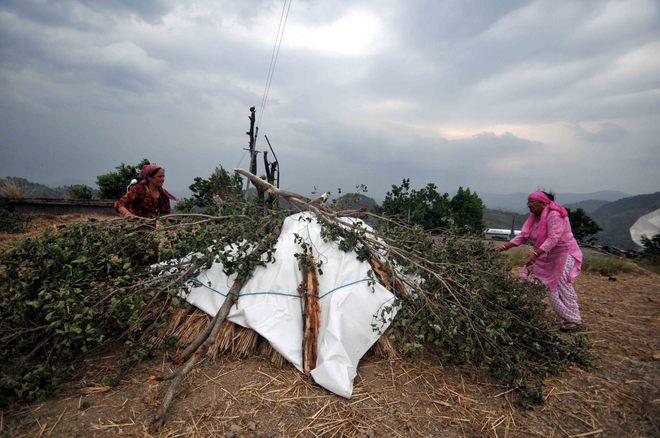 Unseasonal rainfall and hailstorm in mid-April and the first week of May has hit agriculture and horticulture badly, especially in the mountainous regions of Uttarakhand.
The state machinery, which is fully absorbed in dealing with cases related to novel coronavirus or COVID-19, is yet to make a comprehensive assessment of the damage to crops, and compensation to farmers.
According to an agriculture department survey till April 29 this year, crops growing on around 1,679.41 hectares, which is about 50% of the total farming area in Rishikesh, were damaged resulting in losses of Rs 4.10 crore to farmers.
Deepak Bhandari, agriculture officer in Khadi area of Rishikesh, said most of the wheat crop in the plains were harvested by early April, unlike in 10 hilly districts, where sowing and harvesting take place later due to the cold climate. Thus, in such cases, farmers in those regions have suffered greater losses.
As per estimates, one lakh hectare of wheat crop is damaged in Udham Singh Nagar and 32,000 hectare in Pithoragarh. The Kumaon region, including Almora, Bageshwar, Champawat and Nainital districts, too, are severely affected. Villages like Ramgarh, Begtalghat, Kotabha in Naintial suffered 30% damage to crops, according to local sources.
Bishen Rajwar, a social worker in Nainital, said: "Farmers did not get labour to harvest the produce, due to the pandemic. Transportation was also shut down (due to the lockdown) so the farmers could not even sell ready produce, even as their standing crop got damaged."
"The mandi was closed due to the lockdown. So, the farmers sold the produce of their cash crops at one-fourth prices to local customers, " Bijender Netri, president of Kamalghati Phal Sabji Utpadan Association, rued, adding that farmers had demanded compensation from the government, but nothing has been given to them so far.
The situation is Rudraprayag is not better. Inder Lal , a village pradhan, said it had rained so heavily after a spell of many years. "This copious rainwater was not good for crop at this stage," he said.
The Yamuna and Ganga valley saw damage to horticulture produce, such as apple, plum, apricot , pear and peach, vegetables and grain crops when a massive hailstorm swept through Naugaon, Badkot, Chinyalisaud and Bhilangana area of Uttarkashi ; Ghansali, Pratap Nagar, Jakhnidhar areas of Tehri and Dhumakot region of Pauri Garhwal.
In Naugaon, irrigation and water supply structures too were damaged due to heavy rainfall. "The debris carried by the gushing rain water submerged the crops. Several houses got water-logged in Sunara Chhani area of Naugaon. People had to flee with their livestock and spend the night in the open. They could return to their houses, only when water retreated in the day time," Sunil Bisht, a local farmer in Naugaon, said.
However, Dinesh Kumar Tiwari, district horticulture officer of Tehri, said the villagers were to blame for water-logging, as they had not left any space for drainage, which led to overflooding of fields and destruction of irrigation and water supply structures.
Tiwari said the process of damage assessment had begun, and the patwari (revenue staff) had been directed to compile data from the ground. "It is the sub-divisional magistrate and one district level officer of State Disaster Management Authority who will prepare the report and send it to the district magistrate," he said.
When asked about damage assessment and compensation, Haridwar district magistrate, C. Ravi Shankar, told News Click that a report was still being compiled regarding crop losses. "As per the given norms, only those farmers will be eligible who have suffered damage to more than 33% of their crops." he added.
The fruit belts of Bhatia, Syari, Dhari and Kalogi Kuflon have borne the brunt of three hailstorms in past half month destroying fruit buds and flowers. The fruit belt of Mori, Purola, Bangon met a similar fate. Ponti area in Panal Patti in this region suffered losses to vegetable crops, too.
"The flowering of fruit trees was to complete by April but due to hailstorms most of the buds and flowers fell off. The remaining ones will now take longer to complete the fruition stage as the climate does not have the required heat. If the rains continue like this, we may lose these also," said Ranveer Rautela, farmer from Mori.
Incidentally, while farmers are reeling under losses due to climatic reasons, there is no mention of this on the websites of the State Disaster Management Authority and agriculture/horticulture departments.
SA Murugesan, secretary, State Disaster Management Authority, said that authority had nothing to do with the damage to agriculture and horticulture. He said it was the responsibility of each district magistrate to evaluate the losses and provide relief to farmers. The compiled reports from each district are sent to the secretary, agriculture and horticulture, for distribution of compensation amount to the affected, as per norms.
Meanwhile, officials mandated to look into agriculture and horticulture affairs appeared to be skirting the issue or passing the buck, when it came to assessing the damage or paying relief to farmers.
R. Meenakshi Sundaram, secretary, agriculture and horticulture, did not respond to media queries.
Gauri Shankar , director, agriculture department, however, negated any scope of compensation to farmers, saying that no damage to agriculture had been reported to in the state so far, adding that all the agriculture produce was harvested before the rains began.
Vijay Jardhari, an activist known for spearheading the 'Beej Bachao Andolan' ( Save Seeds Movement) in Uttarakhand, expressed deep concern for farmers and has written a letter to chief minister and district magistrates, seeking compensation for farmers.
"I have appealed to the chief minister, besides the district magistrate, to conduct a comprehensive evaluation of all the damage that farmers have incurred in the past two months and facilitate good compensation to them accordingly."
Jardhari said besides crop damage, climatic variations and untimely heavy rains had induced diseases in yields as well. "Blight in vegetables like potato, cabbage, cauliflower, peas has made the produce redundant, while wheat has swollen and turned blackish. Horticulture produce like apple, plum, peach too have developed scars. Such produce will either get no buyers or draw nominal prices." He said the government should provide free pesticide and waive loans and charging of subsidy from farmers, as they are not likely to be able to cover the investment in their crops this year.
The writer is a freelance journalist who writes on environment.
Get the latest reports & analysis with people's perspective on Protests, movements & deep analytical videos, discussions of the current affairs in your Telegram app. Subscribe to NewsClick's Telegram channel & get Real-Time updates on stories, as they get published on our website.
Subscribe Newsclick On Telegram