VP Singh's Action-Packed Career in a Bipolar Political Arena
Book review: The Disruptor—How Vishwanath Pratap Singh Shook India by Debashish Mukerji, published by HarperCollins.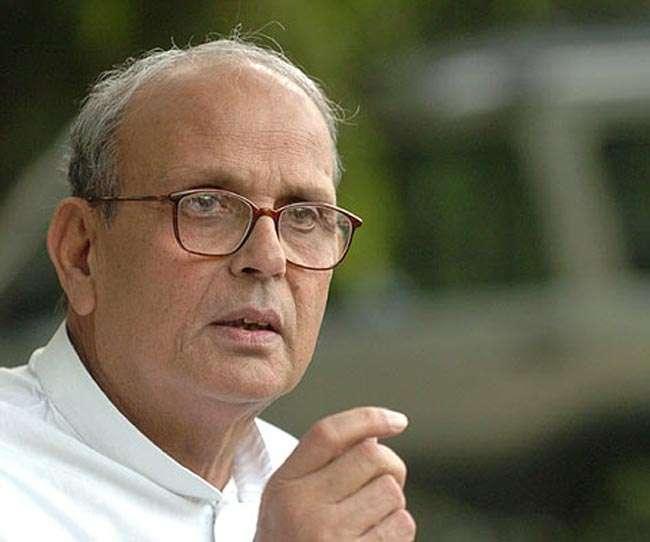 Did you know there is a former Prime Minister in whose honour not even a stamp has been issued? Nor a street or a state-owned institution named? If you did not, you should read this book. It is the tale of a man known for his integrity and honesty, yet one whose political career riled both ends of India's bipolar political arena, the Bharatiya Janata Party and the Congress. He was also, most importantly, a man willing to sacrifice his government if that was needed while taking a stand.
The book made me feel I was witness to the entire life of Vishwanath Pratap Singh, starting as a little boy adopted at age five (even though his birth parents were alive and flourishing), sent away to a hostel at the tender age of seven, a boy who missed his mother, played pranks to avoid having to bathe in winter, who grew up to be a formidable politician and finally prime minister of India.
VP Singh is India's only prime minister from a zamindari family. Yet, he is best known to younger generations for his decision to implement job reservations. Actually, job reservations already existed, but Singh expanded their scope to include the socially or educationally deprived Other Backward Classes (OBCs).
The book begins by explaining the life of the rajas in the British era, how and why adoptions were necessary, and what adoption did to the life of young Vishwanath.
Excerpt: "A poignant sidelight: During lunch break one day at Boys' High School, VP had an older boy come up to him. 'Don't tell anyone, or we won't be allowed to meet,' the boy whispered. 'But I'm your elder brother'. ...The boys began to meet regularly in school, Chandrasekhar, in particular, taking to VP, watching over him closely, buying him ice-cream and helping him with his homework." This is just one of the many anecdotes that flesh out VP Singh.
If you grew up with smartphones and laptops, VP Singh's first Lok Sabha campaign would sound almost unbelievable. He filed his nomination for the Phulpur seat in Uttar Pradesh under the mistaken impression that this was what party leader Indira Gandhi wanted. The person Indira Gandhi actually wanted for that seat, Jagpat Dubey—upset at being denied the nomination—had left for Kanpur just 200 km away from Allahabad (yes! Prayagraj). But Dubey could not be reached on the phone, and though he waited till the last minute to withdraw his nomination, VP Singh ended up as the Congress (R) Phulpur candidate.
Deprived of his leader's overt support, VP sent postcards to all the important players. Living in a rented house, he undertook daily 'padyatras' (walkathons) to meet voters, making his way to villages that could only be reached on foot in those days. It meant visiting almost 30 villages daily with blistered, bandaged feet.
Opposition candidate Janeshwar Mishra (no lightweight himself) called VP a 'dhok' - the word in the local dialect for scarecrow, implying that VP was not just lanky but also lacked the stature to contest the election against him.
Pat came Singh's reply: "I may be a dhok, but I don't give dhoka". The dhok polled 123,095 votes while Mishra not only came third but also failed to generate enough votes to get back his deposit.
In 1974, Indira Gandhi appointed VP Singh to her cabinet—that damaged his relationship with his step-brother Sant Bux Singh, who was also a Member of Parliament and a more senior one, who had expected to become a minister himself.
As Deputy Minister for Commerce, VP Singh told his son Ajeya, while they were both walking down a Udyog Bhavan corridor to the minister's room: "The chaprasis saluting me are actually saluting the chair I occupy. They saluted my predecessors and will do so with my successors as well."
When Indira Gandhi lost the elections in 1977—post the Emergency—most top Congress leaders decided to oppose her and join one or other of her detractors. Not so VP. "We should have raised this when we were sharing power with her...If we have shared power with her during the Emergency, we should also share defeat with her," he told senior Congress leader, Dr Karan Singh.
In the early 1980s, under VP Singh as Uttar Pradesh chief minister, the state vigilance department exposed a Rs 4 crore scam (which was almost half the state's health budget). Government hospitals had been buying unauthorised drugs, or drugs from unauthorised dealers at inflated prices, for kickbacks. In just three months, over 1,000 government officials were suspended for various kinds of corruption. And thus, the "little-known MP from Allahabad" who landed up unannounced at government offices for "inspections" or joined police teams for ration shop raids; morphed into a chief minister known for ruthless honesty.
On one occasion, he took the state's electricity board chairman and the chief engineer with him in his helicopter to make random checks on the power situation in the state. After visiting half-a-dozen villages that were not getting power as promised, Singh was so disgusted, he dumped both the officials at a village in Bulandshahr district (over 500 km from Lucknow) and flew off, leaving them to make their way back home!
On the issue that VP Singh was most criticised and condemned—his 1990 decision to implement the recommendations of the Mandal Commission, which had been gathering dust for almost a decade—it is widely believed that this was a political move aimed at saving his government.
Mukerji, through meticulous research, reveals that this was not the case. VP Singh had, in fact, taken the first steps in this direction almost as soon as he was sworn in, purely in the interests of social justice. Why is that significant? It is so because during the protests that followed the announcement, 153 young people set themselves on fire, and 63 of them perished.
VP Singh was the finance minister who sanctioned raids on business houses; he was the defence minister who ordered an inquiry into defence deals. He constantly walked the tightrope, first with Indira Gandhi, then with Rajiv Gandhi when they became prime minister.
In his 11-month tenure as prime minister, Singh and his government also handled the largest-ever air evacuation in India's history to bring home Indians stranded in Kuwait during the Gulf War in 1990. His home minister's daughter was kidnapped, and a release was negotiated to release five men who were jailed on terrorism charges.
The Ayodhya issue, the infamous Rath Yatra, the first Kar Seva, all took place when VP Singh was prime minister. And indeed, the man who could please none, with his penchant for doing the right thing, lost a no-confidence vote soon after.
The book documents multiple issues that anyone interested in current affairs or Indian politics should know. Its multiple-source verification of detailed incidents provides an authentic account of the man's life. If you enjoy Conn Iggulden's historical fiction, you will love Debashish Mukerji's narration style because The Disruptor, despite its 443 pages, is a fast read.
The author is a senior journalist who worked at The Statesman, Hindustan Times, and Business Today for almost 30 years. The views are personal.
Get the latest reports & analysis with people's perspective on Protests, movements & deep analytical videos, discussions of the current affairs in your Telegram app. Subscribe to NewsClick's Telegram channel & get Real-Time updates on stories, as they get published on our website.
Subscribe Newsclick On Telegram