"Don't Kill Him in Jail. His Brain is Getting Damaged," says Varavara Rao's Family
In a press conference held on Sunday morning, Varavara Rao's family members talked about the alarming deterioration in health and said he was receiving no treatment.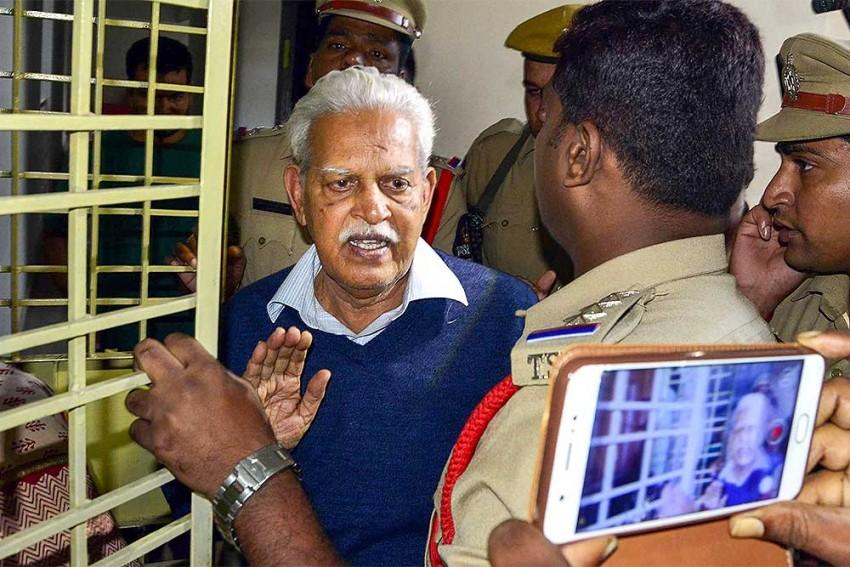 On the evening of July 11, when Varavara Rao's wife, Hemalata, 72, asked him if he was okay, he struggled to comprehend the question. "He started talking about his father's funeral instead," said a concerned N. Venugopal, Varavara Rao's nephew. "His father died when he was three years old. It was 75 years ago. He was hallucinating."
Varavara Rao, 79, currently lodged in Taloja jail on the outskirts of Mumbai, is one of the 11 political prisoners arrested in the controversial Bhima Koregaon case. He is accused of the outlandish charge of being associated with banned maoist outfits and plotting the murder of Prime Minister Narendra Modi. Critics say that Rao, a renowned Telugu intellectual, poet and a professor, is being harassed for being critical of the current establishment.
Rao's health has been steadily deteriorating in prison. Extremely concerned, his family held a virtual press conference on the morning of July 12 to make some of the details public.
Venugopal said when Rao was first admitted to JJ Hospital in Mumbai on May 28, he had fallen unconscious in jail. "He was under medical supervision for three days," he said, claiming he was discharged hurriedly on June 1 so "NIA and prosecution could argue in court that he was fine at the time of discharge."
In the next 41 days Rao was in prison, the family members spoke to him four times and experienced a steady, alarming deterioration in his health. The four calls happened on June 7, June 24, July 2 and July 11. "The first call was okay," said Venugopal. "In the second call, his voice was weak, he was incoherent and confused."
On July 2 as well, Rao couldn't speak properly. But it was the last call on July 11 that sent tremors among the family members.
Besides talking about his father's funeral, he spoke like a child, said Pavana, his youngest daughter. "My father remembers old, historical dates," she said. "He is an orator, a public speaker. He has never had a problem with words. But in the last two phone calls, he couldn't speak with fluency. Between every word, there was a gap. When we asked how he was, he kept repeating 'I'm good, I'm good', like a child. It was horrifying."
A tearful Venugopal added, "Don't kill him in jail. His brain is getting damaged," after which, Rao's wife, Hemalata took over and addressed the press in Telugu. She broke down in the middle of the address, which is when Pavana spoke.
At the time of the call, Rao's co-accused Vernon Gonzales, human rights activist, was with him. Vernon informed the family members that Rao has been "unable to walk on his own, unable to go to loo on his own, unable to brush on his own. Someone is assisting him." Vernon further told the family that Rao has been hallucinating in the prison hospital, saying his family members are at the gate since he is being released. "We asked him about the treatment inside the hospital and Vernon specifically told us there is no treatment," said Pavana.
Ever since the outbreak of coronavirus, the family members of prisoners lodged in the Bhima Koregaon case have been demanding bail on medical conditions. Rao, among them, is in the most precarious state with several comorbidities.
During a pandemic, even if prisons are packed to their original capacity, it is said to be dangerous for the well-being of prisoners. In Maharashtra, the prisons are seriously overcrowded and fertile ground for the spread of coronavirus.
Therefore, on March 23, the Supreme Court of India asked the state governments to decongest prisons in order to prevent the spread of the disease. The Maharashtra government, led by Chief Minister Uddhav Thackeray, subsequently constituted a high-power committee (HPC) to decide on the release of prisoners.
However, as of May 31, Maharashtra's 60 prisons had 28,920 inmates. According to the data on June 19, that number stands at 28,950. In other words, 30 prisoners have instead been added in the 20 days of June. The official capacity of all the prisons in the state is actually 24,030. In order to be a safe space during a pandemic, the prisons need to be decongested down to 16,000 inmates.
In Taloja Central Prison, located in Navi Mumbai, there were 2,186 inmates on May 31. On June 19, that number increased to 2,313. The original capacity of the prison is 2,134.
Since the prisons come under Maharashtra government, Rao's family appealed to the State to ensure proper medical treatment. The Maha Vikas Aghadi had spoken sympathetically about those jailed in this case. NCP's Sharad Pawar had even talked about an SIT probe, since he believed the Pune Police under the previous BJP government hadn't done a fair job of investigating the case.
Pavana said that the Maharashtra government should "see that undertrials get their rights". "We feel that the MVA is concerned," she said. "Forget about bail for now. At least give him medical treatment."
Venugopal said the family is used to fabricated cases being lodged against Rao, but he has always come out clean. But he was in good health then.
Turning the focus on the Telangana government, the family members said the chief minister K. Chandrashekar Rao has been unresponsive. "Starting from the 1960s, my father was one of the people at the forefront of the struggle for the Telangana cause," said Pavana. "We are now enjoying statehood. He is one of the people who fought for it. Now the chief minister isn't even responding to my mother's letter."
Eventually, with a lump in her throat, and in a quivering voice, Pavana concluded, "If a poet and intellectual like Varavara Rao is going to die in jail because of negligence of the government, that would be pathetic." 
Get the latest reports & analysis with people's perspective on Protests, movements & deep analytical videos, discussions of the current affairs in your Telegram app. Subscribe to NewsClick's Telegram channel & get Real-Time updates on stories, as they get published on our website.
Subscribe Newsclick On Telegram