WB: In Purulia, Efforts Underway to Set up Hydel Power Plant Despite Stiff Resistance
Residents of Hatinada, Ranga and Teliabhasa villages will be displaced by the project. All of them said the government did not provide them with any information regarding the project or seek their consent contrary to provisions of the Forest Rights Act.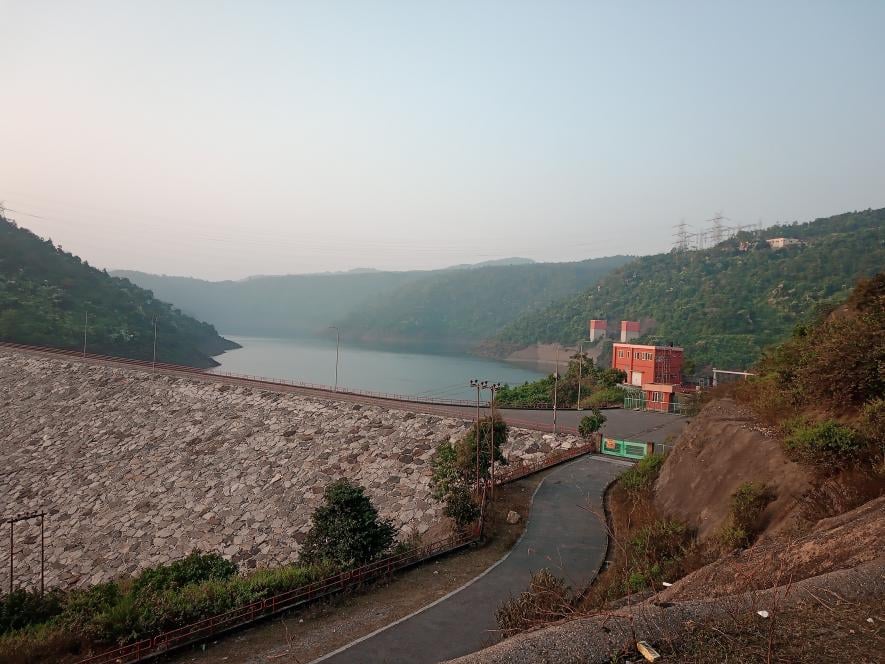 Lower dam of the Purulia Pumped Storage Project that engulfed the forest and elephant habitat.jpg
Purulia: The West Bengal government has been trying to set up a 1000-megawatt hydel power project in the Ajodhya Hills in Purulia district for the past several years, but without much success owing to stiff resistance from local villagers.
A detailed project report for the Thurga Pumped Storage Project (TPSP), comprising two dams on the Thurga waterfall, was prepared in 2013, and the government claimed it would help meet the demand for excess electricity during peak hours. Land acquisition for the project was completed in February 2017, and in July 2018, it received environmental clearance from the Ministry of Environment, Forests and Climate Change. In November 2018, the state government also secured a loan from Japan International Cooperation Agency to commence work on TPSP.
Slogans opposing TPSP and other projects.
But in July 2019, based on a petition filed by project-affected villagers, the Calcutta High Court ruled that the process the state adopted to acquire the land for TPSP violated the Forest Rights Act, 2006, whereas an appeal by the state government before the division bench of the High Court is pending.
NewsClick visited the project site in Ajodhya Hills in November 2021 and spoke to affected villagers and activists from the Prakriti Bachao Adibasi Bachao Mancha – a joint platform of several organisations spearheading the movement against dams in the area. They alleged that the local police and administration were trying to muzzle free speech and assembly by detaining key activists, registering false cases, and intimidating villagers even as the Mancha was finding it difficult to raise funds to pursue the case in courts.
They also alleged that top Trinamool Congress leaders were trying to browbeat dissent by securing the support of powerful leaders in the area through back-channel talks.
NewsClick reached out to Rahul Majumdar, District Magistrate of Purulia regarding these allegations, but he declined to comment saying the matter was sub-judice.
FEARS OF ECOLOGICAL DEVASTATION
Four pumped-storage hydel power projects in the Ajodhya Hills, each comprising two dams located at varying altitudes, were first mooted in a survey conducted by the Central Electrical Authority in 1979. Work on the first of these projects named Purulia Pumped Storage Project was initiated in 2002, four years before the enactment of the Forest Rights Act, and it commenced operation in 2008, submerging hundreds of hectares of forests, as well as homes, farms and grazing lands.
Villagers in the hills who are predominantly adivasis told NewsClick that the project provided them first-hand experience of its impact on the ecology and livelihoods, and sowed the seeds of discontent against TPSP and other similar projects planned in the area.
"Buddhadev Bhattacharya, who was then Chief Minister, promised that following the establishment of PPSP (Purulia Pumped Storage Project), all villages in the hills would get free electricity, and over 1,500 jobs would be provided to locals. But the past 10-12 years have shown that these promises were empty – only four people got jobs as security guards and none of us ever got any free power," rued Ajit Kaivarta, a resident of Ajodhya village who works at the block development office.
A government school teacher from a nearby village who requested anonymity said the loss of forests robbed many tribal families of their means of sustenance.
"Moreover, the Ajodhya Hills are part of the Dalma Elephant Corridor, and wild elephants used to camp regularly at the dam sites before the commencement of construction activity. Cases of elephant attacks on human habitations and farmlands have increased considerably in the years since, indicating the dams affected elephant movement," he said. Similar concerns were also raised in reports by NGOs and fact-finding teams.
Corroborating these concerns, the official website of Purulia district notes that the "major elephant habitat" in the Ajodhya Hills is "engulfed" by the Purulia Pumped Storage Project. Whereas TPSP is situated less than 3 kilometre away from this site and is likely to submerge another 292 hectares of land, including 5-6 villages and 234 hectares of forest land.
Given these circumstances, opposition to TPSP among villagers in the Ajodhya Hills is strong and slogans opposing the project are painted on the walls of numerous households in the area.
LACK OF CONSENT
The Forest Rights Act, 2006 mandates that in cases where forest land is to be acquired for a project, consent must be sought from respective gram sabha(s) and the project can be implemented only if 50% or more of the population is dependent on the land consents to the same. But activists associated with the Prakriti Bachao Adibasi Bachao Mancha alleged this provision was flagrantly violated in the case of TPSP.
"Although the number of registered voters in the area affected by TPSP numbers over 1600, the local administration collected signatures on the consent forms from only 24 villagers and tried to pass these off as gram sabha resolutions obtained under the FRA. Even then, all these 24 signatures were collected by deceit," exclaimed Supem Hembrom, convenor of the Mancha, and a native of the hills who lives and works as a teacher in a government school in Purulia.
"Many of the 24 signatories reside in villages located far away from the project site, and authorities obtained their signatures when they went to avail benefits under government schemes by passing off consent forms as acknowledgement slips," explained Shyam Sundar Marandi from Simulbera village, also a key member of the Mancha.
NewsClick also spoke to several villagers who were grazing their cattle or collecting minor forest produce at the TPSP site, including the residents of Hatinada, Ranga and Teliabhasa villages that are supposed to be displaced by the project. All of them said the government did not provide them with any information regarding the project or seek their consent, contrary to provisions in the Act.
These concerns were raised in a writ petition filed by affected villagers in the Calcutta High Court in 2018, following which the court imposed a stay on the project. In July 2019, a single judge bench of the Calcutta High Court comprising Justice Debangshu Basak quashed all gram sabha resolutions regarding the project, as well as approvals and permissions granted to TPSP by the Central and state governments. The state government subsequently filed an appeal before the division bench of the court, and the final verdict in the case is awaited.
AWARENESS CAMPAIGN ON FOREST RIGHTS
Despite strong resistance to TPSP and similar projects, most residents of Ajodhya Hills whom NewsClick spoke to were unaware of the Forest Rights Act and its provisions. Activists of Prakriti Bachao Adibasi Bachao Mancha stressed they were well-aware of this shortcoming and said they had taken several initiatives in recent months to address the gap, but their efforts were often frustrated by the local administration.
"Whenever we try to organise public meetings and rallies to shape public opinion on TPSP, the administration denies us permission, and police sets up pickets in roads leading to the venue to prevent villagers from participating in these programmes," alleged Nakul Baske, a key member of the Mancha who lives in Chhatni village.
He recalled several instances from the past two years when police sought to intimidate visiting reporters and documentary filmmakers by questioning and illegally detaining them for several hours.
"Last year, we had organised screenings of a documentary film titled 'Ban Manush' in the villages, and the filmmakers were here attending the screenings. But when they were travelling from one village to another, police intercepted them and detained them at the police station for several hours, alleging they were outsiders and their presence was disrupting peace and harmony," said Baske.
Sourav Prakritibadi, a Howrah-based environmental activist and a key member of the Mancha, corroborated Baske's allegations. "In the past one year, police have illegally detained me and other activists several times while we were on our way to demonstrations and rallies in Purulia district. Though no cases were filed against us, on every occasion, cops released us after several hours, ensuring we did not participate in planned programmes," he alleged.
Despite these setbacks, on September 27 and 28 this year, the Mancha organised awareness camps on forest rights in several villages in the hills. It also published a booklet on forest rights in Ajodhya Hills, which was distributed among locals.
"Our initial plan involved travelling from village to village in a rally of at least 100 bikes. But when the police denied permission for the bike rally citing COVID-19 restrictions, we hired a van, decorated it with a tableau and fixed our speakers and banners. Some of us travelled in it to villages to hold camps, playing Gaon Chodab Nahi along the way, whereas many locals accompanied us on foot and a few bikes," said Mancha activist Gulan Murmu who lives in Karijharna village and teaches in a government school.
FIR AGAINST ACTIVISTS
At around 9 PM on September 28, an FIR (114/2021) was registered at the Baghmundi Police Station against seven key Mancha activists including Nakul Baske, Supen Hembrom, Shyamsundar Mandi, Gulan Murmu and other unknown persons, and the accused were charged under sections of the Police Act and the Disaster Management Act.
The complainant, Sub Inspector Banshi Badal Mondal, claimed he intercepted the activists from Prakriti Bachao Adibasi Bachao Mancha that morning near Teliabhasa Primary School when they were conducting an awareness rally on bikes and playing music from the sound system. He said he asked them not to proceed further as they did not have adequate permissions and were in violation of COVID-19 protocols, but they did not pay heed to his words.
"The case was foisted on us to discredit the movement and intimidate key activists, but we are prepared for the long fight," stressed Baske, who is also a laya (traditional tribal priest), whereas his co-accused Shyamsundar Mandi is a ghat pargana (traditional tribal chief).
"Had a case been foisted on an imam or a purohit, all hell would have broken loose by now. But here, although tribal priests and chiefs are implicated in the case, we have not made an issue out of it," said co-accused Gulan Murmu.
MOUNTING COSTS
Activists from the Prakriti Bachao Adibasi Bachao Mancha said they met Rahul Majumdar, District Collector and Magistrate of Purulia, several times in the past few months and urged that gram sabhas be organised in project-affected areas in accordance with the Forest Rights Act.
"The DM assured us this would be done, but till now, not a single gram sabha has been organised. In recent meetings, we also urged him to withdraw the false case against us. He said he would look into the matter, but no action has been forthcoming," alleged Baske.
Although the Calcutta High Court division bench verdict on TPSP is expected soon, Mancha activists felt the legal fight would drag on and bleed them.
"We were already struggling to arrange money for legal fees and expenses at the High Court. But whichever party is aggrieved by the verdict, be it us or the government, will appeal in the Supreme Court, where we will have to spend a lot more. We just don't know how we will manage," said Hembrom.
The author is an independent journalist. The views expressed are personal.
Get the latest reports & analysis with people's perspective on Protests, movements & deep analytical videos, discussions of the current affairs in your Telegram app. Subscribe to NewsClick's Telegram channel & get Real-Time updates on stories, as they get published on our website.
Subscribe Newsclick On Telegram