WB: Goaldaho Village Loses Dozens to Silicosis Caused by Stone Mining
In recent years, Goaldaho had seen 27 such deaths from the fatal disease. The most recent death took place just two days before NewsClick visited the village.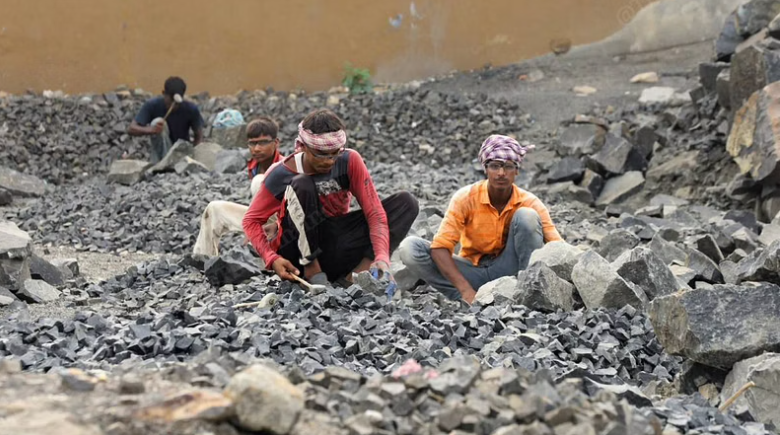 Kolkata: They talk about the deaths of their near ones with a blank gaze. One after another, youths, all migratory labourers, of the Goaldaho village in the Minakaha block have died of the silicosis. A total of nearly 200 people has been affected by Silicosis disease in Goaldaho alone and are inching towards death every moment.
"We cannot cry; tears do not come by. On the contrary, they have dried up even in the eyes of parents who have lost three sons to the disease in the village. What we have (in us) is the zeal to stop the polluted stone crushing units at Purulia, Asansol, and Birbhum," said Sahidul Paik of Goaldaho Silicosis Akranto Sangrami Shramik Committee.
From 2008 to 2012, the village youths had gone to work in the stone crushing units as migratory labours, and some others to work in the stone mines of Birbhum from the Minakha block of North 24 Parganas district where Goaldaho is situated.
The life of these migratory labourers is harsh from day one. They all flock to outside states and Asansol for work at a young age with no land to till. In 2012, when they started to return to their village after working in the highly polluted stone crushing units at Bhiringi of Asansol, it was found that their lungs had contracted silicosis, a fatal disease affecting lungs caused by the massive intake of stone particles inhaled through the air.
In recent years, Goaldaho had seen 27 such deaths. The most recent death has been of Rahaman Mollah (40), who passed away just two days before NewsClick visited the village. His widow Rahima Bibi stood before us along with his brothers-in-law (both of them have already contracted silicosis).
Rahima Bibi now has three mouths to feed through her work as a zari artiste. She earns Rs 70 per saree (it takes two days to complete saree hence Rs 35 a day effectively). One of her daughters is mentally disabled.
For the last four years, Rahman Mollah was continuously ill, and he required oxygen supply day in and day out to survive.
As per the government rule in West Bengal, only patients admitted to the hospital can get free oxygen supply; others having treatment at home have to arrange for their own oxygen apparatus. Each oxygen cylinder lasts for about 12 hours at a stretch and costs Rs 700.
Under the state's present rule for treating silicosis patients, they get Rs 2 lakhs each for medical expenses, which caters to the oxygen costs. After they had used the money, they sold their lands to meet up expenses of the treatment cost. This has left Rahima Bibi pauperised.
Rahman's neighbour Mahrouf Mollah (42) has also contracted silicosis and has lost the ability to do any jobs. They are now entirely dependent on the alms that different NGOs and organisations like Paschim Banga Vigyan Manch (part of All India Peoples' Science Network) give to them.
Hazarilal Patro of the Manch told NewsClick that the condition of 12 more patients is serious, and they are inching towards death, and amongst them is included Maharouf. Maharouf shared with us, "Please, after our demise, do not let our families starve like that of Rahaman Mollahs."
He also informed that the West Bengal government had published a new policy to treat silicosis patients. It has also been proposed to give a monthly sum of Rs 4,000 to the silicosis patients
to maintain their livelihood. But nothing had moved beyond pen and paper.
He also gave us a copy of the order, but neither the Block Development Officer (BDO) nor the Block Officer of Medicine and Health (BOMH) knew about such a circular through the official process.
NewsClick spoke with the concerned BDO of Minakha, SK Kamrul Islam, who said that the governments' policy towards silicosis patients was full of empathy and can all the benefits of different schemes of the government.
Dr SK Das, BOMH, however, agreed that oxygen cylinders for patients who need them 24-7 at home were not free, and they have to spend a fortune to afford that regularly. "However, they are admitted to the two medical units under the Minakha block. In that case, they are treated and are given all sorts of chest medicine help, inhalers and oxygen," he said.
"Every month, medical camps are also held in Goaldaho village to ascertain the condition of the patients here," he said, adding candidly that "I have written to my higher office seeking their directions on the issue of supplying oxygen at silicosis patients' homes. However, no positive reply has come in."
Not depending on the governments, local inhabitants proceed with the help of the Paschim Banga Vigyan Manch Begum Rokeya circle. Goaldaho Silicosis Akranto Sangram Shramik committee has also organised two oxygen cylinders, two beds and a tertiary treatment centre in the home of a person whose only son is diseased with the disease.
Like Rahima Bibi, Nilofour Mollah has many unanswered questions. A widow at 26, she is trying to survive with two sons and a daughter. Her husband, Nasiruddin Mollah (28), recently died of silicosis. "Our headache is about what our kids will eat," she said. Two square meals are a luxury for Nilofour and their neighbour Akhter Ali Mollah whose three sons one by one have fallen prey to the disease.
With no land of own now, earlier for the treatment of their son Akhtar and Alimunessha have turned into a pauper spending over 3 to 4 lakhs for the treatment of their sons. Now they are forced to eat rice starch as a staple food.
Meanwhile, Sahidul Paik is confident not to let any more persons contract the disease. He wants to lead a movement to stop the pollution causing mines and crushing units in the state. He and another Vigyan Manch activists, Hazari Lal, are adamant. They even got an ace lawyer and MP Bikash Ranjan Bhattacharya to lead a court case which the Goaldaha resident has won consecutively in the higher courts. As a result, the West Bengal government has formulated a new policy but it is yet to materialise. Only ground-based movements and positive media reports can happen, they said, talking to NewsClick.
Get the latest reports & analysis with people's perspective on Protests, movements & deep analytical videos, discussions of the current affairs in your Telegram app. Subscribe to NewsClick's Telegram channel & get Real-Time updates on stories, as they get published on our website.
Subscribe Newsclick On Telegram