WB: Handloom Weavers Transforming Into Migrant Workers as the Art Faces Extinction in Shantipur
Weavers' cooperatives struggling due to lack of orders from two state govt. owned retailing units along with other factors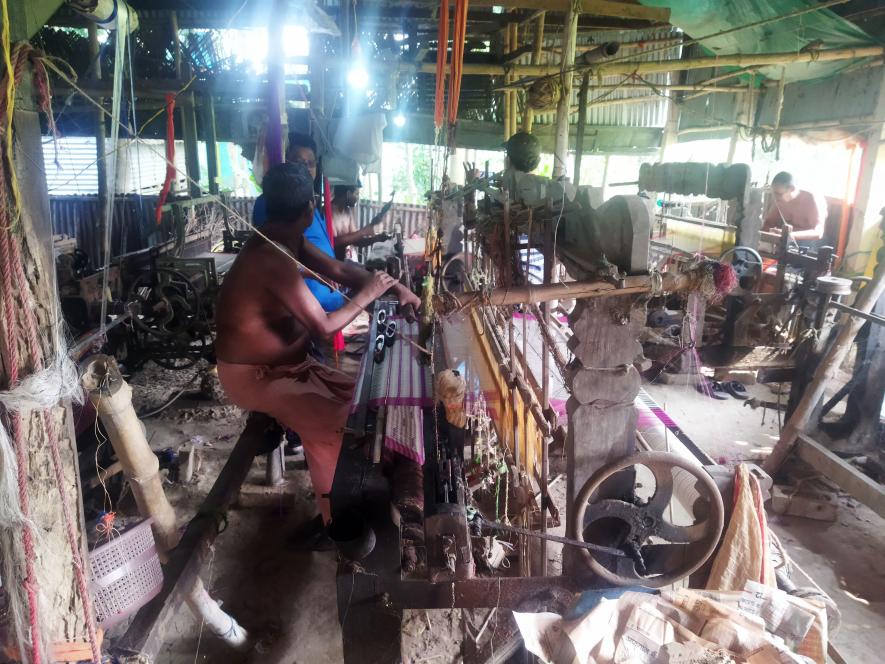 Hardening experts at work   
Kolkata:  The famous   "khat-khat- khat "  sound that comes from a traditional handloom weavers hut is becoming fainter in Shantipur of Nadia district about 100 kilometres from the state Capital of Kolkata. Shantipur is known for its weaving skills and traditional weavers producing Shantipur sarees which are high in demand in the country for their unmatched weaving pattern and quality.
Nadia district is home to about two lakh weavers (about 40% of them from Scheduled Castes) and the weavers' community- especially the traditional weavers' community, is now on the verge of extinction as weavers en bloc are now dismantling their looms and are transforming themselves into migrant workers, looking for work in Kerala, Tamil Nadu, Mumbai and Karnataka, according to Soumen Mahato of Nadia district's Tant Shramik Union.
Everywhere in every profession, there has been an increment in wages in the last ten years except in the weaving industry where in the last ten years the daily wage rate has dropped from Rs 160- Rs 70- Rs 60. In one day, a handloom worker after working for more than 12 to 14 hours at a stretch can produce one saree, and that effectively puts the prevailing daily wage at RS 60 to Rs 70 per day.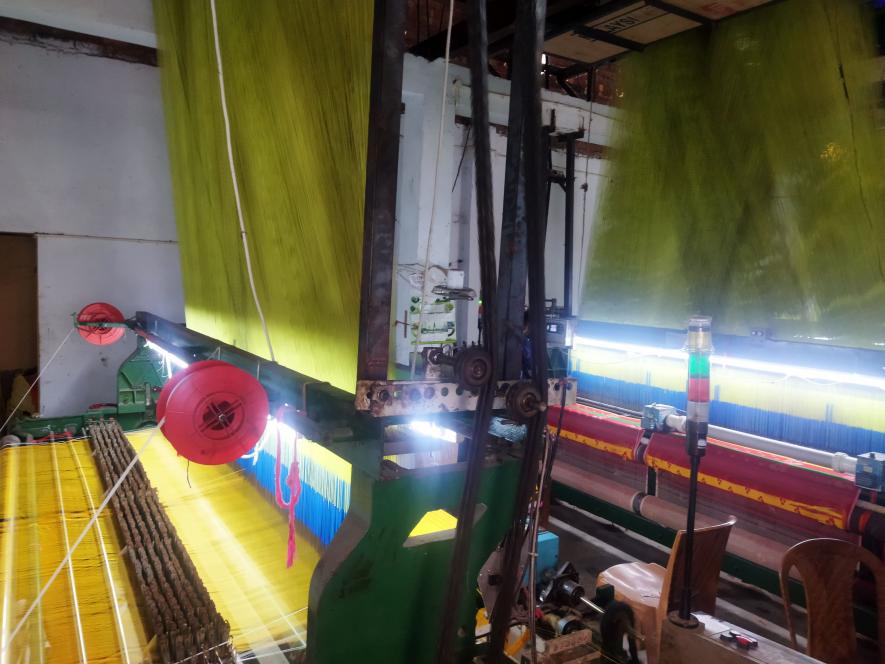 Ranjit Biswas (60), a handloom weaver, told NewsClick, " it is very difficult to maintain one's livelihood in the present day with Rs 60 to Rs70 per day and hence newer generation is not learning the skills of a traditional weaver and is instead going to other states to augment their income." Earlier, Power loom machines which can produce a couple of sarees in a single day was the main competitor of the handloom weavers, but now  Rapier  Machines locally called Hawa machines, weave 16 sarees per day. And just like that, one single machine has taken its place and is slowly pushing the famed handloom industry of Shantipur to oblivion. Each Rapier machine costs about Rs 18 lakhs and Shantipur now has hundreds of them.
"The state government is not looking towards the weavers," Soumen Mahato told NewsClick and his words rung true when NewsClick visited the different wards of Shantipur municipality, a municipality established in 1853 and was the second municipality in the state to be established in the British Era. The Shantipur area is an old place where pundits used to dwell and Vaishnavite pundits here got nationwide fame.
The state Government during the LDF Government's time had been proactive in sourcing Tant sarees for the two Government owned retailing units of Tant and Manjusha from here. However, after the change of Government, the weavers' cooperatives- which were the chief beneficiaries of the bulk Government order, are drying up due to a lack of orders. "We are not getting orders while pocketing cooperatives promoted by individual businessmen are reaping profit out of the government orders," Mahato added.
"Even the recent order of supplying school uniforms for the school students of the state en mass has gone to privately owned
cooperatives," alleged Pradip Debnath of Dhakeshwari Tantubyay Samabyay Samity limited. The cooperative society situated at Dhakapara (where post-partition refugees mainly stay)  used to have 210 handloom weavers under its aegis but is now non-functional. In the huge building of the cooperative society, the sheds of handloom weavers are all shut in want of Government orders. There are about 40 such cooperative societies  comprising a few thousand weavers in Shantipur alone, which is being choked to death  as the Government is busy giving orders to the  big Mahajans  and the  private entities  posing as cooperatives.
In  Shantipur, NewsClick spoke with several weavers such as Mojammal Sheikh (62), Ajij Sheikh (48), and Mehebool Mondal (26), who are now facing great difficulty in procuring orders. Of the trio, Mehebool Mondal is a drum master and gets about Rs 5,000 per month- doing slightly better than the weavers who get Rs 500 per week at the most and are at a loss to make ends meet.
During the time of the Left Front Government, the weavers were brought under the Mahatma Gandhi Bunkar Yojana- a social security scheme for the weavers used to provide some respite to weavers. "However, the Central Government under Prime Minister Modi has discontinued this social security network- pushing the weavers towards loss," alleged Mahato while talking to NewsClick.
NewsClick also spoke with power loom operators in Baganipara of Shantipur who also said that their market is also crashing as they get Rs 80 per saree from the Mahajan after weaving a saree out of which electricity costs account for Rs 12, threading charges Rs 10, and parts and mechanical parts' maintenance charge of Rs 10. So in total, a power loom weaver after weaving can make Rs 120 after weaving a maximum of three sarees in his power loom in one day.
Mojammal Sheikh (62), is a  handloom expert who produces  Matta saree from his handloom where he draws the designs through the folding and unfolding of the looms. He said that with a cotton thread he produces export quality sarees which get sold at Rs 900 but he gets Rs 180 at most after producing each saree. Here, his wife Salma Bibi too helps him to do the threading work and the couple makes Rs 180 in one and half days, despite being an expert handloom weaver.
NewsClick also spoke with another family of weavers who get the saree drenched in hardening liquid  (mar). They said that the whole family of four works through the day towards the process and gets Rs 10,000 to Rs 15000  a month as profit. Binay Mahato ( 72 ) is the  head of the Dalit family of four and they use a  machine which cost Rs 30,000 to get the work done.
Another thing that is affecting the Weavers of Shantipur, especially this year, is the large-scale influx of synthetic sarees from Surat, which though inferior in quality, sport attractive looks and is an imitation of the famed Jamdani weave of Shantipur and this saree is being sold in the market as Shantipur saree leading to the loss of market of original Shantipur Jamdani saree.
The influx just before the Durga Pooja was so huge that even the owners of the Rapier machines got affected by it.
Nabakumar Sadhukhan has three Rapier machines with him and produces about 50 sarees per day with the machines. The machine is run by trained personnel who get paid Rs12,000 per month. However, in Shantipur Haat, the saree produced by the Rapier machines and Surat-based synthetic Jamdani sarees give tough competition.  While one cotton blended Rapier-produced saree costs Rs 900, the Surat synthetic saree is being sold at Rs 300 to Rs 400. "It is a lopsided competition and we are losing in it," Sadhukhan told NewsClick.
According to Soumen Mahato of Tant Shramik union, another thing affecting the Shantipur handloom is that the original handloom
producers are not getting the handloom mark of the government and without the State Government's help, the handlooms won't survive and the Mahatma Gandhi Bunkar Yojana should be revived.
Get the latest reports & analysis with people's perspective on Protests, movements & deep analytical videos, discussions of the current affairs in your Telegram app. Subscribe to NewsClick's Telegram channel & get Real-Time updates on stories, as they get published on our website.
Subscribe Newsclick On Telegram