WB: Silk Farmers Decry Declining Industry, Blame Centre, State Govts
Faulty import policies by different Congress and BJP governments, including duty-free import of raw silk from China at times, has impacted prices. Lack of support from the TMC government has meant that the prevailing rates for cocoons are one of the lowest here.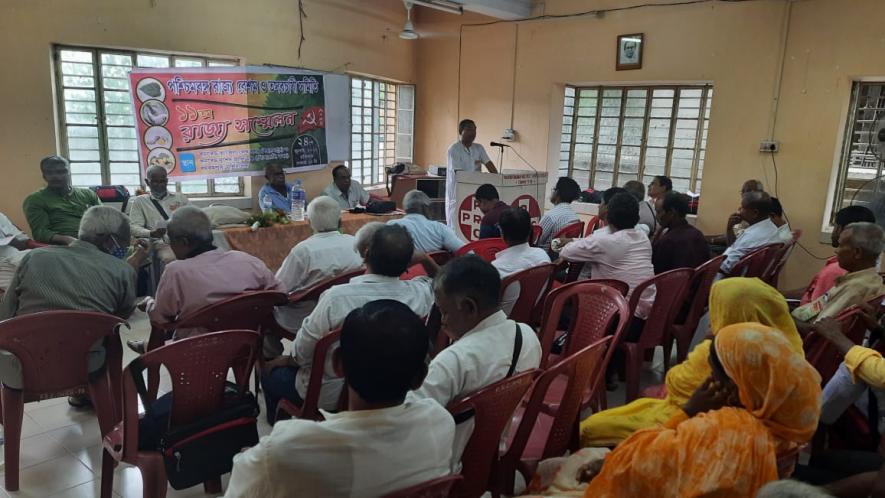 AIKS national jt secretary Vijoo krishnan speaking at Silk farmers conference in baharampur. photo courtesy Anirban Dey 
Kolkata/Baharampore: "We started silk cultivation in 2003. Initiatives and projects by Left front-led State government helped rural women to get empowered. Government institutions provided us with training, tips, and even medicines (chemicals). But now, women are not getting any training," Serina Khatun of Malda, reported at the 11th conference of silk farmers in the state. She added: "Government officials misbehave with silk farmers when we go to offices seeking help and advice."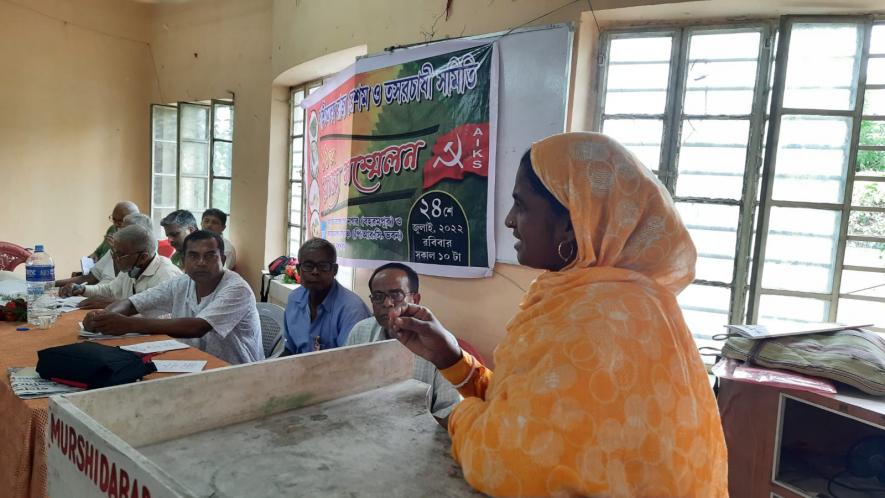 serina khatun speaking in the conference 
Interestingly, it was the silk of Malda and Murshidabad that Sir Thomas Roe offered to Emperor Jahangir in 1612 with interest in getting trade approval in the Bengal silk business. And it is these very silk and tussar farmers whose potential was praised by Richard Hughes, then Chief of Patna factory, in his 1620 report. Richard Hughes praised the skill and Quality of Bengal silk and the mastery of farmers. For its quality and rate, the silk of Bengal had created peak demand in the London market during the business period of the Dutch East India Company and the English East India Company.
There is a myth that Tipu Sultan sent people to Murshidabad and Malda of Bengal to learn silk cultivation and then developed Mysore Silk. But now, one lakh twenty thousand families of West Bengal, depending on silk and tussar farming and reel spinning, are in deep trouble. Policies by the Central government and West Bengal government have made their situation worse, as reported by delegates of the 11th State Conference of Paschim Banga Resham Tussar Chasi
Samiti (West Bengal Silk and Tussar Farmers' Association). Seventy-two Delegates from 6 districts (Murshidabad, Malda, Nadia, Cooch Behar, Birbhum and Bankura) attended the conference at PRC Hall of Berhampore, Murshidabad.
West Bengals farmers chiefly cultivate three kinds of silk: Mulberry, Eri and Muga. But the number of farmers is decreasing. Facing huge losses, cultivators are moving out of the profession. Farmers are fighting against big corporate houses with no government support and subsidy. Farming costs are increasing, and neither the State nor the Central government is assuring minimum support price. Corporate farms are importing cheap silk from other countries without any tax bar.
In his inaugural speech, Dr Santanu Jha criticised both government's attitude toward silk and Tussar cultivation. Scientific training will help producers to get better quality silk. Which will eventually create a better market. It is the government's duty to provide training and support.
Farmers are fighting an uneven war against big corporates who are backed by governments, Dr Jha said. Addressing the conference Biplab Majumdar, President of Paschim Banga Krishak Sabha (affiliated to the All India Kisan Sabha), encouraged farmers to form unity and fight for their demands. "Farmers all over India are fighting against policies by the anti-people Modi government. Prices of pesticides, insecticides, and electricity are rising high. But Government has no interest in assuring profit of silk-tussar farmers," Majumdar said.
Vijoo Krishnan, Joint Secretary of All India Kishan Sabha, reminded the delegates how the silk of Murshidabad and Malda once was famous for its quality. The Dutch East India Company and the English East India Company traded in Bengal Silk, which had peak demand in London. Krishnan said, "The Left Front government of West Bengal had given a particular emphasis on Sericulture and decided to set up a silk park, but the TMC stopped these initiatives.
Farmers are getting very low prices and are almost left to fend for themselves.
Faulty import policies by different Congress and BJP Governments, including duty-free import of raw silk from China at times has impacted prices. The prevailing rates for cocoons are one of the lowest in the State. Forty kilos of the cocoon is fetching anything between Rs 5,000-12,000 only, whereas, in Karnataka, it is fetching about Rs 20,000-28,000 for regular and bivoltine(higher quality), respectively." He added, "Covid pandemic crippled the sector, but zero compensation was given. No new technology or extension is being provided."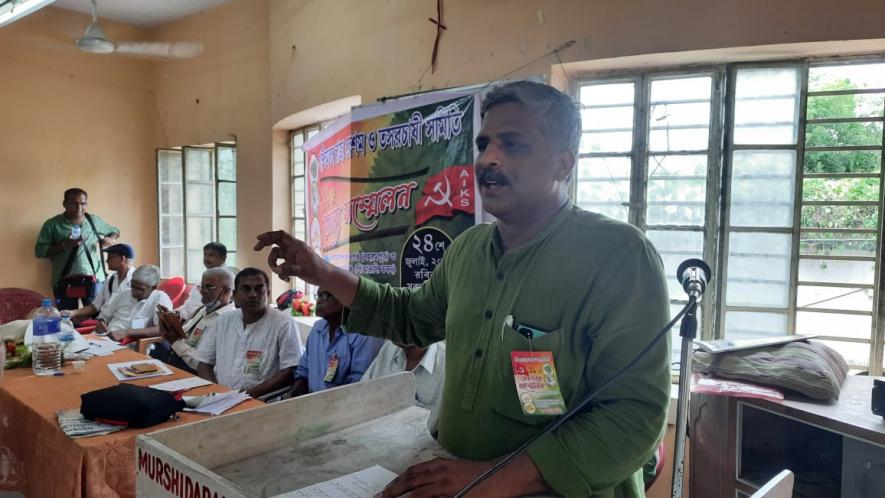 Delegates also pointed out how the decay in samabai (co-operative system) harmed the farmers directly.
Discussion of delegates from different districts portrayed the condition of silk and tussar Farmers. Jinat Ali, organiser of silk and tussar farmers of Nadia said, "Now the market is dominated by dalals (middle-men). Government officials don't take any action against them. Silk farms have become jungles; they are of no use now."
A 23-member new state committee of Paschim Banga Resham Tussar Chasi Samiti elected Naimuddin Sheikh as secretary and Mukul Mandal as President.
Get the latest reports & analysis with people's perspective on Protests, movements & deep analytical videos, discussions of the current affairs in your Telegram app. Subscribe to NewsClick's Telegram channel & get Real-Time updates on stories, as they get published on our website.
Subscribe Newsclick On Telegram